Stir-Fried Chicken With Holy Basil 🌿 🌶 & Water Spinach 👩‍🍳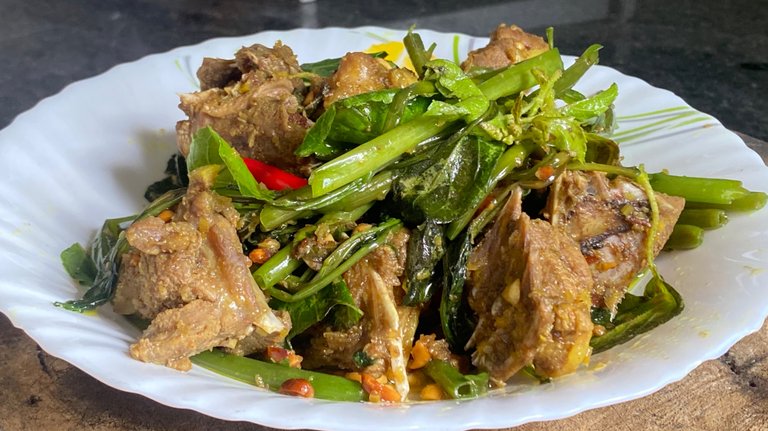 Welcome to my blog, I've made this chicken on multiple occasions and it always turns out really good! moist on the outside, and tender on the inside. I had to cook it in my cast iron pan. It took me about 1+ hours for approximately a Half of chicken. You'll want to use skin-on, bone-in cuts of chicken. For me, any type of chicken would work, but the skin is my personal favorite part of fried chicken, and the bone helps keep the meat from drying out. Now, let's cooking altogether!
Ingredients
Water spinach
Chicken
Peanuts 🥜
Holy basil
chili
lemongrass paste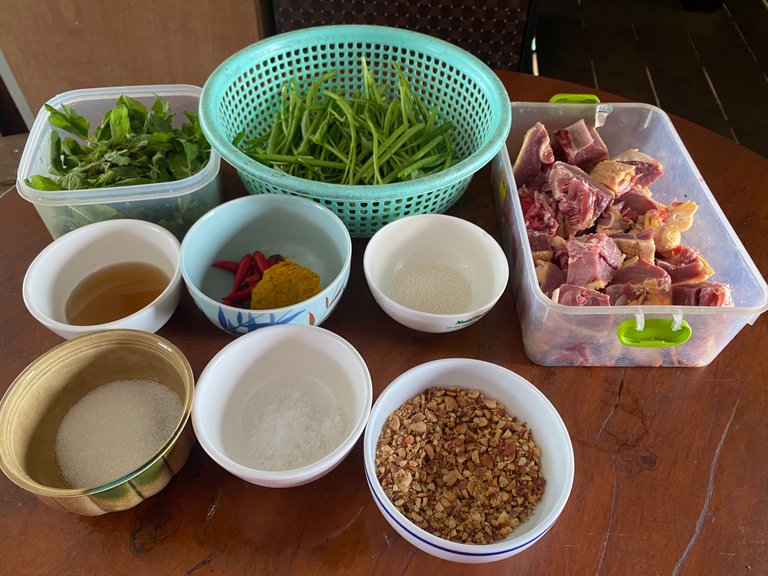 Instructions
Firstly, I would like to pour oil into an iron skillet over medium-high heat, and then I add lemongrass paste about 2 tablespoon into the frying skillet. When it becomes smelly, add some water into the skillet as to make it more moisture.

Secondly, transfer all the chicken that we have already clean it into the skillet, we are carefully stirring it together with the ingredients until the chicken get marinated well with lemongrass paste.
Remember to pour some water into the skillet to let it simmer.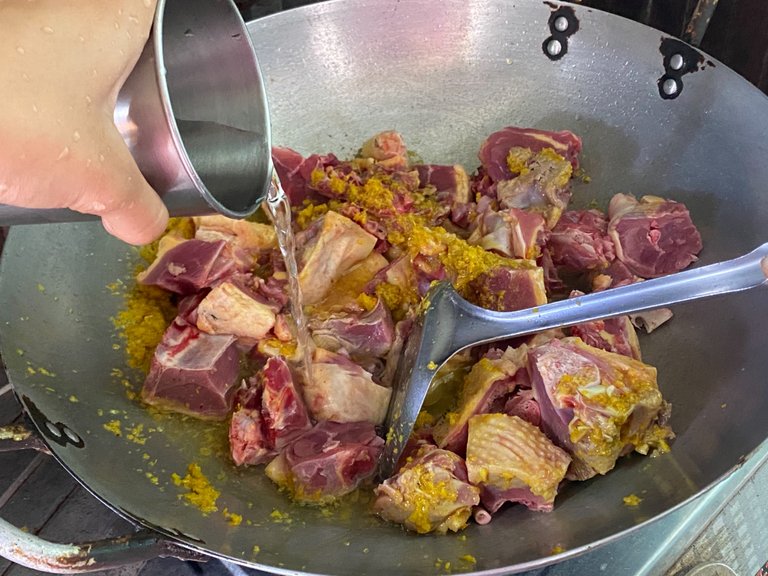 Thirdly, decreases the heat and let it simmer for 10 to 15 minutes by covering it with lid and as not to stir it again, but I suggest you to always check the chicken to make sure it is tender.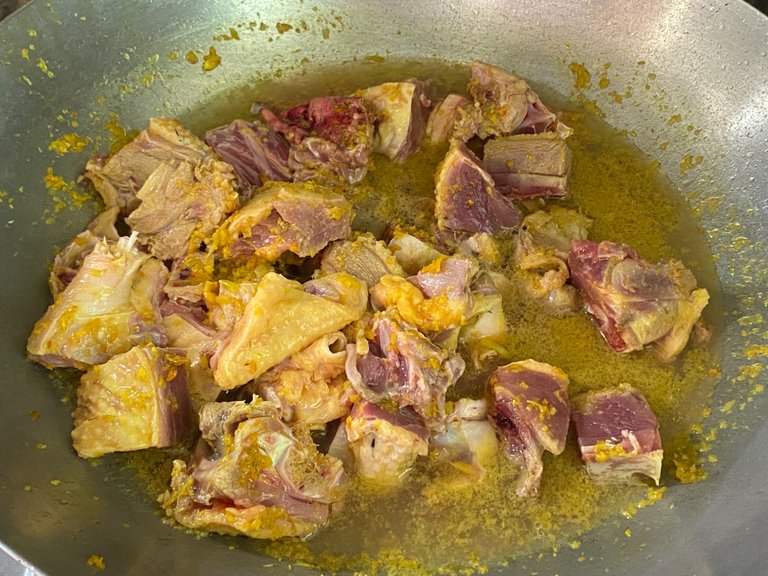 After 15 minutes, but the chicken didn't seem to be tender enough so, I add a half glass of water to continue simmer it until it is tender than this.

Fourthly, after it turns dark and tender, it's time to season the chicken. I add about a half tablespoon of sugar, 1/2 tablespoon of salt, and 1/2 tablespoon of soup powder. After we add all of these ingredients together let's stir it over the skillet until it goes well together.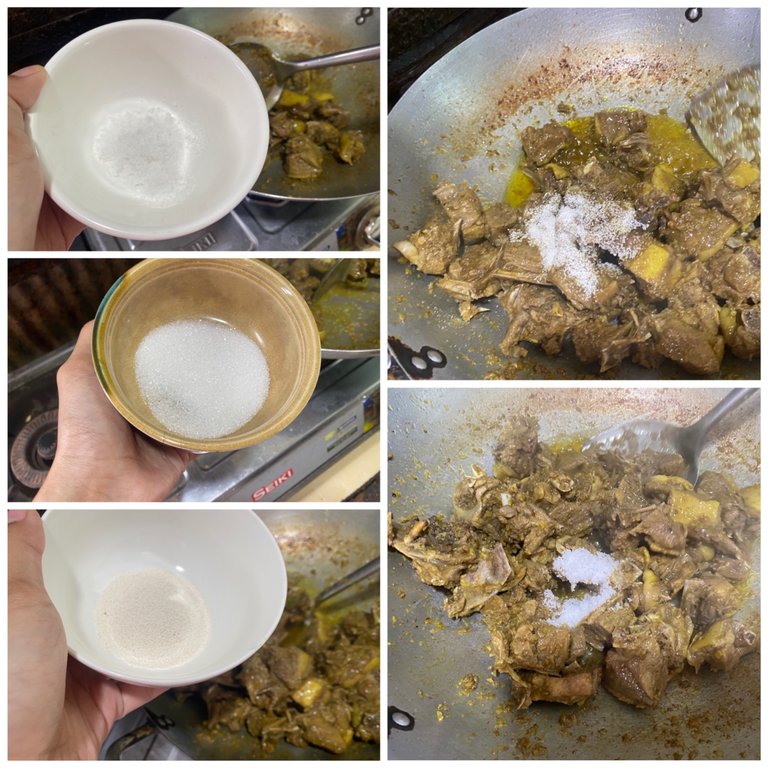 Fifthly, add peanut 🥜 into the frying skillet. I add about 3 tablespoons of peanut. I like to add a lot of peanut because it my family favorite since it also bring the nutrition to our body too.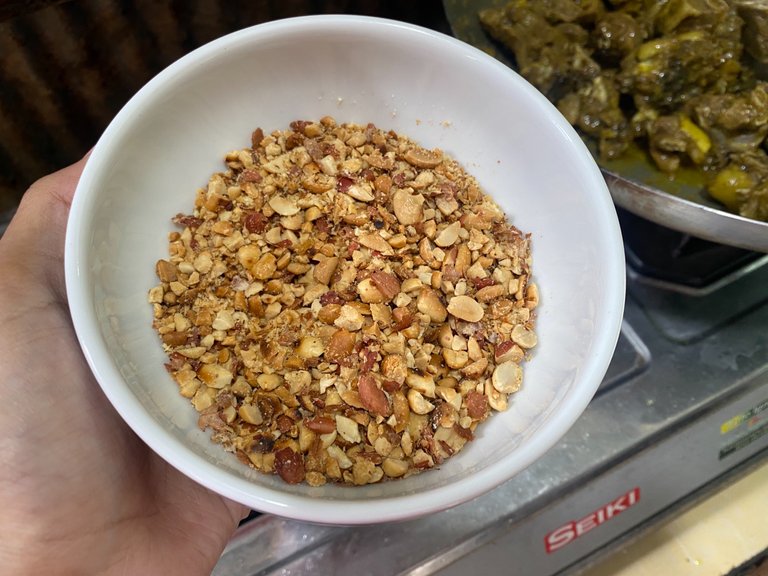 While adding the peanut, we should decrease the heat because the peanuts can burn easily, it's a good idea to turn off the heat for the last 1-2 minutes of cooking. This allows the peanuts to continue to cook in the hot oil without the risk of burning.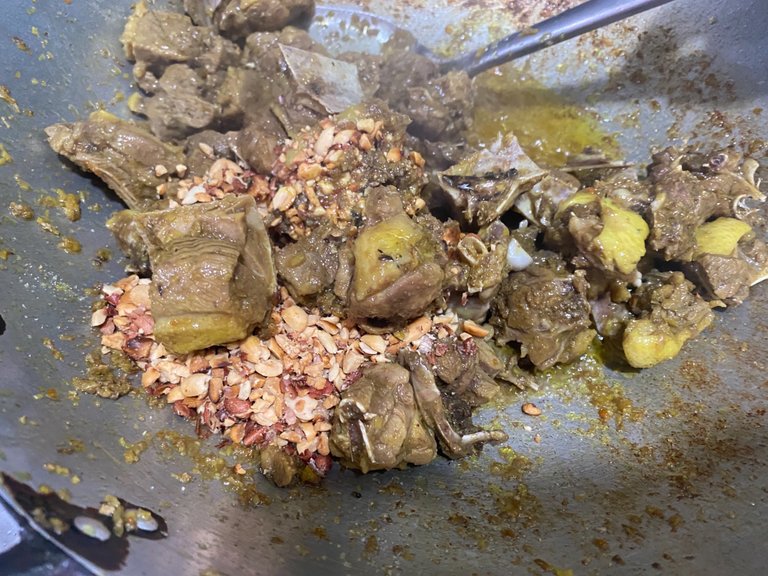 Sixthly, cook the water spinach. To prepare the water spinach for frying, you should trim off the tough stem, separate the stems, and cut the stems into 2-inch (5-cm) pieces. I usually separate a little stems and leaves and cook the stems a bit longer to get the best result.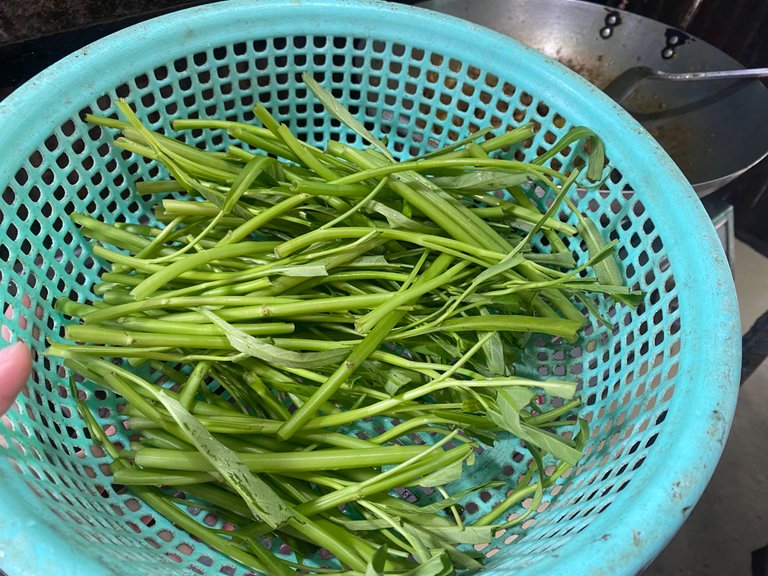 Next, we transfer the stems of the water spinach to the skillet. Cook and stir for a minute and then flip occasionally using your spatula, until most of the parts are withered.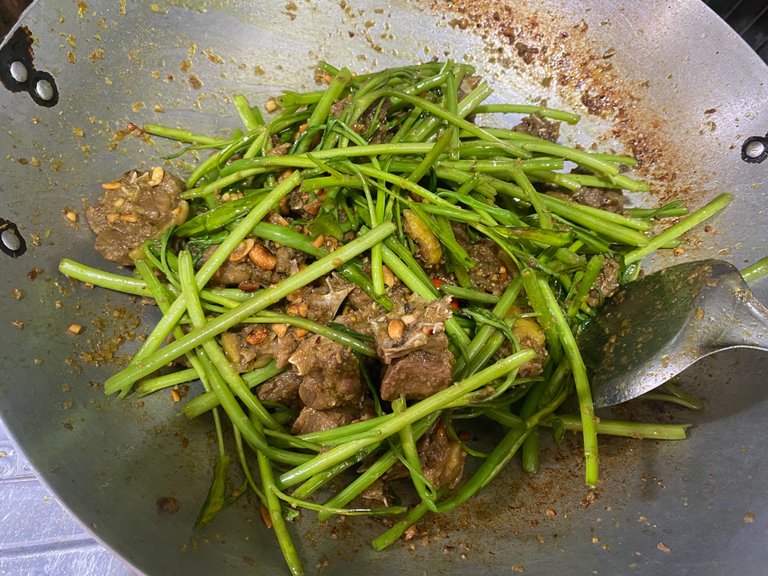 Lastly, Stir-fry for another minute and deglaze the pan with the broth or water. Because our pan is over high heat, the liquid should cook off very quickly and the next is adding holy basil, we stir-fry it until wilted.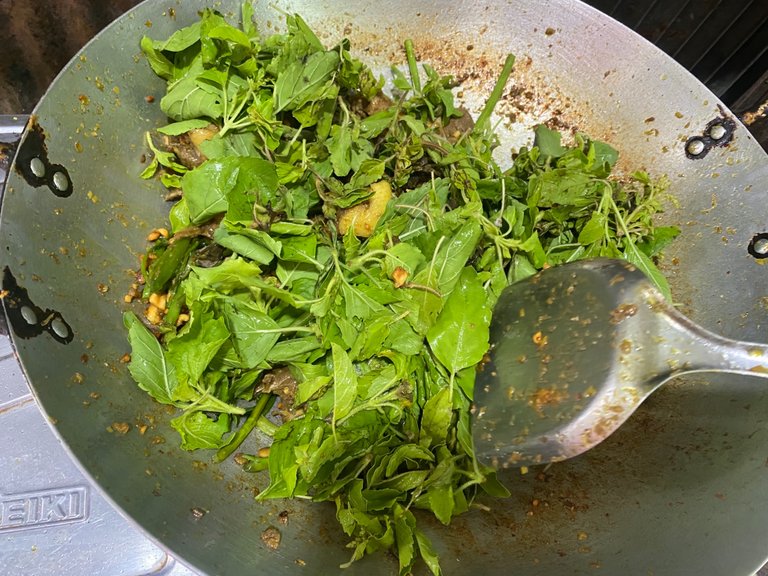 Place it on the plate with adding chili on top, now our dish is done ✅.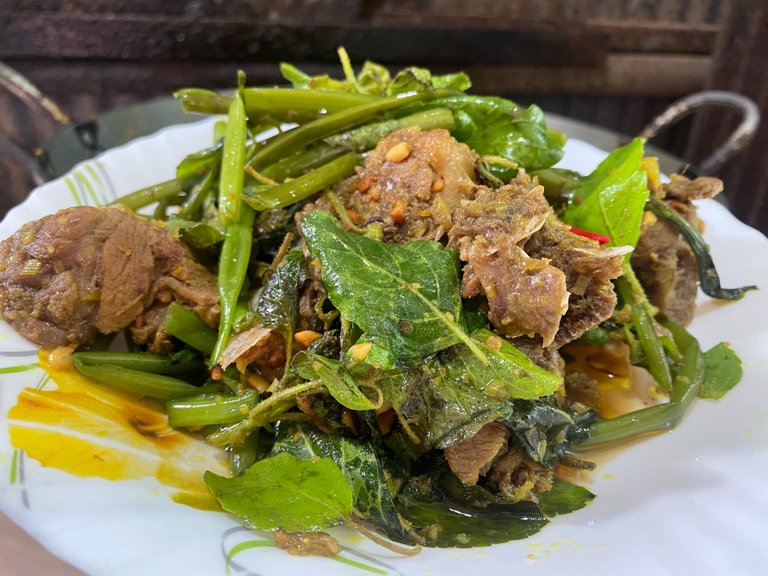 Chicken parts get marinated with lemongrass paste and seasoning ingredients which make this recipe more flavorful and fragrance. This recipe is really perfect for meal time as you can enjoy it with your family or friends.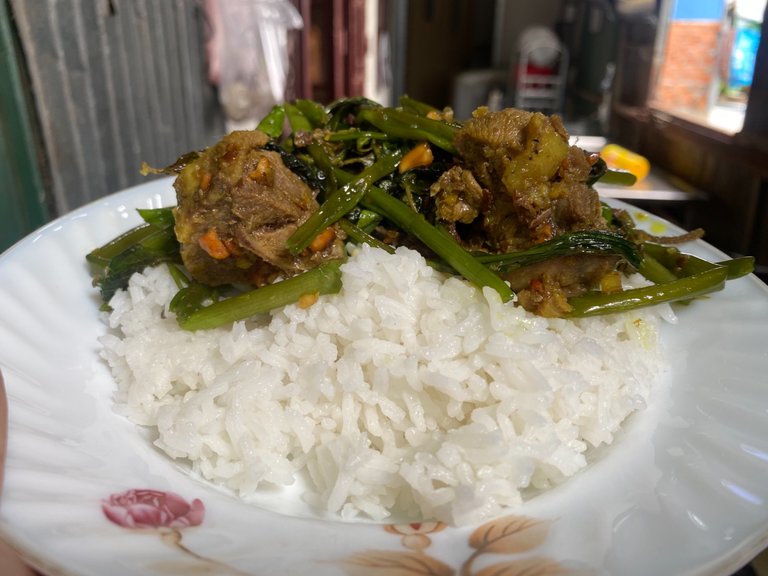 We usually serve fry chicken water spinach with rice when we have breakfast or lunch because it compromises each other very well.
---
---
---
---
---
---