Five reasons why I love Hive
I came across this particular topic from some awesome writers in the blockchain where they gave reasons why they love the hive blockchain which also interest me in writing mine as well. Though I am a newbie in the blockchain and with what I have seen and experience I believe that also have made me to share my own reason why I love the blockchain.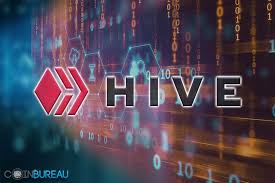 source
I joined the hive blockchain two month ago and I would say despite been new here I always feel I have known the blockchain for long because of how it interest me to meet new people here and then read contents that interest me to boost my ideology on how to progress here in the blockchain.
Though I am still trying to catch up but I believe with time I will really understand the platform more to share what might interest readers here as well. Despite that I still want to share my reasons why I love Hive.
My reasons
1. My first reason why I love this platform is because a lot is said to be learnt here which probably shows that the hive blockchain is not just a site to earn but also there are also much informations and opportunites to witness here that really interest me to love it.
2. My second reason is that you can earn while making contents here which is really nice and in some point educative if you look at it in another dimension. There are so many posts that is published in a day and when we go through some that suite our taste, there is an opportunity that something can be learnt and gained when going through them which also is a benefit in one's life to get more knowledge about such content.
3. My third reason is that it helps to improve in your writing when you do it consistently and with time there will be more improvement in it to write more and explore in different type of content when much ideas is derived.
4. My fourth reason about the awesome blockchain is that you get the opportunity to learn new things everyday and then get more information on things that can help both in the blockchain and in the real life. This aspect also enable the idea of making new friends because when you get attracted to some people's post there is every tendency that you will really want to see such people create contents again because of the attraction of their contents.
5 My last but not the least is that what you earn in the blockchain can also help to strengthen an individual life financially when been utilized properly. The idea of earning and then saving is a better decision for future plans which can help to solve so many things financially when working hard to enable it happen.
I believe this reasons is a good thing that is helpful in most areas and I appreciate the privilege to be here and sooner or later I will definitely testify my progress here someday.
Posted Using LeoFinance Beta
Posted Using LeoFinance Beta
---
---