CHAOS DRAGON, unpredictable and deadly! [PT/EN]

[PT]
Olá Splinters, bem vindos de volta!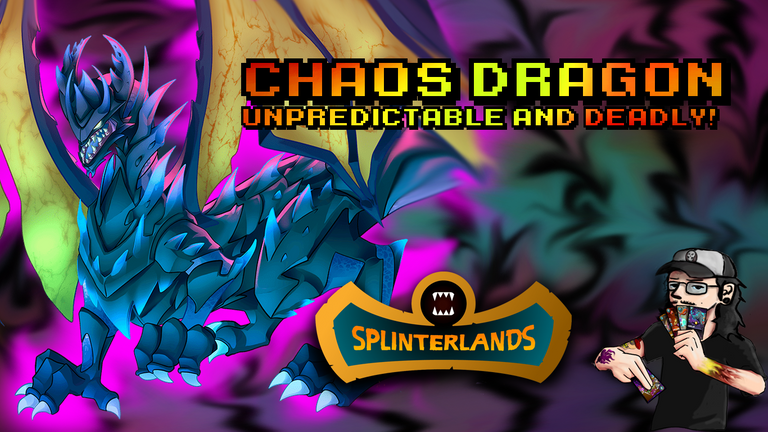 Essa semana é um desafio especial, temos como tema os Dragões! O elemento dragão é um dos elemento mais versáteis e com ele podemos unir a outros elementos e formas as mais diversas estratégias, eu amo jogar com os dragões. Além de sua versatilidade podemos encontrar muitos monstros incrivelmente fortes por lá e que geralmente conseguem trazer terror aos inimigos.
Hoje eu escolhi falar sobre CHAOS DRAGON, um dragão de muita força e ótimas habilidades que traz morte ao inimigos través de seu poder!!


Esse dragão não é barato para ser colocado em campo e podemos entender o porque de seu custo tão elevado, ainda em seu primeiro level possui muita vida (10) e escudo (4), um ótimo ataque mágico(3) e uma velocidade média (3). Se apenas seus atributos não fossem o suficiente para fazer esse monstro tornar-se ótimo ele possui duas habilidades em seu primeiro nível mas o que torna uma carta muito perigosa por sua imprevisibilidade, a habilidade Scattershot.

Scattershot
Os ataques deste monstro atingem um alvo inimigo aleatório.
Além de sua habilidade imprevisível ele também possui outra habilidade que o torna um monstro com possíveis esquivas e uma ótima opção para a regra de batalha Earthquake, estamos falando da habilidade Flying:

Flying
Tem uma chance maior de evitar ataques Corpo a Corpo ou à Distância de Monstros que não possuem a habilidade Flying.
Claro que essas são habilidades poderosas e muito úteis, mas é quando CHAOS DRAGON chega no level 2 é que o perigo vem junto quando ela adquire a habilidade Blast:

Blast
Causa dano adicional a Monstros adjacentes ao Monstro alvo.
Você consegue entender o quanto isso se torna perigoso? Esse monstro pode atacar qualquer monstro adversário e quando isso acontece ele vai causar dano nos monstros que estão ao lado do monstro que sofreu o dano principal. Se por alie estiver monstros de pouca vida provavelmente vão cair.
CHAOS DRAGON é uma carta incrível mas como qualquer outro monstro possui seu lado negativo: seu custo de mana é muito alto. Não vai ser em qualquer partida que esse monstro poderá ser colocado, as melhores oportunidades serão em partidas onde teremos muita mana disponível.

Mercado
De acordo com o site Splintercardsesse é o histórico de preços de CHAOS DRAGON nos últimos meses em sua versão regular: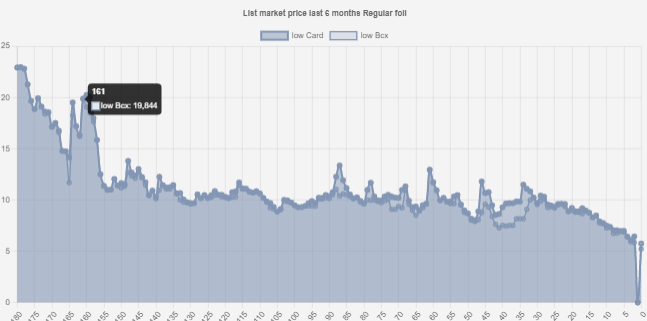 Gold: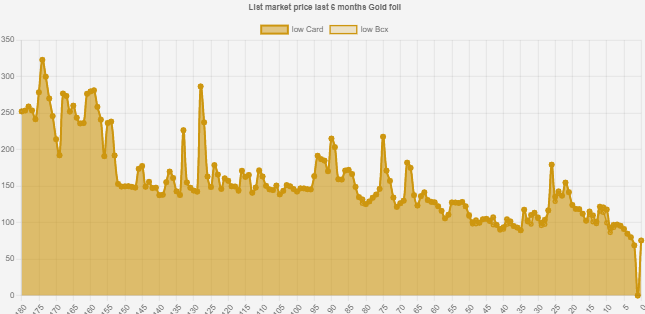 Close Range
Nessa batalha temos a regra Close Range mas isso foi irrelevante para qualquer estratégia que eu poderia usar. O que realmente teve algum peso para eu criar minha estratégia e escalar meu time foi a quantidade de mana disponível para essa partida, 50 de mana é uma quantidade muito boa e foi propícia para que CHAOS DRAGON entrasse em campo.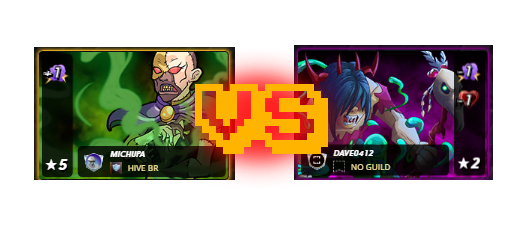 Para essa batalha eu fui com um summoner que pudesse aumentar o poder de fogo de meus monstros com ataque mágico, mas meus planos não foram sucedidos pois meu oponente escolheu um summoner para counterar essa vantagem que eu teria além de me tirar 1 de vida. Mas tudo bem, as chances estão equiparadas.
Para essa partida eu escalei os seguintes monstros:
| Monstro | Objetivo |
| --- | --- |
| | Foi escolhido para ser meu tank inicial por ter uma boa quantidade de vida, a habilidade Flying para possivelmente se esquivar e por possuir um ataque de presença. |
| | A nossa grande estrela da noite. Foi escolhido por ser uma carta extremamente ofensiva além de possuir grandes habilidades. Eu coloquei expectativas de que pudesse atacar algum monstro com pouca vida e causasse dano aos monstros vizinhos pois nessa batalha eu estou usando esse monstro em seu level 2 que possui a habilidade Blast. |
| | Foi escolhido por ataque mágico e fazer combo com outros monstros de seu mesmo tipo de ataque mas principalmente por adicionar escudo a todos os monstros e trazer uma proteção extra. |
| | Além de obter um bom ataque é uma boa carta para curar o monstro na primeira posição, muito útil para essa partida e ajudar o tank permanecer mais tempo em campo. |
| | Escalado por ter um ataque que pudesse ser eficiente e por sua vida razoável que poderia ser útil em algum momento. |
| | Escolhido para ficar na última posição para esquivar de algum ataque Sneak, sua habilidade somada a uma ótima velocidade poderia proporcionar isso. |
---
Round 1
Meu adversário escolheu diminuir meu ataque mágico e também melee através do summoner e de habilidade de monstros, além disso tentou se proteger bem com um monstro propício a ataques mágicos. Pelo que consigo observar vou ter um pouco de trabalho nessa batalha.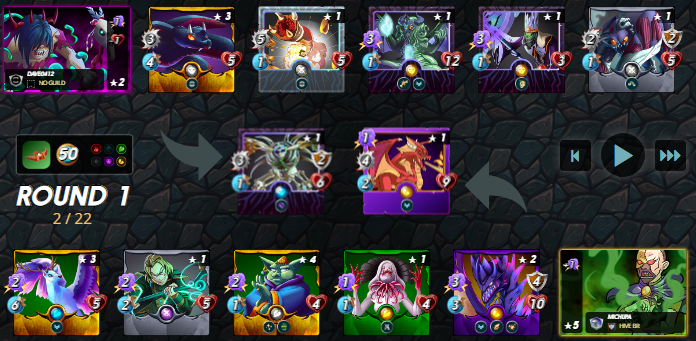 ---
Round 2
CHAOS DRAGON em seu primeiro turno já conseguiu derrubar o primeiro alvo e causar bons danos em outros, meu ultimo monstro da linha de trás não resistiu a dois ataques Sneak e caiu, não cumpriu bem seu papel mas o restante da equipe está indo bem.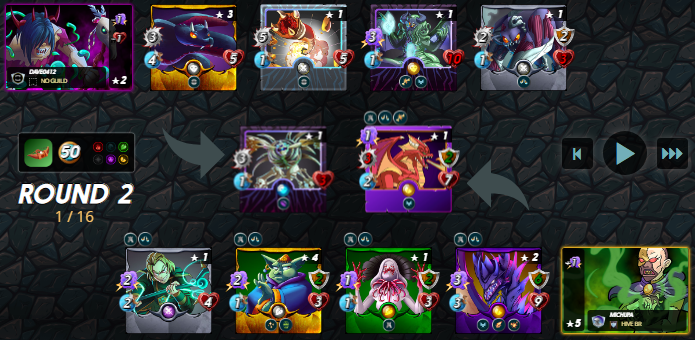 ---
Round Final
Sem muito esforço minha equipe se saiu melhor que eu esperei mesmo meu adversário ter se preparado para enfrentar ataques mágicos. CHAOS DRAGON desempenhou muito bem sua função e foi fundamental para que a vitória fosse minha. Meu adversário se preparou bem mas não teve êxito.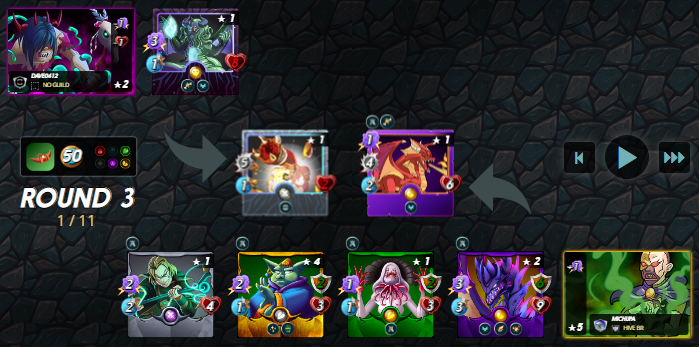 Para assistir a essa batalha completa em seus mínimos detalhes basta clicar aqui
E por aqui eu encerro este post, obrigado por passar um pouco do seu tempo com minhas palavras e pensamento, espero você na próxima semana!!

[EN]
Hello Splinters, welcome back!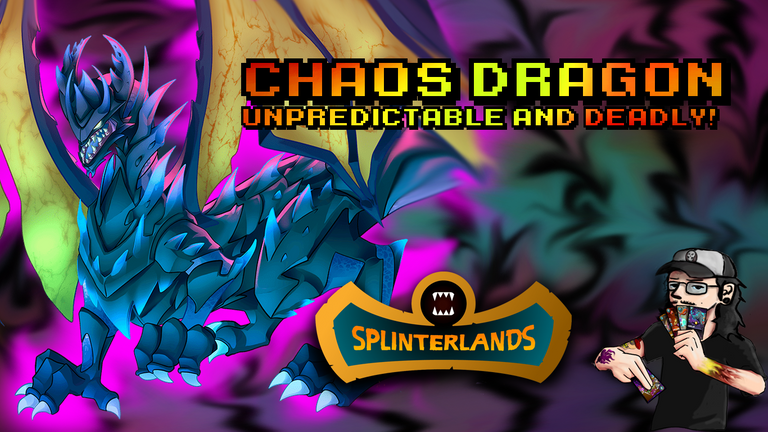 This week is a special challenge, we have Dragons as a theme! The dragon element is one of the most versatile elements and with it we can combine the most diverse strategies with other elements and forms, I love playing with dragons. In addition to its versatility, we can find many incredibly strong monsters there and that usually manage to bring terror to enemies.
Today I chose to talk about CHAOS DRAGON, a dragon of great strength and great skills that brings death to enemies through its power!!


This dragon is not cheap to put on the field and we can understand why its cost is so high, even in its first level it has a lot of health (10) and shield (4), a great magic attack (3) and an average speed ( 3). If only its attributes weren't enough to make this monster great it has two abilities at its first level but what makes it a very dangerous card for its unpredictability, the ability Scattershot.

Scattershot
This monster's attacks hit a random enemy target.
In addition to his unpredictable ability, he also has another ability that makes him a monster with possible dodges and a great option for the Earthquake battle rule, we are talking about the Flying ability:

Flying
Has a higher chance to avoid Melee or Ranged attacks from Monsters that don't have the Flying skill.
Of course, these are powerful and very useful skills, but it's when CHAOS DRAGON gets to level 2 that danger comes along when she acquires the ***Blast skill. ***:

Blast
Deals additional damage to Monsters adjacent to the target Monster.
Can you understand how dangerous this becomes? This monster can attack any opposing monster and when it does it will deal damage to the monsters that are next to the monster that took the main damage. If there are low health monsters there, they will probably fall.
CHAOS DRAGON is an amazing card but like any other monster it has its downside: its mana cost is very high. It won't be in any game that this monster can be placed, the best opportunities will be in games where we will have a lot of mana available.

Marketplace
According to the website Splintercardsthis is the price history of CHAOS DRAGON in the last few months in its regular version: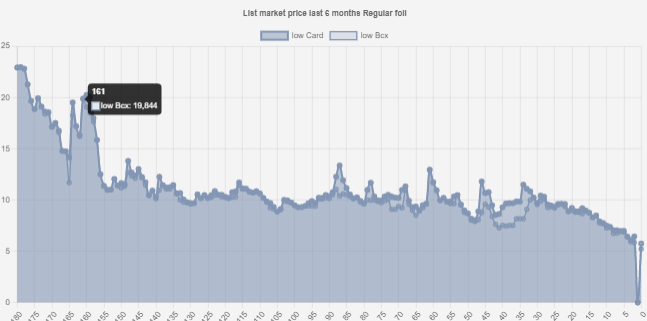 Gold: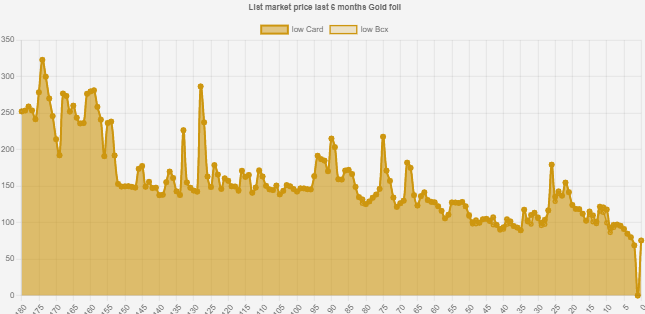 Close Range
In this battle we have the Close Range rule but that was irrelevant to any strategy I could use. What really had some weight for me to create my strategy and scale my team was the amount of mana available for this match, 50 mana is a very good amount and was conducive to CHAOS DRAGON enter the field.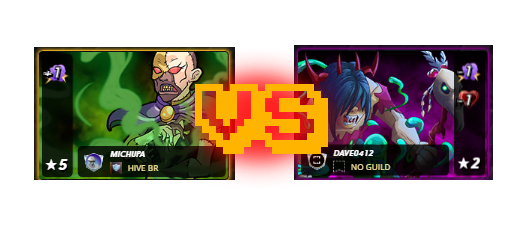 For this battle I went with a summoner that could increase the firepower of my monsters with magic attack, but my plans were not successful because my opponent chose a summoner to counter this advantage that I would have besides taking 1 life from me. But hey, the odds are even.
For this match I have scaled the following monsters:
| Monster | Purpose |
| --- | --- |
| | It was chosen to be my starting tank because it has a good amount of health, the Flying ability to possibly dodge and because it has a presence attack. |
| | Our big star of the night. It was chosen for being an extremely offensive card in addition to having great abilities. I put expectations that I could attack a monster with low health and deal damage to neighboring monsters because in this battle I'm using this monster in its level 2 that has the Blast ability. |
| | It was chosen for magic attack and combo with other monsters of the same attack type but mainly for adding shield to all monsters and bringing extra protection. |
| | In addition to getting a good attack, it's a good card to heal the monster in the first position, very useful for this match and helping the tank stay longer on the field. |
| | Escalated for having an attack that could be efficient and for its reasonable health that could come in handy at some point. |
| | Chosen to be in the last position to dodge a Sneak attack, his skill added to great speed could provide that. |
---
Round 1
My opponent chose to decrease my magic attack and also melee through summoner and monster skill, and also tried to protect himself well with a monster that is conducive to magic attacks. From what I can see I'm going to have a little work to do in this battle.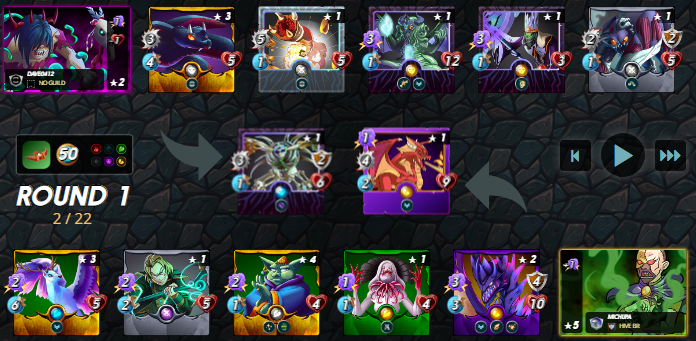 ---
Round 2
CHAOS DRAGON on its first turn has already managed to take down the first target and cause good damage to others, my last monster from the back line couldn't resist two Sneak attacks and fell, it didn't fulfill its role well but the rest of the team is doing well.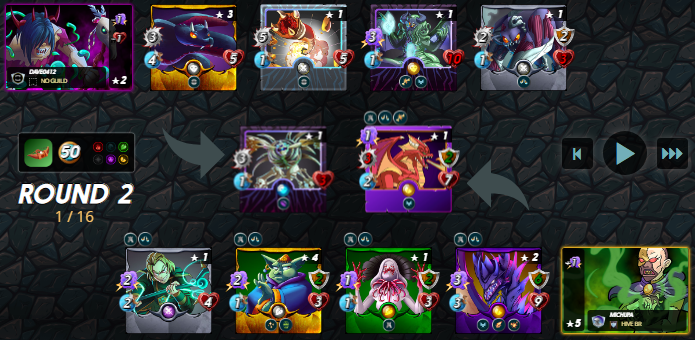 ---
Final Round
Without much effort my team fared better than I even expected my opponent to have prepared to face magical attacks. CHAOS DRAGON played its role very well and was essential for the victory to be mine. My opponent prepared well but was unsuccessful.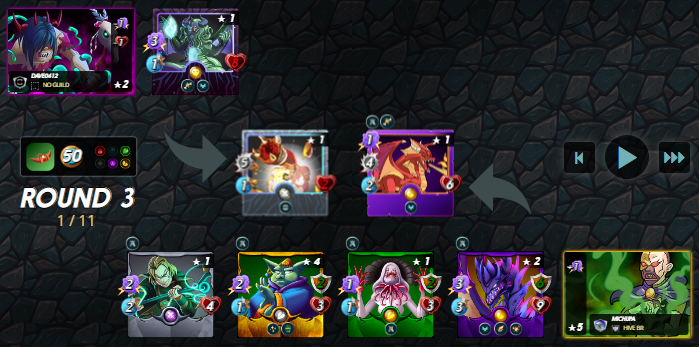 To watch this complete battle in its smallest details just click here
And that's the end of this post, thanks for spending some of your time with my words and thoughts, I hope to see you next week!!



---
---