CURSED WINDEKU - An amazing tank! [PT/EN]
[PT]
Olá Splinters, bem vindo de volta!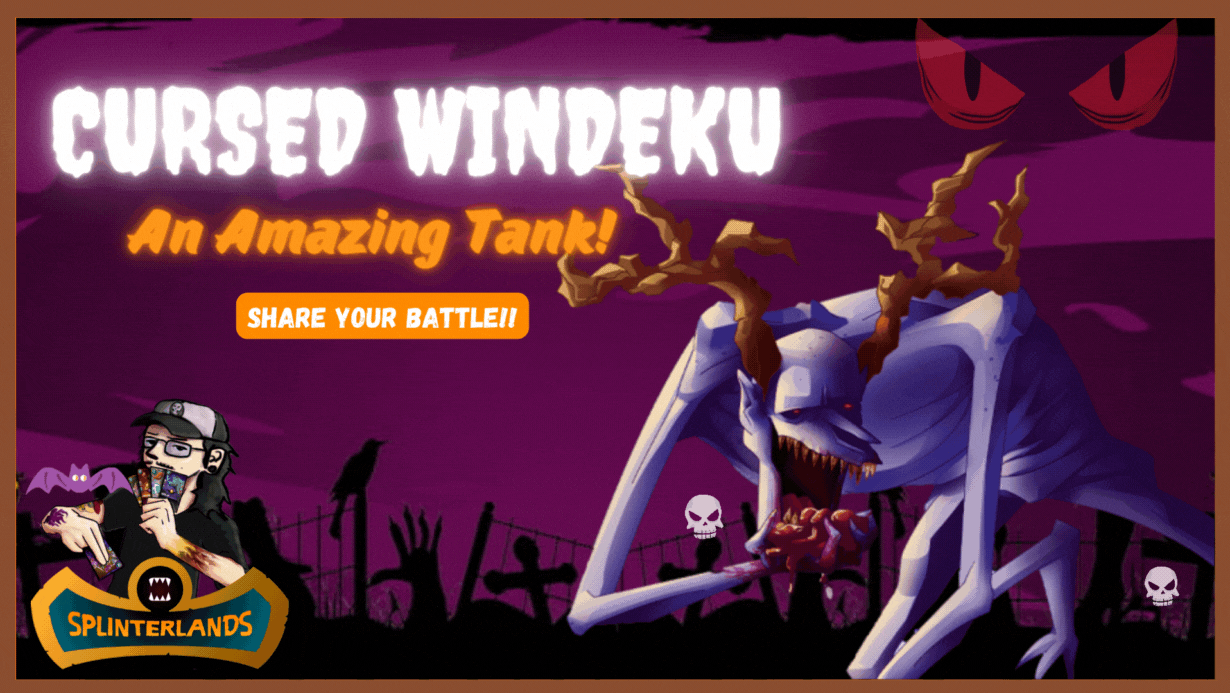 Um bom time começa pelo tank. O primeiro monstro de uma batalha precisa ter algumas características específicas para que se torne útil, entre elas está uma boa quantidade de vida, algum escudo, habilidades que o tornam propício para aguentar a maior quantidade de dano possível. Também será interessante que seja um monstro ofensivo, afinal, ele vai encarar diretamente com o tank adversário.
Hoje vamos falar de CURSED WINDEKU, um monstro do elemento Morte e um dos meus preferidos para a primeira posição do campo!!

Quando precisamos escolher um tank compor nosso time, precisamos deu um monstro que tenha relevâncias defensivas, CURSED WINDEKU possui uma ótima quantidade de vida e essa é sua principal característica para representar a função de um tank. Além dessa característica, possui um custo muito baixo, o que faz desse um monstro muito eficaz, principalmente em partidas de pouca mana. Quando um monstro como esse tem um custo tão baixo e mesmo assim consegue suprir muito bem seu objetivo, abre espaço para que mais mana seja gasta para outras posições do campo, com monstros melhores na linha de trás, ele ajudará o time indiretamente mesmo antes da partida começar.
Apesar de não possuir escudos, sua quantidade de vida é de bom tamanho. Possui também uma boa velocidade. Suas habilidades também é outro fator muito importante, costume desiquilibrar partidas a nosso favor, vamos falar sobre cada uma delas a seguir:

THORNS
Quando atingido por um ataque melee, causa 2 de dano de volta ao atacante.
Essa é uma habilidade que vamos encontra logo em seu primeiro nível. Uma habilidade muito boa para causar danos indiretos a atacantes melee, principalmente se levarmos em consideração que vamos provavelmente enfrentar um tank com esse tipo de ataque.

HEAL
Restaura 1/3 da saúde máxima, arredondada para baixo a cada rodada.
Um tank que pode se curar a cada rodada é uma bela vantagem, quanto mais tempo ele permanecer de pé, mais ajudará o time. CURSED WINDEKU adquire essa habilidade no nível 5.

SLOW
Reduz a velocidade de todos os monstros inimigos.
Quando atinge seu último nível adquire a habilidade Slow. Tirar a velocidade inimiga sempre será uma das melhores coisas que que um monstro pode fazer. Assim, o oponente atacará mais tardiamente e ainda aumentará a possibilidade de errar seus ataques.
CURSED WINDEKU é sempre uma das minhas principais escolhas quando escolho o elemento morte, um tank com suas características tem grande utilidade em campo, inimigos que enfrentam passam por boas dificuldades! O seu ponto fraco é não possuir escudos e não ter muito oq ue fazer quando sofre ataque range e magic. M as nem tudo pode ser perfeito, apesar de seus pontos fracos, ele possui um custo/ benefício excelente!
Vamos para a batalha!!


Para essa partida temos 29 de mana. Uma quantidade razoável, porém que não da muita liberdade para escolher muitos monstros de alta mana. CURSED WINDEKU será uma boa escolha para essa partida, seu custo baixo me dará mana extra para escolher monstros que tenham um custo mai alto, assim ajudará a na composição do time. A regra de batalha é Heavy Hitters, o que não me dará vantagens, não vou usar monstros com Stun. Apenas 3 elementos estão disponíveis: Morte, Água e Life.

Eu entro em campo com o summoner Thadius. Ele vai diminuir ataque mágico e vida do me oponente, que por sua vez escolhe o summoner Kelya Frendul, adicionando escudos e velocidade ai seus monstros. Eu terei que enfrentar escudos adicionados aos monstros, isso me dará trabalho extra e a velocidade a mais que seus monstros vão ter também será outra barreira, já que aumentam a probabilidade de meus monstros errarem o ataque.
Essa foi a minha escalação:
| Monstro | objetivo |
| --- | --- |
| | Será meu tank principal, a grande estrela dessa noite. Acredito fortemente em seu potencial, sua capacidade de regenerar a própria vida e nos danos diretos e indiretos que podem proporcionar ao inimigo. |
| | Um monstro muito importante dentro da minha estratégia. através de suas habilidades, esse monstro irá retiraras vatangens que o summoner inimigo dará ao time. Ele vai tirar velocidade e escudos adversários. |
| | Mais um monstro para tirar algo do oponente. Nesse caso ele vai retirar força de ataque melee e ranged. |
| | Um monstro com bom poder ofensivo, escolhido para atacar o último monstro inimigo. |
| | Como me restava apenas 2 de mana no final, esse monstro foi escolhido pelo seu custo. Mesmo sendo uma escolha de última hora, ele terá utilidade em retirar escudos de seu alvo e ainda possui 2 de ataque, que é uma boa quantidade para seu custo tão baixo. |
| | Por ultimo mas não menos importante esse monstro que é perfeito para ficar na retaguarda e defender o time de ataques Sneaks. Sua habilidade Dodge aumenta sua chance de esquiva. Além de sua utilidade defensiva, também possui um bom ataque! |
---
Inicialmente eu me deparei com um grande problema: o tank adversário.
Ele possui a habilidade Taunt, que levará todos os meu monstros a ataca-lo e isso é sim um grande problema, pois ele possui uma alta capacidade de se esquivar de ataques, inclusive os ataques mágicos.
Depois que conseguisse lidar com isso, as coisas seriam mais fáceis, porém é uma grande obstáculo a ser superado.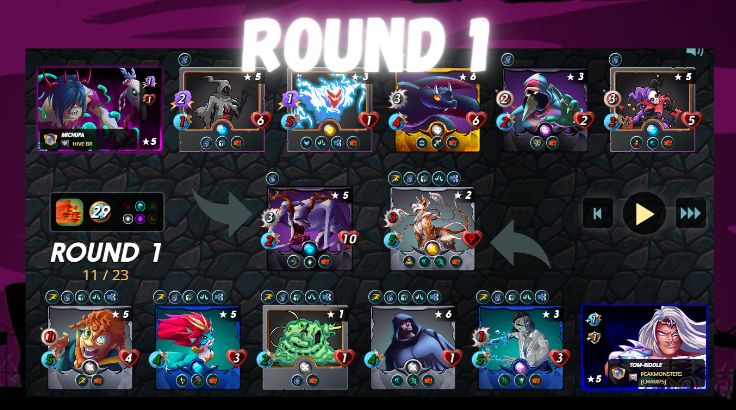 Muitas escolhas que eu tomei ao escalar meu time me ajudam nessa batalha. diminuir escudos velocidade e ataques inimigo, está sendo muito importante e está equilibrando a partida. Aqui no segundo round as dificuldades não estão sendo tão grandes quanto imaginei e CURSED WINDEKU está fazendo seu papel com muita eficiência.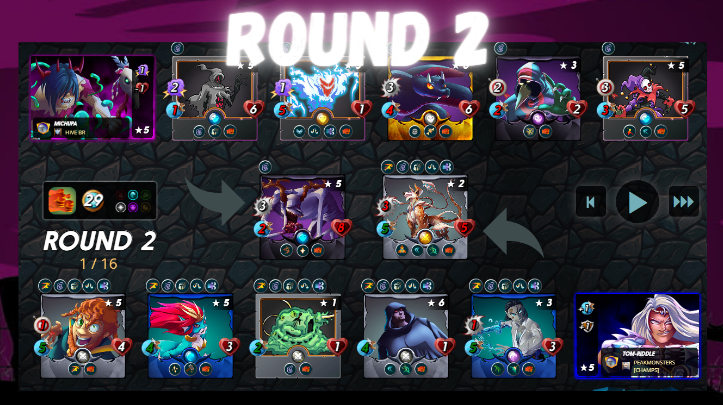 Como imaginado, era destruir o tank inimigo para as coisas irem bem. Tudo caminhou com uma sinergia muito bom entre meus monstros e chegamos no terceiro round com a vitória nas mãos.
Meu oponente ficou muito dependente de seu tank, depois que ele foi destruído, o caminho estava livre para que meus monstros fizessem uma festa!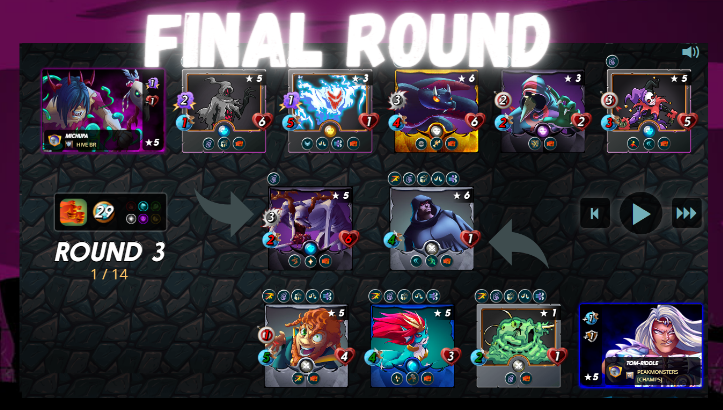 E por aqui eu encerro este post. Obrigado por passar um pouco do seu tempo com minhas palavras e pensamentos e até a próxima!!

[EN]
Hello Splinters, welcome back!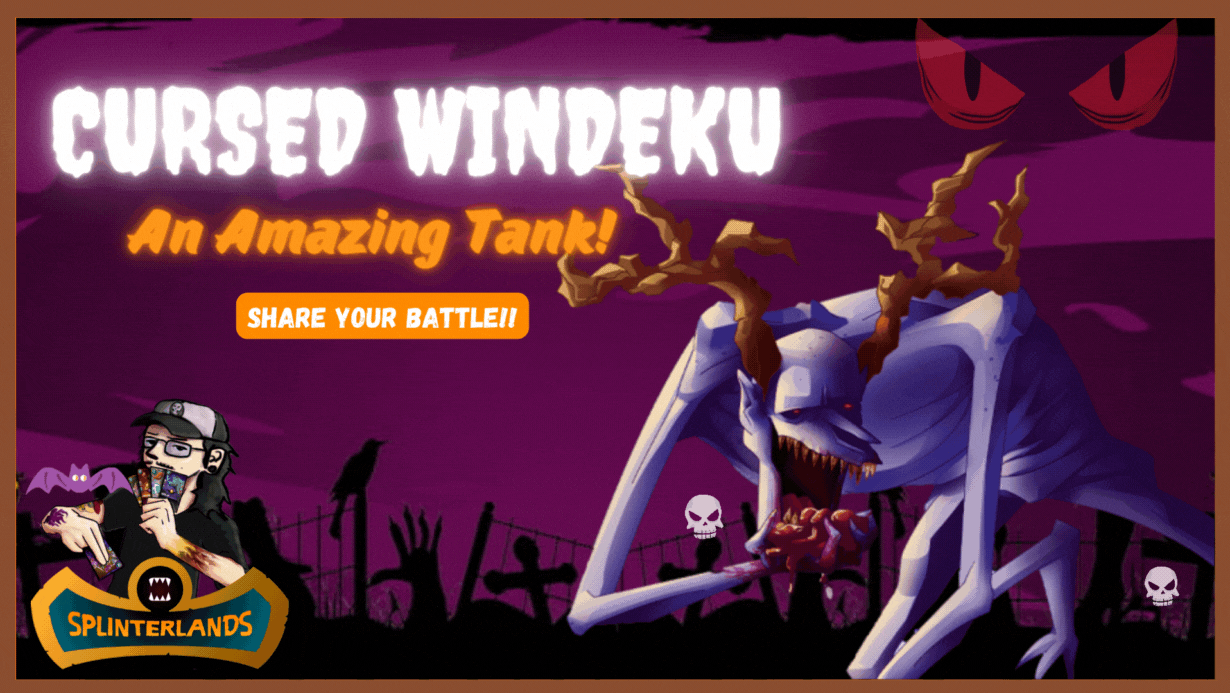 A good team starts with the tank. The first monster in a battle needs to have some specific characteristics for it to become useful, among them is a good amount of life, some shield, skills that make it conducive to taking as much damage as possible. It will also be interesting that it is an offensive monster, after all, it will face directly with the opposing tank.
Today we are going to talk about CURSED WINDEKU, a Death element monster and one of my favorites for the first position of the field!!

When we need to choose a tank to compose our team, we need a monster that has defensive relevance, CURSED WINDEKU has a great amount of life and this is its main characteristic to represent the function of a tank. In addition to this feature, it has a very low cost, which makes it a very effective monster, especially in low mana games. When a monster like this has such a low cost and even so manages to supply its objective very well, it opens up space for more mana to be spent on other positions on the field, with better monsters in the back line, it will help the team indirectly even before the match start.
Despite not having shields, its amount of life is of good size. It also has good speed. Your skills are also another very important factor, they tend to unbalance matches in our favor, let's talk about each one of them below:

THORNS
When hit by a melee attack, deals 2 damage back to the attacker.
This is a skill that we will find right at its first level. A very good ability to deal indirect damage to melee attackers, especially if we consider that we will probably face a tank with this type of attack.

HEAL
Restores 1/3 of maximum health, rounded down each round.
A tank that can heal each round is a nice asset, the longer it stays on its feet, the more it will help the team. CURSED WINDEKU gains this ability at level 5.

SLOW
Reduces the Speed of all enemy monsters.
When it reaches its last level, it acquires the Slow skill. Taking out enemy speed will always be one of the best things a monster can do. Thus, the opponent will attack later and even increase the possibility of missing his attacks.
CURSED WINDEKU is always one of my main choices when I choose the element of death, a tank with its characteristics has great utility on the field, enemies they face have good difficulties! Its weak point is not having shields and not having much to do when it suffers range and magic attacks. But not everything can be perfect, despite its weaknesses, it has an excellent cost/benefit ratio!
Let's go to battle!!


For this game we have 29 mana. A reasonable amount, but it doesn't give much freedom to choose many high mana monsters. CURSED WINDEKU will be a good choice for this match, its low cost will give me extra mana to choose monsters that have a higher cost, thus helping with team composition. The battle rule is Heavy Hitters, which won't give me any advantages, I won't use monsters with Stun. Only 3 elements are available: Death, Water and Life.

I enter the field with the summoner Thadius. It will decrease magic attack and life of my opponent, who in turn chooses the summoner Kelya Frendul, adding shields and speed to his monsters. I will have to face shields added to the monsters, this will give me extra work and the extra speed your monsters will have will also be another barrier, since they increase the probability of my monsters missing the attack.
This was my lineup:
| Monster | goal |
| --- | --- |
| | Will be my main tankipal, the big star of that night. I strongly believe in their potential, their ability to regenerate their own life and the direct and indirect damage they can do to the enemy. |
| | A very important monster within my strategy. through its abilities, this monster will remove the advantages that the enemy summoner will give to the team. It will take away speed and shields from opponents. |
| | One more monster to take something from the opponent. In that case he will withdraw melee and ranged attack strength. |
| | A monster with good offensive power, chosen to attack the last enemy monster. |
| | As I only had 2 mana left at the end, this monster was chosen for its cost. Even though it is a last minute pick, it will have utility in removing shields from its target and still has 2 attack, which is a good amount for its low cost. |
| | Last but not least, this monster is perfect to stay in the back and defend the team from Sneaks attacks. Your Dodge skill increases your dodge chance. In addition to its defensive utility, it also has a good offense! |
---
Initially I came across a big problem: the opposing tank.
He has the Taunt ability, which will lead all my monsters to attack him and that is a big problem, because he has a high ability to dodge attacks, including magical attacks.
Once I could deal with it, things would be easier, but it's a big hurdle to overcome.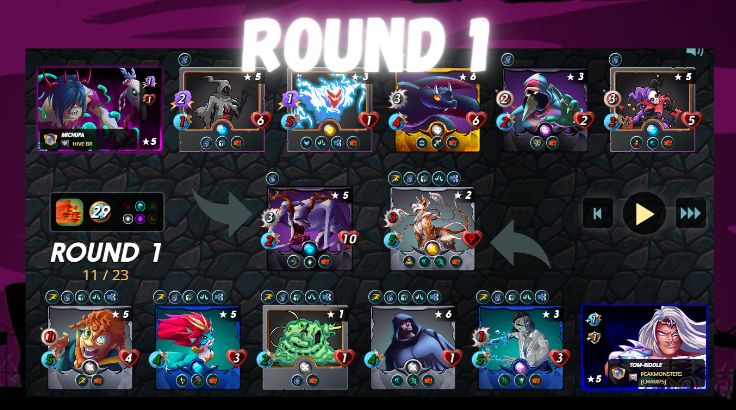 Many choices I made when building my team help me in this battle. decrease speed shields and enemy attacks, is being very important and is balancing the match. Here, in the second round, the difficulties are not as big as I imagined and CURSED WINDEKU is playing its part very efficiently.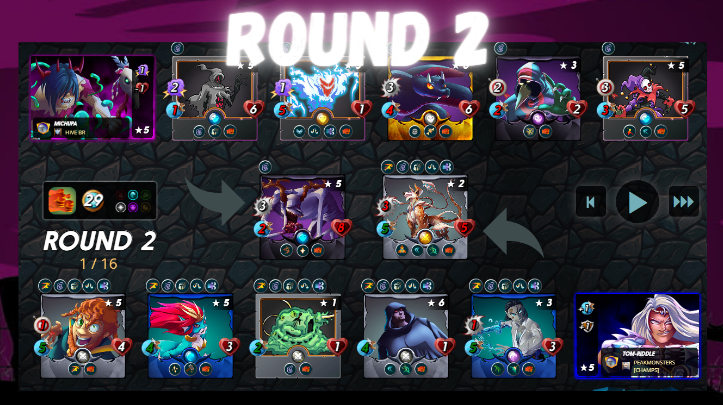 As imagined, it was to destroy the enemy tank for things to go well. Everything went with a very good synergy between my monsters and we reached the third round with the victory in our hands.
My opponent became very dependent on his tank, after he was destroyed the way was clear for my monsters to have a party!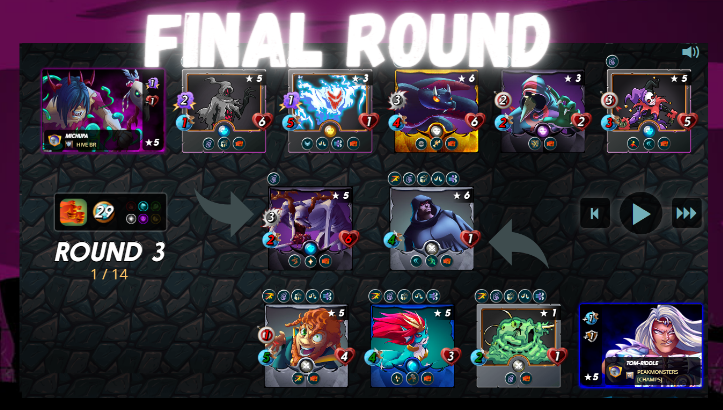 And here I end this post. Thank you for spending some of your time with my words and thoughts and until next time!!
---
Click on the image and use my referral link!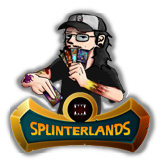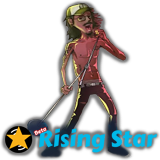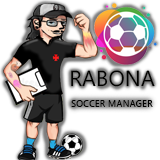 ---
---
Credits:
Thumbnail background image: Source
Image editor: Canva
Screenshots taken from the game Splinterlands

---
---