Life Leech, a good skill for the right occasions! [PT/EN]
[PT]
Olá Splinters, bem vindos de volta!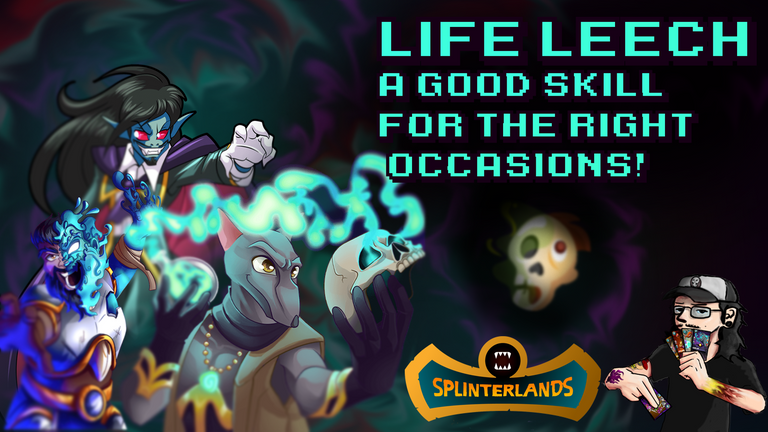 Splinterlands é um jogo de estratégia e visão, a cada batalha precisamos estar atentos as possibilidades que surgem. Com decorrer de muitas batalhas vamos nos habituando com os melhores cenários e algumas característica que um monstro possui pode ser determinante dentro de uma partida, é importante estar atento aos detalhes.
Cada monstro tem suas particularidades, seu tipo de ataque ( ou ausência ), suas habilidades. Um monstro pode ser melhor para a defesa, para o ataque ou até mesmo para dar um suporte para o time. É importante que o jogador saiba identificar essas características, isso será útil nas batalhas e conhecimento é poder!
Hoje eu gostaria de falar sobre a habilidade Life Leech, como ela pode ser bem aproveitada nas batalhas, dicas e curiosidades.



Life Leech
A saúde do monstro aumenta cada vez que causa dano à saúde de um monstro inimigo em proporção ao dano causado.
Para mim essa é uma habilidade muito interessante para ser usada em algumas batalhas, é importante saber posicionar bem o monstro que a possui, ele precisa ficar bem protegido para que ganhe tempo de aumentar a sua vida mas também que seja útil em se tornar um tanque quando for preciso.
Existem algumas regras de batalhas que vão ajudar a essa habilidade ser mais eficiente, útil e potencializar uma maior quantidade de vida que um monstro com essa habilidade pode ter, vamos conferir:

EQUALIZER
A Saúde inicial de todos os Monstros é igual à do Monstro em qualquer equipe com a Saúde base mais alta. Se um monstro que possui essa habilidade já começa um partida com a vida equiparada a melhor vida em campo, a tendência é que ele fique com a saúde cada vez maior. Isso traz para o oponente um trabalho redobrado pois ele precisará desferir mais ataques para matar esse monstro, é um boa forma de se defender e segurar alguns ataques.

EXPLOSIVE WEAPONRY
Todos os Monstros têm a habilidade Blast que é uma habilidade que causa dano adjacente ao monstro atacado. Quando essa regra está ativa monstros com a habilidade Life Leech tem uma vantagem: consegue ganhar vida extra pelo dano adjacente que o efeito Blast proporciona.

Life Leech não é uma habilidade muito abundante nos monstros de Splinterlands, apenas 11 monstros a possui em seus respectivos leveis:

O elemento morte é detentor da maior parte dos monstros com essa habilidade, 5 no total.

Em sua maioria, monstros com ataque mágico é predominante, 8

Apenas 1 monstro com ataque melee e 2 com ataque ranged possui essa habilidade.
---
BLACK DRAGON é o monstro mais caro detentor dessa habilidade custando $28,00 dólares nesse momento em sua versão regular e $7267,71 em sua versão gold.
Regular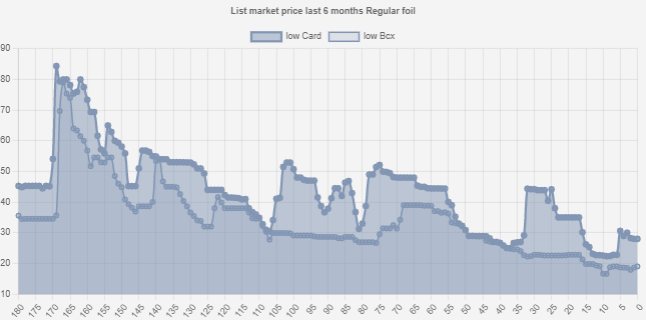 Gold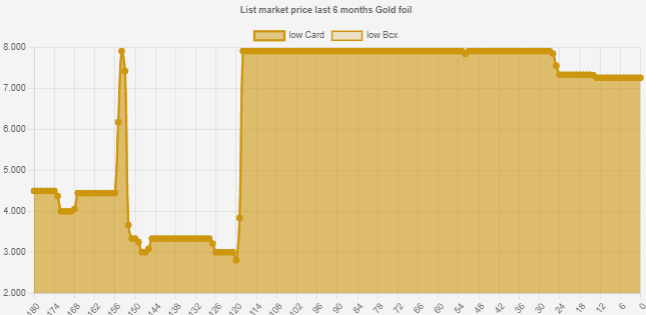 ---
MERDHAMPIR é o mais acessível financeiramente custando apenas $0,01 centavo em sua versão regular e $0,34 na sua versão gold.
Regular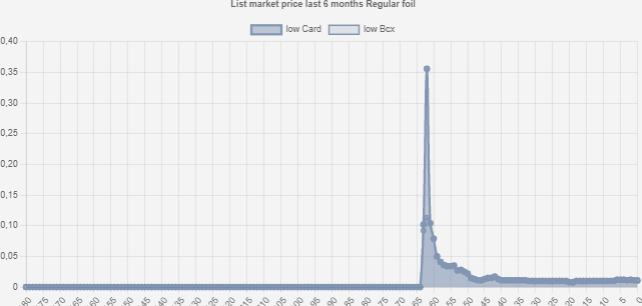 Gold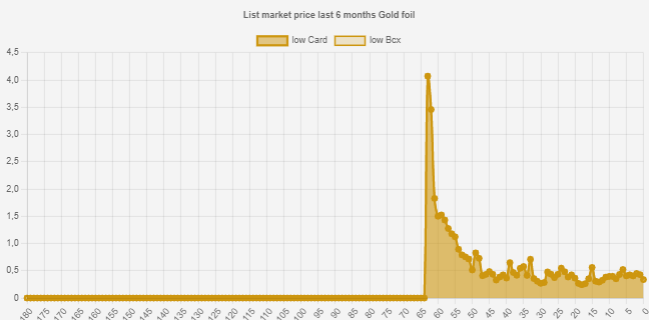 ---
Quando pensamos em usar essa habilidade o elemento morte possui mais opções e se temos condições propícias para que essa habilidade se sobressaia é por lá que vamos nos dar bem. Eu separei uma batalha que posso demonstrar um pouco de como isso funciona. vamos conferir?



Equalizer / Explosive Weaponry
Essa foi uma batalha que tivemos as duas melhores regras de batalha para que Life Leech fosse bem explorada, a combinação foi ideal para que essa fosse uma estratégia útil e uma boa demonstração da sua eficácia. 28 de mana não uma quantidade de mana muito alta que nos dê liberdade para colocar monstros muito caros em campo, mas por Equalize ser uma de nossas regras isso ajuda a colocar monstros de custo mais baixo e que normalmente são um pouco mais frágeis.
Dois monstros com a habilidade Life Leech foram usados para essa batalha: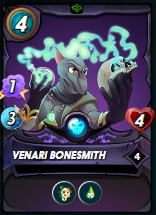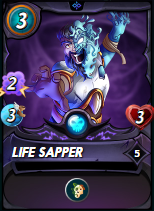 ---
Essas duas cartas são cartas de fácil acesso, as que possuo estão upadas que me ajuda um pouco mais por terem alguma habilidade extra e melhores atributos e vão ser muito importantes para a nossa batalha, assista o vídeo:
Você consegue perceber qual foi a minha estratégia?
Note que meu adversário veio para a batalha com um poder de fogo muito superior ao meu, o efeito Blast potencializou ainda mais essa força que ele possuía em campo.
A primeira ação que eu tomei foi deixar um monstro na segunda posição que fosse imune ao efeito Blast. Depois disso eu optei por um monstro que pudesse curar monstros da linha de trás e dois monstros com a habilidade Life Leech que pudesse aumentar sua vida por conta própria.
Minha estratégia estava baseada em preservar meus monstros em campo, defender onde fosse possível da habilidade Blast e contar que mesmo que eu tirasse pouco dano meu time fosse mais resistente que o do meu oponente. Funcionou.
Por fim meus dois monstros com a habilidade Life Leech já estavam com bastante vida: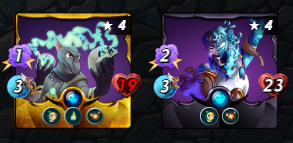 Se fosse necessário que um deles ficassem na primeira posição de tank e o segundo sofrendo os danos de Blast, isso daria trabalho extra para meu adversário e me daria boas vantagens.
O que você achou dessa batalha? Teria feito algo diferente?
Fale para mim nos comentários!
E por aqui eu encerro este post, espero que tenha gostado. Obrigado por passar um pouco do seu tempo com minhas palavras e pensamentos!

[EN]
Hello Splinters, welcome back!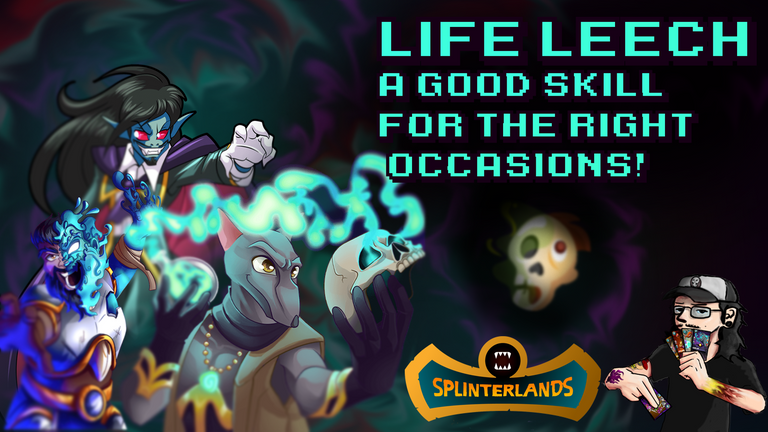 Splinterlands is a game of strategy and vision, with each battle we need to be aware of the possibilities that arise. Over the course of many battles, we get used to the best scenarios and some characteristics that a monster has can be decisive within a match, it is important to pay attention to details.
Each monster has its peculiarities, its type of attack (or absence), its abilities. A monster can be better for defense, offense or even support for the team. It is important that the player knows how to identify these characteristics, this will be useful in battles and knowledge is power!
Today I would like to talk about the Life Leech skill, how it can be put to good use in battles, tips and trivia.



Life Leech
The monster's health increases each time it deals damage to an enemy monster's health in proportion to the damage done.
For me this is a very interesting skill to be used in some battles, it is important to know how to position the monster that has it well, it needs to be well protected so that it buys time to increase its life but also that it is useful in becoming a tank when necessary.
There are some battle rules that will help this skill be more efficient, useful and boost a greater amount of life that a monster with this skill can have, let's check it out:

EQUALIZER
The starting Health of all Monsters is the same as the Monster on any team with the highest base Health. If a monster that has this ability already starts a game with health equal to the best health on the field, it will tend to have increasing health. This makes the opponent work redoubled because he will need to make more attacks to kill this monster, it's a good way to defend and hold off some attacks.

EXPLOSIVE WEAPONRY
All Monsters have the ability Blast which is an ability that deals damage adjacent to the attacked monster. When this rule is active, monsters with the Life Leech ability have an advantage: they can gain extra life from the adjacent damage that the Blast effect provides.

Life Leech is not a very abundant skill in Splinterlands monsters, only 11 monsters have it at their respective levels:

The death element holds most monsters with this skill, 5 in total.

Mostly monsters with magic attack is predominant, 8

Only 1 monster with melee attack and 2 with ranged attack has this ability.
---
BLACK DRAGON is the most expensive monster with this ability, costing $28.00 at this time in its regular version and $7267.71 in its gold version.
Regular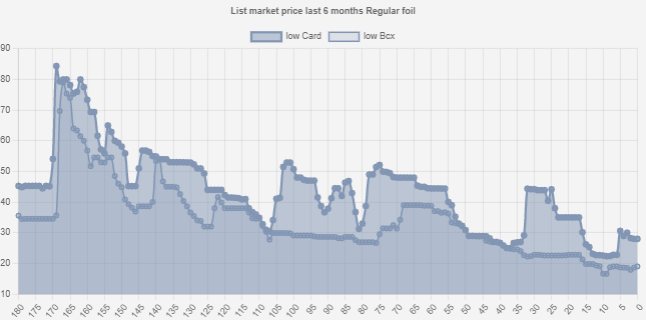 Gold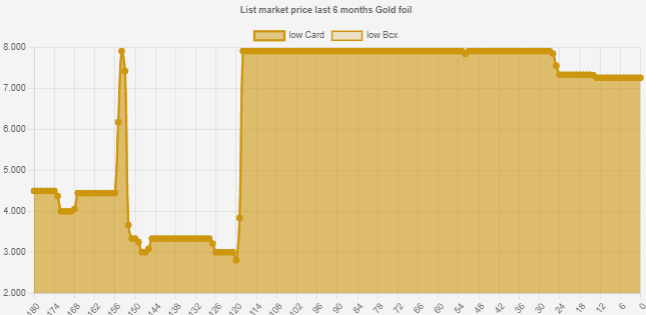 ---
MERDHAMPIR is the most affordable costing only $0.01 cent in its regular version and $0.34 in its gold version.
Regular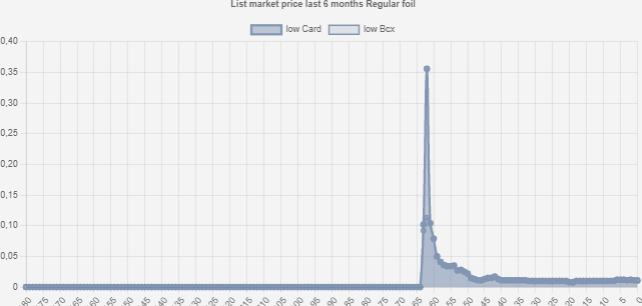 Gold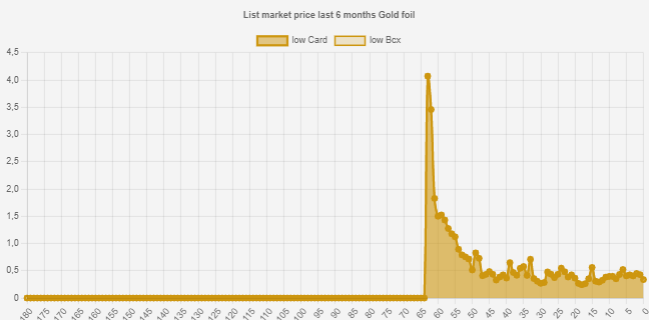 ---
When we think about using this skill, the death element has more options and if we have the right conditions for this skill to excel, that's where we'll do well. I've separated a battle that I can demonstrate a little bit of how this works. shall we check?



Equalizer / Explosive Weaponry
This was a battle where we had the two best battle rules so that Life Leech was well explored, the combination was ideal for this to be a useful strategy and a good demonstration of its effectiveness. 28 mana not a very high amount of mana than ngives them the freedom to put very expensive monsters on the field, but because Equalize is one of our rules it helps to put lower cost monsters that are normally a little more fragile.
Two monsters with the Life Leech ability were used for this battle: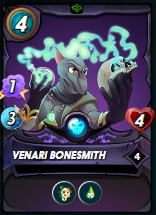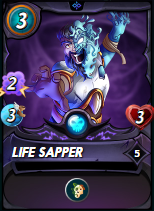 ---
These two cards are easy to access cards, the ones I have are upgraded which helps me a little more because they have some extra skill and better attributes and will be very important for our battle, watch the video:
Can you see what my strategy was?
Note that my opponent came into battle with firepower much higher than mine, the Blast effect further enhanced this strength he had on the field.
The first action I took was to leave a monster in the second position that was immune to the Blast effect. After that I opted for one monster that could heal monsters from the back row and two monsters with the Life Leech skill that could increase their health on their own.
My strategy was based on preserving my monsters on the field, defending where possible from the Blast ability and counting on me that even if I did little damage my team was more resistant than my opponent's. It worked.
Finally my two monsters with the Life Leech skill were already full of health: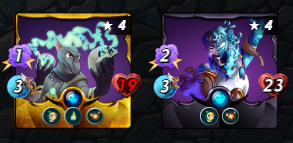 If it was necessary for one of them to be in the first tank position and the second to take damage from Blast, that would give my opponent extra work and give me good advantages.
What did you think of this battle? Would you have done something different?
Tell me in the comments!
And that's where I end this post, I hope you enjoyed it. Thank you for spending some of your time with my words and thoughts!

---
---