Reincarnating the Possibilities

Para ler esse post em Português, clique aqui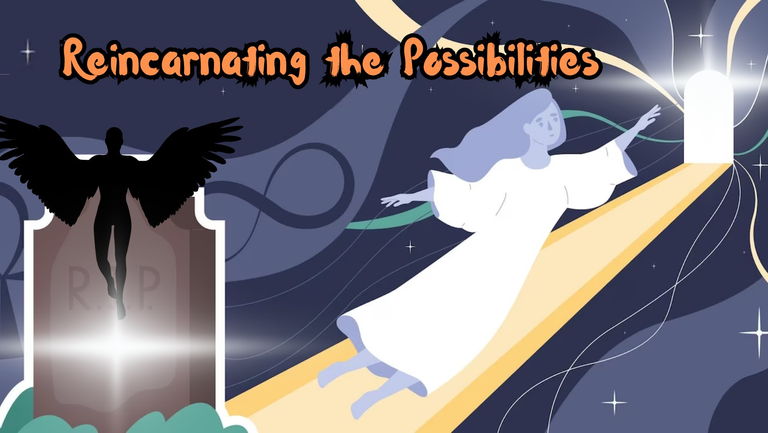 I am a Christian and, within what I believe based on my spiritual instruction, reincarnation is not a hypothesis. However, thinking about it is not wrong, and opening my mind to this possibility could be fun. So I think I have some interesting ideas that I would explore if it were valid within assumptions.
If it were possible, I wouldn't want to have been born in Brazil. Although I love this country, there are many obstacles here that make life difficult for people. There is a very poor political culture, unprepared and corrupt governments that directly interfere in people's lives, and they struggle to survive. Perhaps I would prefer to be born in a country that is more open to opportunities for prosperity. Well, I could be in Europe right now if my Italian great-grandfather hadn't ventured here to Brazil. If he had stayed in Europe, I wouldn't need to be reincarnated elsewhere to enjoy that privilege.
But it's hard to think of being born elsewhere, into another family, since family is everything. I'm very proud of my mother who brought me up on her own, my uncles who taught me so much and my grandparents, who passed on the essence of humility to me. It's scary to think that if I were born into another family, I might not inherit these values that my family gave me and I wouldn't be the person I am today. Therefore, I believe that no privilege of being born in a more developed country would be more valuable than what my family has given me. n this hypothesis, I would never let go of that.
But I could explore a more creative hypothesis: if I could be reincarnated into something, why not into an animal? That would be even more fun. Of course, I wouldn't want to be an animal like a squirrel or a rodent; I'd rather be an eagle, a lion or even a shark. It would be much more interesting to be a predator at the top of nature's food chain and not have so many worries, just enjoy freedom and pure instinct. That would be more interesting to me.
However, being an animal would mean giving up my rationality, which wouldn't be very interesting. So we're back to square one. What if I could experience being a woman and understand what it's like to deal with hormones, feelings and what goes on inside this complex mind? That would be interesting. Another interesting hypothesis would be to be born in an indigenous tribe isolated from the world and technology. It would also be fascinating to explore this sensation. But, after all, what would be the point of reincarnating and forgetting all the ideas I have today? It would be much more interesting if I could take my consciousness with me on this transfer of life.
Even if reincarnation were possible and I could choose some characteristics, why not consider aesthetics? Since I'm imagining various hypotheses about this, perhaps I'd choose to be taller, prettier or fitter. Not that I'm a very ugly person, but it would be interesting to be as handsome as Brad Pitt! Maybe I'd also choose to be less introverted and more sociable, that must be a good feeling.
It was fun to think about these possibilities, something I'd never done before. I can say that it's a shame I don't believe in this possibility, because it would be interesting to live in other ways. Even though I don't believe in it, I want to make it clear that I respect all beliefs and will in no way belittle what other people believe. My truth may be different from yours, and that's fine! As a friend of mine says, "Football and religion are things you can't argue about!"
Finally, regardless of one's beliefs, the most important thing is to live in the present as if it were your only opportunity. Even if you are reincarnated, go to paradise, Valhala or nowhere after death, life is now, and we need to build our journey in the best possible way. Life is a gift, and the gift is now!
---
Credits:
Translated with DeepL
Cover: created by Canva.
Image Thumbnail: Freepick
---

[PT]
Eu sou cristão e, dentro do que acredito com base na minha instrução espiritual, a reencarnação não é uma hipótese. No entanto, pensar sobre isso não é errado, e abrir minha mente para essa possibilidade poderia ser divertido. Portanto, acho que tenho algumas ideias interessantes que exploraria se isso fosse válido dentro de suposições.
Se isso fosse possível, eu não gostaria de ter nascido no Brasil. Apesar de amar esse país, existem muitos obstáculos aqui que dificultam a vida das pessoas. Há uma cultura política muito pobre, governos despreparados e corruptos que interferem diretamente na vida das pessoas, e estas lutam para sobreviver. Talvez eu preferisse nascer em um país mais aberto a oportunidades de prosperidade. Bem, eu poderia estar na Europa agora se meu bisavô italiano não tivesse se aventurado aqui no Brasil. Se ele tivesse ficado na Europa, eu não precisaria reencarnar em outro lugar para desfrutar desse privilégio.
Mas é difícil pensar em nascer em outro lugar, em outra família, já que a família é tudo. Tenho um grande orgulho da mãe que me criou sozinha, dos meus tios que me ensinaram tanto e dos meus avós, que transmitiram para mim a essência da humildade. Dá medo pensar que, se eu nascesse em outra família, poderia não herdar esses valores que minha família me deu e não seria a pessoa que sou hoje. Portanto, acredito que nenhum privilégio de nascer em um país mais desenvolvido seria mais valioso do que o que minha família me proporcionou. Nessa hipótese, jamais abriria mão disso.
Mas poderia explorar uma hipótese mais criativa: se eu pudesse reencarnar em algo, por que não em um animal? Isso seria ainda mais divertido. Claro que eu não gostaria de ser um animal como um esquilo ou um roedor qualquer; eu preferiria ser uma águia, um leão ou até mesmo um tubarão. Seria muito mais interessante ser um predador no topo da cadeia alimentar da natureza e não ter tantas preocupações, apenas desfrutar da liberdade e do instinto puro. Isso seria mais interessante para mim.
No entanto, ser um animal significaria abrir mão da minha racionalidade, o que não seria muito interessante. Portanto, voltamos à estaca zero. E se eu pudesse experimentar ser uma mulher e entender como é lidar com os hormônios, os sentimentos e compreender o que se passa dentro dessa mente complexa? Isso seria interessante. Outra hipótese interessante seria nascer em uma tribo indígena isolada do mundo e da tecnologia. Também seria fascinante explorar essa sensação. Mas, afinal, de que adiantaria reencarnar e esquecer toda a concepção que tenho hoje? Seria muito mais interessante se eu pudesse levar minha consciência junto comigo nessa transferência de vida.
Se mesmo assim, se a reencarnação fosse possível e eu pudesse escolher algumas características, por que não considerar a estética? Já que estou imaginando várias hipóteses sobre isso, talvez escolhesse ser mais alto, mais bonito ou mais em forma. Não que eu seja uma pessoa muito feia, mas seria interessante ser tão bonito quanto o Brad Pitt! Talvez também escolhesse ser menos introvertido e mais sociável, essa sensação deve ser boa.
Foi divertido refletir sobre essas possibilidades, algo que nunca havia feito antes. Posso dizer que é uma pena não acreditar nessa possibilidade, pois seria interessante viver de outras formas. Apesar de não acreditar, quero deixar claro que respeito todas as crenças e de forma alguma vou desmerecer o que outras pessoas acreditam. Minha verdade pode ser diferente da sua, que está lendo, e está tudo bem! Como diz um amigo meu, "Futebol e religião são coisas que não se discutem!"
Por fim, independentemente da crença de cada um, o mais importante é viver o presente como se fosse a sua única oportunidade. Mesmo que você reencarne, vá para o paraíso, Valhala ou mesmo para lugar nenhum após a morte, a vida é agora, e precisamos construir nossa jornada da melhor maneira possível. A vida é um presente, e o presente é agora!
---
Credits:
Translated with DeepL
Cover: created by Canva.
Image Thumbnail: Freepick
---

---
---