Simple fundamentals win battles! [PT/EN]
[PT]
Olá Splinters, bem vindos de volta!!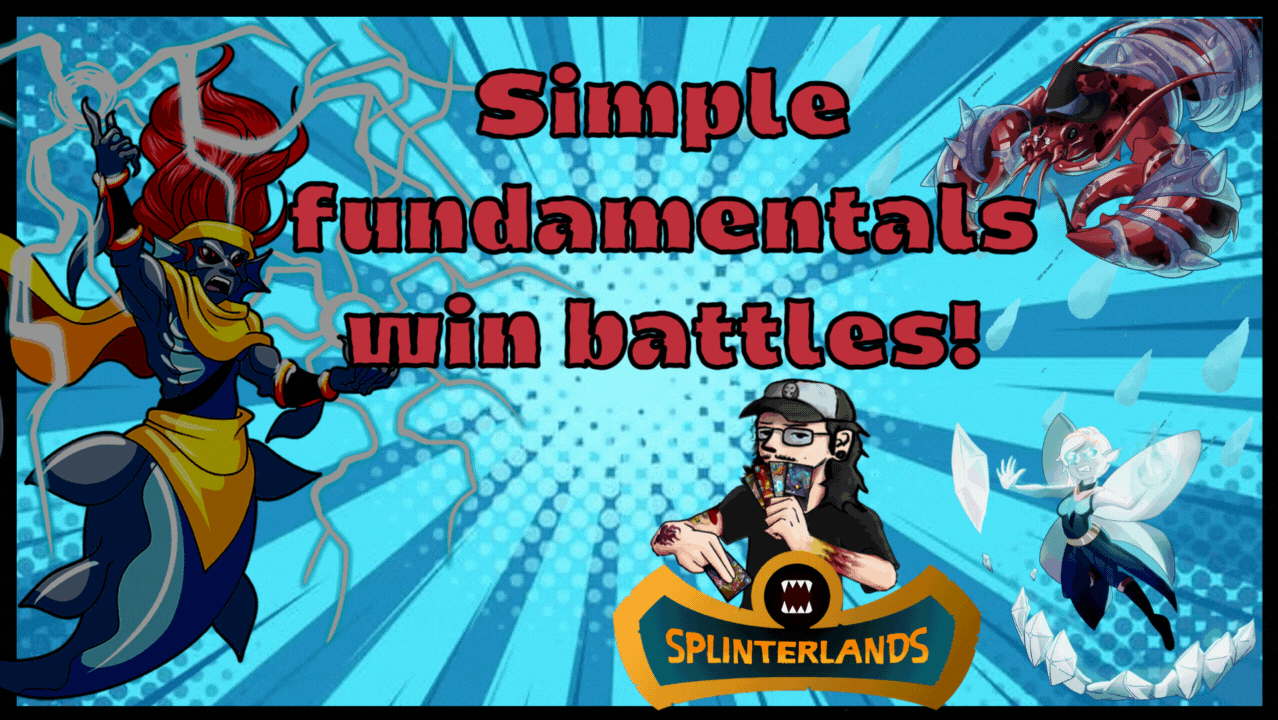 No decorrer de nossas muitas batalhas, vamos nos habituando com as melhores opções para cada situação. Gosto sempre de dizer o quanto as variáveis precisam ser interpretadas para cada situação e devemos fazer uma boa leitura das melhores possibilidades de acordo com as nossas opções disponíveis.
Em partidas de pouca mana por exemplo, cada monstro precisa ser sabiamente escolhido e alocado na melhor posição. Esses detalhes vão nos ajudar a ganhar partidas.
Regras de batalha precisam ser encaradas como um aliado e não como um obstáculo. Usar essas dificuldades e limitações como uma forma de obter vantagem é difícil, porém com o tempo vamos fazer melhores escolhas quase que automáticamente.
Hoje eu gostaria de trazer uma batalha onde uso fundamentos simples, porém, eficazes para ganhar uma batalha. Vamos conferir?

Essa é uma batalha de dois monstros. Porque eu disse isso? Quer dizer que eu usei apenas dois monstros nessa batalha? Não.
Minha base de estratégia foi usado com apenas dois monstros como base. Claro que coloquei outros monstros nessa partida, seja para dar um pouco mais de força de ataque para meu time ou seja apenas para preencher as lacunas. Vou explicar isso melhor no decorrer desse conteúdo.

Para essa batalha temos duas regras das quais não influenciam tanto minha estratégia. Basicamente eu vou usar apenas monstros que pertencem ao elemento água. O ponto em foco das condições dessa partida é a quantidade de mana a ser usada. Apenas 17 para escolher meu time.
Tendo pouco recurso para ambos os times, foi dessa forma que entramos para o campo de batalha: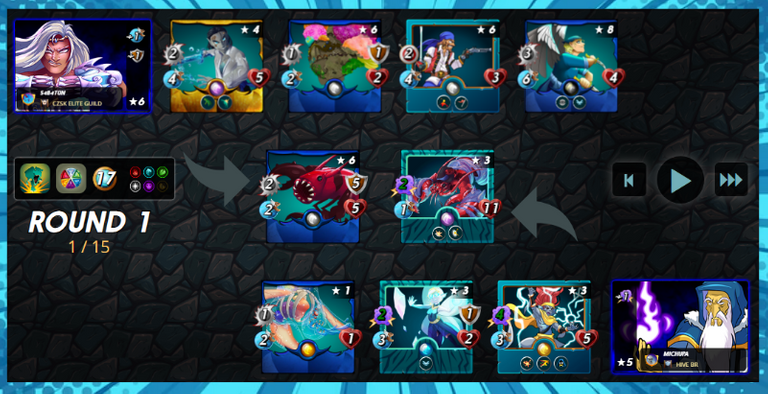 Como o tema desse conteúdo é que fundamentos simples funcionam, observe que eu basicamente uso apenas um bom monstro para ser meu tank e um segundo monstro para dar uma alta quantidade de dano. Tenho um terceiro monstro que foi muito útil também e que foi escalado por ter um pouco custo de mana.
Tank: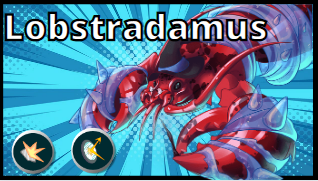 Um bom tank precisa de alguns fundamentos para que ele possa resistir a carga de ataques. Lobstradamus foi uma boa escolha pois apesar de não possuir escudos, tem uma alta capacidade de absorver danos de ataque melee e ranged através da habilidade Shield. Além de ser propício para esses ataques citados acima, quando monstros com ataque mágico atacam esse monstro, leva dano por conta de sua outra habilidade Magic Reflect.

SHIELD
O dano de ataque melee e ranged é reduzido pela metade (arredondado para cima), exceto o ataque 1, que causa 0 de dano.

MAGIC REFLECT
Quando atingido com dano mágico, devolve uma parte do dano mágico de volta ao atacante.
Além de suas boas habilidades, esse monstro possui uma boa quantidade de vida e a vantagem de poder desferir seus ataques de qualquer lugar por ter ataque mágico. Nem sempre precisará começar uma partida na primeira posição ou pode até mesmo ser usado em outras ocasiões na última posição para proteger o time de possíveis ataques Sneaks.
Poder de fogo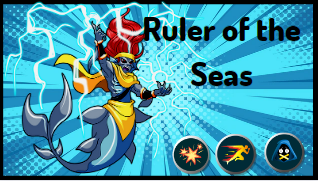 Um monstro com poder de fogo para acabar com o time do adversário o mais rapidamente possível. Seu ataque natural já é muito ofensivo, potencializado pelo summoner trouxe ainda mais estragos. Além de ser um monstro super ofensivo. Também temos nele a habilidade Blast que causará mais danos ao monstros adjacente atacado. Mais duas habilidades são somadas, Swiftness e Silence.

BLAST
Causa dano adicional aos monstros adjacentes ao monstro alvo. O dano adicional é equivalente ao dano principal dividido por 2, arredondado para cima.

SWIFTNESS
Todos os monstros aliados ganham mais um de velocidade.

SILENCE
Reduz o ataque mágico de todos os monstros inimigos
Ruler of the Seas é um monstro poderoso e ainda adiciona ao time inúmeras vantagens com suas habilidades. Um monstro incrível para usar em partidas de qualquer Liga, nessa ocasião estamos usando ele em uma partida de Liga Gold.
Basicamente, foram esse dois monstros usados como minha base de estratégia. Não existe segredo em como isso foi utilizado: Um monstro robusto para defender e outro com alta capacidade ofensiva.
Com a base formada, eu ainda tinha espaço e 2 de mana restante para colocar outros monstros.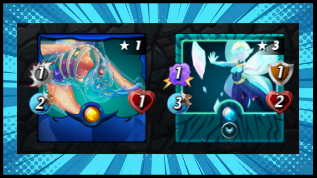 Ice Pixie juntamente com TORRENT FIEND fecharam meu time nas últimas posições. TORRENT FIEND poderia obrigar meu adversário a desperdiçar algum ataque Sneak e Ice Pixie adicionaria um pouco mais de dano para meu time.
Apesar de minha equipe ter sido muito bem escalada, essa não foi uma batalha fácil. Meu oponente se preparou muito bem e foi uma partida muito equilibrada, cada detalhe foi importante na hora de montar minha equipe foi isso que me trouxe a vitória.
Concluindo posso dizer que, muitas vezes tentamos formar planos mirabolantes mas é o simples e básico que vai funcionar na maioria das vezes. É claro que monstros certos vão ajudar e a sinergia que a equipe possui é muito importante. Atento aos detalhes, comece pelo básico e o simples vai funcionar muito bem!
Obrigado por passar um pouco do seu tempo com minhas palavras e pensamentos, até a próxima!

Hello Splinters, welcome back!!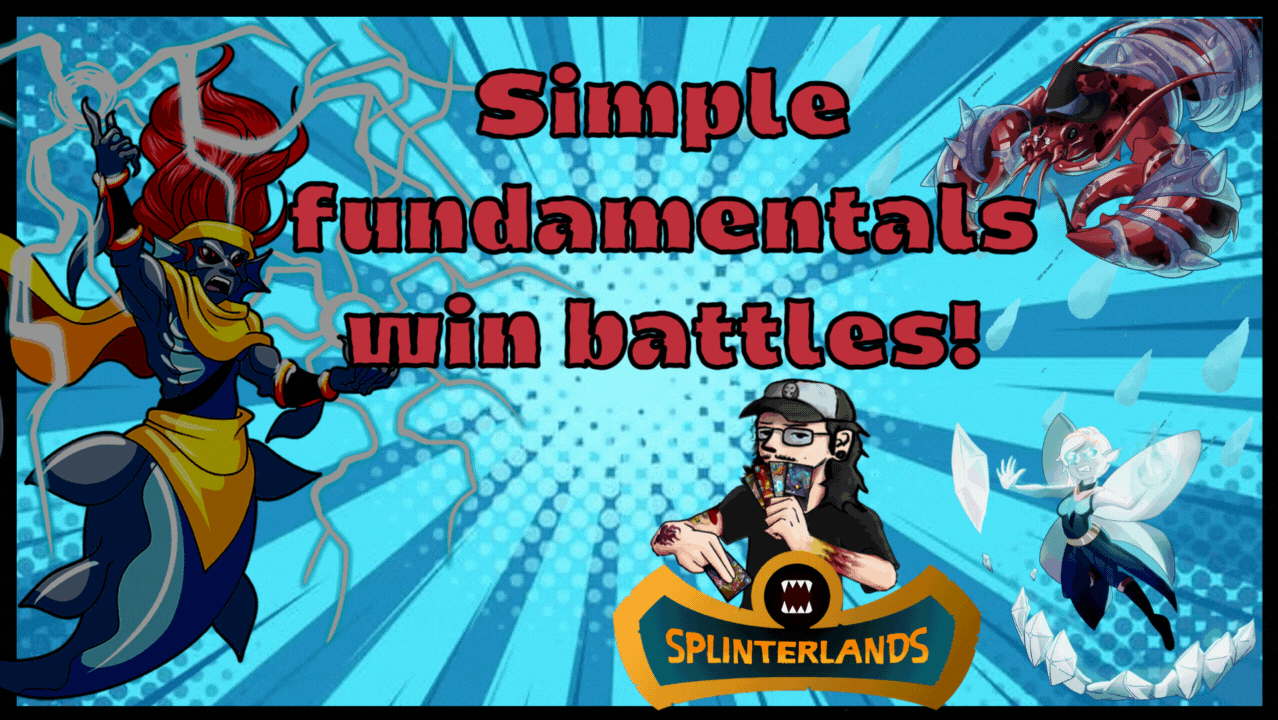 In the course of our many battles, we get used to the best options for each situation. I always like to say how much the variables need to be interpreted for each situation and we should do a good reading of the best possibilities according to our available options.
In low mana games for example, each monster needs to be wisely chosen and placed in the best position. These details will help us win matches.
Battle rules need to be seen as an ally and not an obstacle. Using these difficulties and limitations as a way to gain an advantage is difficult, but over time we will almost automatically make better choices.
Today I would like to bring you a battle where I use simple but effective fundamentals to win a battle. Shall we check?

This is a battle of two monsters. Why did I say that? You mean I only used two monsters in this battle? No.
My base strategy was used with just two monsters as a base. Of course I put other monsters in this game, either to give my team a little more attack power or just to fill in the gaps. I will explain this better in the course of this content.

For this battle we have two rules which don't influence my strategy that much. Basically I'm only going to use monsters that belong to the water element. The focal point of this match's conditions is the amount of mana to use. Only 17 to pick my team.
Having little resource for both teams, this is how we entered the battlefield: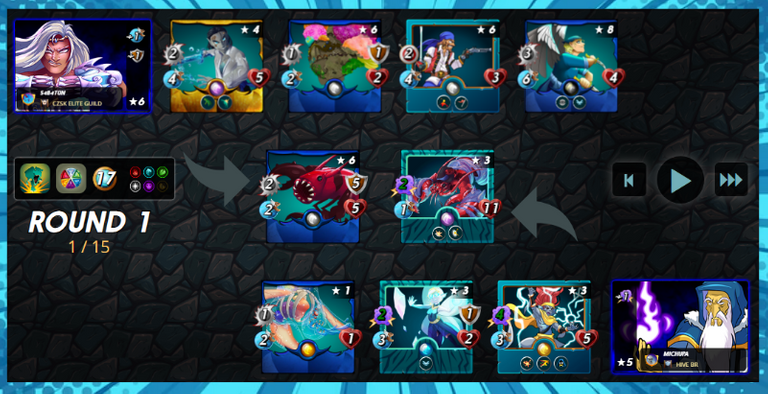 As the theme of this content is that simple fundamentals work, please note that I basically just use one good monster to be my tank and a second monster to deal a high amount of damage. I have a third monster that was very useful as well and that was cast because it has a little mana cost.
Tank: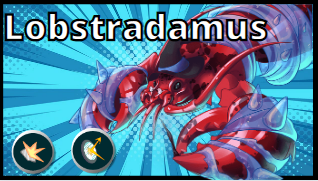 A good tank needs some fundamentals so that it can withstand the onslaught of attacks. Lobstradamus was a good choice because despite not having shields, it has a high capacity to absorb damage from melee and ranged attacks through the skill Shield. In addition to being suitable for those attacks mentioned above , when monsters with magic attack attack that monster, it takes damage from its other ability Magic Reflect.

SHIELD
Melee and ranged attack damage is halved (rounded up), except attack 1, which does 0 damage.

MAGIC REFLECT
When hit with magic damage, returns a portion of magic damage back to the attacker.
In addition to its good skills, this monster has a good amount of life and the advantage of being able to launch its attacks from anywhere due to its magic attack. It will not always need to start a match in first position or it can even be used on other occasions in last position to protect the team from possible Sneaks attacks.
Fire power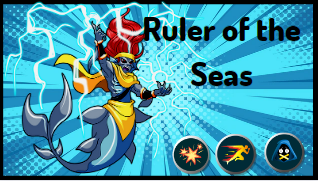 A monster with firepower to wipe out the opponent's team as quickly as possible. Its natural attack is already very offensive, potentiated by the summoner brought even more damage. Besides being a super offensive monster. It also has the Blast skill that will do more damage to adjacent attacked monsters. Two more skills are added, Swiftness and Silence.
---

BLAST
Deals additional damage to monsters adjacent to the target monster. The additional damage equals the main damage divided by 2, rounded up.
---

SWIFTNESS
All ally monsters gain one more Speed.
---

SILENCE
Reduces the magic attack of all enemy monsters
---
Ruler of the Seas is a powerful monster and still adds to the team numerous advantages with its abilities. An incredible monster to use in matches of any League, on this occasion we are using it in a Gold League match.
Basically, these two monsters were used as my base strategy. There is no secret how this was used: A robust monster to defend and another with high offensive capacity.
With the base formed, I still had space and 2 mana left to place other monsters.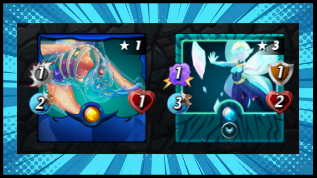 Ice Pixie together with TORRENT FIEND closed my team in last positions. TORRENT FIEND could force my opponent to waste some attack Sneak and Ice Pixie would add a little more damage to my team.
Although my team was very well cast, this was not an easy battle. My opponent prepared very well and it was a very balanced match, every detail was important when putting my team together, that's what brought me victory.
In conclusion, I can say that, many times we try to form far-fetched plans but it is the simple and basic that will work most of the time. Of course, the right monsters will help and the synergy that the team has is very important. Attentive to details, start with the basics and the simple will work great!
Thanks for taking some time with my words and thoughts, until next time!
---
Click on the image and use my referral link!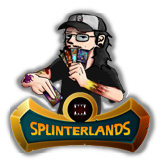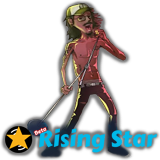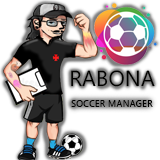 ---
---
Credits:
Thumbnail background image: Source
Image editor: Canva
Screenshots taken from the game Splinterlands
---
---

---
---