OBSIDIAN: My Best Summoner in Novice Battles
The Splinterlands game was built first for the fun that games bring, then the earning follows. Playing the game, that is, getting your character cards engaged in battles is where the fun lies. many times I have stated how interesting my playing the games have been and how much of life lessons I glean.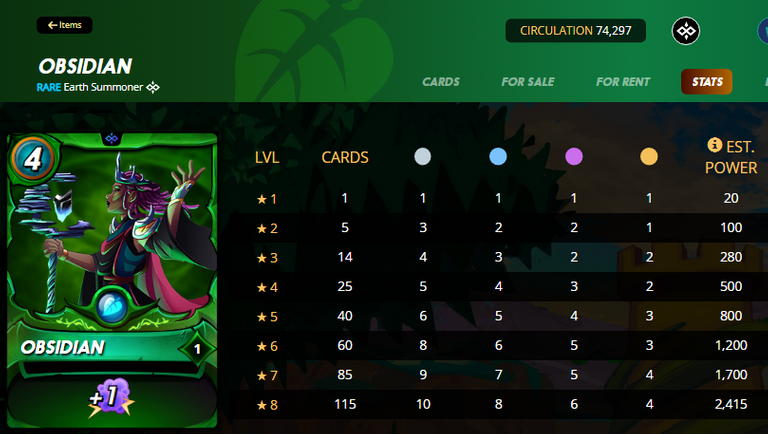 When you start playing the splinterlands game as a novice, you are given access to a set of few cards, summmoners and monsters to help you engage in battles while you prepare to buy yours. Those cards are tagged "playable" and you don't own them. They can only be used in modern and wild battles and not for tournaments and brawls.
The playable cards set contains 11 summoner cards - 2 fire, 2 water, 2 earth, 2 death, 2 life and 1 dragon. Your choice of summoner determines the monster units that would be accessed. Choosing the fire summoner for instance means you would only be able to access fire monster cards for your battles.
OBSIDIAN is one of the earth Summoner from the Riftwatchers cards set. It is a rare card with 4 manna. The summoner card has the ability to add 1 Magic attack to all friendly monsters with magic element. Below is the lore about OBDIDIAN.
The fearsome woman now known as Obsidian grew up in the remote village of Stonebluff as the last remaining Earth mage. Each year, Earth elementalists went off to compete in the contest, leaving Obsidian to train the next generation of warriors. She wished to join the contest of champions, but the village elders advised her against it, saying she needed to stay behind and focus on training others to use Earth magic. source
The OBSIDIAN summmoner at level 1 costs $2.2. That is no cheap summoner.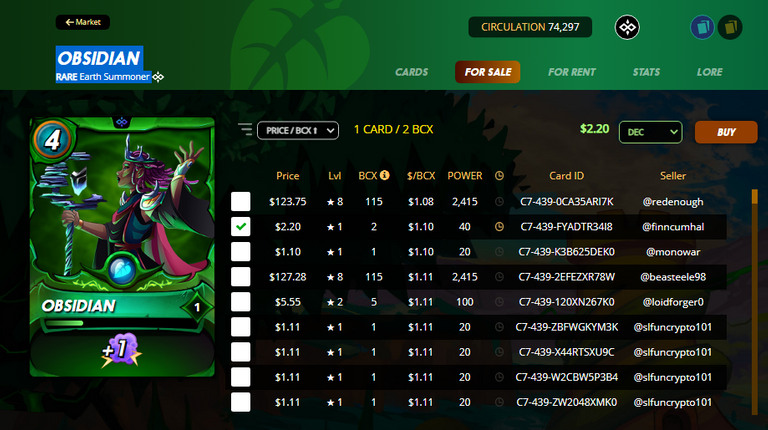 My preference for the OBSIDIAN summoner is that it has the ability to call magic monster cards. Monsters with Magic attack ability are dangerous battle units in splinterlands. When they attack, they destroy the life (hearts) of other monsters directly, ignoring the monster's armor. I have been a victim of their attack many times and I have used them too.
There are many awesome monster units that get called by the OBSIDIAN summoner. Of the 14 monster units that can be called by OBSIDIAN, my best and first choices that I would always try to accomodate in my battles if I have sufficient manna are:
REGAL PERYTON - A rare earth unit with magic attack element and a flying ability, 6 hearts and Speed rating of 4. The card has a manna of 5.

VENARI KNIFER - A common earth Unit with thorn ability,7 hearts, 2 melee attack element and speed rating of 4. The card has a manna of 6.
I won a recent battle with OBSIDIAN summoner and it was really awesome. REGAL PERYTON and VENARI KNIFER were a part of the fight. below is the screenshot of the battle stage and result and you can also watch through this link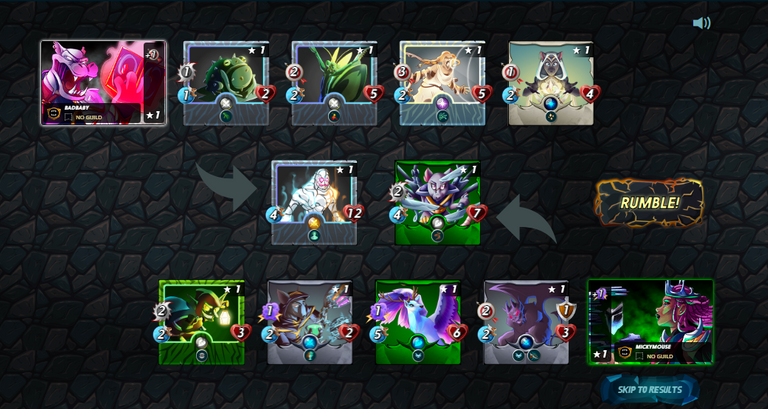 Battle link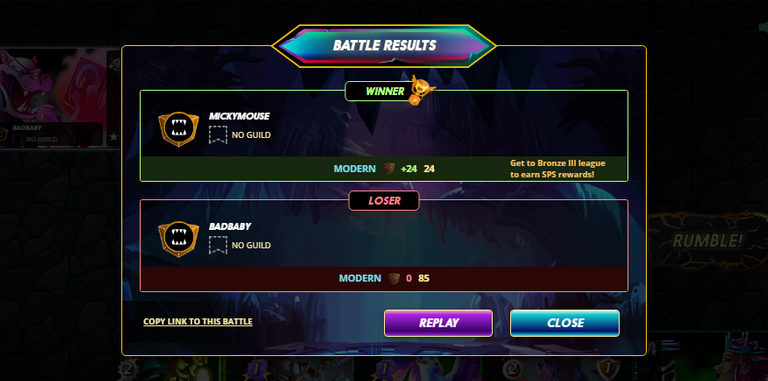 Batle Result
It was a win for me and I enjoyed every moment in the fight as I finished with 3 monster units left though it was a fierce battle that I thought I would lose.
How often do you use OBSIDIAN as a summoner in your splinterlands battle?

Splinterlands is not just a game. It is a ecosystem that is full of opportunities that helps the player get more acquainted with cryptocurrency. It is a great game for every one to be a part of - enjoyable, fun and rewarding. Thanks to everyone sharing their investment experiences in Splinterlands. They are a great guide for me.
Splinterlands has become my new found Gaming Addiction.
Who's in to join me as we make big fun that takes you to the bank each day, week, month? Start splinterlands here.
---
---