The Fundraiser: A Concept for a Dapp/Widget/Feature/Something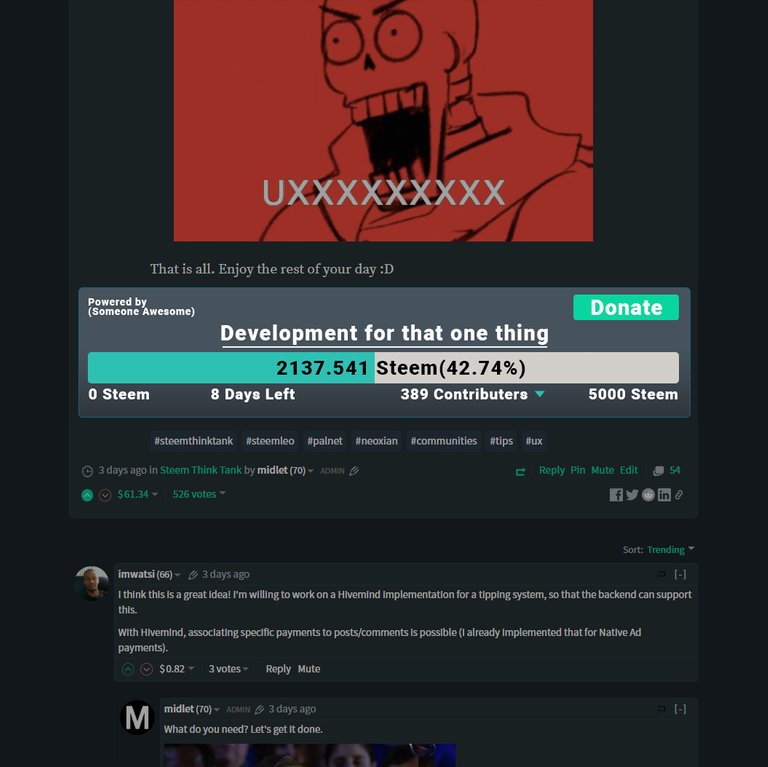 This post has been quite a long while in the making. The idea first came to me when @andrarchy and pals announced OpenSeed and I was trying to wrap my head around what might be a good application for it. Something that could be frontend agnostic, and be ready to be "plugged in" to whoever wants to use it.
Since then I'd thought a lot more about it and since I'm not knowledgeable enough about the technical implementation of something like this, I figured I'd just throw the idea out there and stop concerning myself with whether it would be a layer two smart contract, or a centralized service, etc. Someone else can figure that out.
So what I'm envisioning is either a seperate site, or page on a frontend where you can start a "Fundraiser" and it spits out some code that you can paste into a blog post on whatever frontend and you get this little widget. Something cool I'd thought of was if it's just a widget like this, you can share this code and anyone in the community could share your fundraiser in their post as well. So if you had an idea that a lot of people were excited about then it could "go viral" in as much as something made just for us can go viral.
I think something like this would be a good complement to the SPS because it would allow for more decentralized funding. If ten people REALLY liked your idea, they could fund it themselves and it has nothing to do with Steem Power which is something I think we need to start integrating more on this platform. Steem Power is playing too heavily a role in the experience in my opinion since SP requires a huge(globally speaking) investment. I could afford to give anywhere from $1 to a couple hundred dollars on something I REALLY want and believe in, but neither me, nor the majority of the world can afford to buy enough Steem to be able to upvote that much.
Don't get me wrong, I think it's a great system when done right, but we're trying to use it to do too much. Obviously this is also in line with my fixation on adding tips/donations. It's creating features around people just sending Steem to each other. Making it practical, and easy.
There was nothing stopping people from coming together and funding projects that they cared about, but nobody did it until Kickstarter. Let me say it again, just in case you're new or you aren't reading me saying it in your dreams yet.
IT'S ALL ABOUT THE UX.
So what does the typical flow look like?
Go to a site, or page on a frontend and start a fundraiser
Input your parameters. I was thinking you could have typical options like whether it has a time limit where if the goal is not met, funds will be returned(obviously needs a middleman in this scenario) or more like a gofundme where the person gets the money regardless.
Once you've finished all that, you have a little script that you can past and share for others to paste in Steem Frontends, and a dashboard page where you can check progress or modify settings.
Paste it in all your posts and cross your fingers
So, what's the difference between this and Fundition? Easier, more casual, less committal, easier to spread, IMO, a better experience.
Now, don't get me wrong, I know this is a huge feature or application, but as I've said before, that's what Steem Think Tank is about. Give us your crazy ideas. Let's have a space where we can just throw stuff out there and see what sticks. Maybe someone takes 10% of this idea and is able to do something with it. That would be great.
I know you've got ideas. Put em out there. Don't worry about if it's crazy or unrealistic, that's not really the point. If we put enough stuff on the board the chances that it will all be useless is zero.
See you all in the next post.
---
---