The power of the heal ability - Epic Battles in Splinterlands
Hola a todos! Espero se encuentren bien, esta semana vengo con una nueva idea para mi blog con la finalidad de publicar diariamente, esta sesión la llamaré Batallas Épicas en Splinterlands donde publicaré las mejores batallas de las partidas que juego. Comazare hoy lunes y estaré publicando todos estos días.
Hello everyone! I hope you are well, this week I come with a new idea for my blog with the purpose of publishing daily, I will call this session Epic Battles in Splinterlands where I will publish the best battles of the games I play. I will eat today Monday and I will be posting all these days.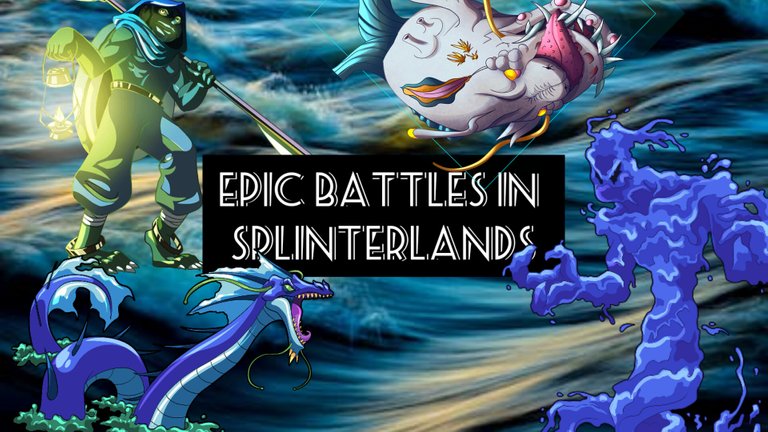 La batalla del día de hoy es de la liga de novatos donde no hay ninguna regla, solo la cantidad de maná que es de 22, ambos equipos son de la región del agua. La principal carta del equipo enemigo es la que se encuentra en primera posición, si no se logra derrotar rápido mi equipo puede sufrir las consecuencias.
Today's battle is from the rookie league where there is no rule, just the amount of mana which is 22, both teams are from the water region. The main card of the enemy team is the one that is in first position, if it is not managed to defeat quickly my team can suffer the consequences.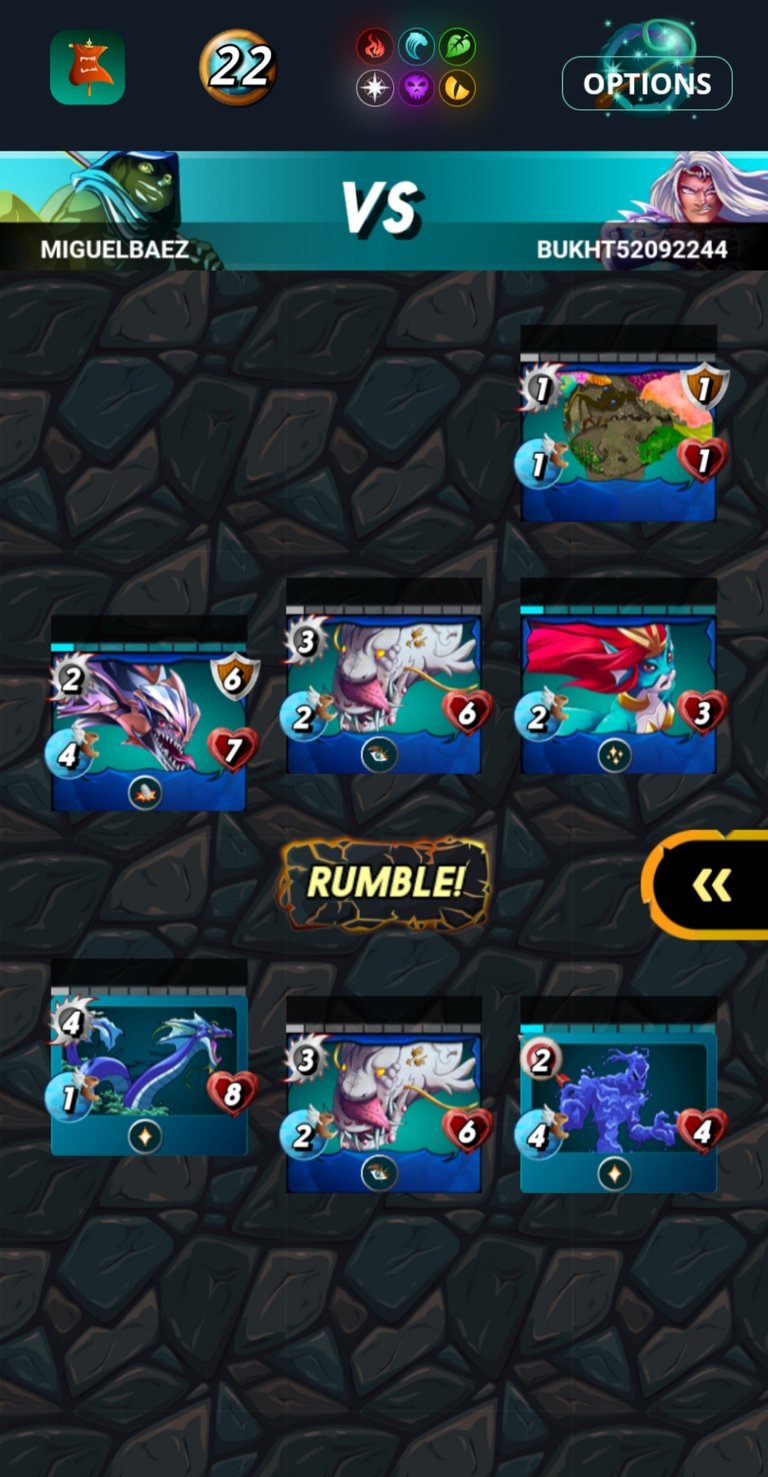 Cartas a seguir en esta partida:
Cards to follow in this game:
Sea Monster: es un grandioso monstruo marino, de mis cartas favoritas con aspecto de dragón, es ideal para utilizar en primera posición porque cuenta con gran cantidad de daño cuerpo a cuerpo con 4 puntos y lo mejor de este monstruo es su defensa, tiene 8 puntos de vida y cuenta con la habilidad de heal lo que le permite curarse cada vez que realice un movimiento.
Sea Monster: it is a great sea monster, one of my favorite cards with a dragon aspect, it is ideal to use in first position because it has a large amount of melee damage with 4 points and the best thing about this monster is his defense, he has 8 life points and he has the heal ability which allows him to heal himself every time he makes a move.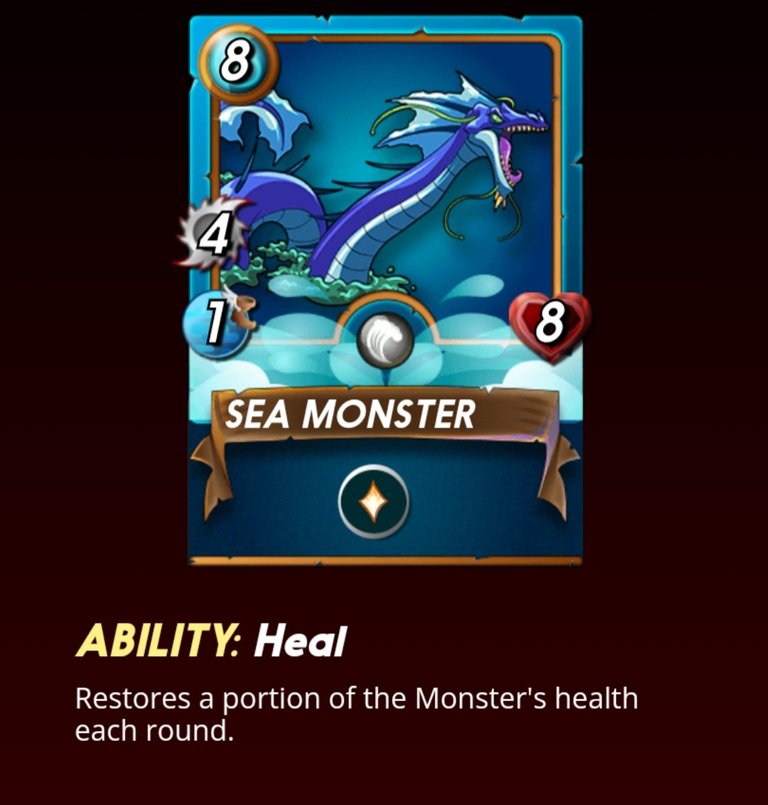 Deeplurker: es una carta de la región del agua con características de un monstruo asesino, causa 3 puntos de daño por cada golpe pero lo mejor de este es su habilidad de oportunity lo que le permite atacar a la carta más débil, y con esa cantidad de daño que ocasiona puede derrotar oponentes fácilmente.
Deeplurker: it is a card from the water region with the characteristics of a murderous monster, it causes 3 points of damage for each hit but the best thing about it is its opportunity ability which allows it to attack the weakest card, and with that amount of damage it deals it can easily defeat opponents.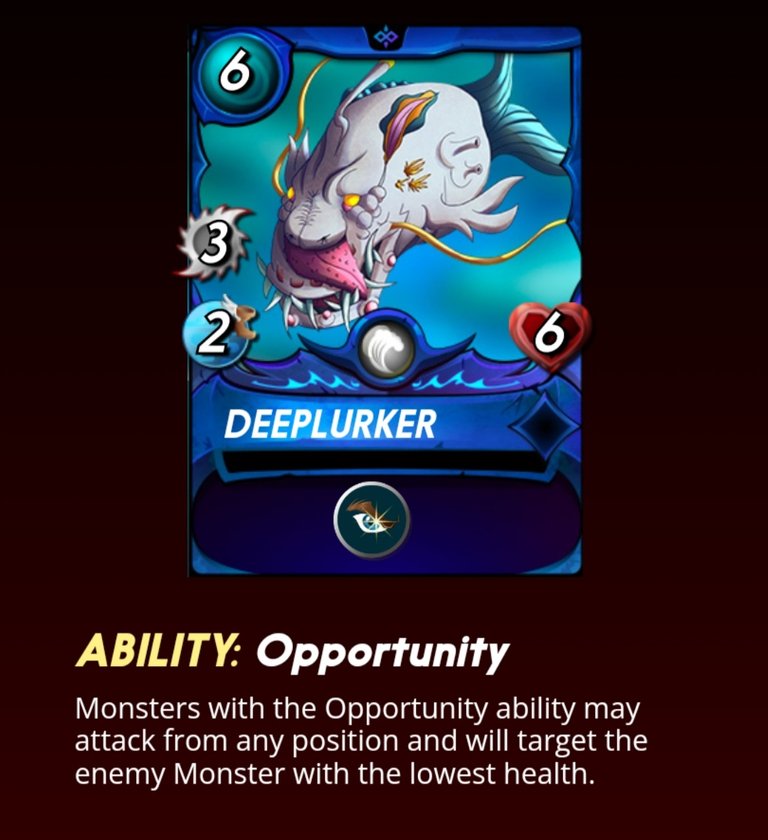 Water Elemental: es una carta de la región del agua perfecta para utilizar en última posición, porque ataca a larga distancia como un arquero y además al igual que Sea Monster tiene la habilidad de heal, permitiendole al inicio de cada movimiento curarse 2 puntos de vida.
Water Elemental: it is a card from the water region that is perfect to use in last position, because it attacks at a long distance like an archer and also, like Sea Monster, it has the ability to *heal *, allowing him at the beginning of each movement to heal 2 points of life.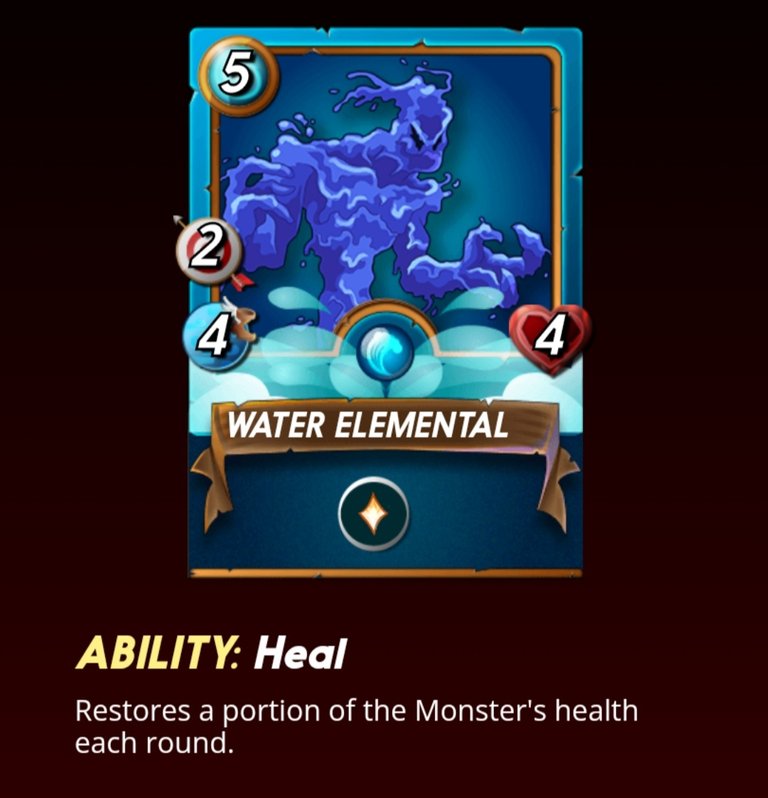 Ronda 1:
Round 1:
Durante la primera ronda ambos equipos golpean con todo su poder, la primera carta del equipo enemigo solo se ve afectado su escudo, mientras que de mi lado la más afectada es Water elemental quedando a solo un punto de vida.
During the first round both teams hit with all their power, the first card of the enemy team is only affected by its shield, while on my side the most affected is Water elemental, leaving only one life point.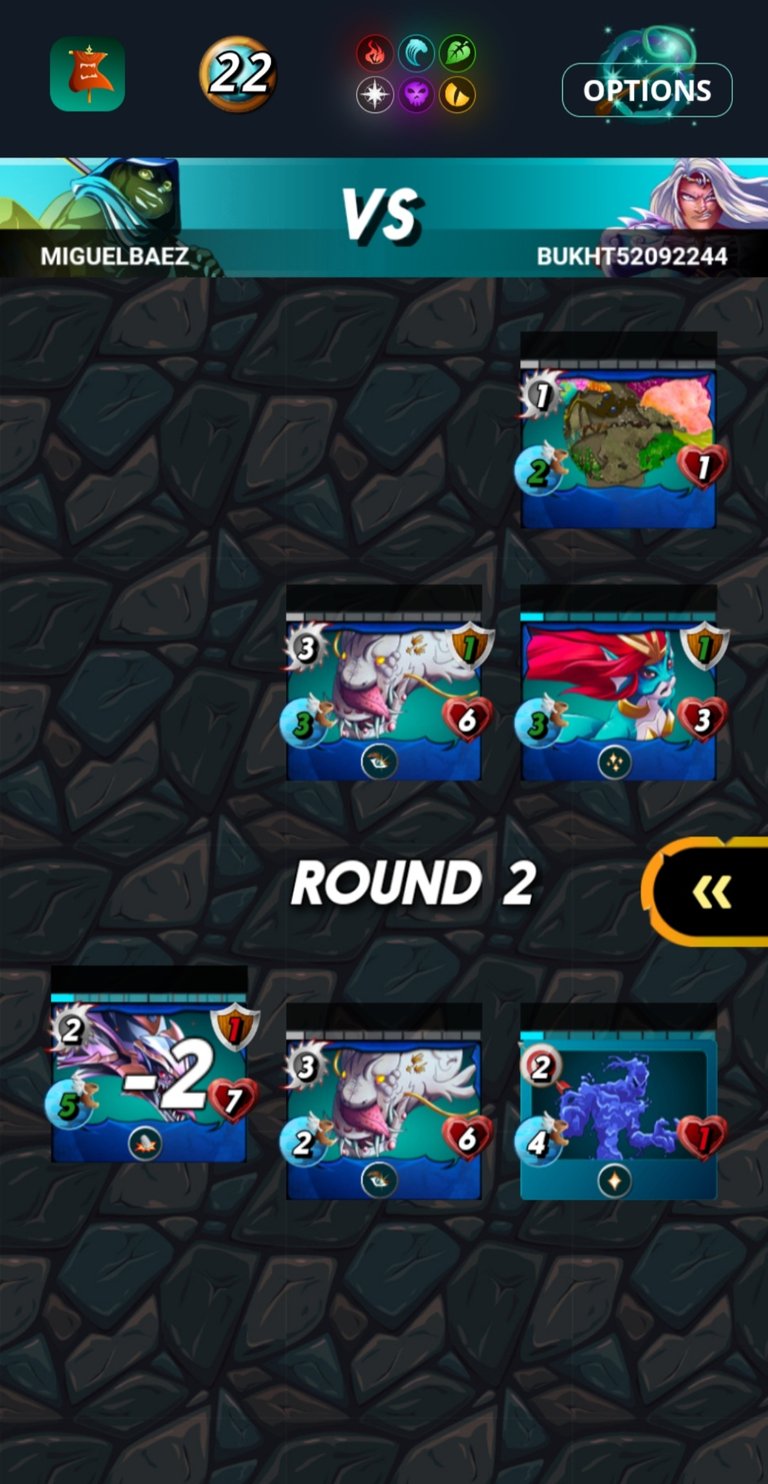 Ronda 2:
Round 2:
En esta ronda Water elemental por ser una de las cartas más rápidas del encuentro se cura iniciando la ronda, el enemigo también contaba con un Deeplurker que si golpeaba a mi arquero moriría pero logra esquivar el golpe y así resiste unas rondas más. Del lado del enemigo su carta con más vida ya solo le quedan tres puntos de vida.
In this round, Water elemental, because it is one of the fastest cards in the match, it heals at the start of the round, the enemy also had a Deeplurker that if it hit my archer I would die but it manages to dodge the blow and so on. resist a few more rounds. On the enemy's side, his card with the most life now only has three life points left.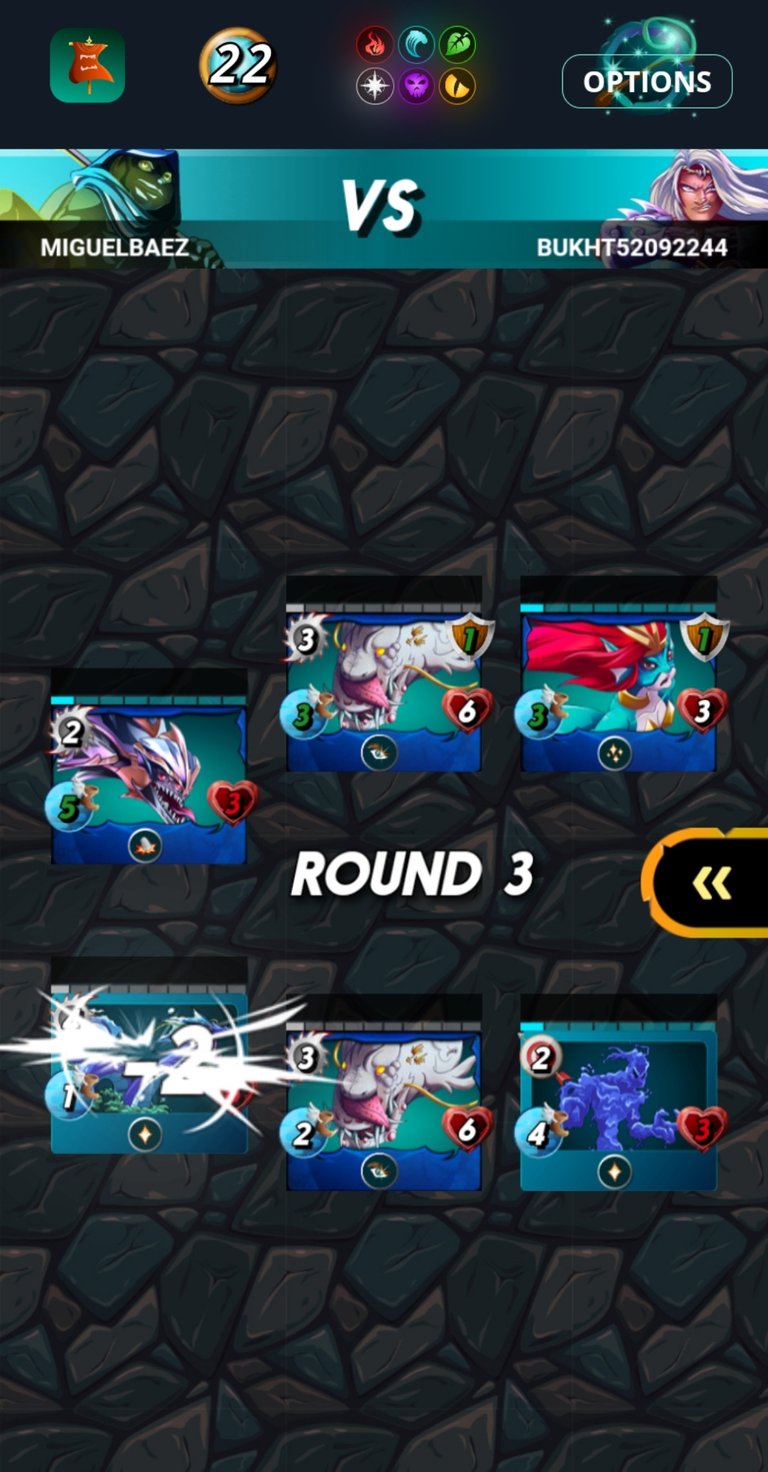 Ronda 3:
Round 3:
Finalizando esta ronda mi equipo logra derrotar la carta más fuerte del enemigo, y lo mejor de todo es que Water elemental no pudo ser derrotado y Sea Monster con su habilidad de curarse parece que no hubiera recibido ni un rasguño en esta partida.
At the end of this round my team manages to defeat the strongest card of the enemy, and the best of all is that Water elemental could not be defeated and Sea Monster with its ability to heal it seems that it had not received a single hit. scratch in this game.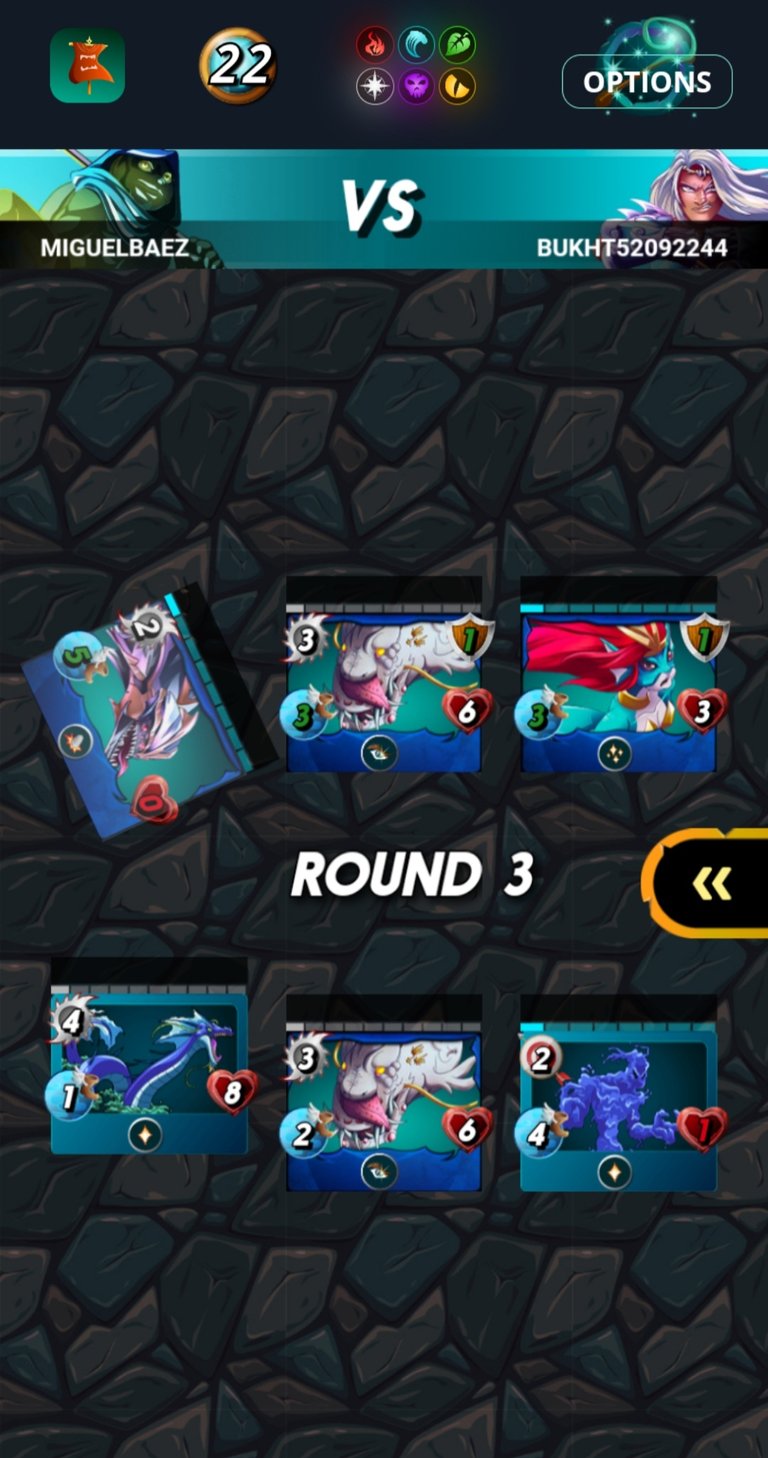 Ronda 4:
Round 4:
Ya en esta ronda el oponente no tenía muchas opciones para sobrevivir, la carta más fuerte que tenía ya le queda solo 2 puntos de vida, mientras que mi equipo con la habilidad Heal termina esta tonda casi que con toda su vida.
Already in this round the opponent did not have many options to survive, the strongest card he had already has only 2 life points left, while my team with the Heal ability ends this round with almost all his life.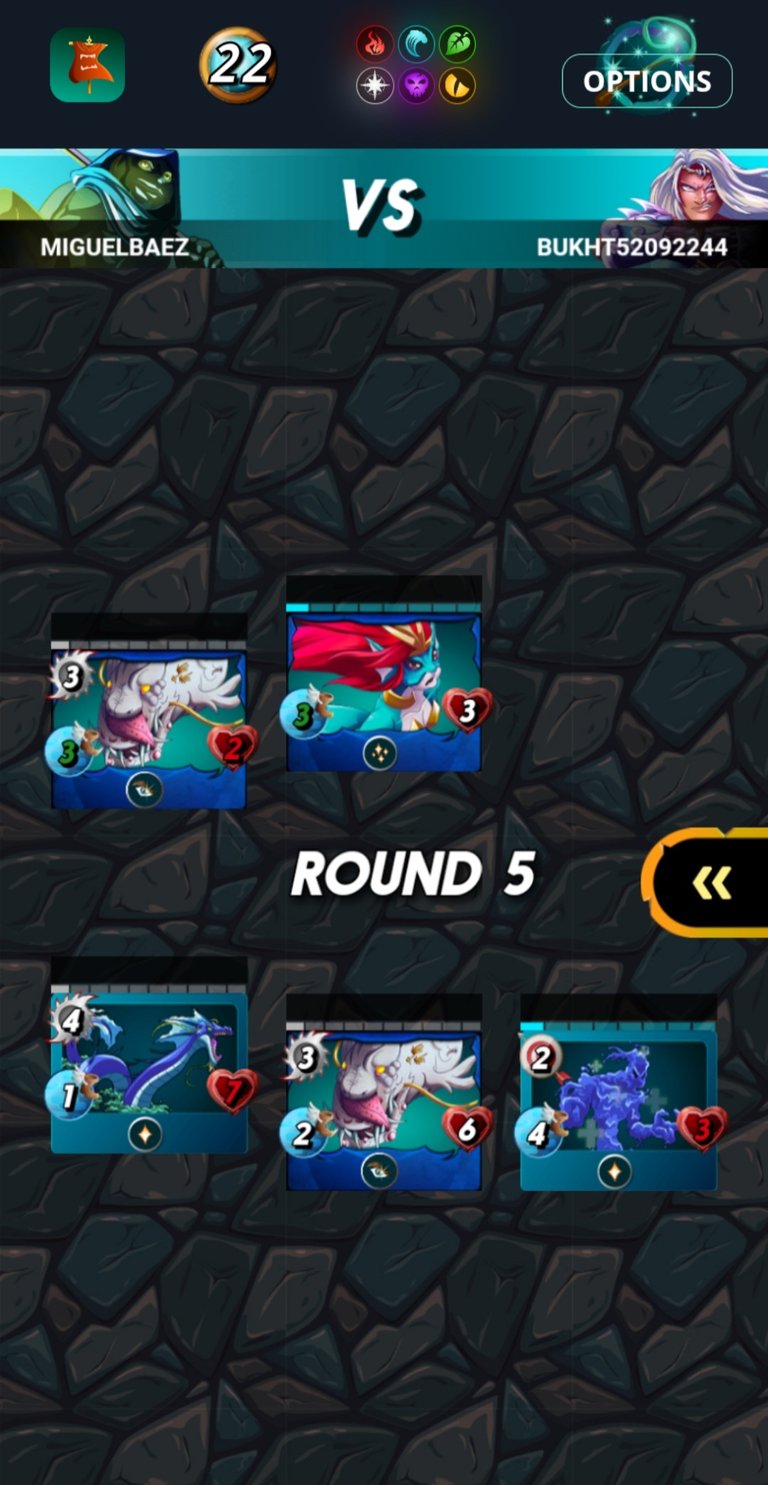 Ronda 5:
Round 5:
Aquí termina este épico encuentro, estuvo cerca el oponente en la ronda 2 de poder sacar ventaja pero Water elemental logró esquivar el ataque.
This epic match ends here, the opponent was close in round 2 to be able to take advantage but Water elemental managed to dodge the attack.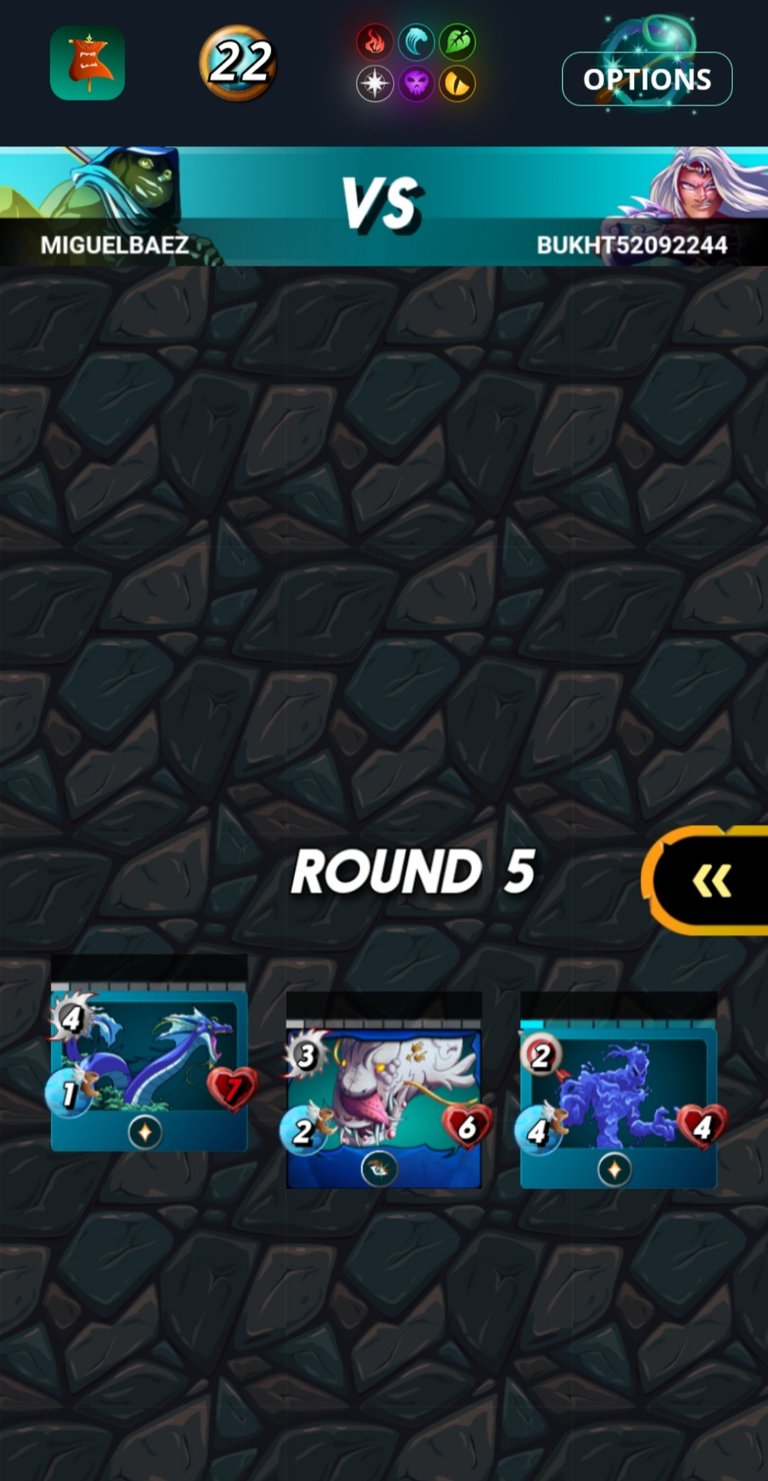 ---
Si deseas observar esta batalla completa, aquí te dejo el enlace
If you want to observe this complete battle, here I leave the link
Si deseas comenzar esta gran aventura, jugar y obtener dinero aquí te dejo mi enlace de referido.
If you want to start this great adventure, play and get money here I leave my link referred to.
---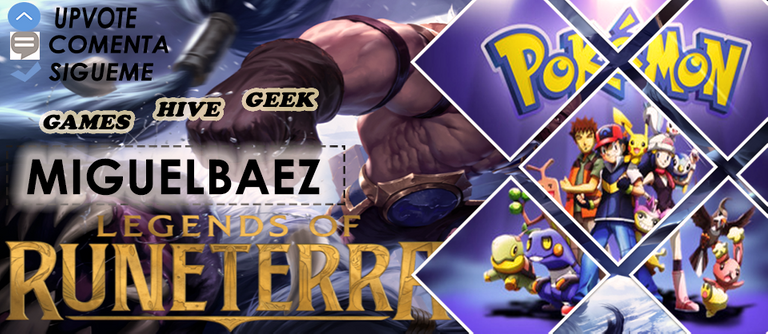 Espero les haya gustado mi publicación pronto estaré subiendo nuevos gameplays a esta grandiosa comunidad
I hope you liked my publication soon I will be uploading new gameplays to this great community
---
---