The Divine Cuppa

---
Coffee from the cup of the sun son, father, and holy ghost, has me feeling renewed, like I'm born again.
... But coffee does that, right?
Yes, it does! I believe in the power of coffee.
Coffee is my favourite energiser and mood enhancer.
Have you ever noticed how simple little things can alter our moods?
Sometimes it's easy to shake off bad feelings; at other times, we find ourselves holding onto negative emotions far longer than we need to.
I turn to coffee when shit like that happens, and I think that's okay. There's no fear of me becoming addicted, because I do it in moderation, by cultivating positive energy through conscious effort.
We are naturally programmed to think in survival mode and become overly anxious about different outcomes, which might cause us to unconsciously exude negativity. Still, it's nothing that we cannot fix. It just needs a little care and we could train our minds to develop the habit of thinking positively.
One way to treat me is by indulging in a cuppa with a nice cinnamon bun.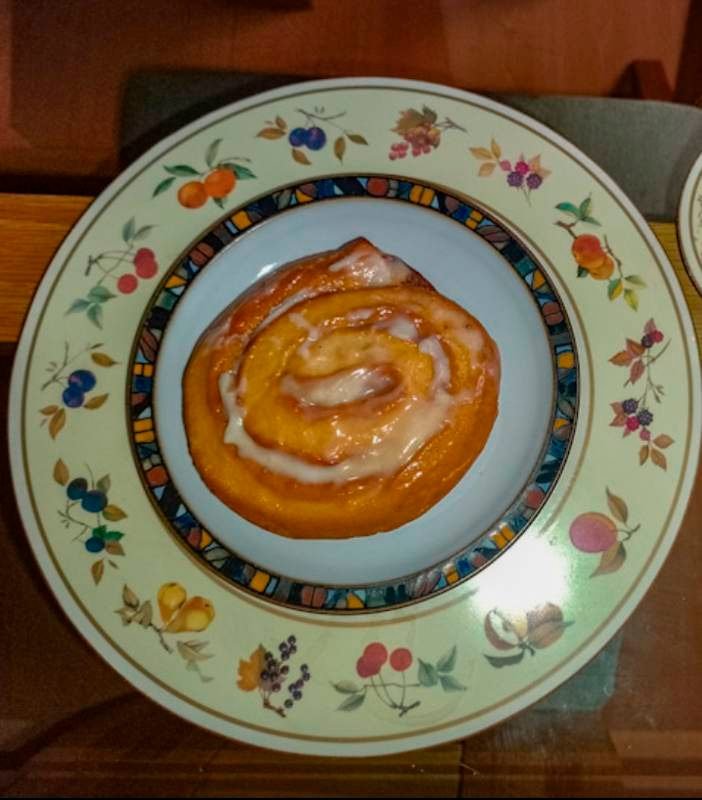 So delicious!
Cinnamon is one of my favourite spices. The scent makes me feel happy. A combination of foods containing cinnamon with coffee, or even a drink of coffee with cinnamon is something that I always enjoy.
Coffee is my holistic remedy.
Drinking just one cup, preferably a strong black coffee, awakens me and boosts my physical energy levels. When my body is strong and performing optimally, it makes me mentally positive. That positivity transforms me and helps me to keep a positive attitude.
Our attitudes come from our thoughts, so if our thoughts are negative, then sure and behold so will our attitudes. Our thoughts determine what energy we give off, and energy is contagious, so I try to be considerate and maintain a positive outlook since I know that my mood can have a significant impact on others.
With coffee, I see things abundantly...
It's like nothing is impossible and there is something for everyone. I feel a high sense of gratitude for coffee and I take nothing for granted. My positivity can manifest in different ways, and I feel happy to see others succeeding and doing well with their lives and on the blockchain too.
Speaking of abundance, which cup above, did I drink my coffee from? The sun son, father, or holy ghost?
I'm not sure what strategy you might use to determine which cup I drank from, or if you will make a random guess and be lucky. Whichever way, I'd be impressed to see who comes up with the correct answer:)
Have a coffeelicious day peeps, and remember, take note of your emotions, thoughts, moods, and attitudes, as you are the only one in control of them.
Thank you for reading my thoughts about the divine beverage, coffee. Chances are that I'm going to have another cup right now:)
PS. There'll be a prize for the first person who guesses the correct answer 😉
All the images are mine. The coffee is a delicious Nespresso blend, and the cinnamon bun came from a local supermarket.
---
---