Crazy For Maisy - 🌠 Starbits & Cold Pizza #253 🍕
Hey Rockstars,
I hope you all are having a rocking day. Time for another edition of Starbits & Cold Pizza!
Here's what's been happening in my world of Rising Star!
Sending you all Good Vibes and Enjoy The pizza!!
If you not playing yet, please use my referral link click here and start living that rockstar life!
New Cards
Opened 6 packs today! Here's is my favourite: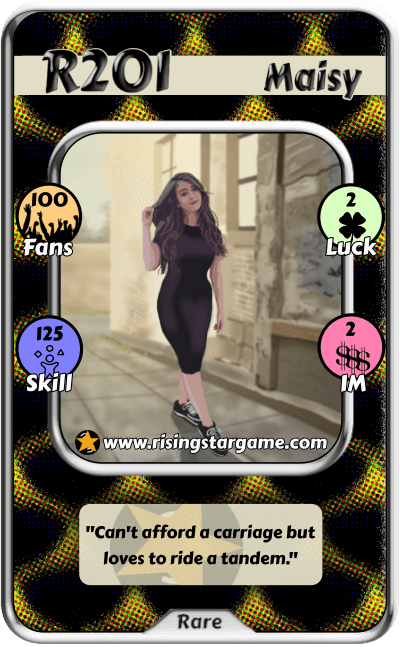 R201 Maisy is front and centre today! Got 3 of her today so she deserves the spt! Riding shotgun for sure!
I also got these:






Lots of instruments today and some good rare people cards! Unfortunately no epics or rares so we wait and see what happens next time.
Game Progress
New cards added improved the stats a bit!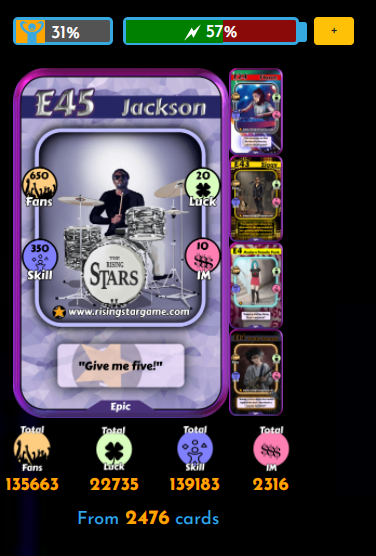 Now totally on 2476 cards!
Dropped on the charts after my last post and im at position 71 today:

9429 missions completed and just levelled up to 170! 5 more to go before i unlock te next mission! Stacking starbits for some more cards!
We keep grinding!
What's your progress like? Got Any Hot Tips?
I'm keen to connect with other players! Pop me a line to let me know how you doing, or any hot tips you'd like to share!
Till next time, keep on rocking.
Start your band and join the fun here

---
---