The One Ingredient to Rule them All! Also Known As Sour Cream...
She had her trolley parked in front of the sour cream as she procrastinated over which unimportant product she wanted to purchase! I squeezed around the front to reach around the edge of the fridge and rescue two pots...maybe a third, as I tried to recall how much we had left at home. She didn't even seem to notice and continued her obstruction of this important ingredient.
I'm not sure exactly when sour cream became such a staple in our house, but I only recently realised just how much I now use it in our meals. I first started using it as a replacement for mayonnaise, when we moved to Australia. It's hard to imagine now, but back in England I used to like mayonnaise. A couple of tastes of some sugary Australian ones and I've never touched it since. I did consider trying to make my own, but it needs a flavourless oil and that's generally the hydrogenated ones, which I try to avoid, because they are trans-fats. Anyway, replacing it with fresh sour cream was much less time consuming with much simpler ingredients. It's been even better since I found a brand that doesn't add thickener and as long as it's kept chilled it has a good shelf life, meaning I can stock up with as few trips to the shop as possible (I hate going shopping after all).
We use it with burgers, on wraps and with nachos and tacos. But in more recent years I've also been using it as a base for some sauces, substituting it for ingredients I don't usually keep in the house.
Garlic Sauce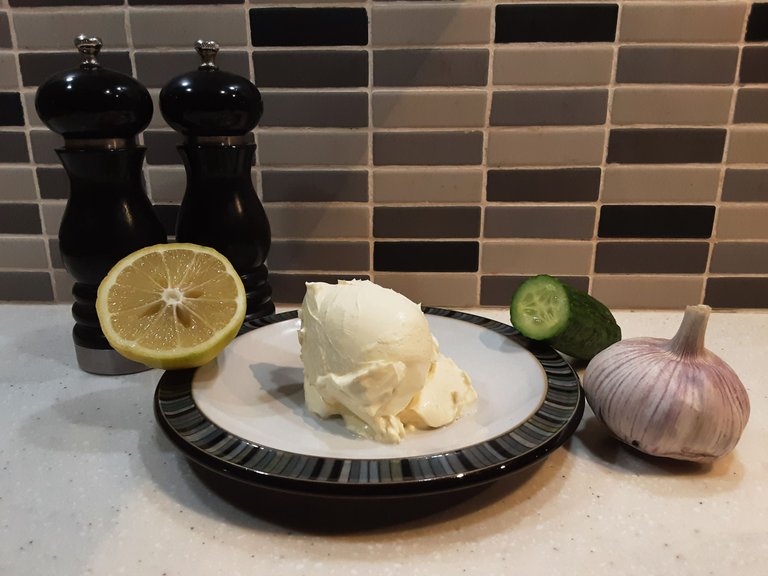 As I said the other day to our visitor who told me his mum, a chef, adds cucumber to this type of sauce too, I'm definitely no chef! I like to keep things simple and I can't be bothered with measuring things out if I don't have to, so I'm afraid I don't have an ingredients list with exact measurements. However, I'll let you know how I make mine and you can improve on it from there if you wish. The original recipe I evolved it from was for a Mediterranean meatball recipe, which called for a yoghurt base and didn't contain garlic or cucumber. I rarely had unsweetened yoghurt in the house at the time, so it got replaced with sour cream. I've developed it into this garlic sauce, similar to what Yiros places use, but more refreshing with the cucumber. I don't always have cucumber available, though. Take out the garlic and it's suited to a Mediterranean dish again.
Ingredients
Sour cream
Lemon juice
1 clove garlic
1 small cucumber or 1/3 of a large
Salt and pepper to taste
I use the juice of half a lemon to the volume of sour cream as you see it in the photo above. Now normally I go liberal with garlic, but as this is fresh and uncooked it tends to be more potent, so I actually only use a small clove.
Then I'll just mix all the ingredients together and add a bit of filtered water to give it a more sauce like consistency. Not all sour cream needs this, but as you can probably tell my preferred brand is quite thick and certainly not runny.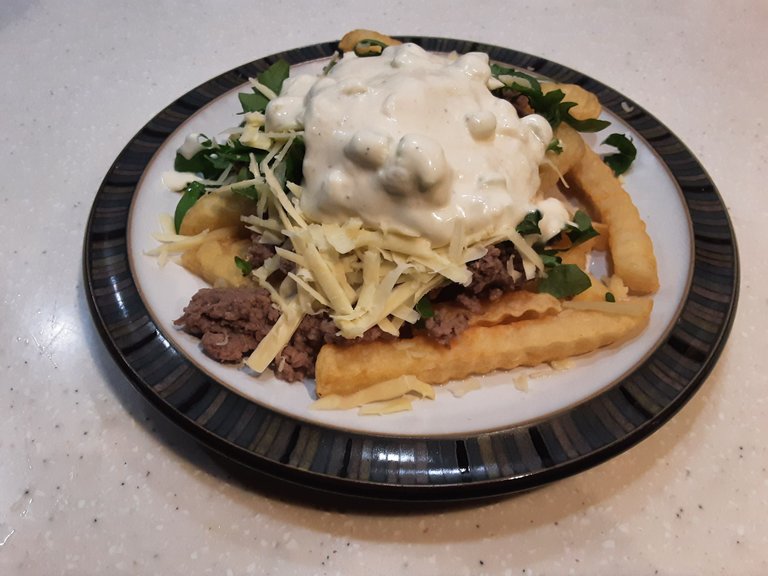 Our version of an Adelaide dish known as AB; frequently requested by my youngest daughter.

Creamy Cheese Sauce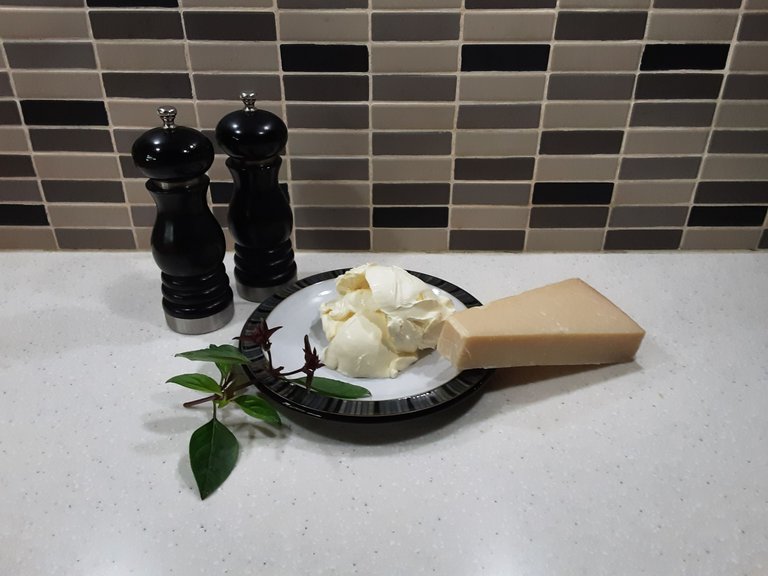 For a long time the only cheese sauce I knew how to make was a béchamel sauce. This is actually a rather heavy sauce and needs continual attention during the cooking process. I'd looked at trying to find lighter sauces before, something more similar to the Italian pasta ones, but hadn't really found one. Then when my daughter asked if we couldn't have a lighter sauce like those, I looked a bit harder. There was no way I was feeling patient enough to do a carbonara sauce, which is what recipes mainly come up when you search for these types of sauces. So I was ecstatic to come across a really easy cream based sauce. I wasn't sure if it would be what we were hoping for, especially as I was replacing the cream with sour cream (I rarely use cream and it doesn't keep for long, so it mostly sits in our fridge and goes bad). It turned out perfect and is so simple to make!
Ingredients
Sour cream
Grated parmesan cheese
Salt and pepper to taste
Sweet basil or other herb (optional)
Add all the ingredients to a saucepan, except for the herbs (the originating recipe said salt is a must, but I don't add much and I think that the sour cream helps out with the flavour whereas standard cream might need more adding). Mix them together well before putting the pan on a gentle heat until it's melted and combined fully. I mix before heating, as well as during, because if I get sidetracked then any cheese touching the pan directly will just melt into a clump and won't dissolve into the sauce properly. Add the chopped herbs at the end, just before serving, if you like them fresh.
I try to avoid the sauce getting so hot that it boils, but it occasionally happens when I'm trying to do too much at once and doesn't detract from the sauce when it does. It just may not be as smooth. Béchamel sauce wouldn't turn out right with such low level of attention, so I love how much quicker simpler this is. Plus it's so flavoursome!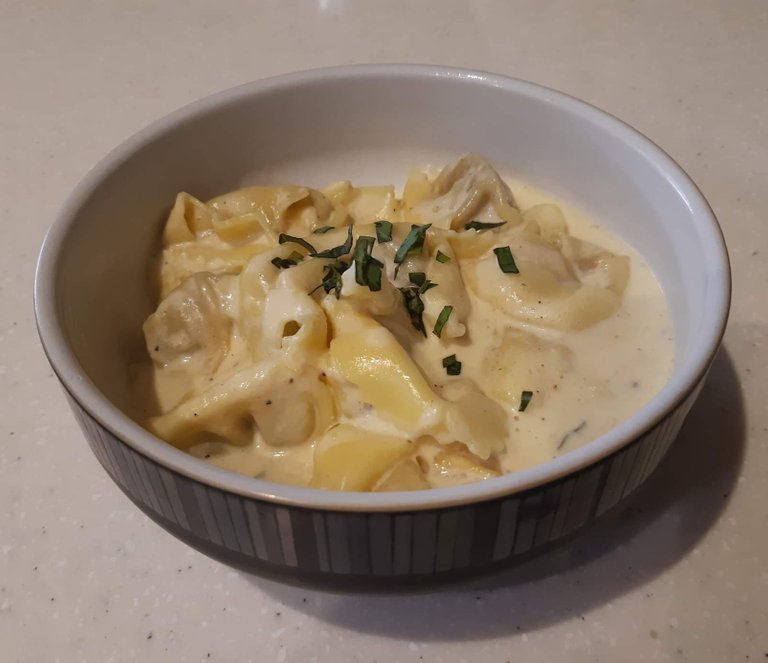 Creamy cheese sauce with pasta.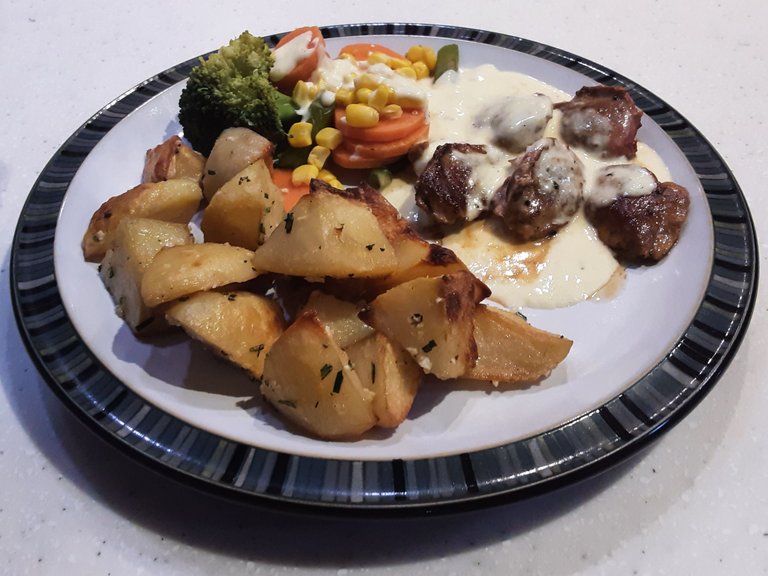 I usually do this dish with chicken breast, but didn't have enough this day, so used our home grown quail breasts. This is a family favourite; creamy chicken quail, with garlic and Rosemary potatoes.

---
---