HIVE vote expiration, Why? Pourquoi??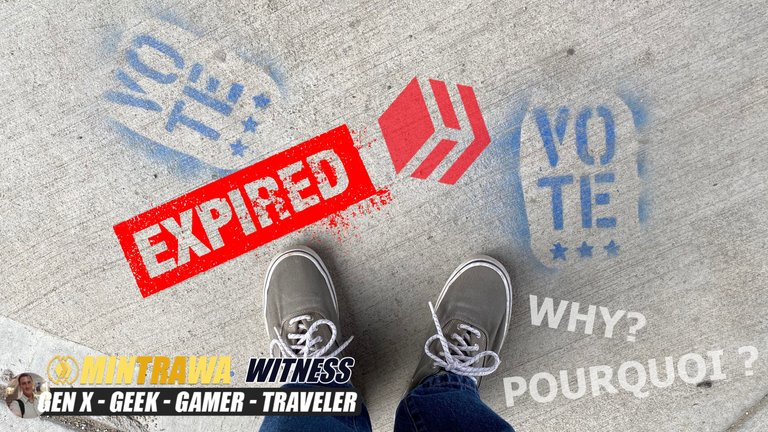 ---
In a few days ... it will have passed very fast ... in a few days ... it will be one year since the Equilibrium was reached!
Yep, one year since the Hive Hardfork 25 Equilibrium and you know what that means? It has to do with the title though ;)
This means that for some of you your votes will expire! What? How? Why?
Flashback
With the Hive Hardfork 25 Equilibrium came 2 big changes, the first one was the changes to curation window and curation rewards calculation and the second one was the witness and proposal votes by an account expire after one year if the account stops actively making governance-related votes (cf this post)
I don't get it :(
With each HIVE account also comes 30 votes to choose the HIVE block producers (aka witness) that best fit your idea of HIVE and the direction the blockchain should take.
Developers and other protagonists on HIVE can also apply for funding of their project on HIVE through the DHF (Decentralized HIVE Fund) which will be granted if they get a sufficient weight of votes. cf https://peakd.com/me/proposals
These 2 types of votes are what we call governance votes which of course cost you nothing!
Witness? What's this!
You can imagine that everything you do on HIVE must be recorded in the blockchain, whether it is an upvote on a post, a transfer of HIVE from one account to another, converting HBD to HIVE, or vice versa, etc. ... even this post will be ;)
This is where the block producers (aka witness) come in. We are currently 116 (see this monthly report from one of us) but only 20 of us are part of what we call the top witnesses who are selected to produce blocks at each round, the rest being selected in proportion to its support and produces blocks more or less frequently (for example my server produces a block every 6 hours)
Our role, in addition to registering the blocks in the blockchain and guaranteeing their integrity and immutability, is among other things to define the cost of account creation, to define the rate of interest of the HBD, to give the blockchain the necessary information for the conversion calculations (price feed), etc...
It is also under our acceptance that hardfork is applied to the blockchain.
OK I get it
Good! So you have understood the important role we have in the smooth running of HIVE and you too would like to support us by using the 30 votes at your disposal if you haven't done so yet or renew your support if you did so almost a year ago.
First of all thank you (even if you don't use one of your votes for my witness), thank you for your participation in the life of HIVE and for using the weight of your HIVE Power to express the direction you would like HIVE to go.
To do it, it' s very simple. Click on one of the links below and choose your 30 representatives (or less, it's up to you) as block producers. Feel free to read everyone's introductory post as a block producer.
Please also feel free to support the funding applications you like in the DHF https://peakd.com/me/proposals
As for me, I would like to thank the 250 Hivians who honored me with their support by voting for my witness :) I'm here since 4 years, I was there at $0.15 and I will still there at $15 ;)
Tip
You can see your governance vote expiration date in the HIVE block explorer https://hiveblocks.com/@mintrawa on the left side. A single new governance vote before this date is sufficient to extend the expiration date which is a global date for all votes, in other words, you don't have to redo all the votes you've already done.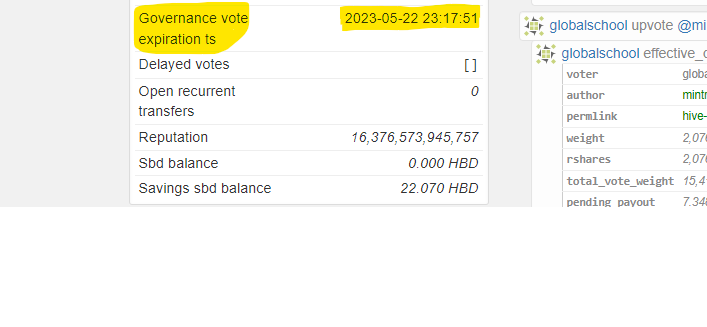 ---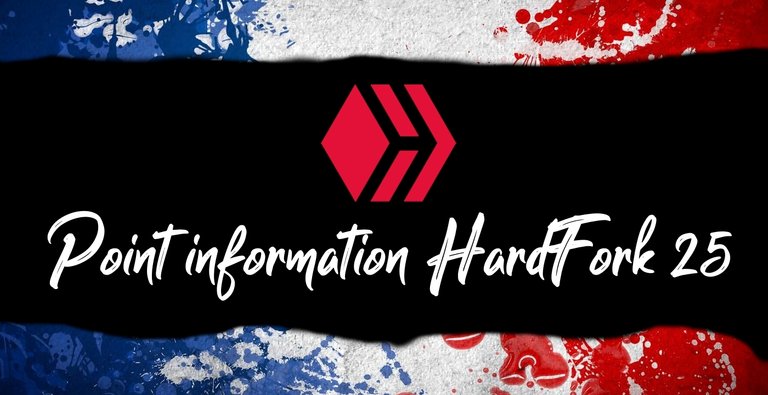 ---
Dans quelques jours ... cela aura passé très vite ... dans quelques jours ... cela fera un an que l'équilibre a été atteint !
Et oui, un an depuis le Hive Hardfork 25 Equilibrium et vous savez ce que cela signifie ? Cela a à voir avec le titre pourtant ;)
Cela signifie que pour une partie d'entre vous vos votes vont arriver à expiration ! Un ? Quoi ? Comment ? Pourquoi ?
Retour en arrière
Avec le Hive Hardfork 25 Equilibrium, il y a eu deux grands changements, le premier étant les modifications de la fenêtre de curation et du calcul des récompenses de curation et le second étant que les votes de témoins et de propositions par un compte expirent après un an si le compte cesse de faire activement des votes liés à la gouvernance de HIVE (voir cd post).
J'ai rien compris :(
Avec chaque compte HIVE viennent également 30 votes pour choisir les producteurs de blocs HIVE (aka témoin) qui correspondent le mieux à votre idée de HIVE et de la direction que la blockchain doit prendre.
Les développeurs et autres protagonistes sur HIVE peuvent également demander le financement de leur projet sur HIVE par le DHF (Decentralized HIVE Fund) qui sera accordé si ils obtiennent un poids de votes suffisant. cf https://peakd.com/me/proposals
Ces 2 types de votes étant ce que l'on appel des votes de gouvernance qui bien évidemment ne vous coutent rien!
Témoin ? c'est quoi ce truc?
Vous vous doutez bien que tout ce que vous faites sur HIVE doit être enregistré dans la blockchain, que ce soit un vote sur un post, un transfer de HIVE d'un compte à un autre, de convertir du HBD en HIVE ou inversement etc ... même ce post le sera.
C'est la que les producteurs de blocks (aka témoin) interviennent. Nous sommes actuellement 116 (cf ce rapport mensuel de l'un d'entre nous) mais seulement 20 d'entre nous font partie de ce que l'on appel le top témoins qui sont sélectionnés pour produire des block à chaque tour, le reste étant séléctionné au prorata de ses soutiens et produit des blocks plus ou moins frequemment (par exemple mon serveur produit un block toute les 6 heures environ)
Notre role, en plus bien évidemment d'enregistrer les blocks dans la blockchain et d'en garantir l'intégrité et l'immutabilité, est entre autre de définir le cout de création de compte, de définir le taux de rendement du HBD, de donner à la blockchain les infos nécessaires pour les calculs de conversion etc ...
C'est aussi sous notre acceptance que les hardfork sont appliqués à la blockchain.
Bon OK j'ai compris
Bien! Vous avez donc compris le role important que nous avons dans le bon fonctionnement de HIVE et vous voudriez vous aussi nous encourager en utilisant les 30 votes à votre disposition si vous ne l'avez pas encore fait ou renouveller votre soutien si vous l'avez fait il y a maintenant quasiment 1 an.
Tout d'abord merci (même si vous n'utilisez pas l'un de vos vote pour mon witness), merci de votre participation à la vie de HIVE et d'utiliser le poid de vos HIVE Power pour exprimer la direction que vous voudriez que HIVE aille.
Pour ce faire, rien de plus simple. Cliquez sur l'un des liens ci-dessous et choisissez vos 30 représentant (ou moins, c'est vous qui voyez) en tant que producteurs de blocks. N'hésitez pas à lire les post d'introduction en tant que producteur de block de chacun.
N'hésitez pas non plus à aller apporter votre soutien aux demandes de financement qui vous plaisent dans le DHF https://peakd.com/me/proposals
Quand à moi j'en profite pour remercier les 250 Hivians qui m'on fait l'honneur de leur soutien en votant pour mon témoin :) Je suis ici depuis 4 ans, j'étais là à $0,15 et je serai encore là à $15 ;)
Astuce
Vous pouvez voir la date d'expiration de vos votes de gouvernance dans l'explorateur de bloc HIVE https://hiveblocks.com/@mintrawa sur le côté gauche. Un seul nouveau vote de gouvernance avant cette date suffit a repousser la date d'expiration qui est une date globale à tous les votes, en d'autres termes vous n'êtes pas obligé de refaire tous les votes que vous avez déjà fait.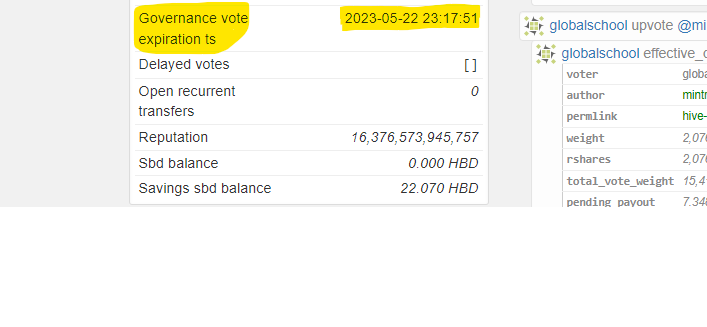 @mintrawa :)
---
Merci pour votre soutien et votre confiance en tant que producteur de blocs HIVE (témoin).
Mon post d'introduction de producteur de blocks HIVE
---
Thanks for your support and trust as a HIVE block producer (witness)

My HIVE block producer (witness) introduction post


Vote for my HIVE block producer account (witness): click here (via HiveSigner)

---
Original Cover Photo of this post by Phil Scroggs on Unsplash
---
---