Meta's luck in getting rich solely through advertisement revenues has ended!!

Human psychology of weight loss - Good for them but not for their stock investments!!
Generally, humans are happy when they lose weight and in olden days women felt they are more attractive to the world when they lose weight and become thinner…hmmm… but now I wonder about the logic of this…
You see, humans are now not happy if their stocks lose weight, they don't find it attractive, else why did investors recently flee from Meta stock even if it's lost a lot of weight ?
Hmmm… So, fundamentals make things attractive, be it you human(whatever your weight) or Meta stock.
Ohh… I see many of you don't understand how Meta has lost weight, I will explain… and incase any of you humans are weighty, don't worry what matters is you are healthy and nice people at heart…
Weighty stock Meta lost a lot of weight in terms of its Market Cap
A year ago Meta stock had a Market Cap of over $ 1 trillion and its lost a major chunk of this Market Cap as the stock crashed to its lowest price point of 88$ on November 4th recently. Meta's Market Cap fell to 270 $ Billion. Meta reached its peak price point in September 2021 at a price range of 384$.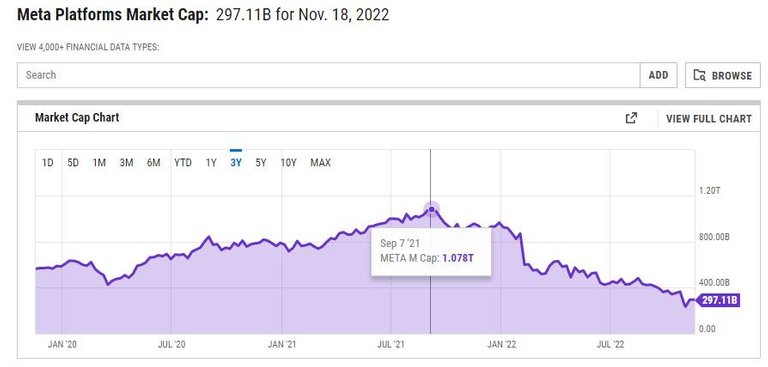 Source. Drastic weight loss for Meta stock as with it's drastic decline in Market Cap
I consider this weight loss for Meta with its Market Cap has fallen so drastically, not to mention its hair cut in price.
However, obviously in the financial world for investors this meant something else, it meant losses for investors who did not sell Meta stock before it fell… (Red, Red losses it was which reminds me of the song Red Red Wine song)
Latest price action scene of Meta since its touched its latest lowest price point earlier
I have explained inadeptly about Meta's tumbling price action in one of my articles you can read here -
Evaluating the crash of the famed Web2 Social Media Giant - Meta
In that article I mentioned that Meta's stock went to the price level it was in 2017, investors who have not sold out above 95$ price level were in red that time.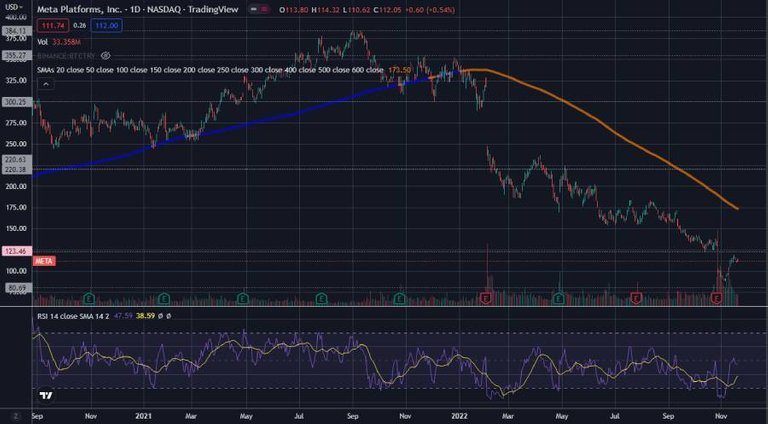 Meta's price chart
Anyway, Meta stock has had buyers since early November, so the stock's price has risen from its lows of 88$ and now it's price is 112$, with a resistance at 123$ range. This has increased Meta's Market Cap from 270$ million to 300$ million
I can't comment on weather Meta's stock has reached bottom, because ah well… if the price fails to take off over the 123$ resistance range, the major support price range for Meta to fall down is 81$...
Who knows, maybe Meta's hair cut in it's price and weight loss in its market cap did attract investors who brought the dip?... but I am not going there here.
Let's analyze more practically the fundamental reasons that lead to the weight lose or declining value of Meta stock.
Ready…
A Brief Historical take highlighting the Social Media Giant from the Web2 Era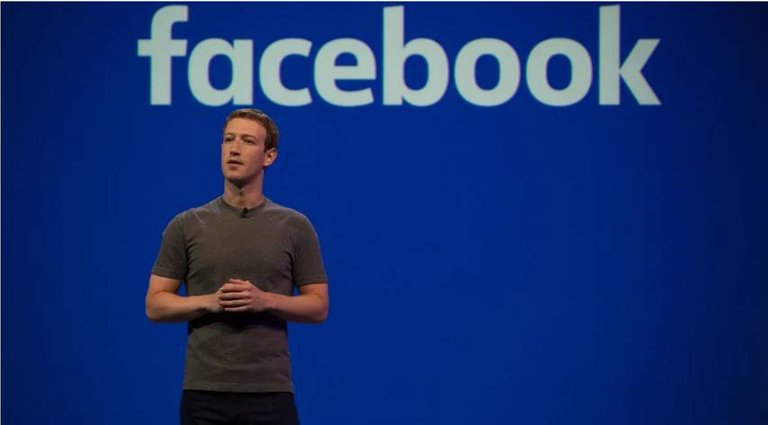 Image Source
Ofcourse, Meta as we all know is Facebook and in the age of Web2, this Social Media platform became one of the dominant Market Leaders in the Technology sector.
That prosperous Web2 age was since 2005 but later Facebook's Mark Zuckerberg understood that age is fading so under him Facebook is trying to dip its feet into Web3. I will come back to this point later.
Facebook's main source of revenue remains selling advertisements of course and this business model worked really well for Facebook for a long time.
The advantage FB acquired was a large user base, and this made things easy for Facebook as it engaged in selling targeted ads to its users for which user data was sold to Corporates. I already explained that this eventually had FB become a villain entity in my previous article, so I will skip that part.
Facebook expanded its self by acquiring most popular Social Media Platforms
Eventually, another social media platform Instagram also got a large number of users. So, FB acquired Instagram to eliminate competition and ofcourse get more users to whom FB can sell its ads to of course.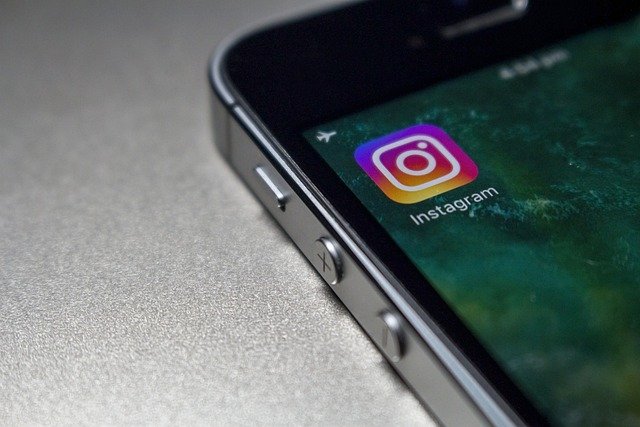 Image by Webster2703 from Pixabay
Yes, messaging app Watsapp too gained a large user base so FB acquired that as well.
So, Mark was busy building an empire acquiring large social media platforms and then rebranded to Meta.
MZ trying to enter the world of web3 integrating Metaverse elements in the platform
Probably, the idea was simple, Meta intended to be a social Media leader in the space and convert Web2 experience into Web3 by making the space a Metaverse space. Here, one can imagine people will be avatars and interacting with others who will be avatars, interacting with each other in virtual reality.
(hmmm… complicated, what about people who don't like Web3 video games, too much virtual reality in everything not going to change our life reality anyway)
All Mark Zuckerberg or let's call him MZ needed to do was… introduce a product that his large base of users can use and make money and he still can actually do that because Meta is still the largest Social Media platform having large base of users who are his potential customers for whatever product MZ intended to introduce.
MZ intended Meta to lead with his Metaverse initiative for which he invested a 100$ billion dollars but it's questionable whether the endeavor it paid off.
Changing times have given rise to setbacks for Meta
Meta's long innings of earning huge advertising revenues are ebbing
Meta's earlier advertising earnings were during a Bull Market when interest rates were cheap
Well… now it's time to discuss the setbacks faced by Meta which had it lose lots of value and revenues, brace up for this section.
We all know, Meta's predecessor brand Facebook thrived in a different environment. Oh yes, the US FED was maintaining low interest rates, so Corporates and Businesses had easy access to money that they could borrow cheap and invest. This continued for a long time, with businesses having enough money to spend on advertising their products/services on Facebook, which is the largest digital social media space with its large user base.
So, Facebook had no problem on making profits through its advertisement revenue earnings for a long time
Meta faces a dull period because of Monetary tightening inside a Recessionary environment
Now, things have changed, it being a bear market inside a recessionary market cycle where businesses are not earning substantial revenues and making profits . Add to this, monetary tightening measures are introduced by US FED, so effectively businesses don't have money to spend on ads as they are curbing their expenditure.
So, Meta also earns less because less companies are advertising on its platform. This is one reason why Meta's revenues have dropped down this latest quarter. Global slowdown has lead to declining advertising revenues for Meta.
Facebook's Social Media Market Domination came to be challenged with emergence of Tiktok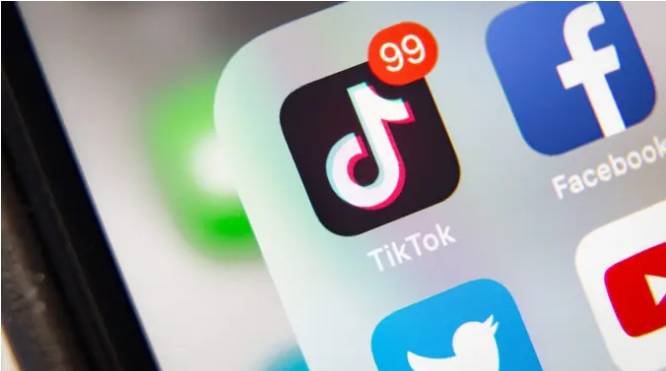 Source
Despite Meta's efforts to eliminate competition, a major competitor arrived with Tiktok attracting younger audiences into its platform.
Tiktok's origin is in China (oh, yes, another made in China product). What helped Tiktok emerge was China's ban of Facebook with its 'Great Firewall' effectively blocking Facebook in the region since 2009.
So, a Chinese entity, ByteDance was able to capture the Chinese social media market with Douyin in 2016. Eventually, Douyin made inroads globally as Tiktok.
Tiktok now has a market capitalization of 300$ billion, so it's huge.
Facebook can't stamp out Tiktok competition by acquiring it as it's a company with tight Chinese Government control.
Facebook's inability to capture the user base of the World's most populated country, China proved to be a big setback for it indeed!!
Global Government regulations are preventing Meta from eliminating competition
Earlier, FB had it easy as it got to dominate in the Social Media Space but regulation by Governments is now posing obstacles for Meta to have the leeway to be that go to digital Social Media Platform for advertising.
The UK government for instance, succeeded in making Meta sell a gif library company, Giphy, it acquired stating that competition in the online advertising sector is needed.
There are Acts being framed to eliminate such practices that were adopted earlier by Facebook that effectively eliminated competition.
Apart from Global Government regulations making it difficult for Meta to have no competition in the Digital Social Media advertising space, Meta may not be able to freely earn advertising revenues using other Tech devices.
For instance, now Apple has began charging Meta for advertising revenues Meta earns through its iphone users.
Favourable conditions for other Social Media platforms to emerge & take away Meta's Market dominance
One can say that the time is ripe for another Social Media Platform to emerge that can poach away Meta's user base. We already know, FB has cultivated a negative image among many of its users because of its violations of users' data privacy. Now, with global Western Governments regulating the digital space to encourage more competition, it's a favourable environment for more social media platforms to emerge and thrive in the space.
This will obviously have more social media platforms emerge who will compete with Meta for getting those advertisement revenues as more platforms will now be there where businesses can advertise.
As this encourages innovation, it's good for the users and social media ecosystem even if it threatens Meta's Market Leader Dominance and position.
Conclusion
So, it appears the era where Meta can keeping getting profitable earning advertisement revenues is fading. Meta is likely to lose its Market Leader position in the coming years as other new age social media platform come up and to sustain its revenues Meta needs to introduce another product that earns its revenues as well. It appears its Metaverse bet is not paying off, so a rethink is needed on what other product Meta can introduce to have it earn revenues.
---
---