Polkadot spreads its Web3 wings to India with Polkadot Now India coming up this April!!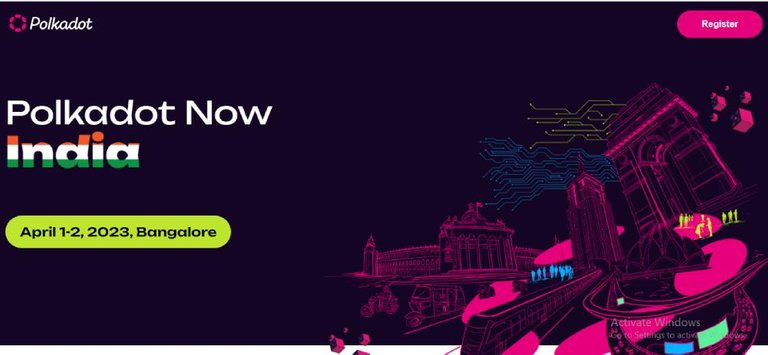 Source
Wow… India's RBI's Governor, Shaktikanta Das may be all for banning crypto in India, but even so, Blockchain and crypto community exist here!!!
Few months ago, Polygon had some events in India, where they toured some Cities in India, and various programmers and others could meet the Polygon team, learn some cool things, network, code etc.
Now, Polkadot is coming to India into the City of Bengaluru and this program attendance is free!!!
Date is April 1st to 2nd. Venue - Sheraton Grand Bengaluru,
Whitefield Hotel & Convention Center
Event website is here -: https://www.polkadotnowindia.com/
Registration link for the event is here - https://lu.ma/PolkadotIndiaNow_MainEvent
Free Registration but entry contingent on approval from event hosts
Everyone who is interested to attend has to first register and be approved by the event hosts. I suppose they are making sure that Blockchain enthusiasts with some skills are registering for the event. Programmers and developers working building Blockchain protocols and people representing Blockchain companies will get most precedence I think.
Shrugs…
Even so… Indian crypto and Blockchain enthusiasts and especially those part of the Polkadot community should check out the event!!
Complete these tasks in Airlyft to get $Dot and NFT in your wallet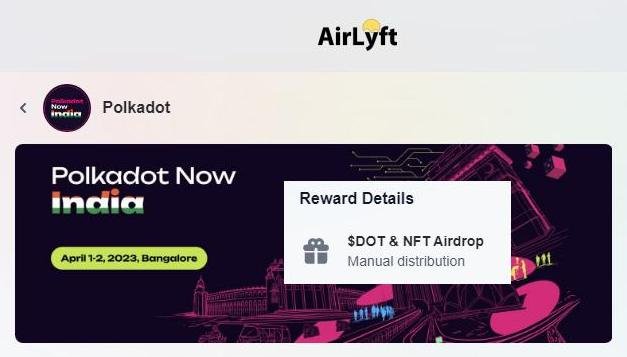 Source
And for those who are able to qualify to attend the event, once the event hosts approve their registration, there are cool things they stand to earn.
Yes, check out this airlyft page, where those people who complete these tasks and attend two days of the Polkadot Now India Conference get rewarded with $DOT and NFT airdrops in their wallets!!
They need to create a new wallet address for these airdrops though.
Cool na!!
Good that Web3 presence and culture is spreading in India
Good luck to those registering for the Polkadot Now India program to get entry for the event.
I wish to go, but I am just a crypto enthusiast who writes stuff as she learns . At most I am part of some crypto project communities making infographics and writing content on them. I have enough knowledge on crypto and on Polkadot, and passion to cover and write about the event if given the opportunity to attend.
But it's ok!!! I am happy Polakdot is coming and enlightening the India crypto community!!
About Polkadot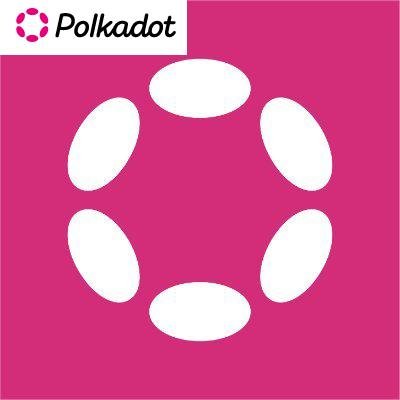 Polkadot supports a ecosystem of Parachains, that are Blockchain layer 1 Dapps on Polkadot. Polkadot's Beacon chain provides security to relay chains which are parachains so these Web3 projects focus on building dapps without worrying about security. Polkadot is a layer 0 Blockchain, and is designed to house protocols that can function scalably being very secure and interoperable.
Polkadot's XCM technology makes it possible for dapps within it to communicate with each other securely.
Parachains can customise their own token and governance mechanism, and fee structures. Upgrades happen smoothly with forkless upgrades.
Already, Polkadot houses some promising Web3 protocols like Astar, Interlay, Parallel, Acala, Moon Beam etc.
More on Polkadot here -: https://polkadot.network/
Twitter - https://twitter.com/Polkadot
Thank you for visiting my space Web3 Enthusiast!!!
---
---