Scarlatti Played on Piano and Harpsichord Sound

---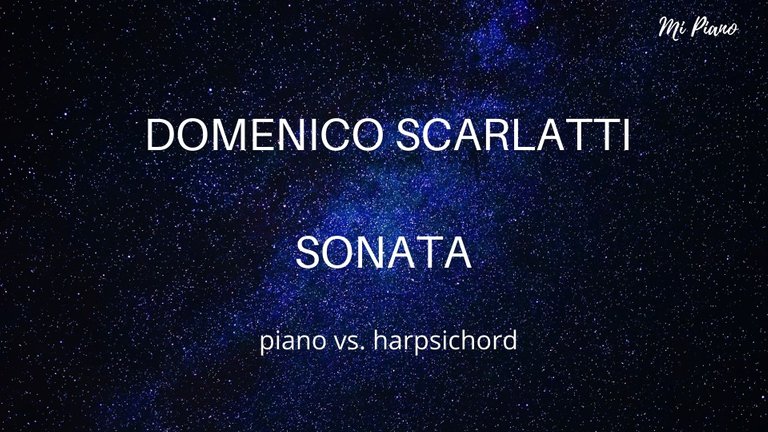 This could have been a real duel, between piano and harpsichord. In fact, it is, but only in the sound, because I don't have a real harpsichord. Of course, as in the majority of the electric pianos, there is an option to change the sound of the instruments. In mine too. So, as I once played a composition with the sound of a harpsichord, it seemed to me that it would be very convenient to compare those two sounds once again. For the first time, I did it as the response post of one of the editions of the #SpreadTheVibes challenge, long time ago with the piece Badinerie by J.S. Bach. I looked back now, it was in February. Some months after that post, I am comparing again those two sounds with one baroque composition. This time, it is a sonata in A minor, composed by Domenico Scarlatti. One of his many sonatas.
Cover photo made in canva using this photo
If you are asking yourself what is a harpsichord, continue with the reading as I will try to explain the main difference between a piano and a harpsichord in just a few words. Ok, maybe sentences. Both are tempered keyboard instruments (it means that they are tuned in a fixed scale where one octave is divided into 12 equal semitones), and the sound comes from the vibration of the strings. Now, how we make the strings vibrate is the main point of the difference. In the case of a harpsichord, the strings are plucked with a plectrum. The plectrums can be made of leather or feather quills and when plucking the strings, a rattling, clipped sound can be heard. When we speak about the modern piano, there is a set of hammers (each key has one hammer) that hit the strings when we press a key on the keyboard. We can directly affect the volume and quality of the sound.
Nowadays, you will mostly hear the baroque keyboard compositions performed in the modern piano. However, in the time they were written, this instrument didn't exist. There were organs and harpsichords, spinets, virginals etc. but the piano, as we all know it today, came later to the scene. It was at the beginning of the 18th century when a maker of musical instruments, called Bartolomeo Cristofori started to work around that new type of keyboard instrument. Very grateful for his invention, as imagine if not, I would be miharpsichord here in hive :D ?
If you listened to this video while reading, you could hear the same composition played first with the regular piano sound. Later, in the second part of the same video, I played it with the harpsichord sound.
Well, if you like, you can express your opinion, what did you like more, the piano or the harpsichord sound? Do you think we should play the baroque keyboard compositions on the real instruments from that time, or do you think it is just fine that we pianists perform it on the modern piano, which has a different shape of the sound?
---
---