Friday, at noon!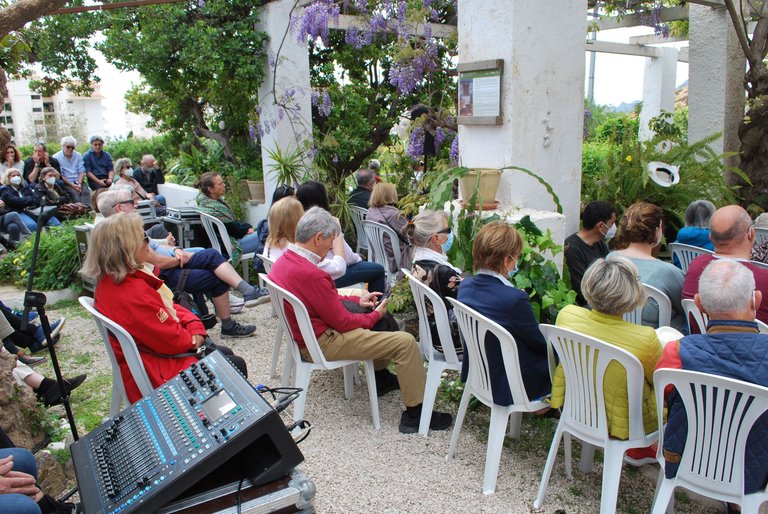 It was Friday. A day as it is today, the fifth one in the week. The feeling that every Friday gives is always special, as we are all looking for the weekend. Though, when this small event happened (oh, again an event?) was Good Friday, so my Easter holidays had already started. Double excitement! I didn't have to go to work, hence I could organize my day upon my wishes and one of them was attending a concert in one of the hermitages in Altea.
That was the ninth concert in the series of ten, events organized by the town during the week before Easter. Every day, for ten days, you could visit a different hermitage or a church and enjoy a mini-concert. Isn't it just great?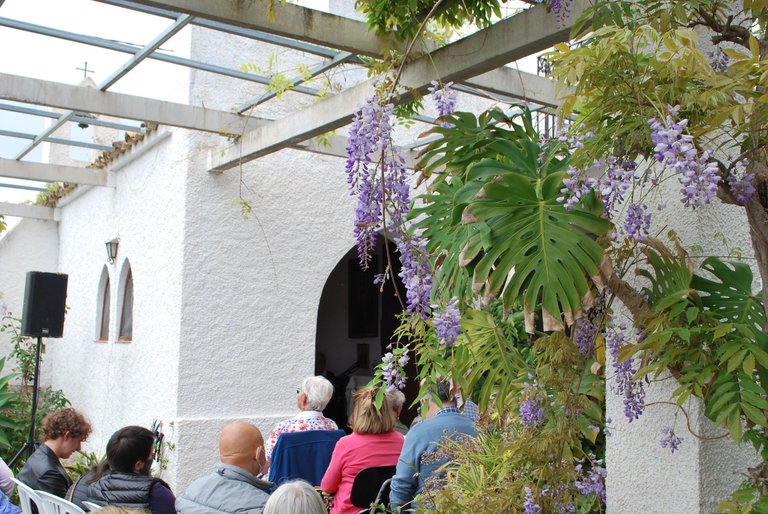 Well, it would be great visiting all of them, but I made just a few ones. I already mentioned the classical concert that was held in the main parish. The others found places outside of the hermitages, where the musicians played inside and the audience was sitting outside. In the hermitage Sant Tomas (Saint Thomas), people that came to enjoy music placed their seats (just plastic chairs) all around in the garden.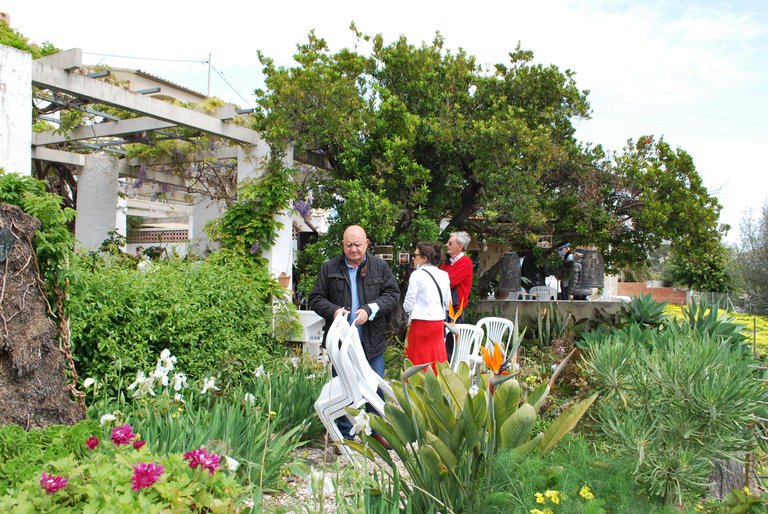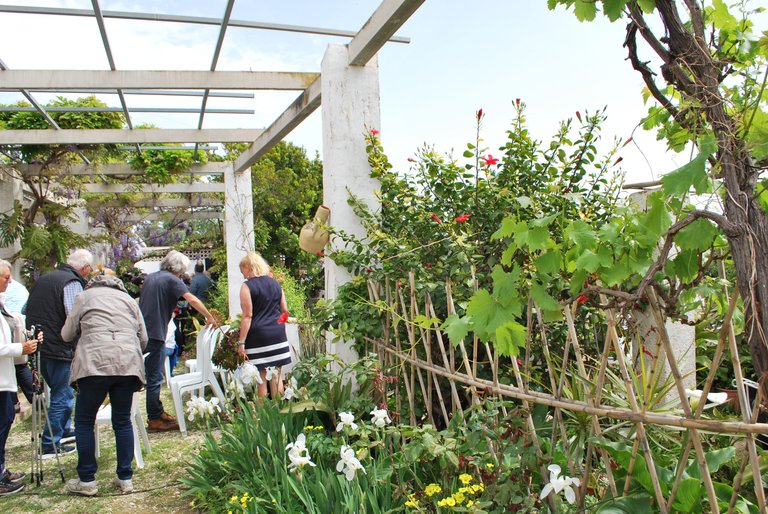 To be honest, everyone wanted to take a seat at the entrance, to see the musicians too. The concert took place at noon, I arrived a few minutes before but it was not enough early to find any place close to the main "stage". I wanted to stand glued to one of the walls, just next to the speakers you can see in the next photo, but some elder señoras started to complain in no time that they will not see the place where the musicians are supposed to be.
I guess I have to become smaller or invisible, as seems that I was a huge obstacle there. Those micro-seconds I was allowed to stand there passed very quickly, but ok, I moved myself and found a nicer place.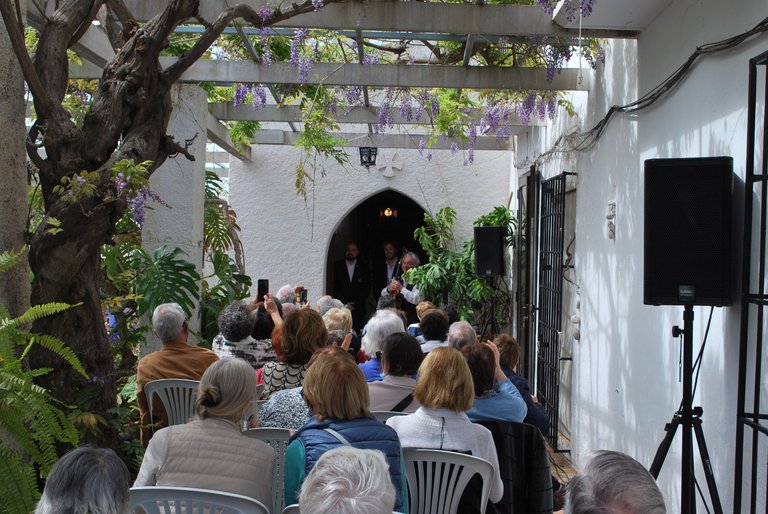 Anyway, the audience sitting among the flowers and grass was cool. Much cooler! There was a group of younger people (take with the reserve younger - I mean around my age) who were fully enjoying the offered music... I saw their eyes shining and their lips didn't stop smiling. I dont know how were my ones? Nobody took a photo of me, I think. But also, as I made a small route in the less occupied part, just flowers were my company. They couldn't immortalize my presence there.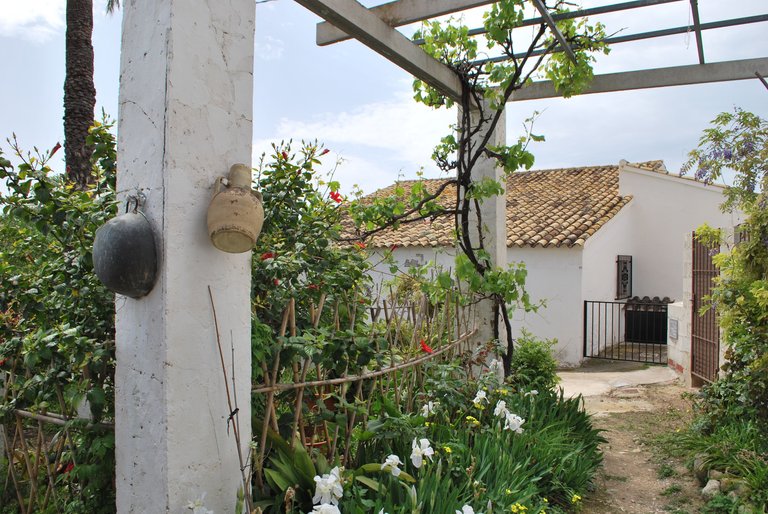 Oh, a cute detail I found. Made to hang from the rope, with a hole in the middle, those pebbles were a lovely decoration on the wall of the open balcony.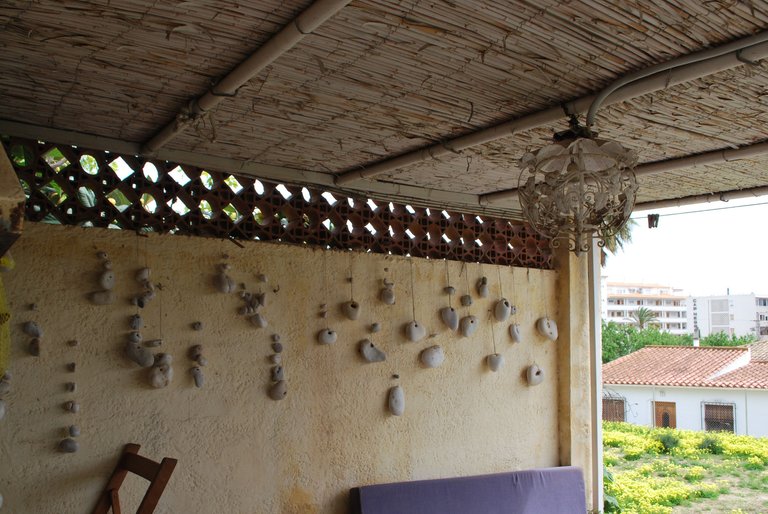 But I suppose you are not interested to see more about the place, but about the music and who played that day? Ok, let's start with the real stuff. We need some clear facts.
Who?
A trio made of a guitar, flute and percussion (Thierry Christian Fouet, Bruno Ruiz Lafuente and Juan Antonio Moreno Zarco)
What?
Renaissance Music, Latin Music, Popular Music.
It was very interesting to listen to music composed in the 16th and 17th centuries. Mainly Renaissance compositions and some very early Baroque pieces are what we could listen to in the first part of their performance. Later came a part where they played Latin music, more precisely all was a kind of bossa nova. Songs by Carlos Jobim and Jorge Ben filled that green garden, adorned with flowers and people that day. I enjoyed this part even more, as bossa nova is for me very difficult to play. I can truly respect those who can perform it well. This trio made it, so after the concert, I went to talk to them and exchange a few words. I surprised them with my presence :)
I talked to the French man, the guitarist. Just in a few moments, there were already jokes and upon the request to take a photo of them they agreed. But that one is too official, I like this spontaneous photo more, so here it comes: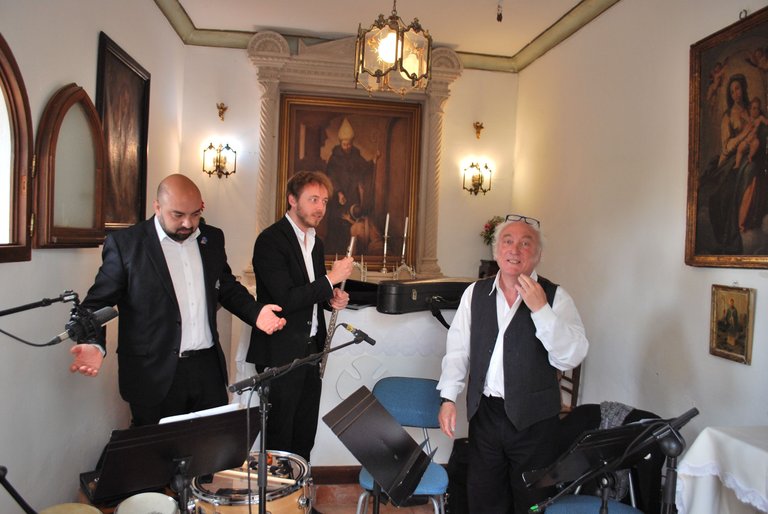 The audience surprised me after the concert. Everyone took their chairs and all were gathered in one place. Some nice people, nobody asked them to do that, but I suppose it was already a tradition to do that after each of the concerts. We know, this was already the ninth concert and I was seeing familiar faces from some of the previous ones I visited.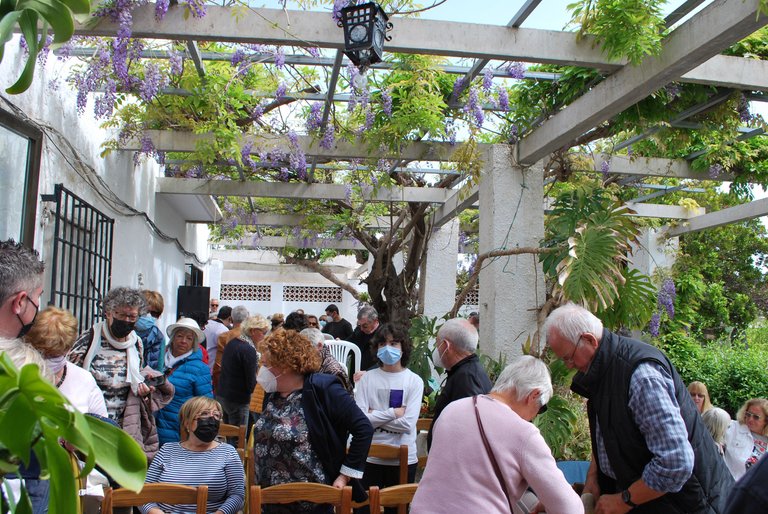 All in order, a pile of chairs was waiting to be transported to the next place - the last concert in the Route of the Hermitages series of concerts. I couldn't visit that last one, but with a pretty happy face, I went home from this date that I had with music, one Friday, at noon.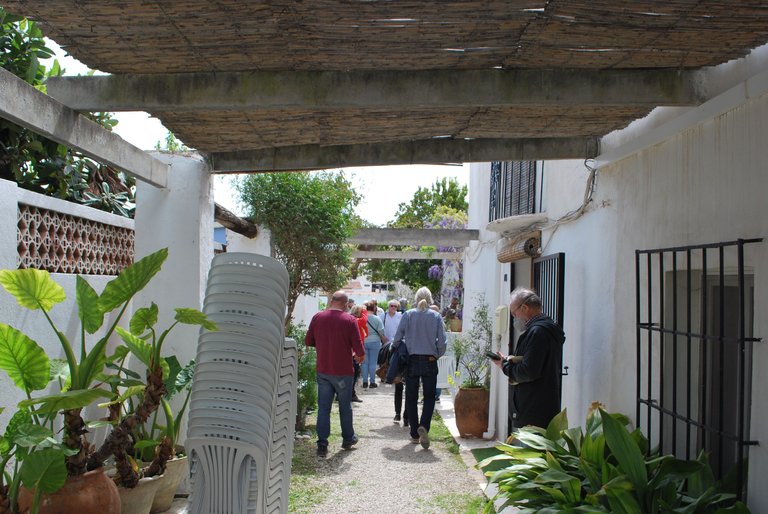 ---
---