Turn a simple and small glass jar into a beautiful vase with recycled material✂️🖌️📏💐🥀🌷 /Convierte un simple y pequeño frasco de vidrio en un hermoso florero con material reciclado✂️🖌️📏💐🥀🌷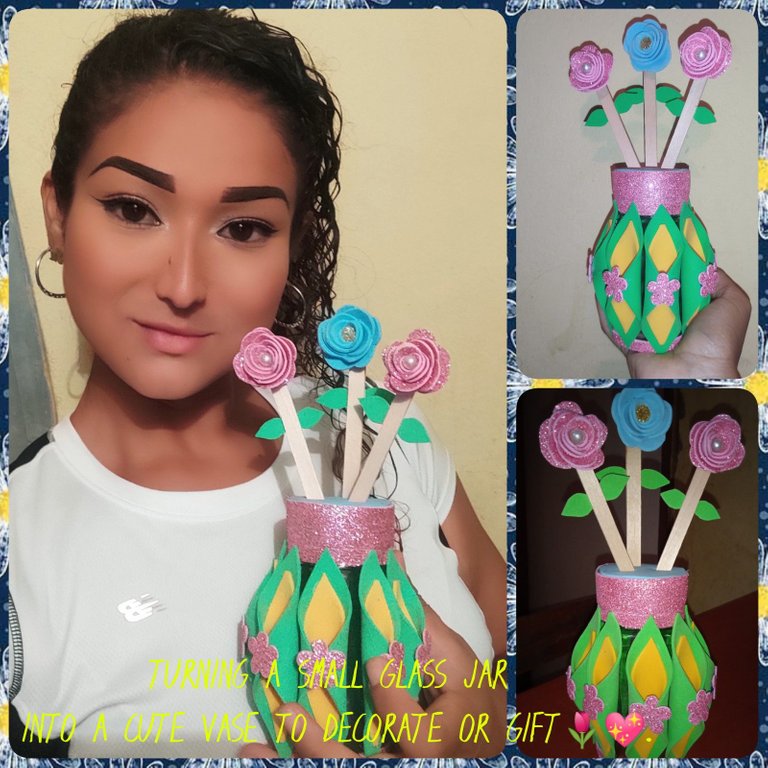 _____________✂️•📏•🖌️•💐•🥀•🌷_____________
Hello my dear Hive Blog friends, warm greetings to all who can read me, I hope you are having an excellent Weekend in the company of your loved ones, I wish you a day of successes and blessings. Today I am back in the Hive Diy Community with a step by step on how to decorate a small common glass jar, and turn it into a beautiful Vase with small artificial flowers, it is a very simple idea to make and also you only need some pieces of foami, glue and a small glass jar, it can be a mayonnaise, mustard or jam jar, those will be perfect to make this craft. Without more to add, let's start with the step by step.
Hola mis apreciados amigos de Hive Blog, saludos cordiales a todos los que pueden leerme, espero que estén teniendo un excelente Fin de Semana en compañía de sus seres queridos, les deseo un día de éxitos y bendiciones. Hoy estoy de vuelta en la Comunidad de Hive Diy con un paso a paso de como decorar un pequeño frasco de vidrio común, y convertirlo en un hermoso Florero con pequeñas flores artificiales, es una idea muy sencilla realizar y además solo necesitas algunos trozos de foami, pegamento y un frasco de vidrio pequeño, puede ser un frasco de mayonesa, mostaza o de mermelada, esos serán perfectos para realizar esta manualidad. Sin mas que agregar, empecemos con el paso a paso.
👉🏼TURNING A SMALL GLASS JAR INTO A CUTE VASE TO DECORATE OR GIFT💐🥀🌷💖.
👉🏼CONVIRTIENDO UN PEQUEÑO FRASCO DE VIDRIO EN UN LINDO FLORERO PARA DECORAR U OBSEQUIAR💐🥀🌷💖
🌻MATERIALS👇🏽:
🔸A small glass jar.
🔸Foami pieces of various colors (I used green, yellow, frosted pink and blue).
🔸Scissors.
🔸Ruler
🔸Pencil
🔸Silicon liquid (or instant glue).
🔸Small popsicle sticks.
🌻MATERIALES👇🏽:
🔸Un frasco de vidrio pequeño.
🔸Trozos de Foami de varios colores (yo utilice verde, amarillo, rosa escarchado y azul).
🔸Tijeras
🔸Regla
🔸Lapiz
🔸Silicon líquido (o pegamento instantáneo).
🔸Paletas de helado pequeñas.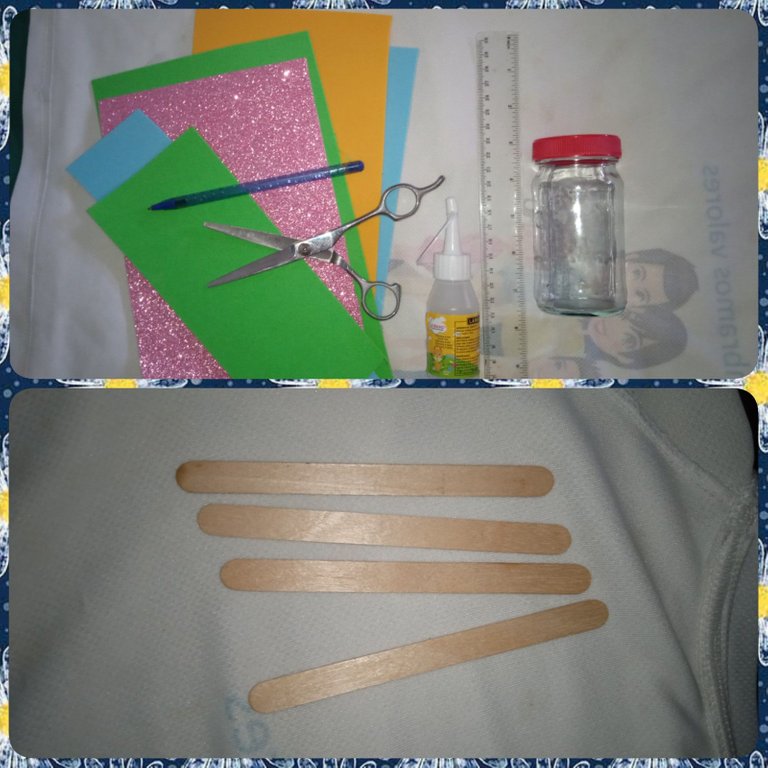 ✂️STEP-BY-STEP PREPARATION✂️
✂️ELABORACIÓN PASO A PASO✂️
🖌️STEP 1:
The first thing I did was to cut out 2 strips of frosted pink foami about 15 cms long and 1 cm wide, these strips I glued them with liquid silicone on the top and bottom of the jar, as shown in the photos.
🖌️PASO 1:
Lo primero que hice fue recortar 2 tiras de foami color rosa escarchado de aproximadamente 15 cms de largo y 1 cm de ancho, estas tiras las pegué con silicón líquido en la parte superior e inferior del frasco, tal y como se muestra en las fotos.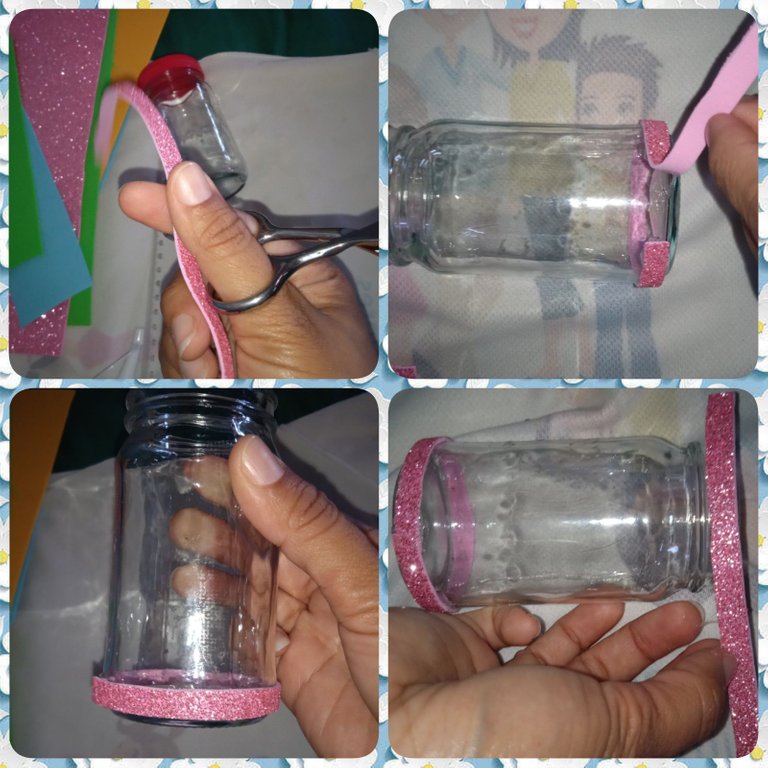 🖌️Step 2:
I drew a diamond shape on cardboard and cut it out to use as a pattern. With the scissors, cut out 9 green colored diamond shapes and 9 yellow colored ones, the latter a little smaller than the green ones.
🖌️Paso 2:
Dibujé una forma de diamante sobre un cartón y lo recorte para usarlo como patrón. Con las tijeras, recorte 9 formas de diamantes color verde y 9 color amarillo, estas últimas un poco mas pequeñas que las verdes.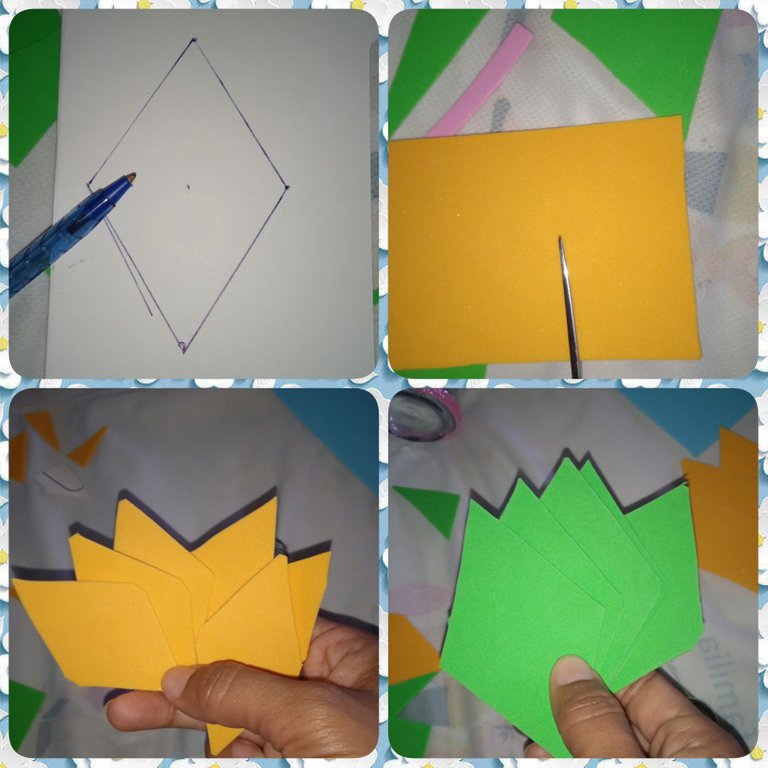 🖌️Step 3:
Then take the yellow shapes and glue them with liquid silicone on the green shapes, then fold them by joining the 2 side tips of the diamonds, so that the yellow shapes are on the inside of the fold, as shown in the photos.
🖌️Paso 3:
Luego tome las figuras amarillas y las pegué con silicón líquido sobre las figuras verdes, para después doblarlas uniendo las 2 puntas laterales de los diamantes, de manera que las figuras amarillas queden en la parte interior del doblado, tal y como se muestra en las fotos.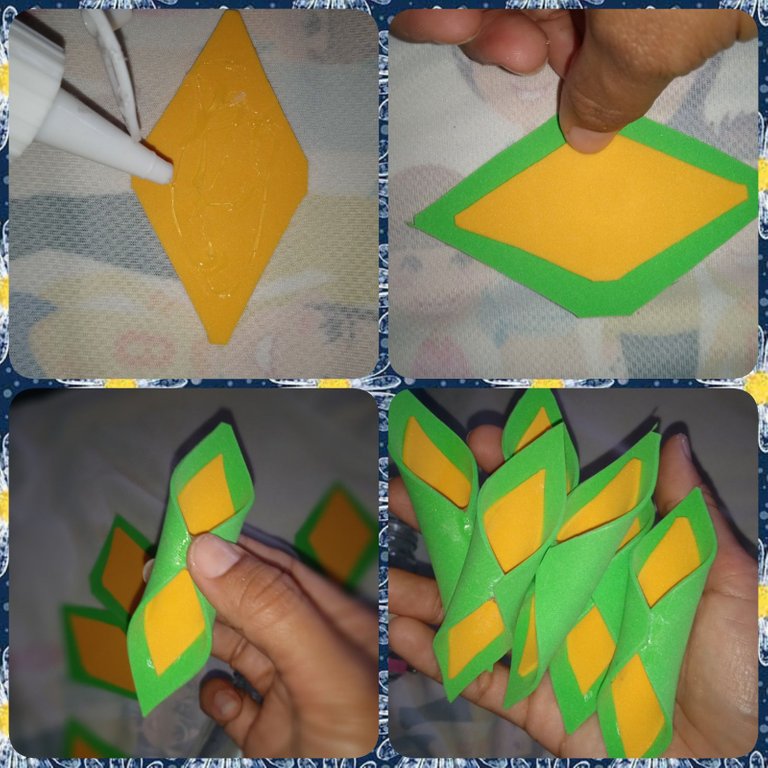 🖌️Step 4:
In this step we are going to glue the small cylinders that emerged from the diamond shapes, onto the glass jar until they completely surround it.
🖌️Paso 4:
En éste paso vamos a pegar los pequeños cilindros que surgieron de las figuras de diamante, en el frasco de vidrio hasta rodearlo por completo.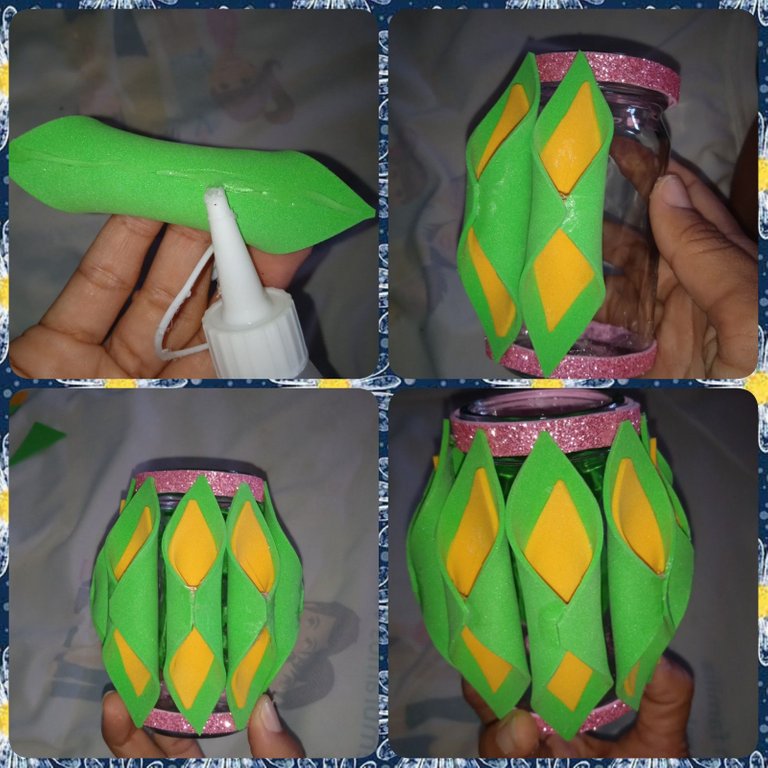 🖌️Step 5:
Now with the scissors I cut out little flowers from frosted foami, these flowers I glued in the center of the little cylinders to hide the joint where it was glued. They are in total 9 little flowers.
🖌️Paso 5:
Ahora con las tijeras recorté pequeñas flores de foami escarchado, estas flores las pegué en el centro de los pequeños cilindros para ocultar la unión donde se pegó. Son en total 9 floresitas.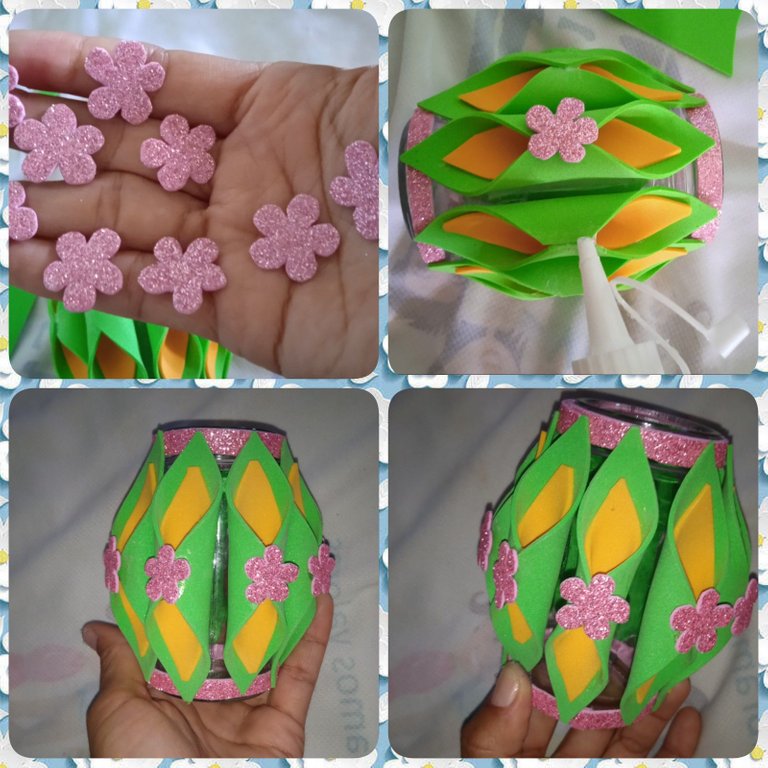 🖌️Step 6:
Now with the light blue foami, I cut out a circle the size of the jar lid, I also cut out a strip 2 cms wide and the same size as the circumference of the lid, and proceeded to line it, as shown in the photos.
🖌️Paso 6:
Ahora con el foami azul claro, recorté un circulo del tamaño de la tapa del frasco, también recorté una tira de 2 cms de ancho y la misma medida de la circunferencia de la tapa, y procedí a forrarla, como se muestra en las fotos.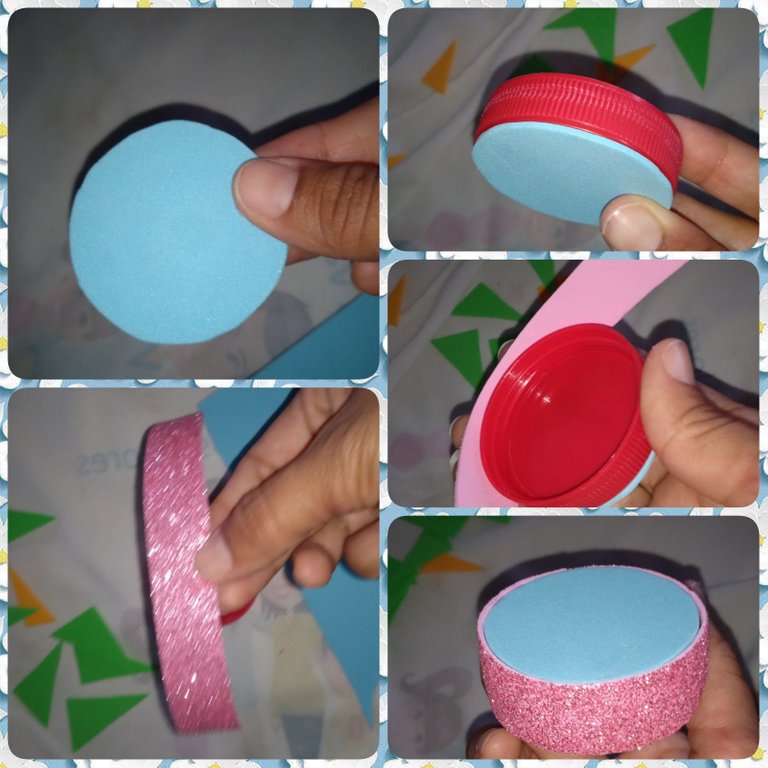 🖌️Step 7:
I cut out 3 medium pink and blue circles to make 3 little flowers to decorate the vase, these circles I cut them in a spiral shape and then I gave a curved shape on the edges with the scissors, finally I glued them with the liquid silicone giving it turns until forming the flower, the middle part of the spiral remains as the bottom cover of the flower. In the center I placed some small pearls. Then I glued them to one end of the popsicle sticks and cut out and glued small leaves with green Foami. This way I have the flowers ready for my vase. I attached them to the already lined lid and glued them to the jar. This cute vase is now finished!
🖌️Paso 7:
Recorté 3 circulos medianos de color rosa y azul para la hacer 3 floresitas para decorar el florero, estos círculos los recorté en forma de espiral y luego le di una forma curva en los bordes con las tijeras, finalmente los pegué con el silicón líquido dándole vueltas hasta formar la flor, la parte del medio del espiral queda como tapa inferior de la flor. En el centro le coloque unas perlas pequeñas. Luego las pegué a un extremo de las paletas de helado y le recorte y pegué pequeñas hojas con Foami Verde. De esta manera ya tengo listas las flores para mi florero. Estas las uní a la tapa ya forrada y las adherí al frasco. ¡Este Lindo Florero ya esta terminado!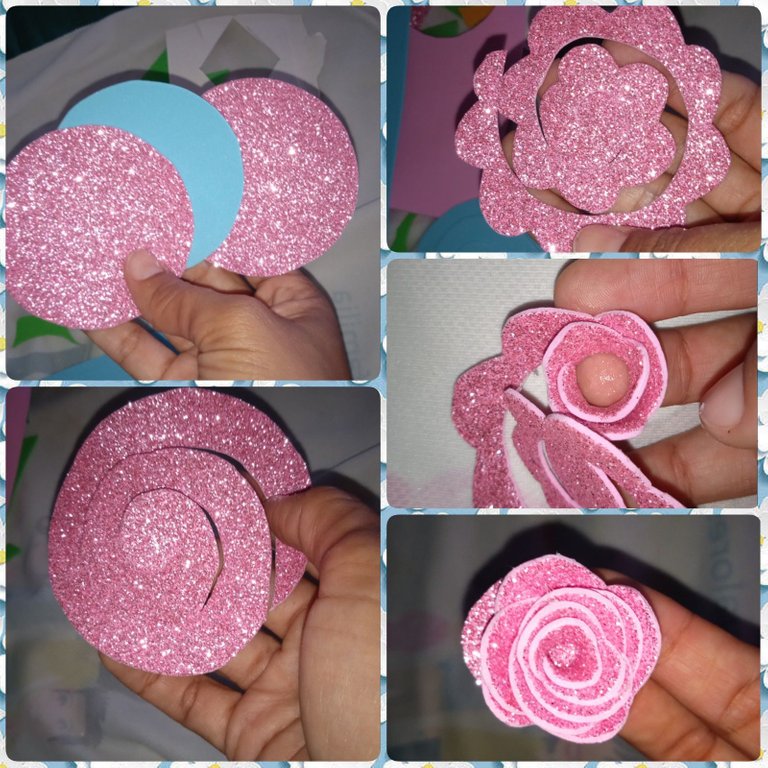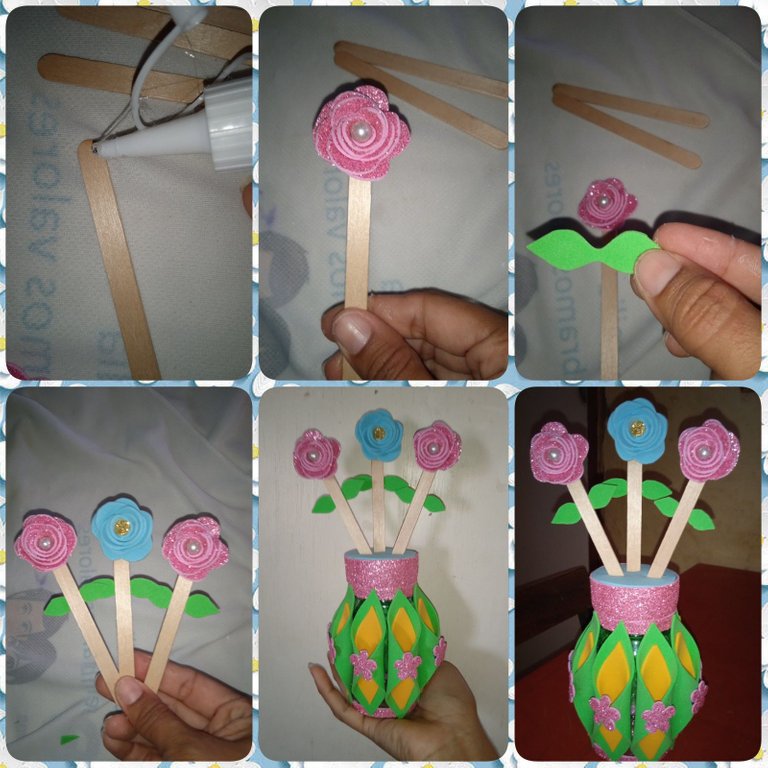 ✨✂️📏✨🖌️✨💐✨🥀✨🌷✨
Here I show you the result of this cute idea to decorate a simple glass jar and turn it into a nice decoration for your table, your kitchen or your terrace. It is also an option to give something original as a gift. I hope you liked it, I loved the way it turned out ☺️❤️
Aquí les muestro el resultado de esta linda idea para decorar un simple frasco de vidrio y convertirlo en un lindo adorno para tu mesa, tu cocina o tu terraza. También es una opción para obsequiar algo original. Espero que les haya gustado, a mi me encantó como quedó ☺️❤️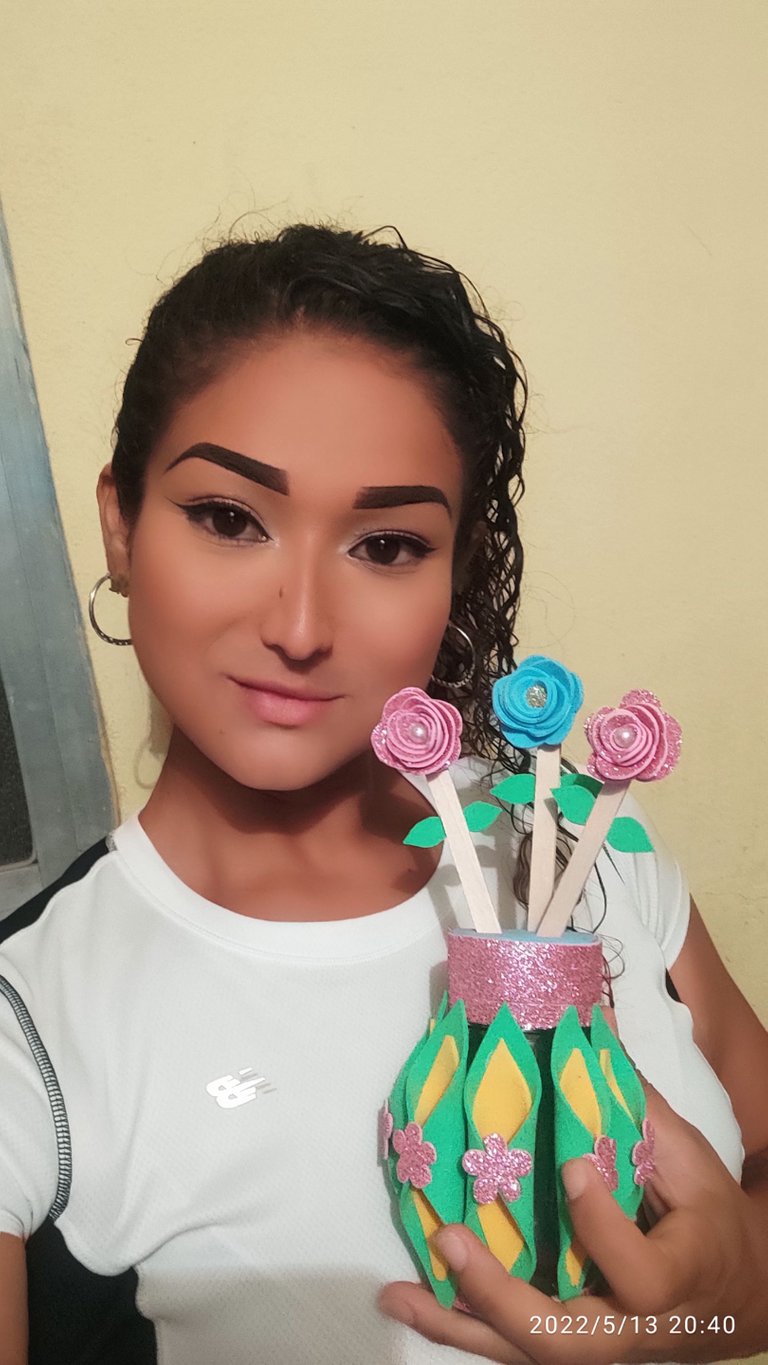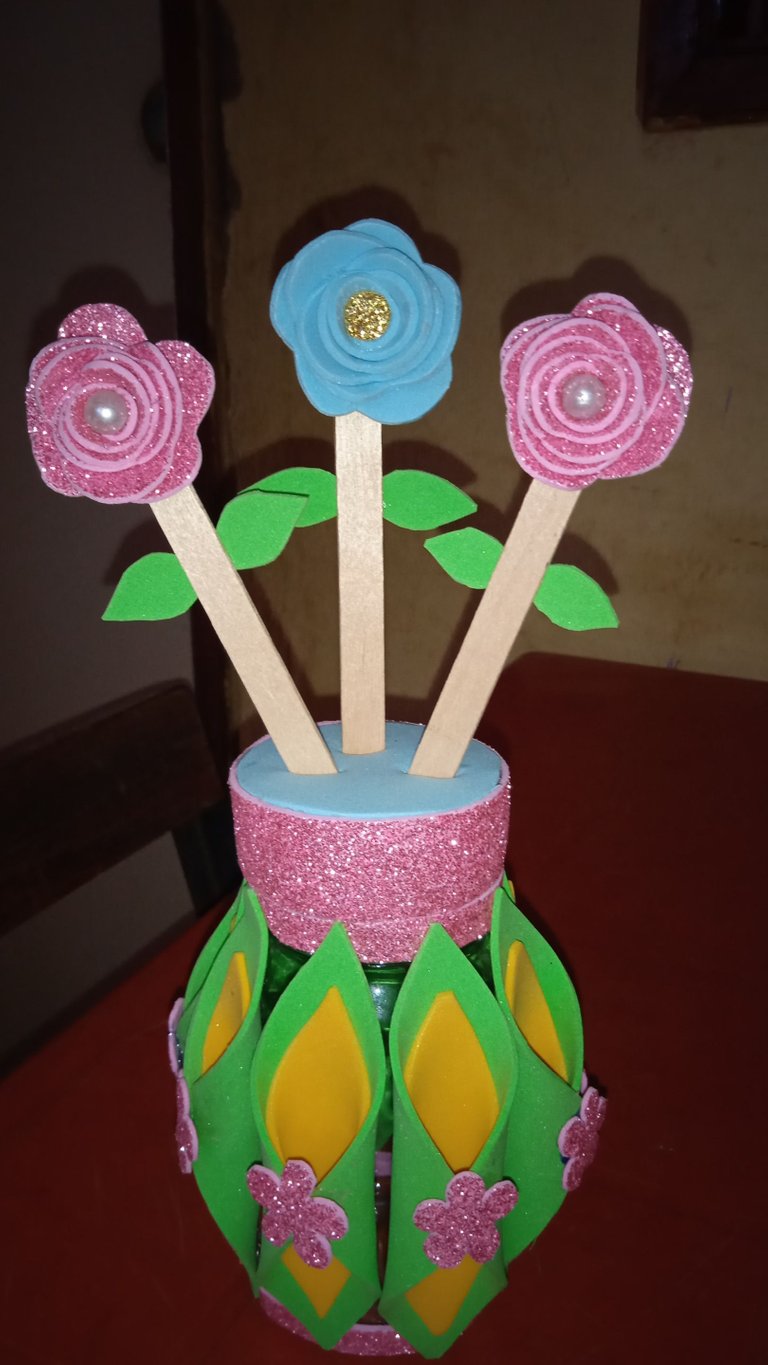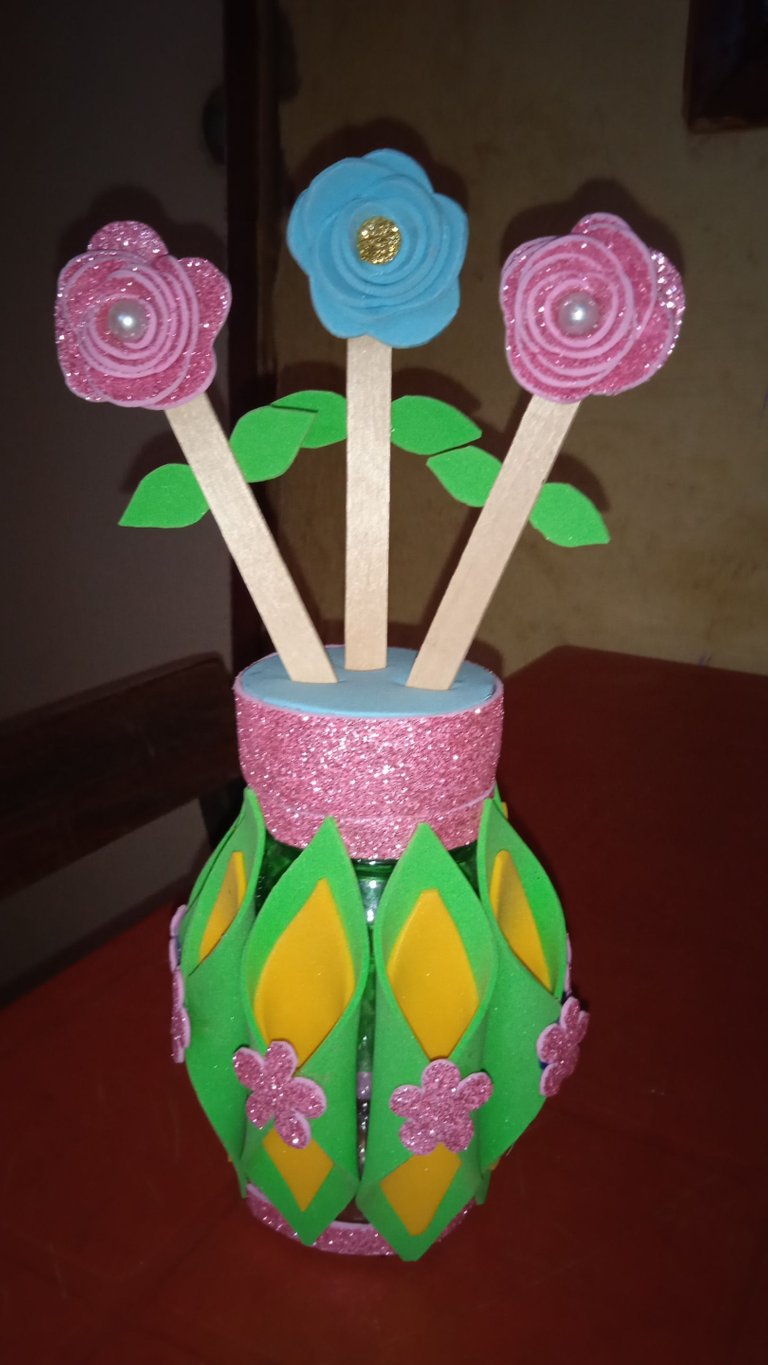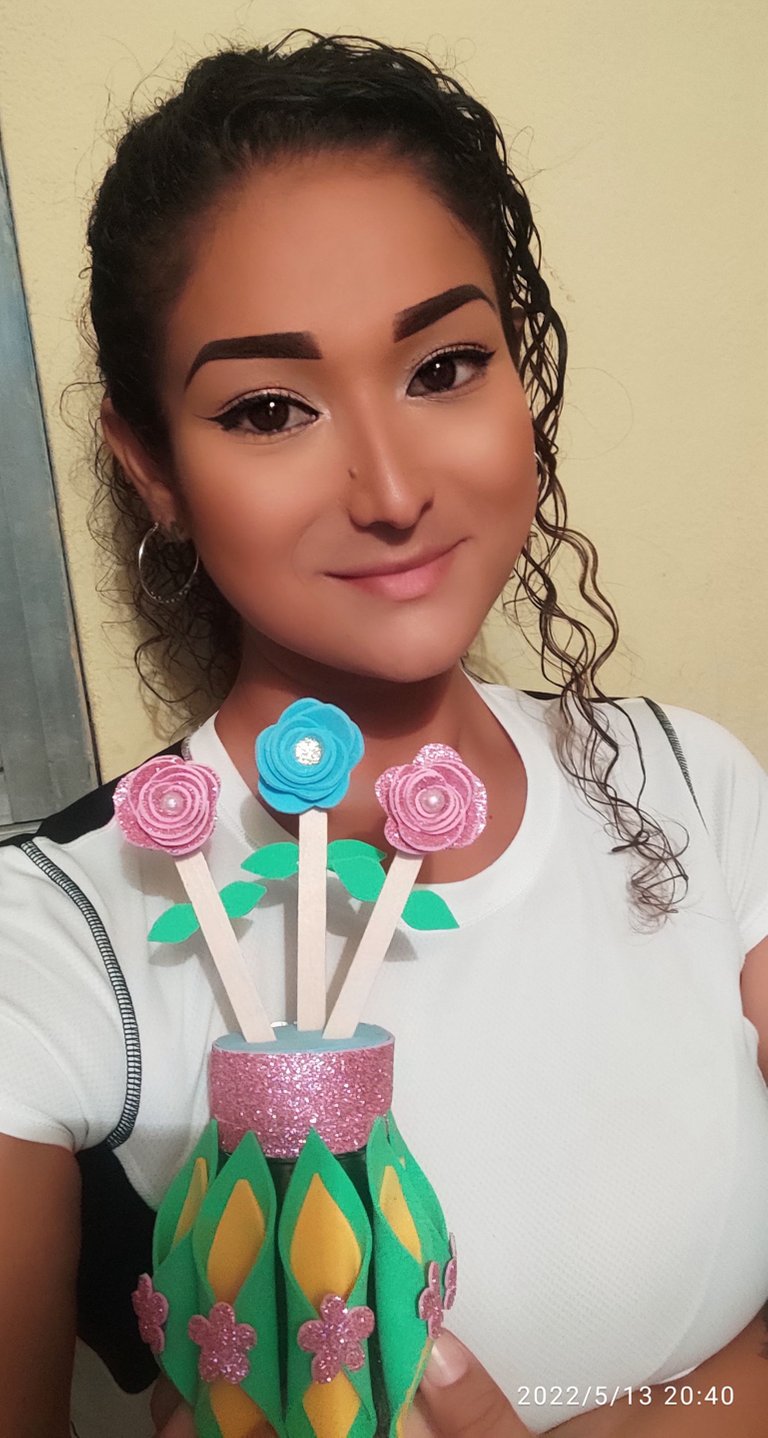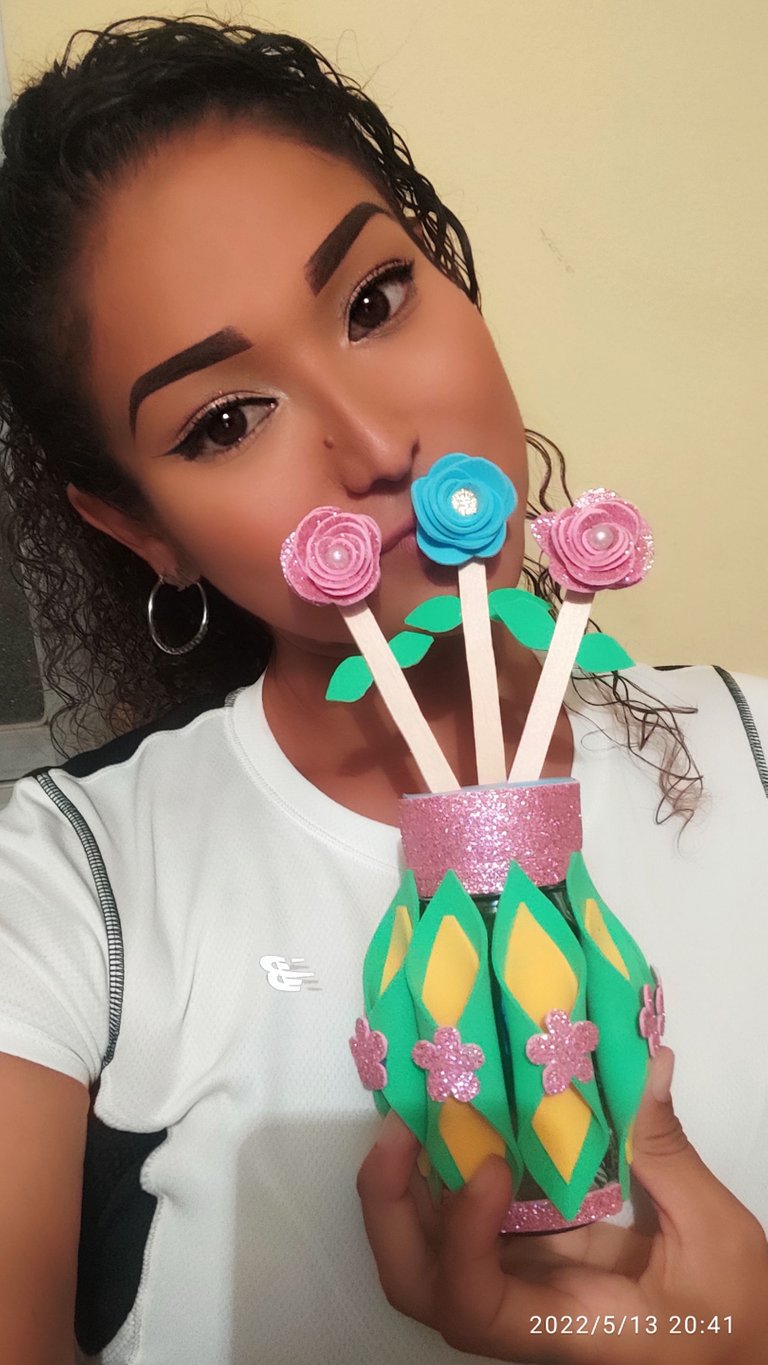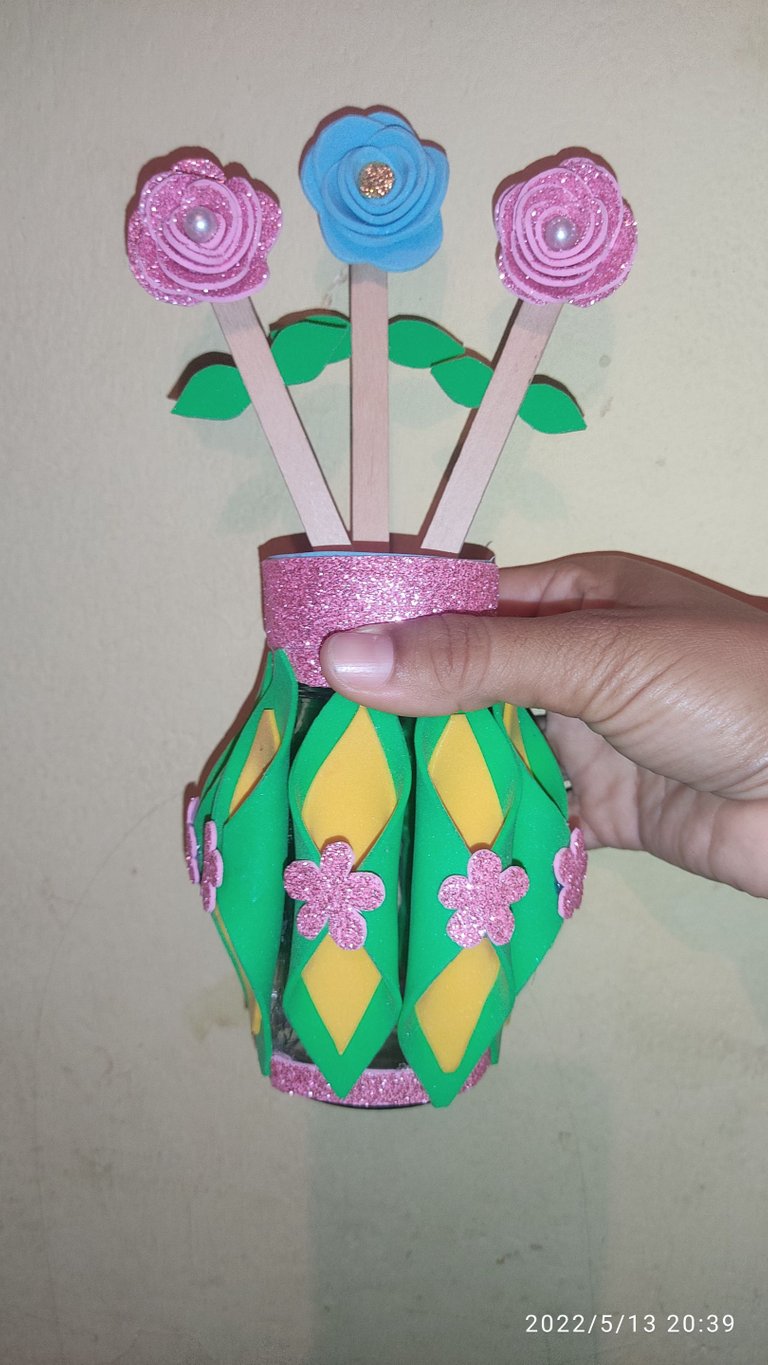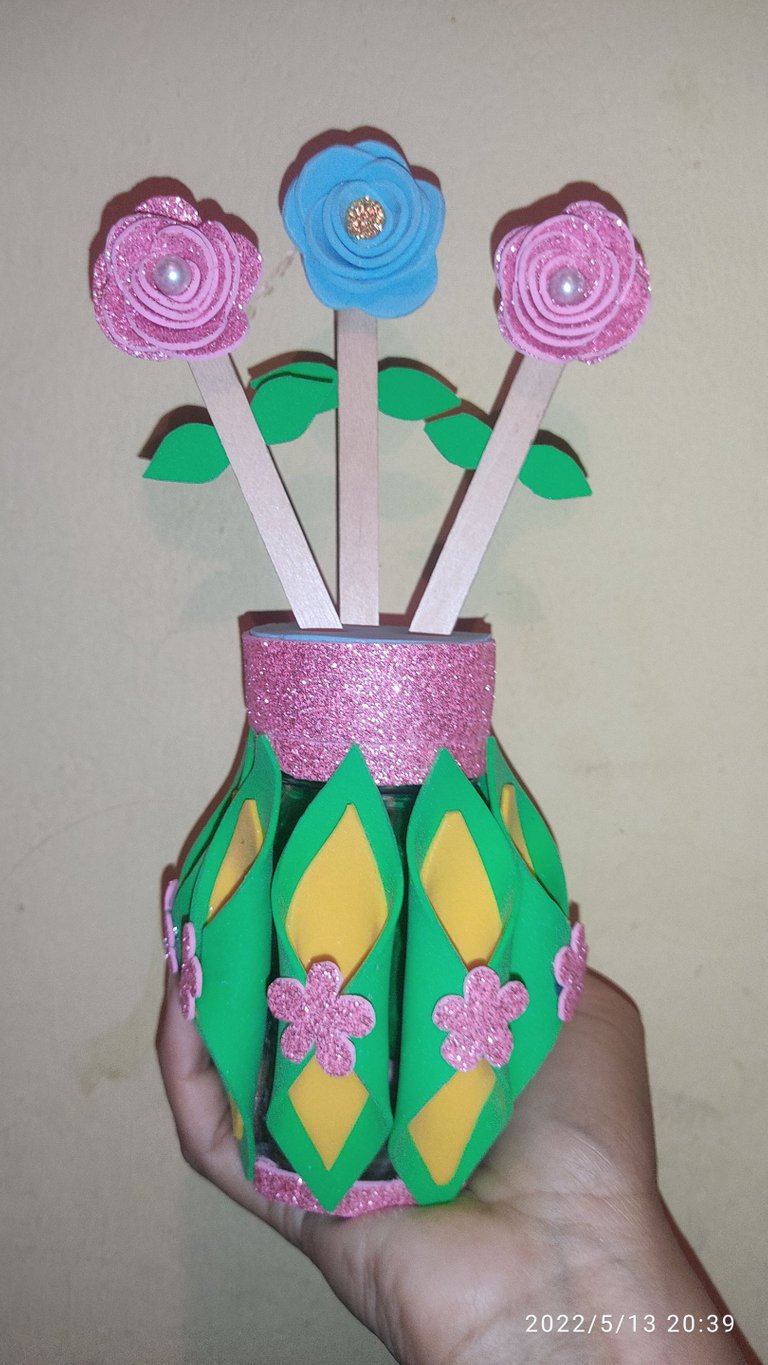 Well my dear friends, this has been my post for today. Thank you for visiting my Blog and for the support you give me through your votes and comments, I hope to be back with you in a next opportunity, you are loved 🤗💖
Bueno mis apreciados amigos, éste ha sido mi post del día de hoy. Gracias por visitar mi Blog y por el apoyo que me dan mediante sus votos y comentarios, espero estar de vuelta con ustedes en una próxima oportunidad, se les quiere bonito 🤗💖

This Content is Original and Exclusive for Hive Blog. All photos are my property and were taken with my Xiaomi Redmi 9C phone.
Éste Contenido es Original y Exclusivo para Hive Blog. Todas las fotos son de mi propiedad y fueron tomadas con mi teléfono Xiaomi Redmi 9C.
Translator DeepL. / Traductor DeepL.

---
---