Compartiendo el cumpleaños de mi hermano [ESP/ENG]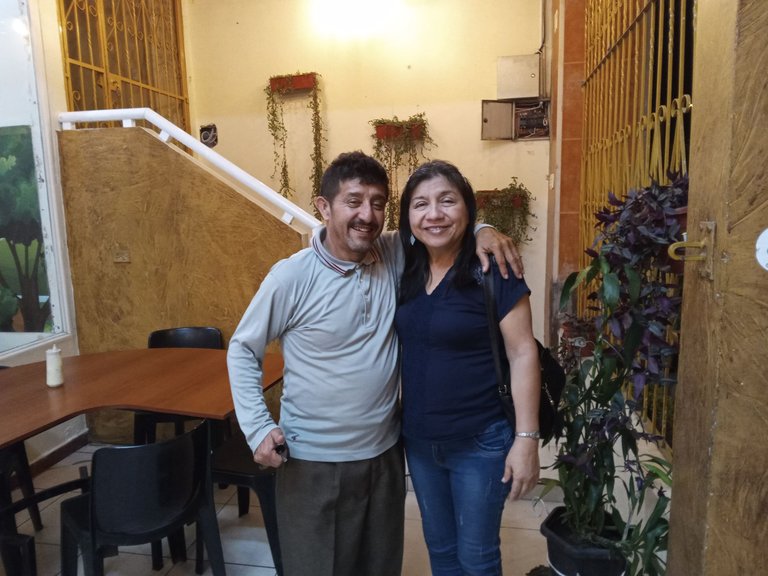 ¿Qué tal? Mis buenos amigos lectores #hive. Hoy les vengo a compartír una reseña grata de vivencias con uno de mis hermanos.
How are you, my good #hive reader friends? Today I come to share with you a nice review of experiences with one of my brothers.
Mi hermano se llama Elio Edgar es el segundo de tres hermanos que somos. Mi madre procuro siempre que fuéramos unidos. Pero al realizar nuestras vidas cada uno tomó su rumbo. Mi hermano Elio, desde que se casó vive en la Ciudad de Manta que es un puerto marítimo.
Como ustedes bien saben mi familia y yo nos fuimos a vivir a Venezuela. En cada viaje que realizaba para Ecuador, visitaba a mi hermano, ya que yo venía donde mi hermano mayor, púes con él vivía mi madre.
Al partir mi madre de esta vida, cada uno continuó con su vida, así que yo me regresé a casa a Venezuela. Con mis hermanos nos manteníamos comunicado a través de las redes sociales de vez en cuando, hasta el día que me tocó retornar.
My brother's name is Elio Edgar and he is the second of three brothers. My mother always tried to keep us together. But when our lives came to an end, each one of us went our own way. My brother Elio, since he got married, lives in the city of Manta, which is a seaport.
As you well know my family and I went to live in Venezuela. On every trip I made to Ecuador, I would visit my brother, since I would come to my older brother, because my mother lived with him.
When my mother left this life, everyone continued with their lives, so I went back home to Venezuela. With my siblings we kept in touch through social networks from time to time. Until the day it was my turn to return.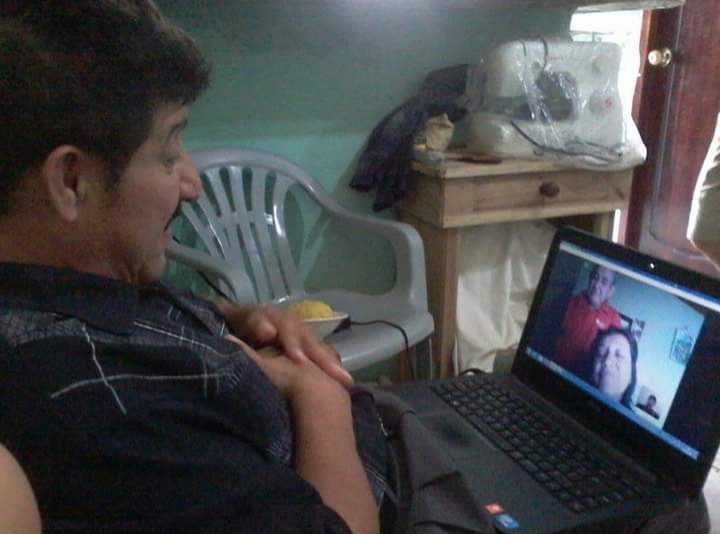 Son tanto los recuerdos de mi infancia, adolescencia y de nuestra juventud juntos con mi hermano Elio jugábamos a las metras (bolichas) al fútbol, al tocadito, tambien tumbamos mango, grosella, entre muchos otros juegos, pero también peleábamos y corríamos alrededor de la casa vieja (que ya no existe). Mis hermanos siempre me acompañaban a la escuela ya que ellos estudiaban en otra y de regreso me pasaban buscando y nos íbamos al parque a los columpios.
No recuerdo exactamente ¿cómo fue? Pero creo que yo lo golpeé con algo a mi hermano en nuestra adolescencia una vez jugando, corrí, corrí que entré en mi cuarto y me tiré sobre mi cama, porque era prohibido entrar a los varones al cuarto de las mujeres, púes me sentía segura (entre comillas), púes creía que él jamás entraría.
Cosa que no paso, el me persiguió muy enojado, me alcanzó y me arrastró por un pies de la cama con tanta fuerza, que yo lo único que tenía para sosterme era mi almohada. Fue así que logró sacarme de un tiro y caí, mi cabeza fue a dar contra la puerta que estaba abierta, pero me dí un golpe en la ceja de mi ojo con el filo del marco y quedé inconsciente.
There are so many memories of my childhood, adolescence and our youth together. With my brother Elio we played metras (bowling), soccer, tocadito, we also played mango, currant, among many other games, but we also fought and ran around the old house (which no longer exists). My brothers always accompanied me to school since they studied in another school and on the way back they would pass me looking for me and we would go to the park to play on the swings.
I don't remember exactly how it happened. But I think I hit my brother with something when we were teenagers, one time when we were playing, I ran, I ran so fast that I went into my room and threw myself on my bed, because it was forbidden for boys to go into girls' rooms, so I felt safe (in quotation marks), because I thought he would never come in.
Something that didn't happen, he chased me very angry, he caught me and dragged me by one foot of the bed with so much force, that the only thing I had to support me was my pillow. So he managed to pull me out with a shot and I fell, my head went to hit the door that was open, but I was hit in the eyebrow of my eye with the edge of the frame and I was unconscious.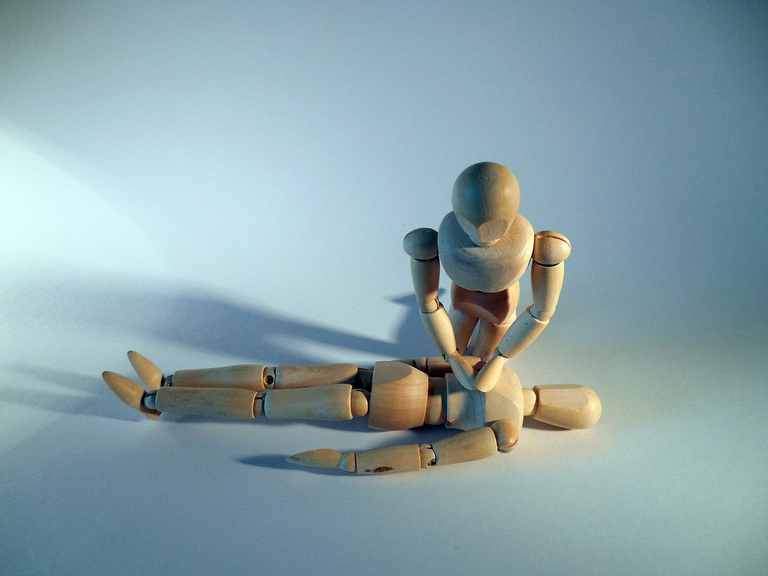 pixabay
Todos en casa corrieron a ver lo sucedido, me vieron tirada, me brindaron los primeros auxilio,volví en sí luego de colocar un algodón con alcohol. El dolor de cabeza era fuerte y sangraba un poco, me limpiaron y me sentaron. Ustedes deben imaginar lo que le dijeron a mi hermano y como esa tarde llegaba mamá, lo que le esperaba no era tan bueno.
Por supuesto lo castigaron, a mi también me regañaron, nos prohibieron ese tipo de juegos; yo me andaba con más cuidado con mi hermano pero igual echábamos bromas. Fueron tiempos increíbles, hermosos que pasábamos juntos, a él le encantaba jugar fútbol y bailar, pero no le gustaba estudiar.
Yo me casé a los veinte (20) así que las cosas cambiaron, él era el único soltero de los tres por lo tanto quedó con mi madre. Después de un buen tiempo me llaman para comunicarme que mi hermano se casa, lo cuál me alegró mucho. Y es así como él forma su propia familia muy hermosa hasta hoy. Tuvo tres (3) hijas, las cuales hoy están todas casadas y ya le han dado dos (2) nietas preciosas que son una ternura.
Everyone at home ran to see what had happened, they saw me lying there and gave me first aid. I came to after placing a cotton ball with alcohol. The headache was severe and I was bleeding a little, they cleaned me up and sat me down. You can imagine what they told my brother and since my mother was arriving that afternoon, what awaited him was not so good.
Of course they punished him, they scolded me too, they forbade us to play that kind of games; I was more careful with my brother but we still made jokes. Those were incredible, beautiful times we spent together, he loved to play soccer and dance, but he didn't like to study.
I got married at twenty (20) so things changed, he was the only single of the three of us, so he stayed with my mother. After a while they call me to tell me that my brother is getting married, which made me very happy. And that is how he formed his own beautiful family until today. He had three (3) daughters, which today are all married and have already given him two (2) beautiful granddaughters who are a tenderness.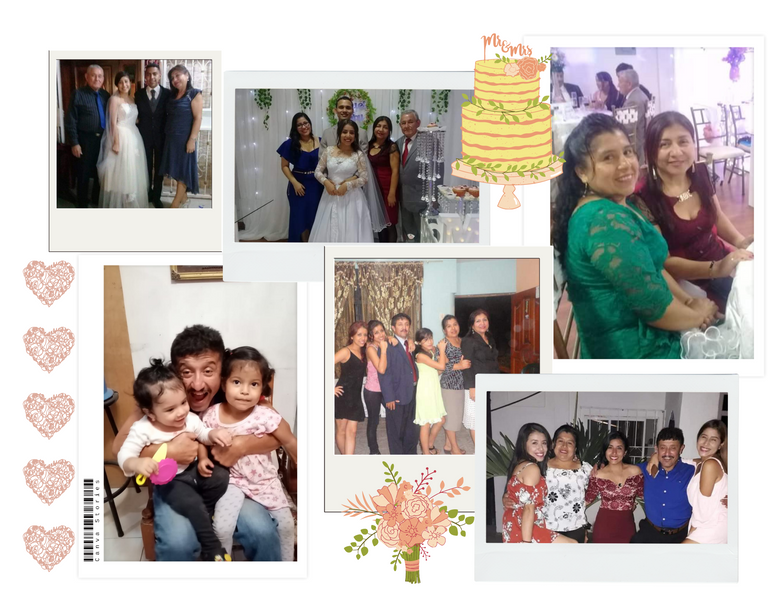 Hago este post en honor a mi hermano Elio, ya que días atrás él estuvo de Cumpleaños (58) y vino al atardecer a pasar un buen rato conmigo y mi esposo. Fue muy agradable pasar juntos, salimos a comer una deliciosa parrilla, tomarnos varias fotos para el recuerdo. Doy gracias a Dios por su vida, conversamos un poco de su vida, de los peligros que ha enfretado hace poco porque es taxista, entre otras, sobre todo fue muy hermoso haber compartido con él ese breve tiempo.
No invité a mi hermano mayor, ya que en esos días también había compartido con él, y como habíamos quedado con anterioridad pasar con nosotros, y así lo hicimos. Para mi fue de gran regocijo pasar esas dos (2) horas compartiendo y riéndonos. Abrazarlo, felicitarlo y darle un regalo. Lo único que no hubo torta por cuestiones de salud.
I am making this post in honor of my brother Elio, since a few days ago he had his birthday (58) and came to spend a nice time with me and my husband. It was very nice to spend together, we went out to eat a delicious barbecue, take several pictures for the memory. I thank God for his life, we talked a little about his life, the dangers he has recently faced because he is a cab driver, among others, above all it was very nice to have shared that brief time with him.
I did not invite my older brother, because in those days I had also shared with him, and as we had previously agreed to spend with us, and so we did. For me it was a great joy to spend those two (2) hours sharing and laughing. Hugging him, congratulating him and giving him a gift. The only thing was that there was no cake due to health issues.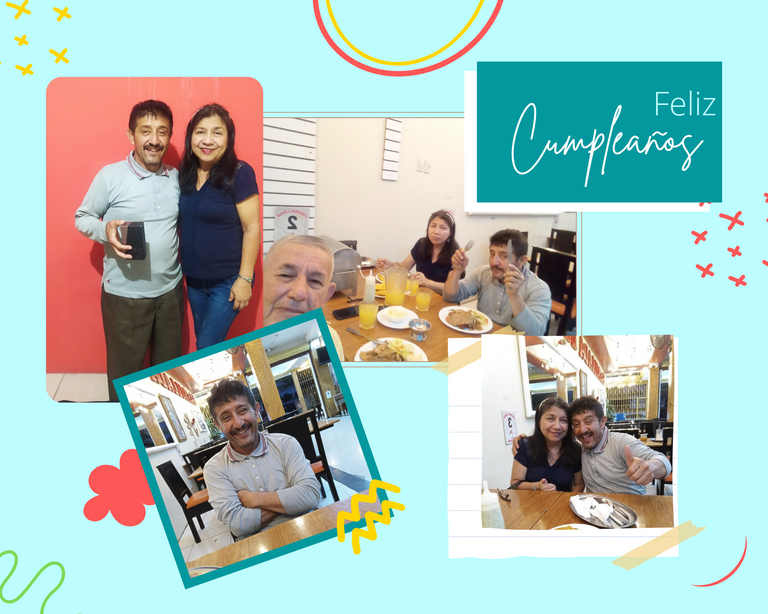 Espero que le guste estas vivencias que he compartido con ustedes, gracias por este medio, en el cuál podemos contar nuestras historias de vida.
I hope you like these experiences that I have shared with you, thank you for this medium, in which we can tell our life stories.

Imágenes de mi propiedad editada en Canva
Images of my property edited in Canva
---
---