A business trip filled with fun adventures: Travel day 😎

Well hello, stranger
It's been a while since I posted on here 😅. As much as I wanted to share my adventures and research, I was just to busy with work related things. The past month was hectic and packed with due dates, travel, students and no time for anything other than work. Of course I take my time off when I need it, but I use that time to sleep or annoy @technicalside.
This past month I've been travelling for work. And funnily enough I had to travel for all three of my jobs 🤣. Don't ask why I'm crazy enough to have three jobs, please I don't know how to explain that one yet.
Nevertheless, I'll be sharing these adventures with you all, since we didn't just work all the time. You know the saying "all work and no play, makes Jack a dull boy"... Yeah my boss lives by this saying.
I'm part of a new project being launched in South Africa. The Karoo Spatial Development Framework is the first regional framework in South Africa, and while it is still in early phases, it has been in the pipeline since 2016. This year we finally got the opportunity to hold a launch workshop with all 36 municipalities involved. Let me tell you, that was something amazing to see (especially in SA).
But I'll leave the "boring" stuff, since I'm only allowed to share parts of it as well. For today we will be travelling to Cape Town!

Our trip to Cape Town started on a Tuesday morning. We had a meeting from 8 to 12 that day, and had to be on our fight at 11... You see the problem? Yeah don't ask questions, something are a mystery even to us. While every works from the office, myself and Tim work from "home", since we both have other jobs. We went in to office that morning for the meeting and to catch a lift to the airport. At 10:30 everyone casually got up, and apology and left the meeting... Our boss took it upon himself to explain that our division was on our way to something "more important" 😂.
We arrived in time, checked our bags, made sure we had all the cameras and posters and got coffee. You can never go wrong with caffeine.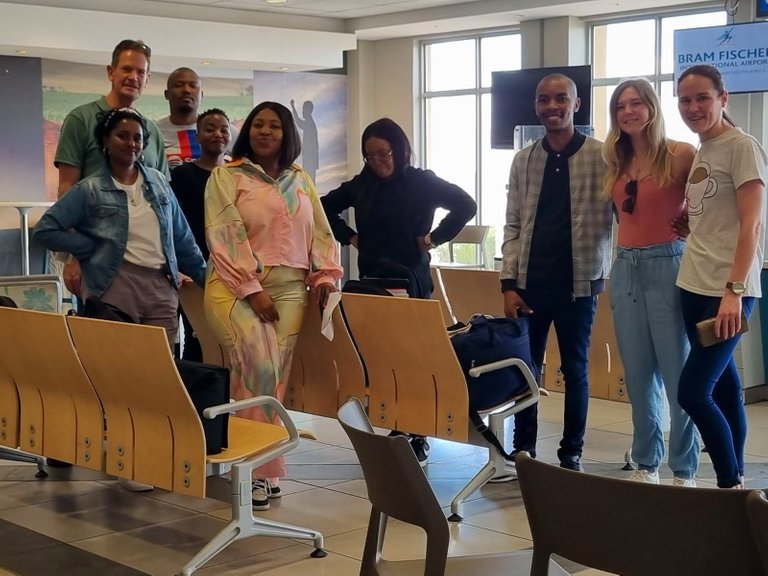 Most of our team in one photo! The big boss didn't want to be in the photo, so he is behind the camera. You can see in the photo that this was the moment L realized that she forgot her documents at the office.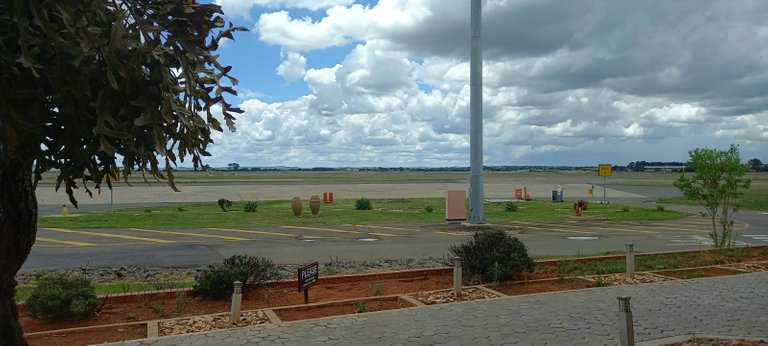 Bram Fisher might be an international airport, but there is nothing going on here 🤣. We where the only flight out of Bloem that day and they were excepting a flight later that evening. I remember the old days where the airport used to be a bit more alive, hopefully things will pick up again.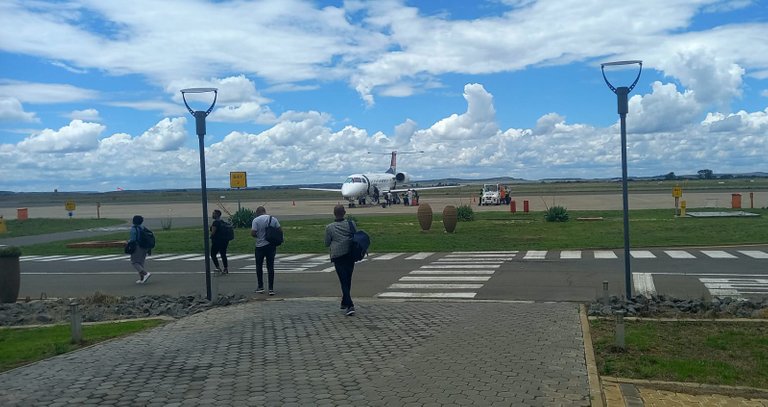 Our tiny plane waiting for us. We where a total of 18 passengers that day, 10 of which where our team. So everyone got a window seat 👾. Perks of a quite airport I guess.

I take photos of everything out in nature, so yes I did take about 100 photos of the clouds... Don't judge me. I'll share a few with you!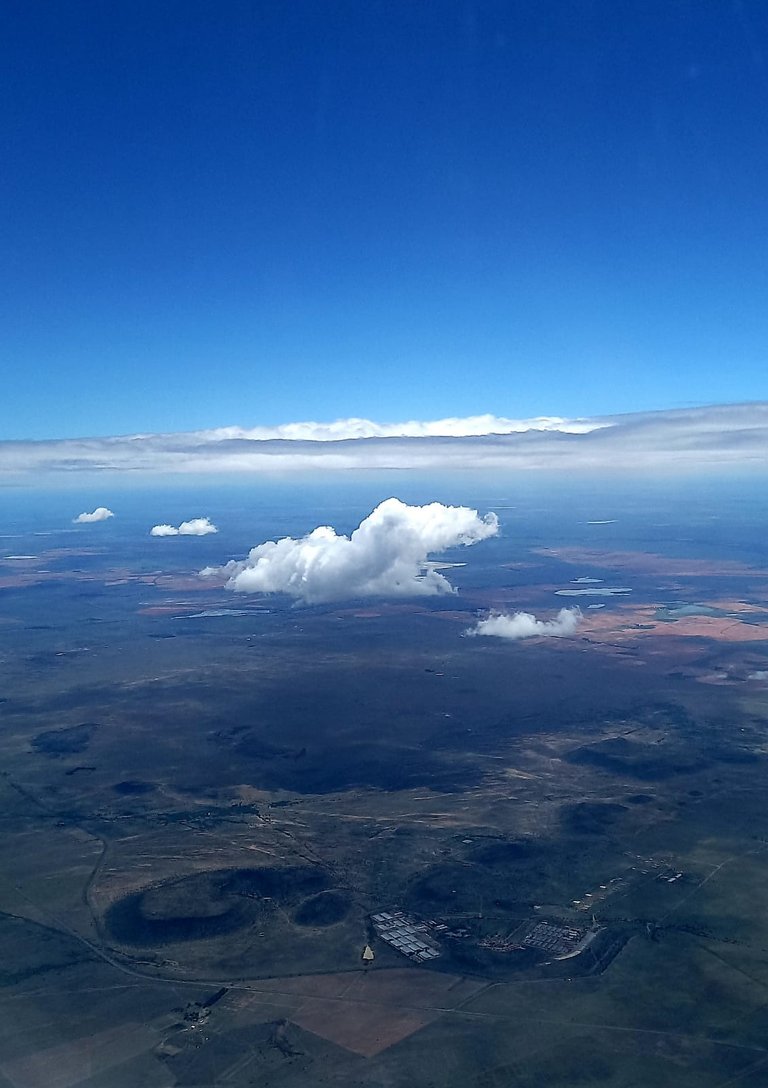 Just after leaving Bloem. It was cloudy on the ground, but a few minutes into the flight the clouds started to fly away.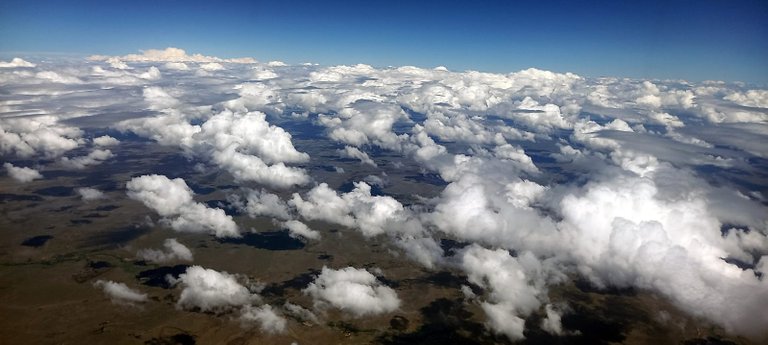 It looks like a bubble bath. You know when you add to much bubble bath and it starts to float around in the air? Jip this reminds me of that.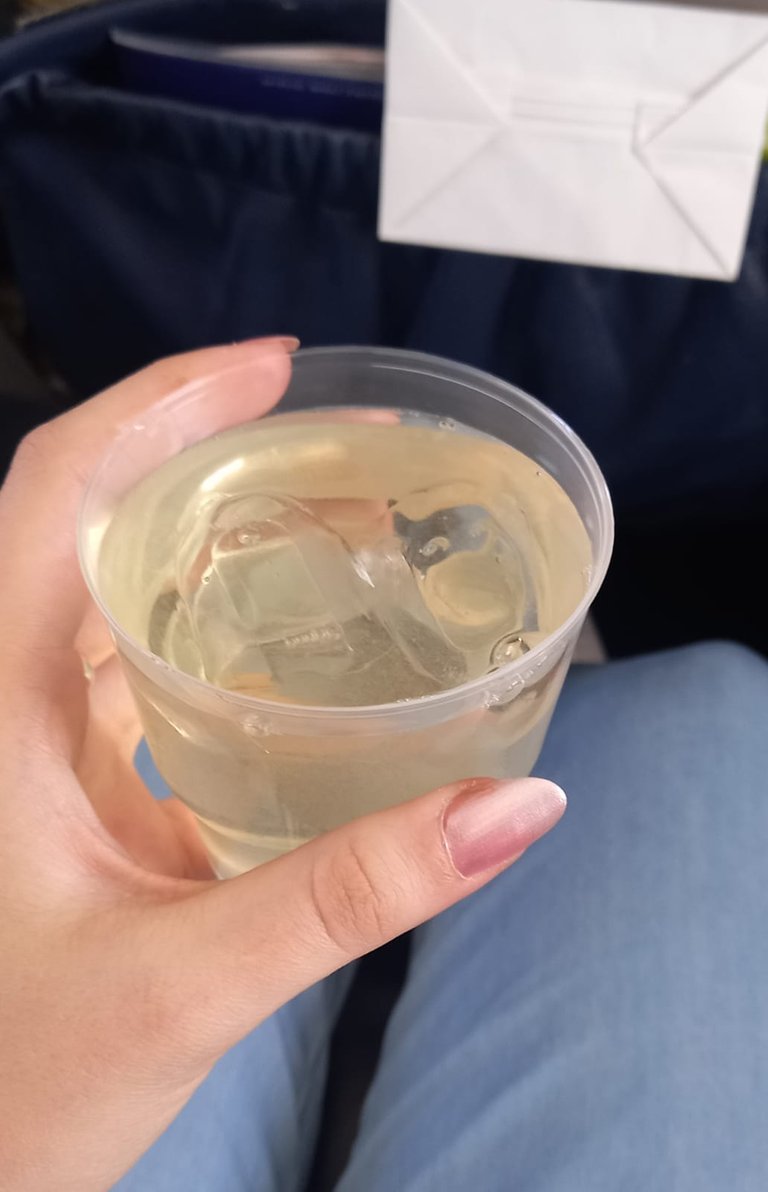 We did drink wine on the flight. To prepare ourselves for the next few days of running around and presenting this thing.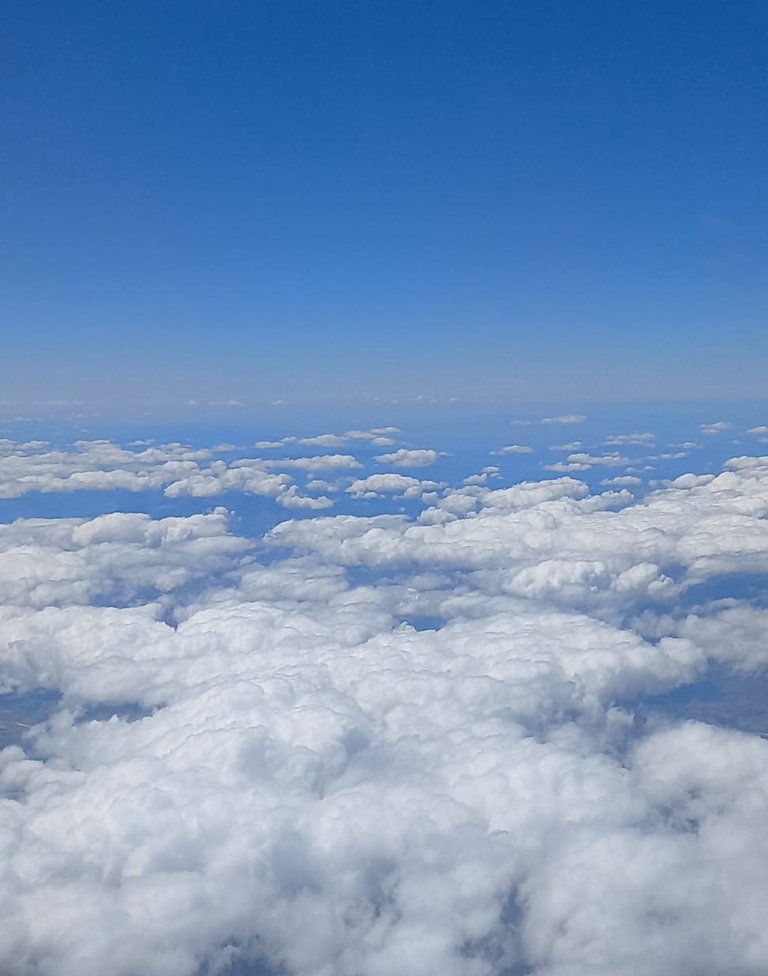 Some more bubble bath in the sky ☁️. Clouds are cool, they look fluffy and welcoming, but as soon as you try to lie down on one... gravity takes you down 💥 .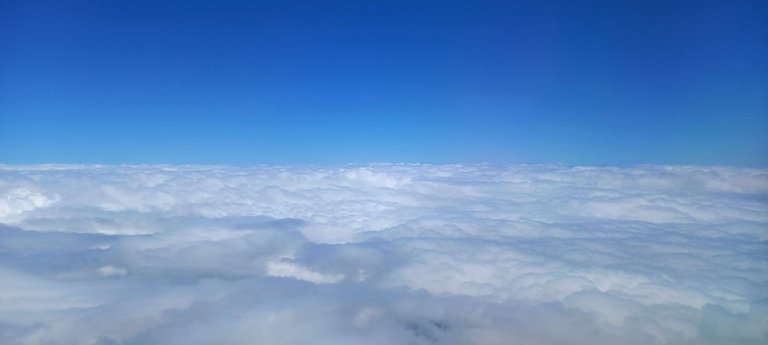 A fluffy white blanket over earth.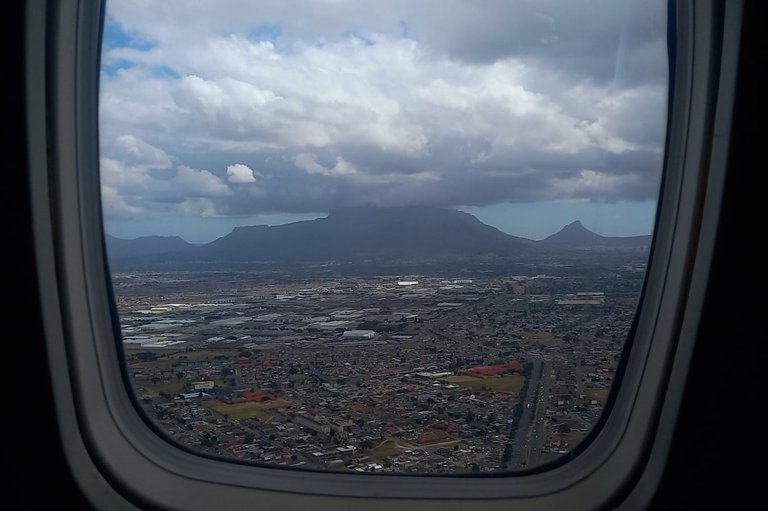 Enjoy this low quality photo of Cape Town. I still think it looks fascinating, just wish I had payed more attention when I took it.

We ran through Cape Town airport since our boss is a man on a mission. Cape Town is no small airport, well not for me 😅, others might differ but I was raised in a small city so to me Cape Town airport is huge. We had to get a few rental cars and make sure we still had all our luggage with us.
After getting our 3 cars for the week we split into groups and made our way to our next destination. We had to go pick up a colleague who resides in Strand, a costal town close to Stellenbosch.
I ended up with the big boss and another one of my colleagues. While they were planning on where we would have dinner, I took 50+ photos of the mountains and clouds. I don't regret it 😉.

I mean sure, I could have told them that I'm not a fan of seafood and saved myself from having to explain that to 15 people at dinner, but at least I got a few great photos!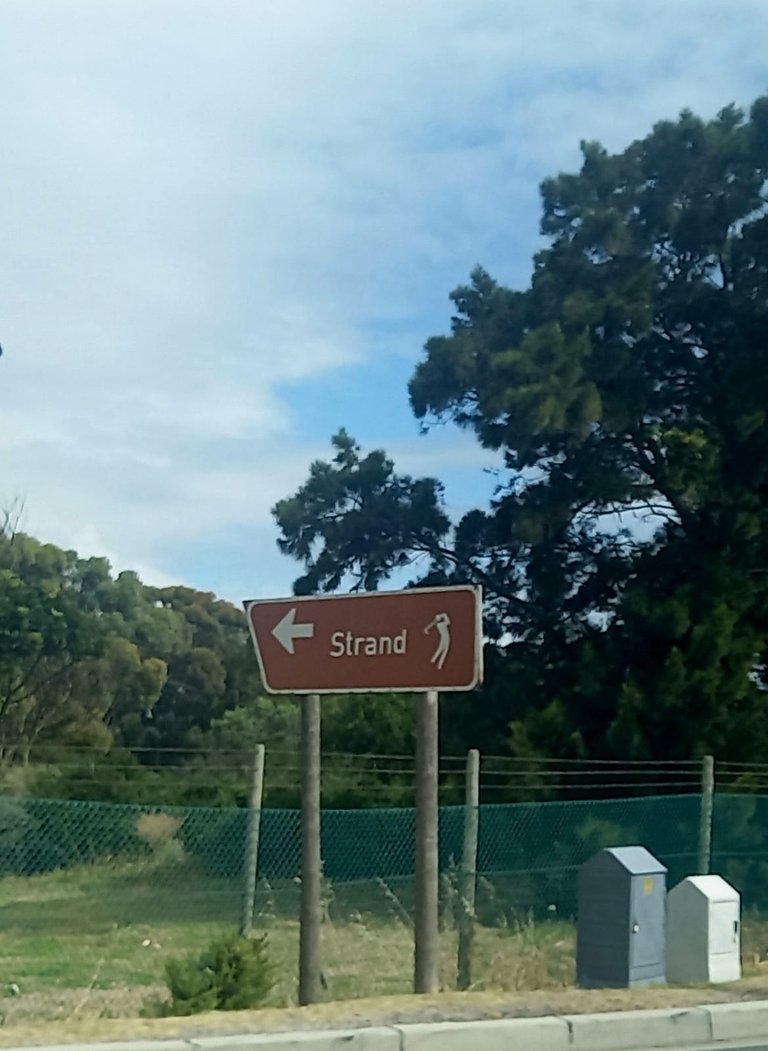 And yes, the place where Tommie lives is really called Strand (Beach). The beach front is lined with high rise apartments that people mostly rent out as vacation accommodation. My friends family owns a penthouse here that we have stayed in before, it is a lovely place and I get why Tommie lives here. Of course not in an apartment... Some people like having open space around them.
Some more mountains as we made our way to our conference venue and accommodation for the next 3 days. It was close to a two hour drive.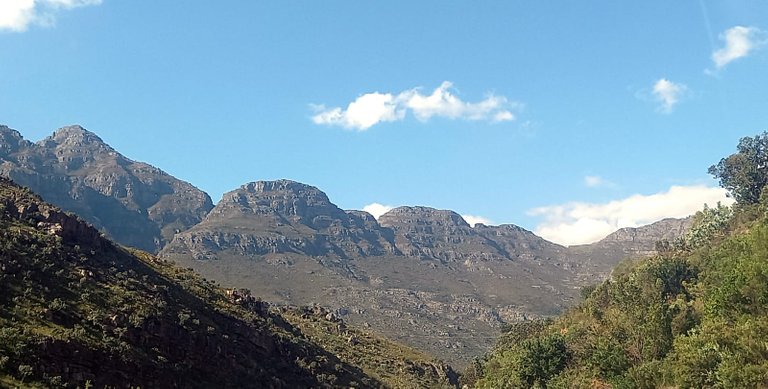 We finally arrived at our destination, tired and hungry. But turns out there where issues with our arrangements. Two people didn't have booked accommodation and another was booked in a different hotel about 20 min away... Turns out the travel agents didn't do their jobs properly... We spend about an hour to fix the issue. Lucky at the end we where able to get everyone a place to sleep.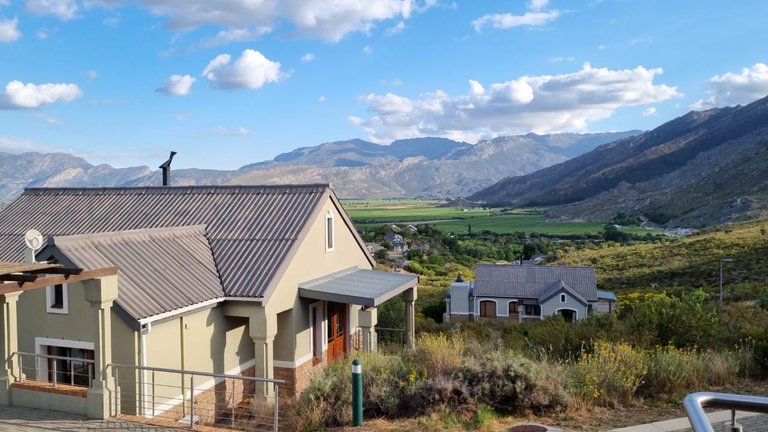 Just look at this beautiful view we had from the balcony. Myself, Kelly and the big boss ended up sharing a 3 bedroom villa. The others all got their own tiny house, but I think we had the advantage. We could brain store over coffee about the week that was waiting for us.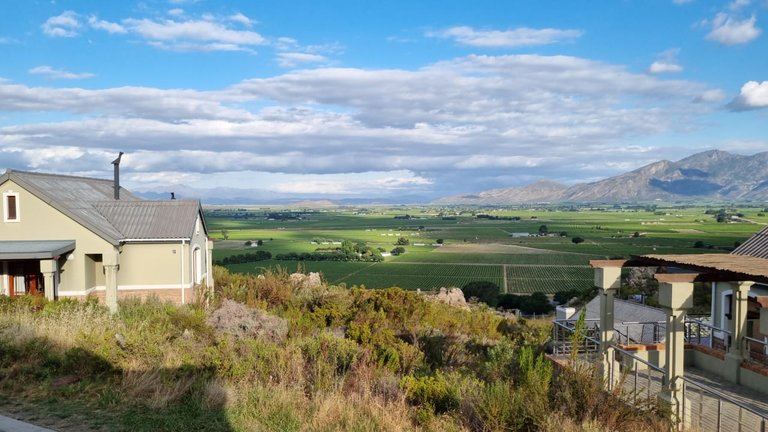 Coffee, good company and this view = peaceful.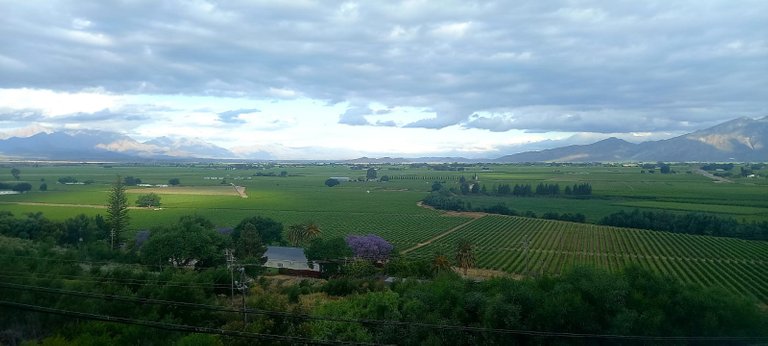 I wouldn't mind waking up to this every morning, although my allergies did reach the heavens. My eyes where constantly watery and I had a sneeze attack at least every hour 😅. But it was worth it.

After settling in to the villa and a few cups of coffee, we headed down to the conference venue to ensure everything was ready for the next morning.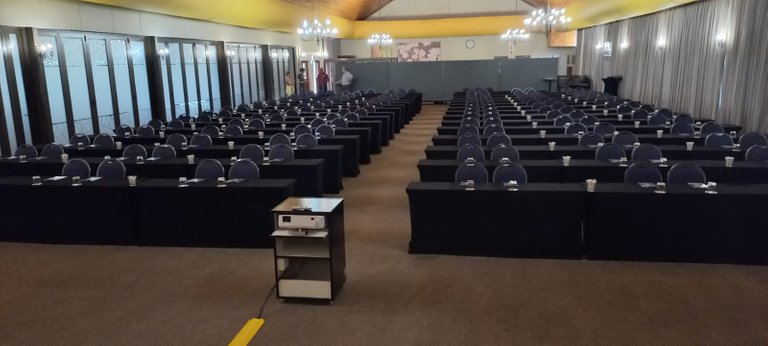 We planned for around 140 people. Around a total of 110 showed up in the end. We helped the staff place out note books, water and sweets, checked the sound and projector and headed off to dinner.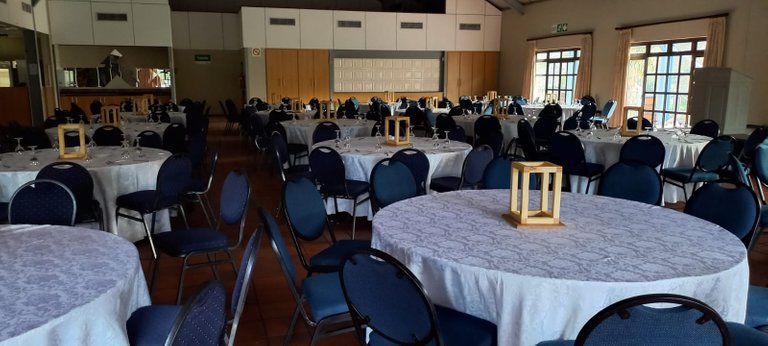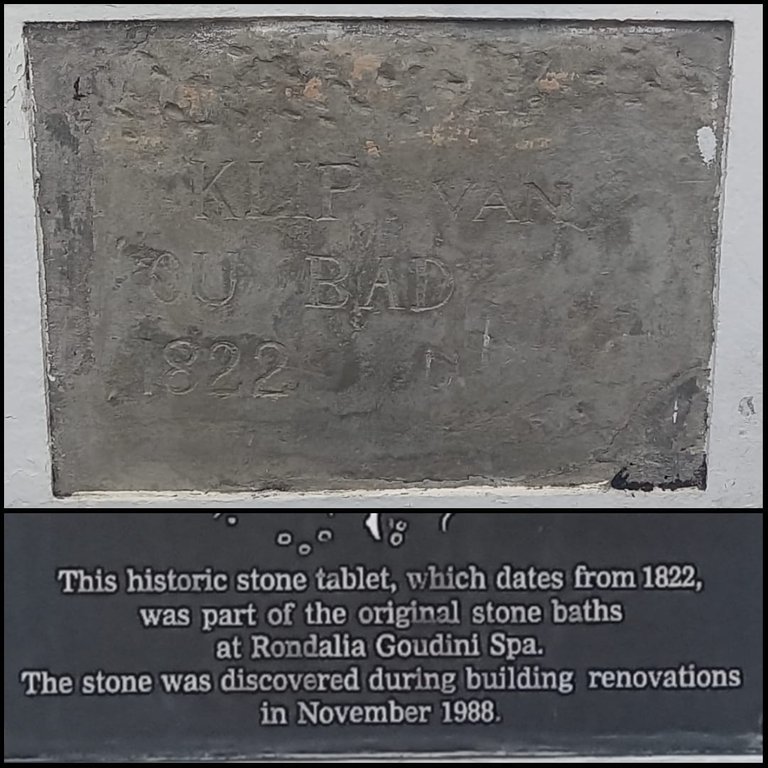 I wanted to add this little piece of history. There is a stone slab in the wall outside the restaurant that dates back to 1822. It was part of the first original Spa and was discovered during renovations in 1988. Amazing how pieces of the past is all around us, we are just not always aware of it.

Thank you for joining our trip to Cape Town! This might have been a business trip, but we still had a lot of fun as a team. So stay tuned for a few of our adventures!



---
---