Adventures in Namibia: Don't be a lousy goat! Go and explore!

Well hello, stranger
It's been a while since I posted a Namibia Adventure. As mentioned in my previous post I've been busy with work 😅. Nevertheless, I'm back now, still busy with work, but I have time for myself now. Thanks to that I can share more of our Namibia adventures with you all! If you missed the previous one go check it out! Since I'll be sharing more on Lucky to Lamb.
This post contains stories from two days. We spent these two days on a farm about 40 min away. My friend's sister is a farmer at heart, but she is all alone on her farm and needs assistance with a few things from time to time. So we offered to help her for a few days... Bad idea 😂.
We also decided to go and fetch Lucky the lamb. We took him back home along with his goat mama, made sure the camp was cosy and locked, and he has been happy ever since.

Keeping up with Lucky
As mentioned, Lucky the lamb was left with no mama and was taken in by a Mama goat that lost her kid. We felt it would be unfair to take Lucky home with us, leaving behind his newfound goat mama. We left Lucky in the camp with his goat family and gave ourselves time to think. In the end, we all decided that if we bring Lucky home, Mama had to come along. And then there is another hurdle... Once you name something it is a pet... So we had to convince a few people to let us "steal" the goat and make her a pet.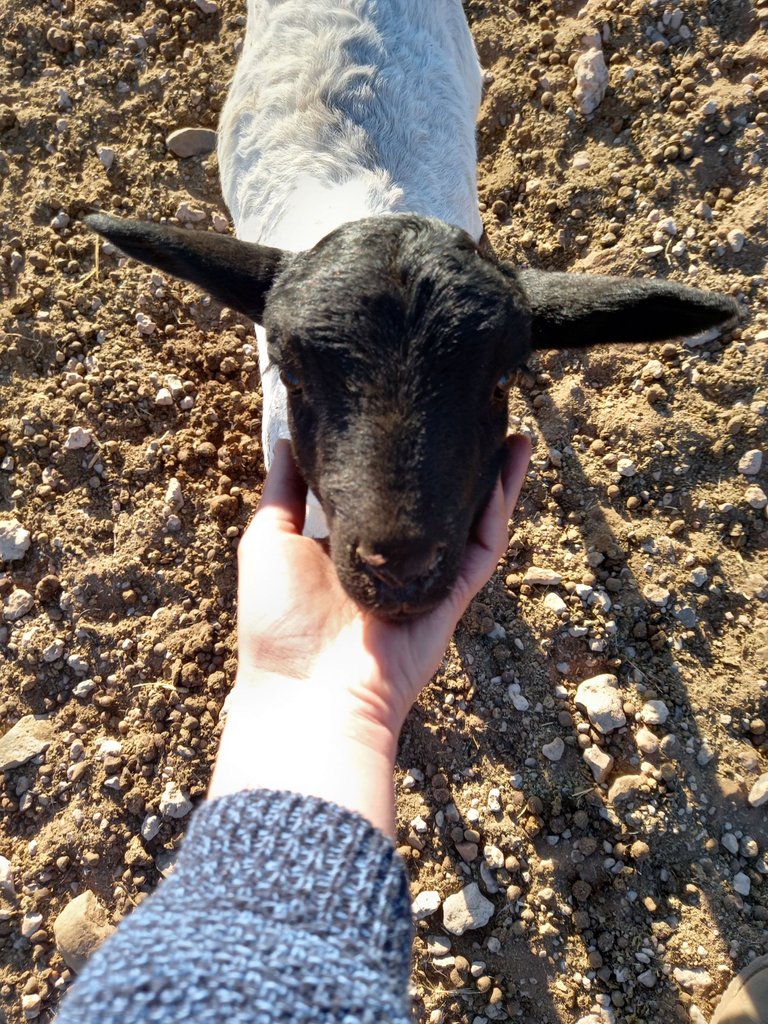 Just look at his face, such a cute little baby all left alone in the wild. I think the goats took great care of him.
In the end, we won! Lucky and Mama are both still grazing the camp close to home. I wish I could share pictures of Lucky all grown up, but I don't have any.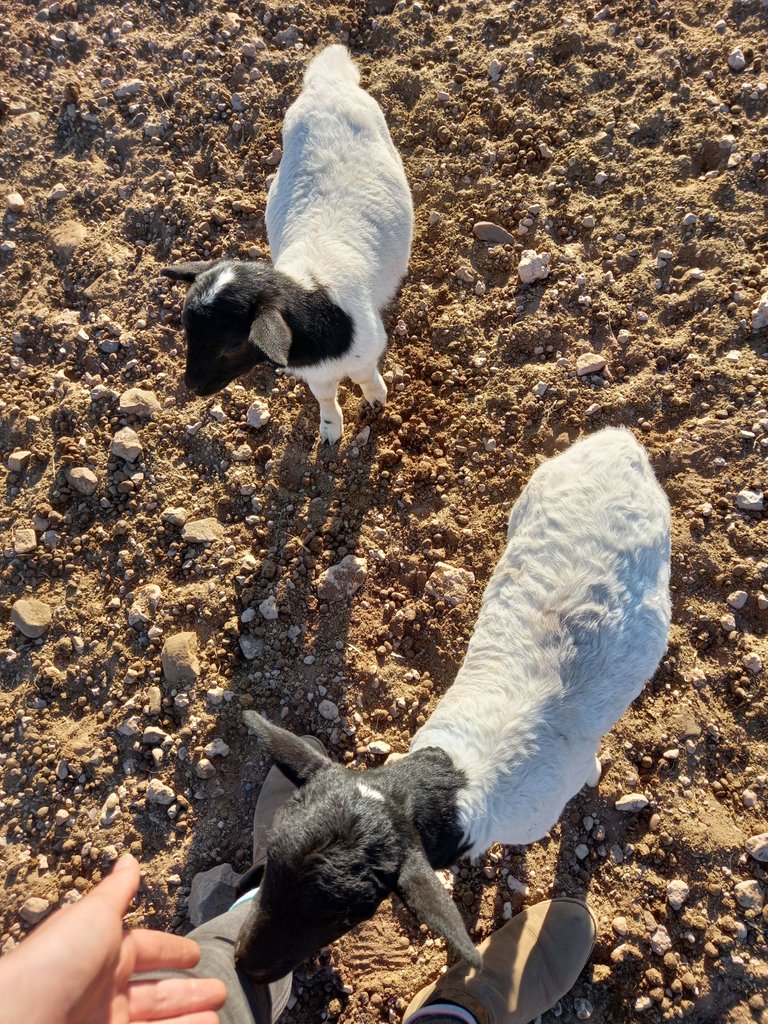 A few days later we received a call informing us of a lost little lamb. We went to pick her up, and coincidently she also had a black head. The lamb sniffing my leg is Lucky and we decided to name the other one Vlekkie (speck/ spot) since she has a white mark on her head. These two and Mama are a happy little family!

5 July 2021
I think by now I know a bit of how to handle sheep and goats, what they need to stay healthy, how to hold onto them and also how to run away from them.
I didn't take many photos on this day, but I remember how hot it was and how much we ran around! The morning started smoothly, with breakfast, coffee and a view... but that all changed quite quickly.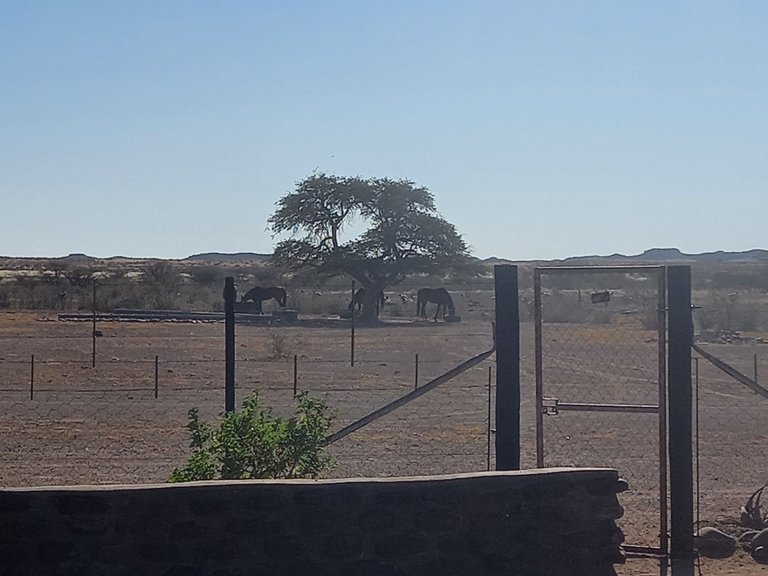 But before everything turned into a race, we enjoyed the morning air, a fresh cup of coffee and the horses gazing near the water.
We got the plan for the day, collected all the necessary medication and equipment, lots of water and sunscreen and snacks. We headed out on foot to collect a herd of goats. They were close to home since the workers had already searched for them the previous day while we were working through another group.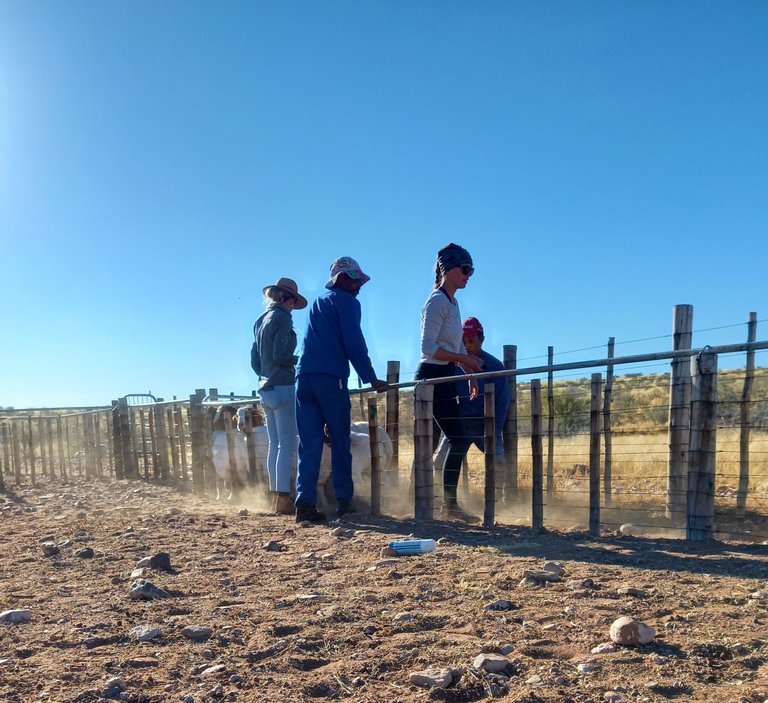 A total of 180 goats had to be treated. In the process we sorted out the ones close to giving birth, the ones we could tell were bred, the younger males and all the kids part of the group. They were marked with different colours and placed in separate camps.
At one point we forgot to properly lock the gate and one of the groups got out into another camp... We tried to separate them in the camp seeing as we were still busy sorting the other groups. Let's just say we were running around like chickens trying to separate the two groups again.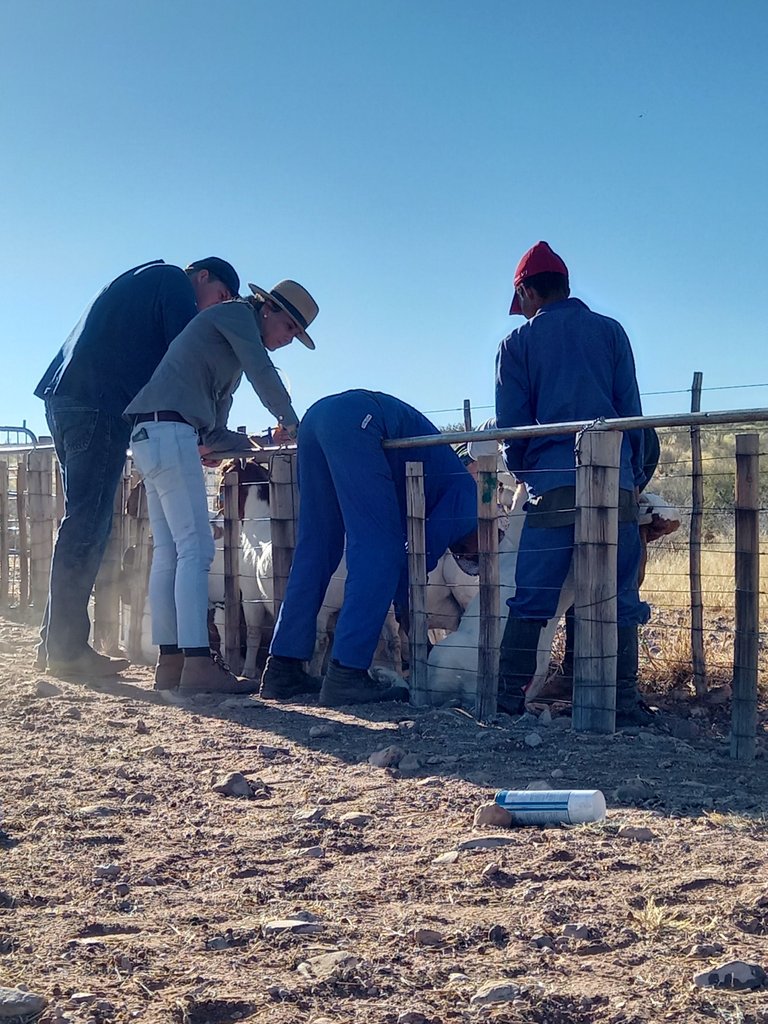 Loamie was responsible for giving all the medication, while Tobia, Ben, Raje and myself were responsible for holding legs, marking and spraying "blou went" for ticks and fleas. Did we get kicked a few times? YES, unfortunately...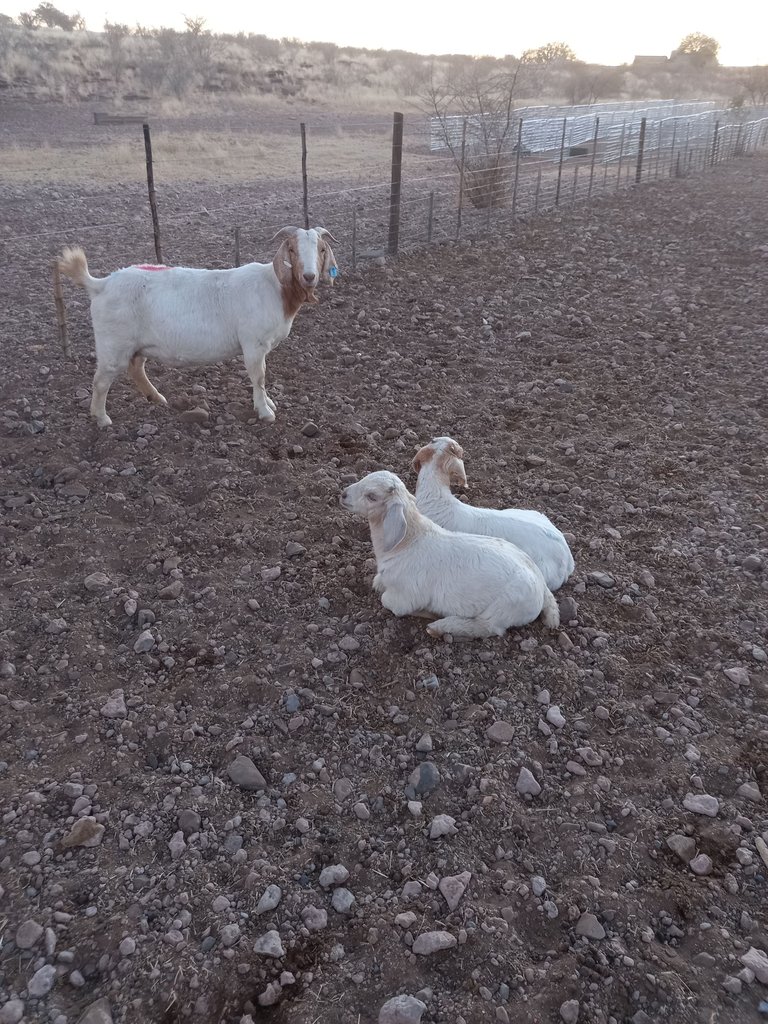 This mama was very proud of her twins. While the rest of the group was out and about she stayed behind and kept an eye on her twins. The kids are inseparable, even after trying to keep them apart for markings they ended up next to each other again.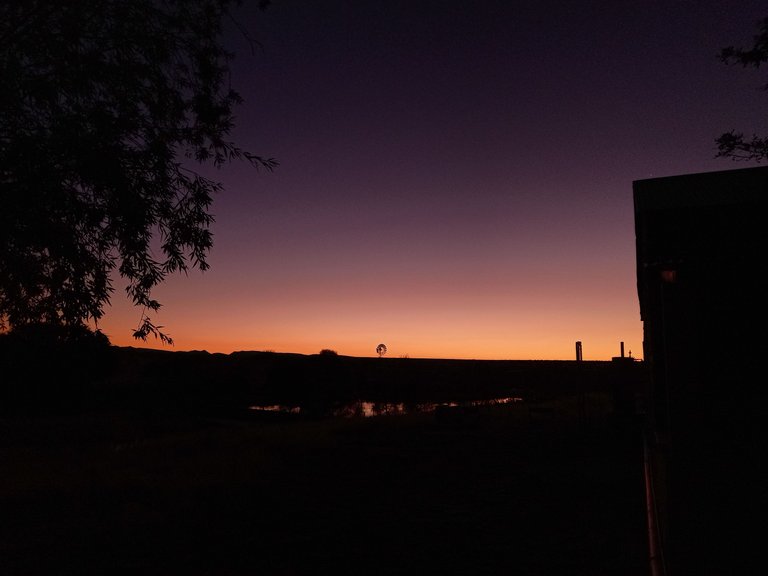 After a hard day of work and running, we headed home. We decided to braai that evening and made ourselves comfortable on the balcony. We enjoyed a much-needed dinner and this beautiful sunset.

7 July 2021
We didn't have anything specific planned for the day and made use of the opportunity to sleep in. Once everyone was up and ready we made breakfast and considered all our options. There were a few springbucks sighted the previous day by some of the workers, and they have asked for one or two. While they are part of the wildlife on the farm, they can be seen every now and then in one of the camps. The herd has grown over the last year and was starting to cause issues. So when the workers found them, Loamie decided it was time for a little hunting adventure.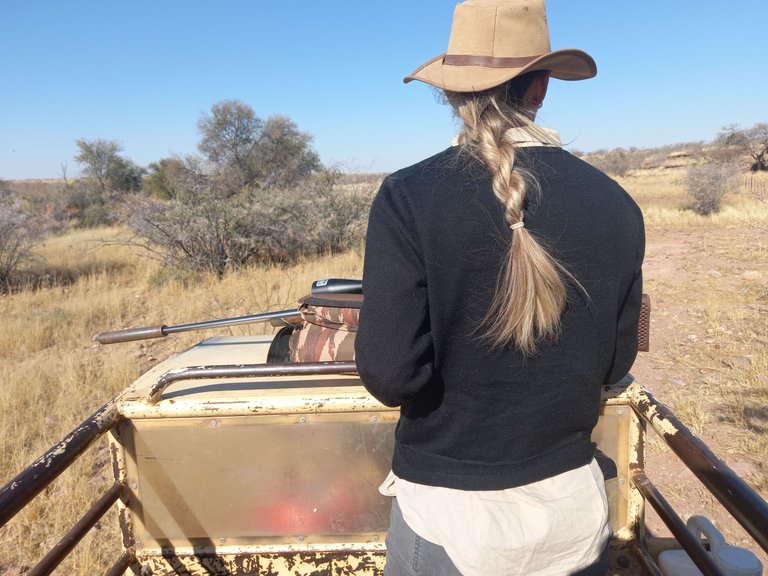 I went hunting a lot with my dad when I was younger, although I myself don't want to hunt. Why? It's loud, I have very shaky hands and.... Blood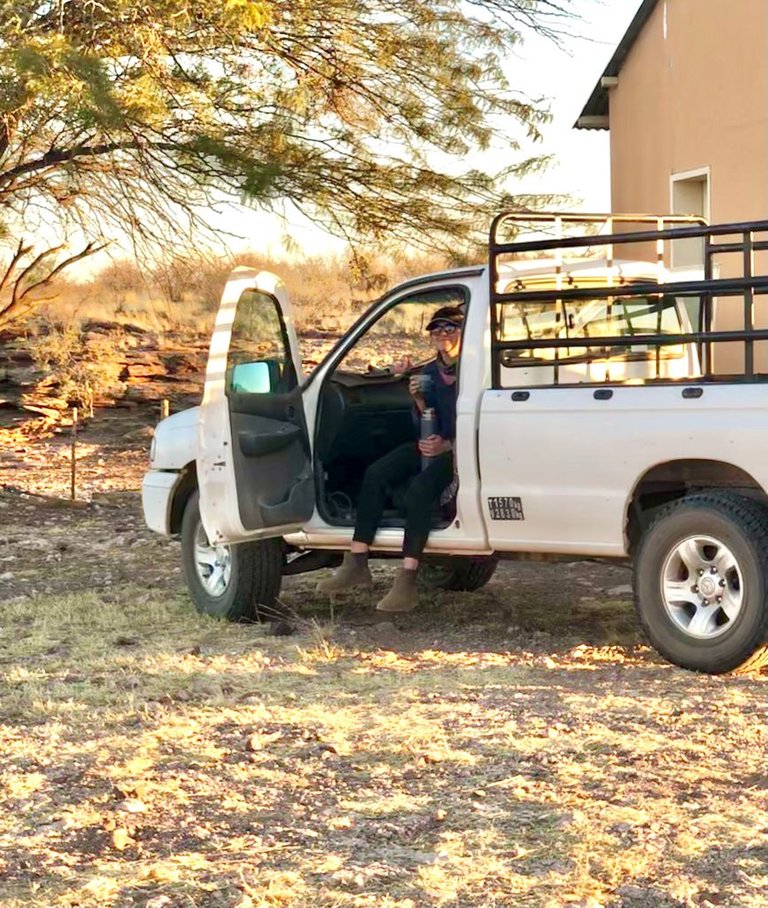 Like I said... I don't like blood. Nearly passed out during the gutting process. And this was me when we got back home. Chilling with a cup of semi-warm coffee... Still light-headed 🤣.
After my time out, we went on a walk to watch the sunset. It was a bit cold and windy but it didn't spoil the beauty of nature.
https://youtube.com/shorts/eaOEZV6Uu_E?feature=share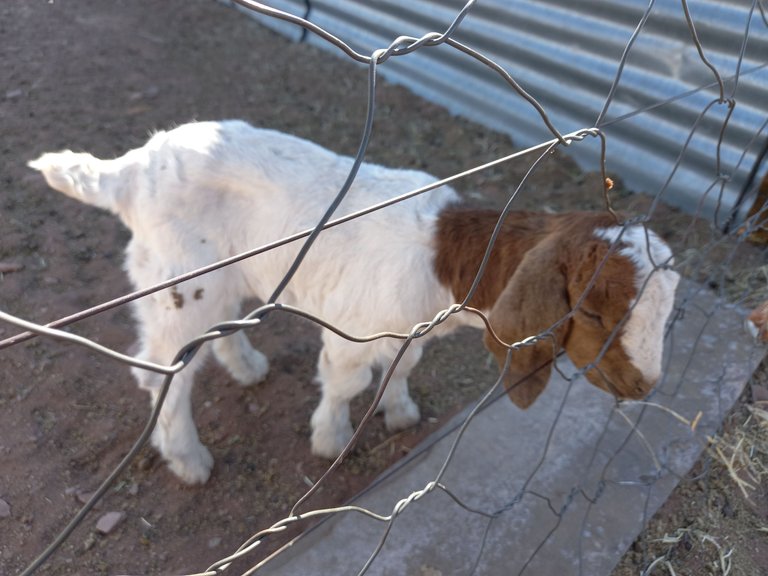 We made a pit stop at the kids, seeing as they start calling once they see you. Some of them were sp tiny and could get through the french.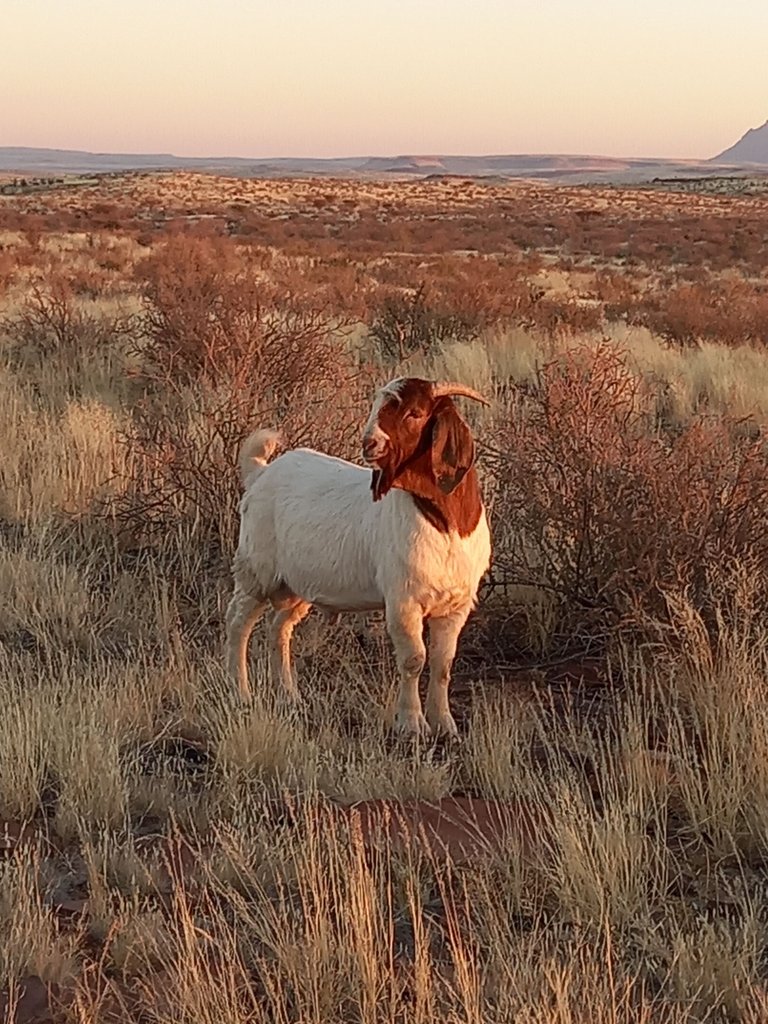 This magnificent beast followed us from a distance as we continued on our journey. He is a professional model if you wondering 😉.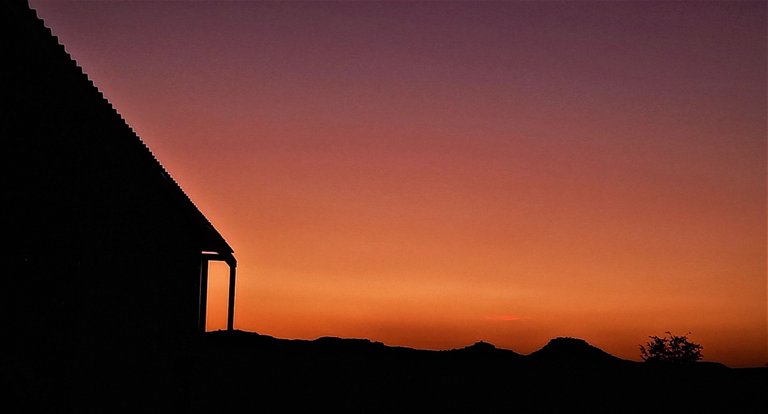 The day was rewarded as always with an art piece of a sunset 😍. I don't think I'll ever get used to the magnificent sunsets of Namibia. The colours are so vibrant and it feels like you're being pulled into another dimension.

And so another adventure comes to an end! Thank you for coming along. Please do share your thoughts on the sunset, are you a fan of sunsets or do you prefer getting in bed early? Stay tuned for more adventures, there are one or two left for the Namibia trip! Until next time, stay safe and keep exploring!



---
---