Chickpea pancakes with Vegetable Curry (Surinam Roti, my way)
The other day a friend of mine gave me a few things that she'd been given by someone who left Playa. There were quite a few things that she said she wouldn't use, so she asked me if I'd use them. I happily accepted the gifts because they were all things I usually wouldn't buy here because they can be very expensive.
My daughter's friend came over yesterday, and stayed for a sleepover so
I wanted to cook something simple enough but also something 'different'.
This is what I came up with!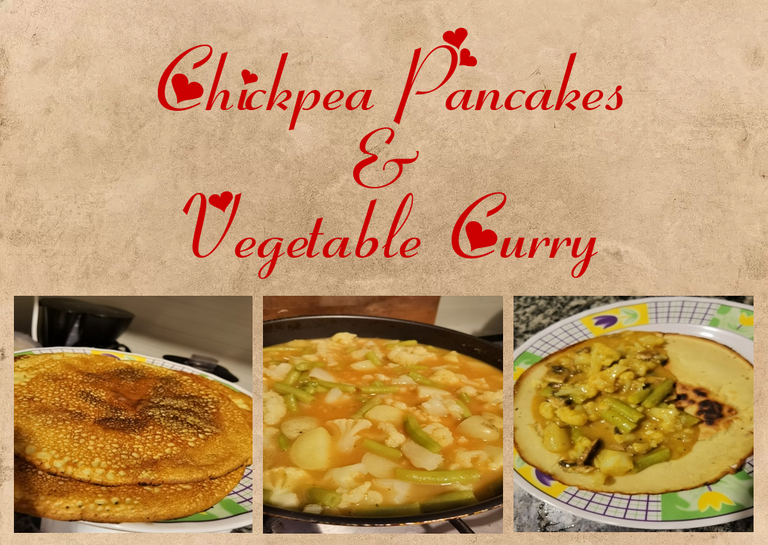 ┍━━━━━♥♠♣♦━━━━━━━━♥♠♣♦━━━━━━━━♥♠♣♦━━━━━┑
The Recipe
So one of the things I pulled from the bag my friend gave me, was chickpea flour, which is incredibly expensive here. Especially if you consider that chickpeas from a tin, or even dried ones, are really dirt cheap.
If you don't have any chickpea flour handy, a good whip of a cup or two of dried chickpeas in the blender will get you the exact same result. It works even in my crappy one, so anything of better quality should definitely do the trick.
So here's the full recipe (6-8 servings)
The pancakes:
3 cups of chickpea flour (of course, this could be substituted by any type of flour but I love the taste of chickpea ones. It's a personal thing though.)
2-3 cups of water (depending on whether you prefer the pancakes a bit thinner or not).
1/4 teaspoon of salt
1 teaspoon of olive oil + enough oil for frying the pancakes.
I like using coconut oil for that but olive oil will do too.
For the curry:
1 Cauliflower head, medium or large
1 Onion
3 large potatoes
1 cup of mushrooms
3-4 cloves of garlic (in my opinion, you can never have enough garlic but that's very personal)
1 cup of green beans
1 bell pepper (I didn't use any in the recipe this time but I usually would)
2 cups of coconut milk
1-2 vegetable stock cubes
2-3 table spoons of corn flour
1/2 - 1 cup of water
Curry powder or Thai curry paste.
salt and pepper to taste
In my recipe I used both. The Thai curry for the tangy taste and spiciness, the curry for the flavour.
A handful of coriander (cilantro) is optional.
The preparation
Mix the chickpea flour, water, salt, and one teaspoon of oil in a large bowl until you have a batter that resembles a thin pancake batter (more like for crepes).
Make sure that the water and flour are mixed well, and then cover and set aside. On a warm day it's advised to stick it in the fridge.
Now let this sit for up to an hour to get all the flour to suck up the liquid. You'll notice that the batter gets a bit thicker as it stands. If you think the consistency is too thick, you can add more water after an hour.
Cut the stem off the cauliflower, and cube this. I always use the whole cauliflower.
Then cut the rest of the cauliflower into small florets.
Peel the potatoes and cut them into small pieces, about an inch on each side. I used those small baby potatoes this time, so I didn't peel them, and cut them into 4 pieces each.
Cut your onion into small slices.
Slice the mushrooms
Clean the green beans and cut them into 1 inch pieces.
Cut the bell pepper into small pieces
Peel the garlic. If you have a garlic press, feel free to use it but I prefer cutting my garlic into tiny pieces.
Set all these veggies aside, and make sure to keep the garlic for last. I never really fry the garlic but rather add it to the dish at the last moment to get more of the garlic flavour. And also because raw garlic is good for you.
Fry the mushrooms as well, and set aside.
Now it's time to cook the pancakes.
Just fry them in a medium size skillet, as if you'd fry a thin pancake.
They need to be almost like a crepe, or you can make them a tiny bit thicker if you prefer. Nowhere near a hotcake though haha.
If you like, you can stack them on a plate and keep them warm in the oven, or however way you like but in our case I didn't bother. They're quite nice when they're not hot.
Bring the water to a boil, add the coconut milk and stock cubes.
Mix all of this well so the stock cubes have dissolved.
Cook the green beans until almost tender, or just the way you like them.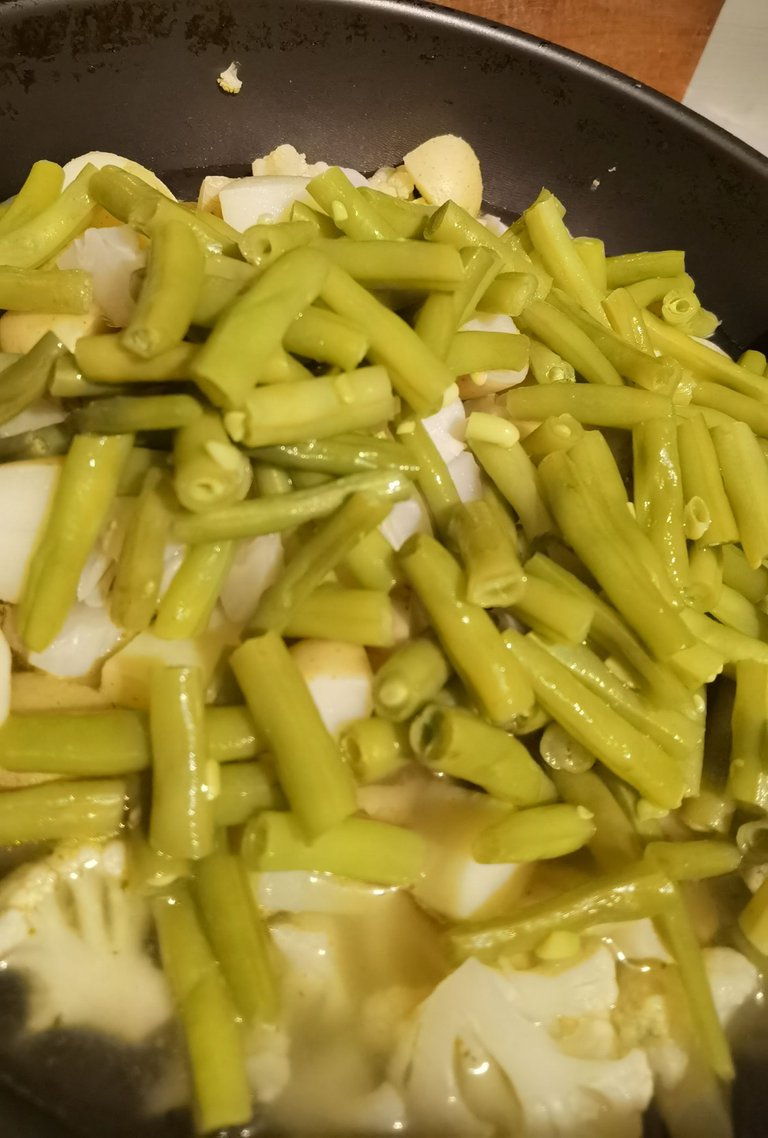 I added the cooked green beans to the cauliflower here and cooked them together until the cauliflower was a bit softer but you can do it separately too. Whichever you feel is best.
Add a bit of oil to your frying pan and cook your onions and bell pepper.

Meanwhile boil the potatoes until soft.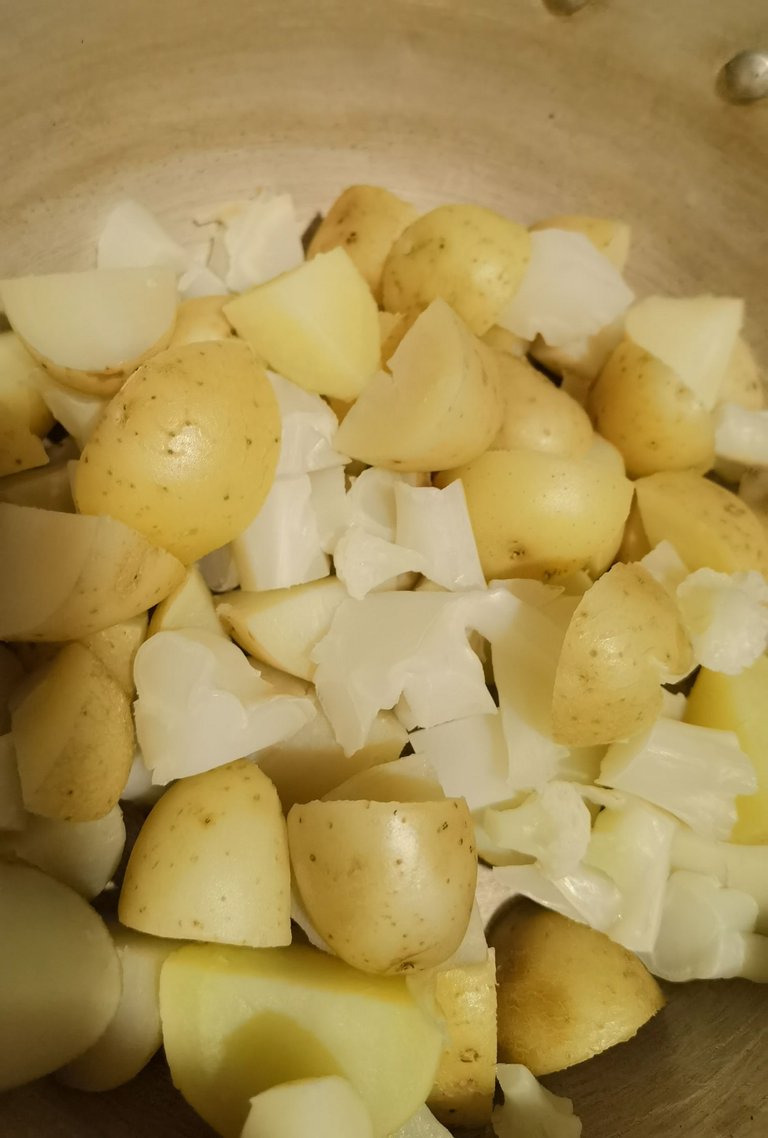 Cook the cauliflower, but not too long. It shouldn't be too soft or it will turn to mush in the curry.
Take a little bit of the water/coconut mixture into a separate pan (about half a cup) and stir in the corn flour. If you don't like to use corn flour, you can use regular flour but I prefer corn flour.
Mix this well so there aren't any lumps.
Cook until the mix thickens.
Then stir this mixture into the water/coconut milk/stock mix.
Make sure it has the consistency you like to see. If it's too watery, add a little bit of corn flour to water, mix and pour in. If it's too thick, add water.
Stir and heat, bring to a boil, then add the curry powder and/or curry paste. Make sure it's all mixed well, then add the onions, bell pepper, potatoes, cauliflower, and green beans.
Give it all a good stir.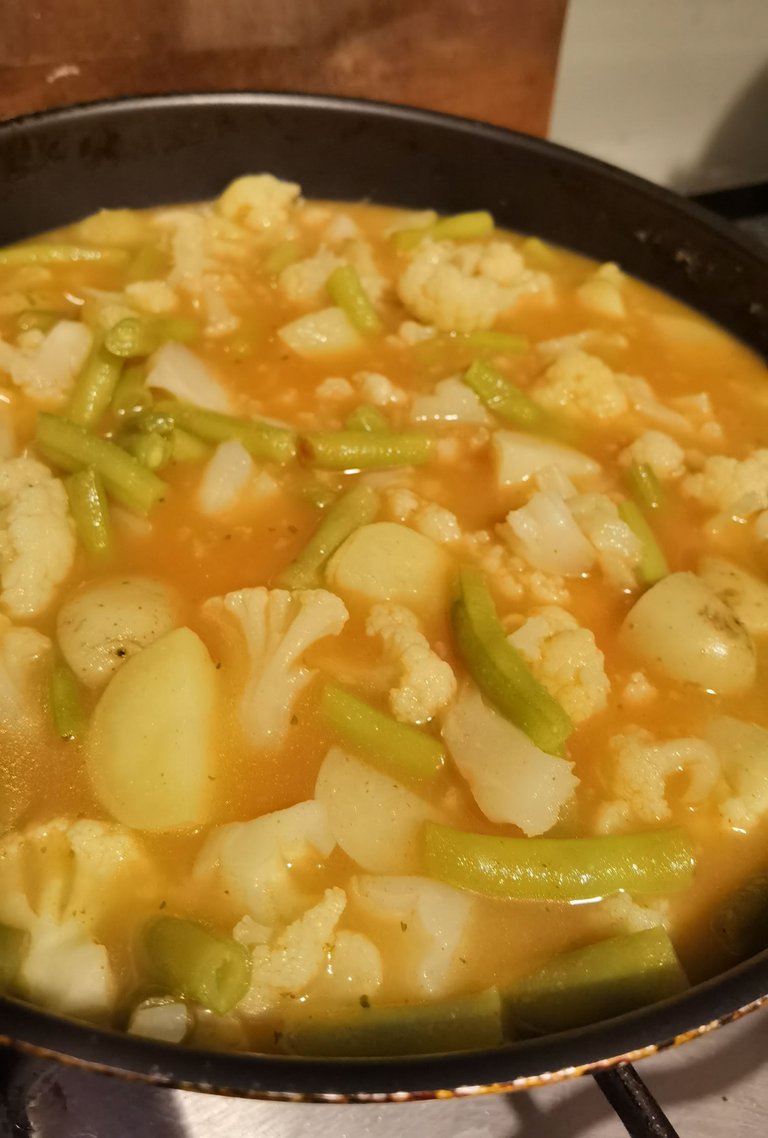 Add the mushrooms and garlic. Stir one more time, and take it off the cooker.
Add salt and pepper to taste.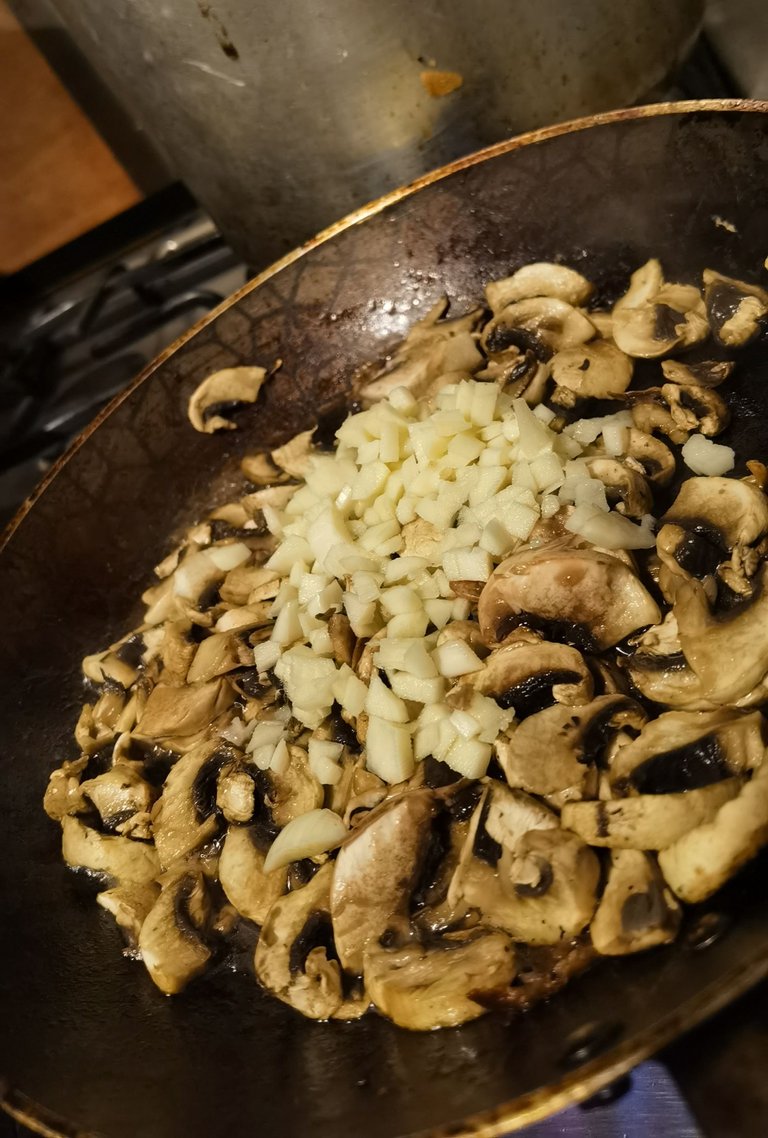 The daredevils among you could add some chili or cayenne pepper if you like.
I personally like spicy food but not all of my kids do, so I'll leave that out, so we can add it later.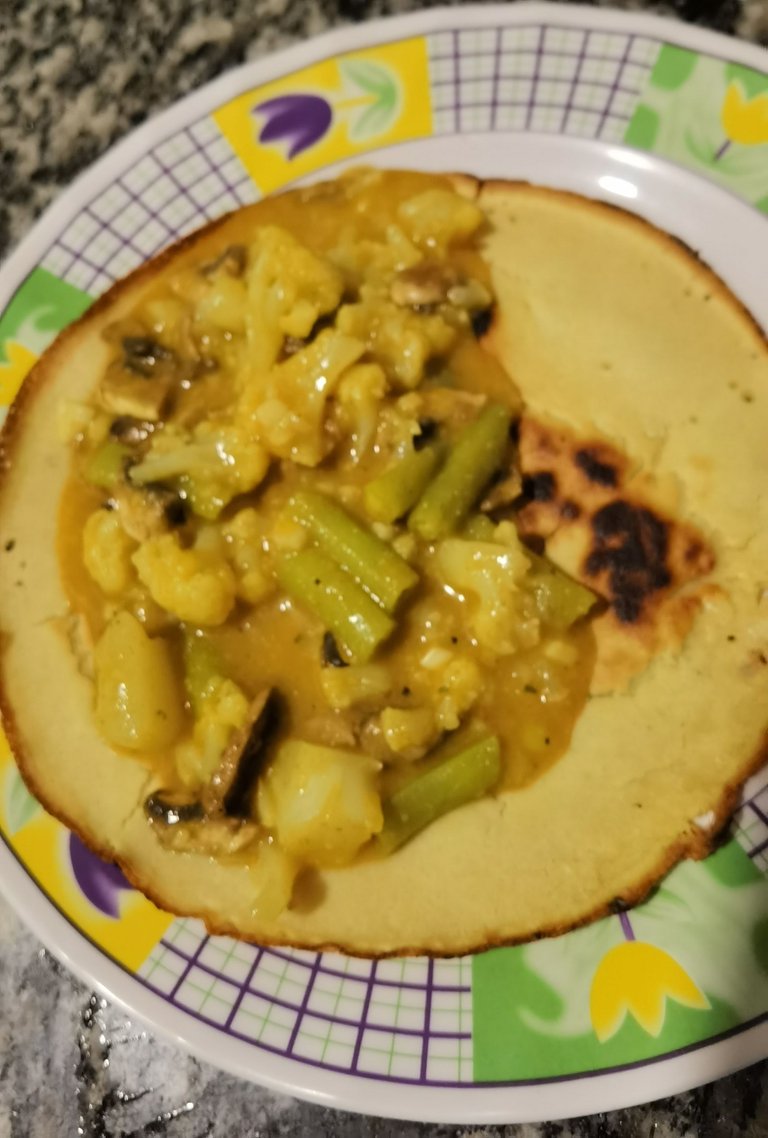 In the traditional way (this food is a variety of the food we call 'Roti' which has a Hindu origin but was changed into this dish in Suriname), you'd eat this by dipping the pancake in your bowl with curry. But you can also just spread the curry out on top of the pancake and eat it that way.
This is what I've done this time.
Enjoy!





As an affiliate with ledger, I receive a percentage of the sales generated through this link

---
---