$bearish, $bull Choose wisely.

I believe that everything in this world has positive, negative, bad, good, profitable, and losing sides.
And I am quite sure no one will wish for the odd one.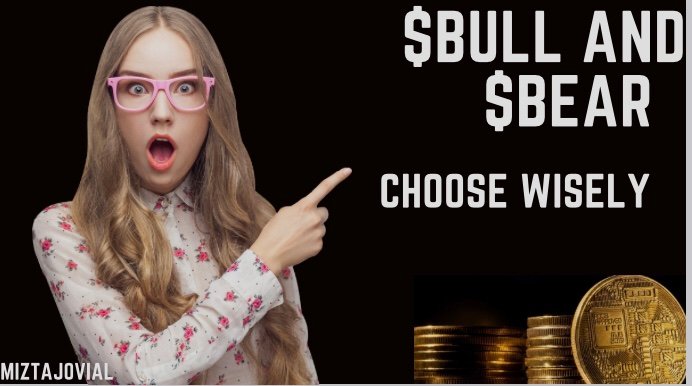 Here on web 3.0, we have different seasons and their packages, am quite sure most people do not know the appropriate time to sell out their tokens to accumulate profits.
Going through the dashboard, chart, or downboard as the case may be is very necessary before trading any coin.
Thanks to the packages provided by #splinterlands #leofinance #genesisleaguesports and a lot more.
When the bear comes into the blockchain as we has some weeks ago, wise traders tend to acquire more tokens and enlarge their investments and wallets bound but when the bull comes as we are expecting more of it, sharp and calculative traders sell them out with a double profit and higher than the buying market price as at then.
Newbies in the platform should be guided by the person who brought them to the blockchain or mentor till they know their way about the platform.
My special thanks to @etorobong and @monicaene who have been monitoring, correcting, and appreciating me when I came into the world hive.
They guided me through buying and staking #GLX and #SPS when the token came in new and now #GLX has been my little bank and problems solutions both at school and home.
If you are yet to invest in any of this piggy bank of hive then you are far behind us, all newbies should be told that hive is not all about writing and reblogging but investments of interesting and appreciating financial tokens.
Genesis League Sports, abbreviated as GLS is a web 3 blockchain-based, play-to-earn gaming platform and ecosystem specifically designed for sports games and NFTs. GLS is designed to host the ever-growing catalog of games across a plethora of sports types. GLS is also built to secure partnerships with major sports leagues and organizations around the globe.
Genesis League Sports is a second major Web3 game created by the team that built Splinterlands - a top blockchain-based, play & earn battle card game in the world.
If you found the article interesting or helpful, please hit the upvote button, and share it for visibility, especially for newbies and other hive friends to see. More importantly, drop a comment beneath.
Thank you for stopping by.
And don't forget to stake more #SPS to build up #splinterlands as a whole.
Have a merry day ahead.
Posted Using LeoFinance Beta
---
---