Effort Doesn't Betray Results , Parrot fish
Hello all friends, how are you guys today, hopefully on this occasion we are still in good health and can participate in activities smoothly.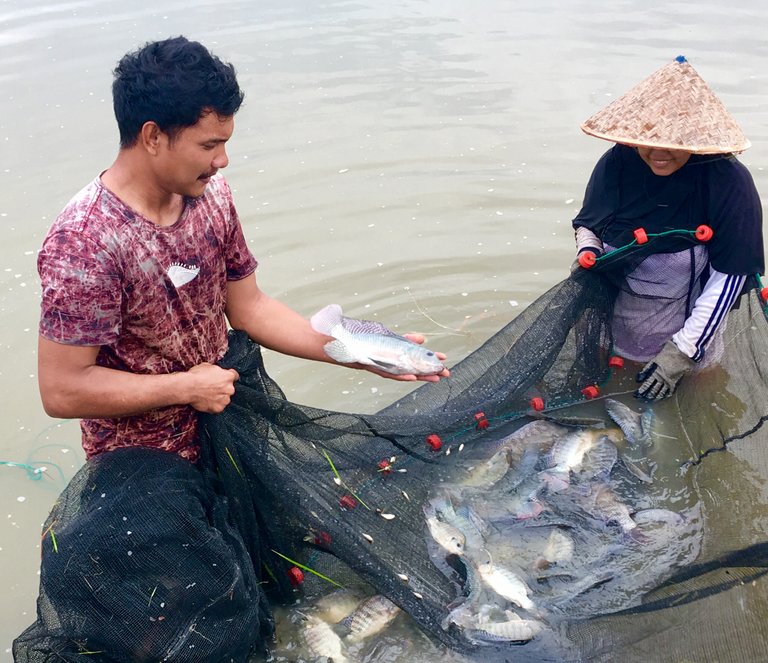 Today I am doing activities in the morning to take the mother of tilapia for us to separate into another pond. So in our activity we work in groups and some of my friends also participate in this activity along with me. The pond that we harvested is one of the ponds that contains only tilapia that have become broodstock. And the mother of this tilapia is a type of agile tilapia which as we know that if we mate with agile values, about 95% will produce male chicks, there are even some people who say that agile Nina can produce 100% of chicks or larvae from that value . But for me, it's not 100%, only 95%, in my opinion, because there must be a few chicks from the female that are released by the agile mother.
So the number of tilapia in this pond is more than 1000, so our plan is to use this pond to raise giant prawns in the future, so we have to move the tilapia to another place. So later after we take all the beautiful brood fish here, we will sterilize this pond so that there are no wild fish in the pond and we also dry this pond and give lime and fertilizer to grow a lot of natural food in this pond. After we prepared the pond, then we just spread the prawns seeds to continue their maintenance in the pond. All my friends, I will show you some pictures in our activities today, maybe you can enjoy these pictures and also be useful for all of us.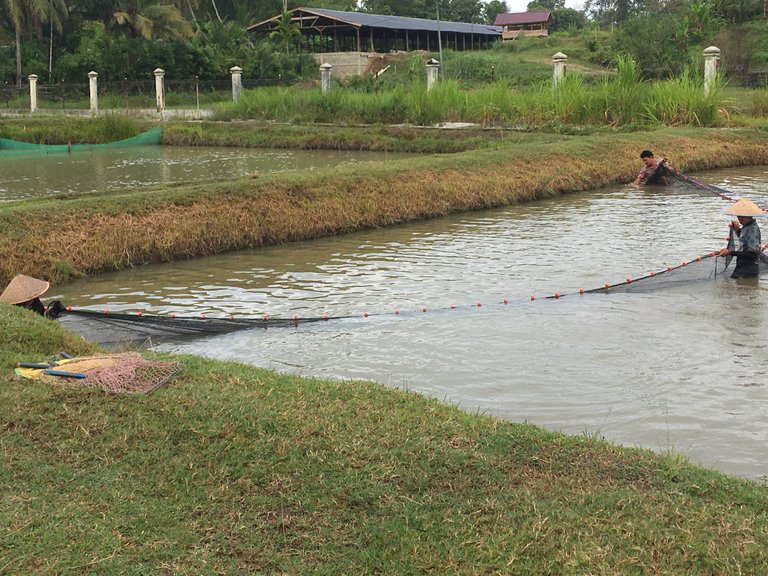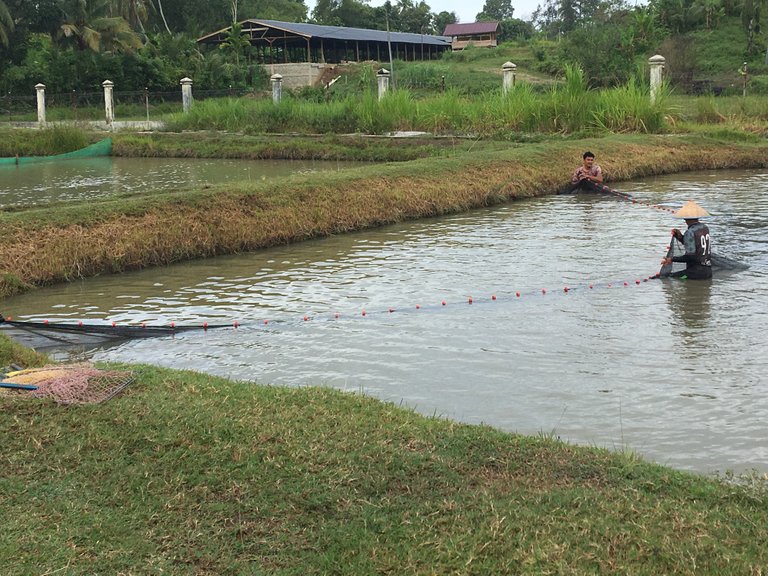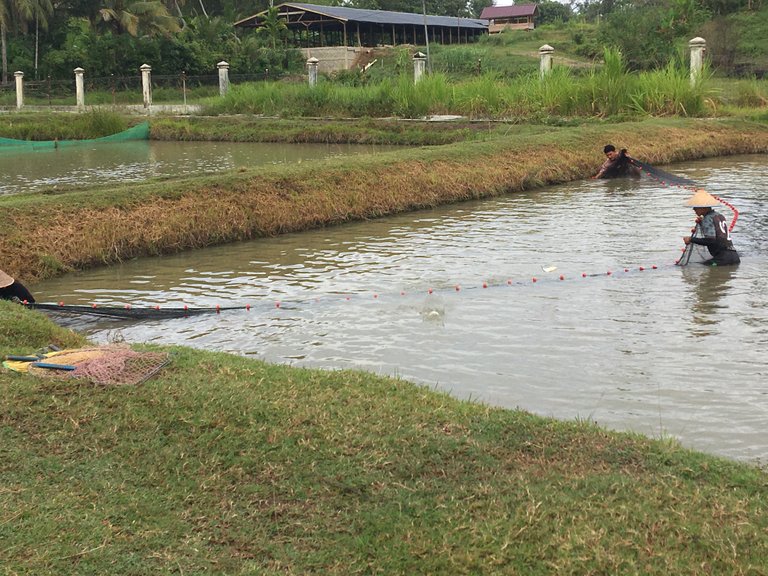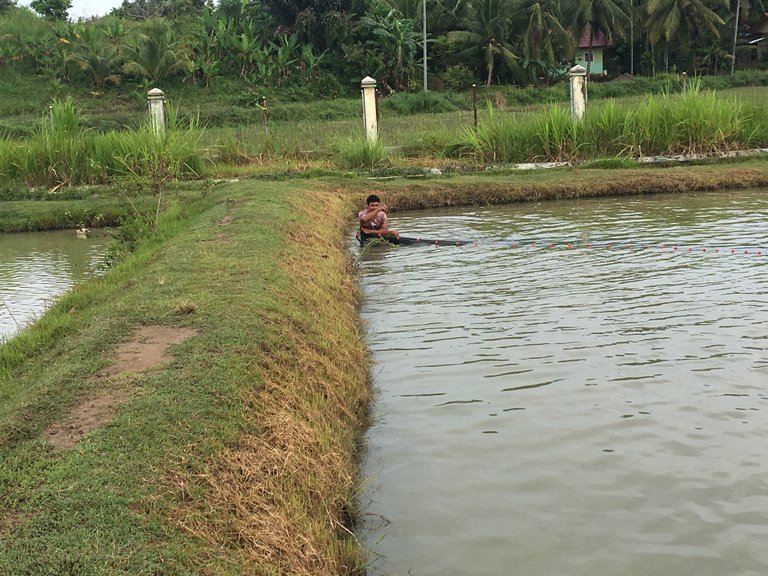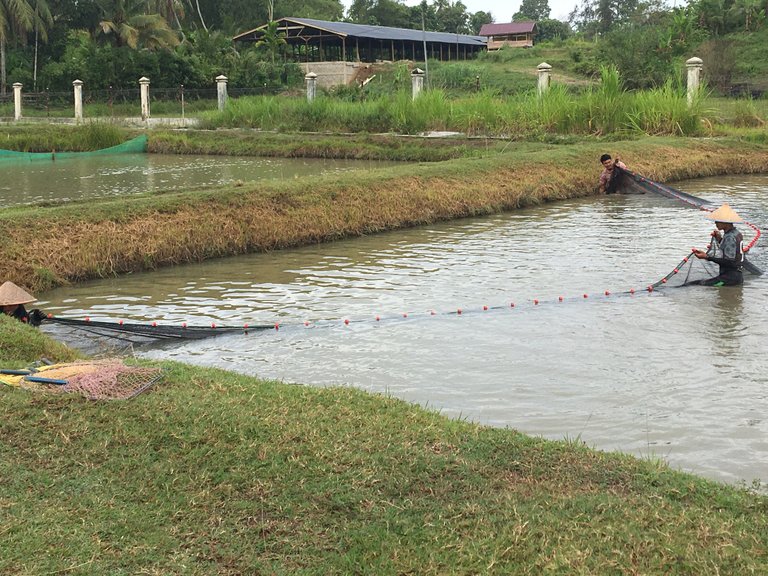 So for the retrieval of brood tilapia we use a net that has a pocket in the middle of the net so we pull it from one end to the other so that the fish are collected into a net bag to make it easier to catch the fish. After the fish are collected in the net bag, we will pick them up with a scoop to be loaded onto a trishaw and taken to another pond where they are kept. The size of the tilapia that is already in the pond is around 300 grams per head, this is a size that is already quite large compared to other sizes. This is our male brood stock which has good quality so that when we do spawning we can get good quality tilapia chicks too.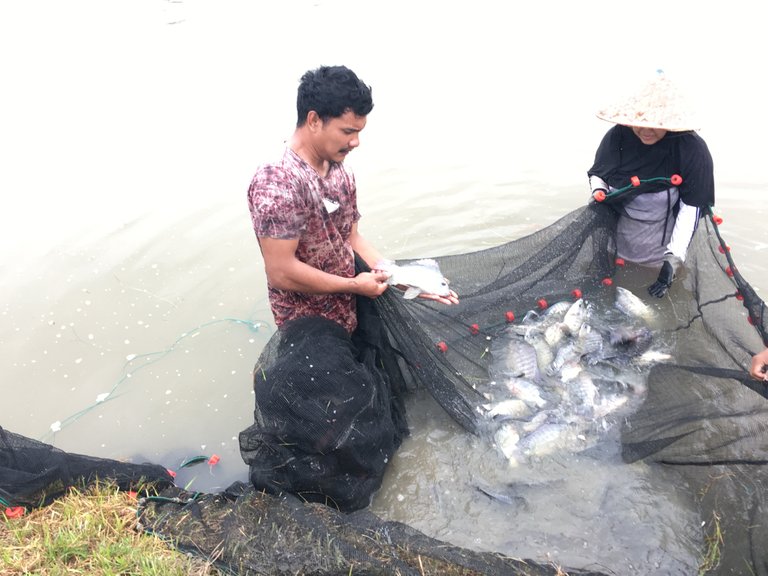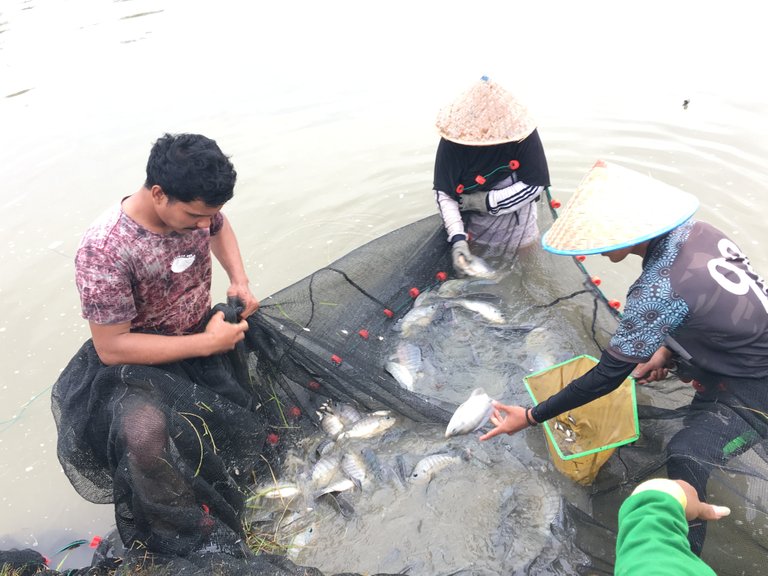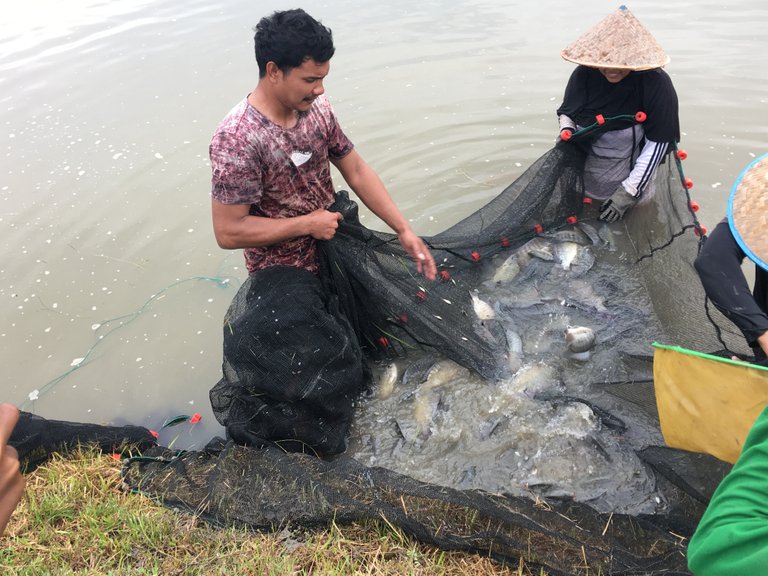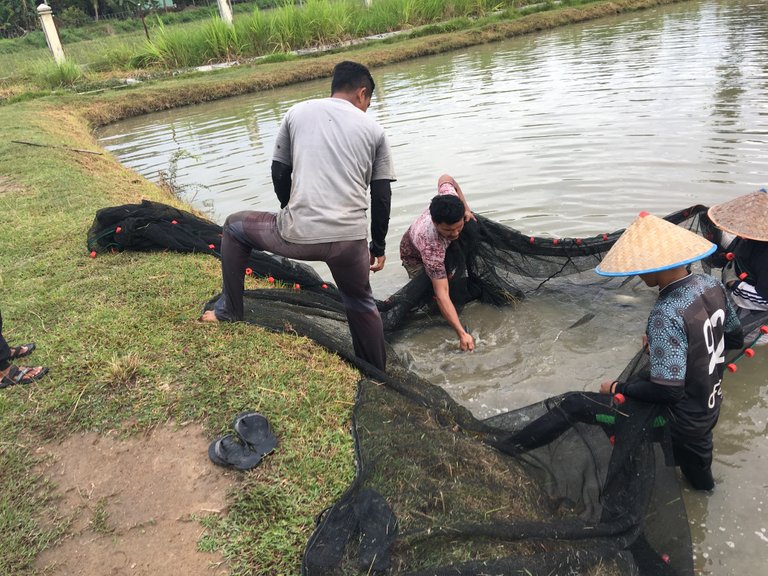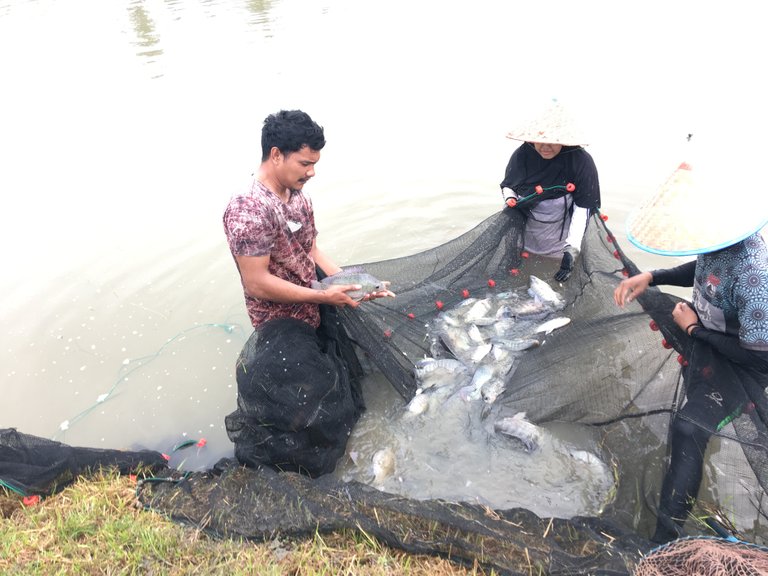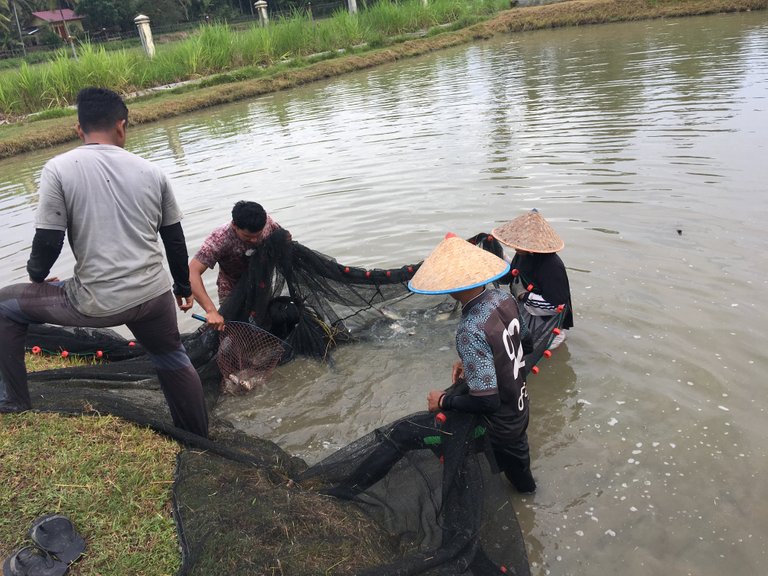 This is when I took it with a net so I put it in my hand so my friends could see how big the tilapia we have. Tilapia is also one of the fish that has a high economic value because this fish is also in great demand by the public because it has a delicious taste and also contains many nutrients in it. The most abundant aquatic biota where we work is tilapia because here tilapia is very much in demand by farmers for continued maintenance or enlargement. So the broodstock that we harvest, we don't sell them, but we only reproduce the broodstock where we work so that the stock of tilapia seeds is well maintained so that people here don't have to look for tilapia seeds from outside the area.

Our future plan is to raise giant prawns, so if we succeed in rearing giant prawns, we will propose it to the community so that people can do things like we did to maintain the economic stability of the community so that there are not many people who are unemployed or people can get jobs. . In the maintenance of tilapia we have also distributed it to many people as assistance, so people who have land or ponds we will give it, namely tilapia seeds and also provide food so that people can cultivate tilapia in their respective places. I think things like this are very helpful for the community, especially in the field of fisheries, to maintain economic stability or to keep tilapia as an economic source for people operating in the fishery sector.
Maybe this is all I can share, hopefully it will be useful for me and also for others, so in writing these words I use my own language then I am assisted by Google to display it in English so if there are words that are wrong Please forgive me because it was unintentional. Lastly, I would like to express my deepest gratitude to all members of this beloved community. Hopefully here we still have the strength and opportunity to carry out our success. Thanks.

| Photography | Activity |
| --- | --- |
| Camera Used | Smartphone |
| Model | iphone 6 s + |
| Photographer | @mnurhiver |
| Location | Aceh, Indonesia |
---
---