Fungi Friday || The Beauty of White Mushrooms That Have A Shape Very Similar To The Opening Of An Umbrella When It Rains || 17 June 2022
Hello mushroom lover friends, how are you all today, hopefully on this happy day we are still in good health and can participate in activities smoothly.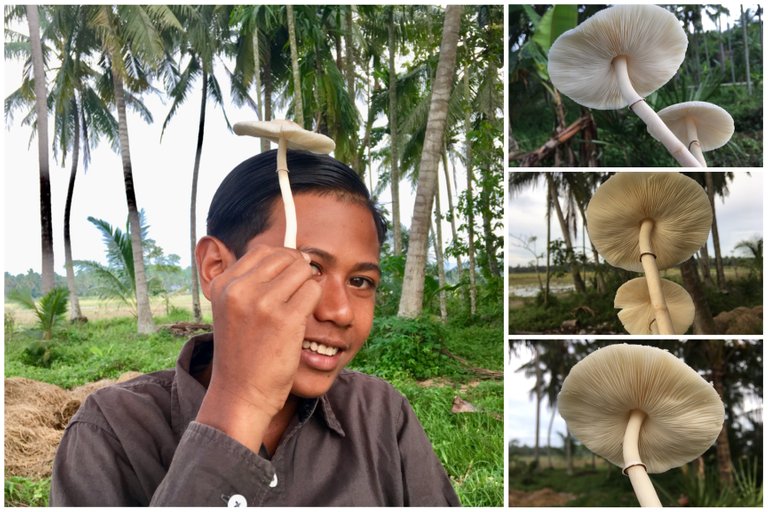 Greetings to all of us, especially friends in the #FungiFriday community. In the past few days in our area it often rains heavily, and this Friday the weather has started to clear again so I can still participate in activities smoothly as usual. Friday today is a very special Friday for all of us because Friday is one of the days we have been waiting for to see the beauty of mushrooms with friends in the community. Talking about mushrooms, of course, every Friday we have a variety of very beautiful mushrooms that we share with the community here. As mushroom lovers, of course we have many types of mushrooms that we have seen in previous days, I am also one who loves mushrooms because for me mushrooms are one of the most beautiful plants and have many benefits.
Well friends all today I will show you some beautiful mushrooms that I have prepared in the previous few days. I found this white mushroom, this white mushroom in one of the small forests in the Aceh area, so I was very interested in this mushroom picture because for me this mushroom is one of the mushrooms that has a large size and shape like an umbrella at the top of the curved mushroom so beautiful. This mushroom also has a very bright color, namely white so we can see this mushroom clearly when I saw this mushroom they looked very clean so I was captivated by the beauty of this mushroom. These mushrooms have long stems and at the top they have a sphere as I have mentioned which is like the opening of an umbrella when it rains. When I found this mushroom I went with a teenager who was always with me, so when we passed a road I saw a white color that was so clean and I immediately stopped to take a closer look, when I saw this I immediately laughed at the beauty of this mushroom. so makes me want to get some pictures of it. Because the shape is exactly like an umbrella, I will ask the teenager who went with me to hold the mushroom and place it on the head so that the mushroom looks really like a small umbrella. Alright friends, let's see some pictures of mushrooms from me below: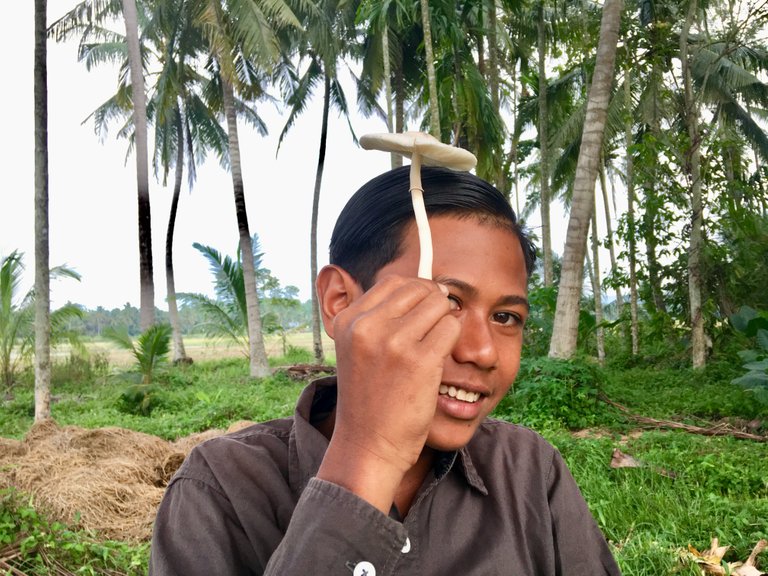 The teenager who is always with me he tries to make a mushroom that looks like an umbrella to cover us when it rains.I think this is a very good idea from me because he also had time to tell me that this mushroom is very similar to an umbrella.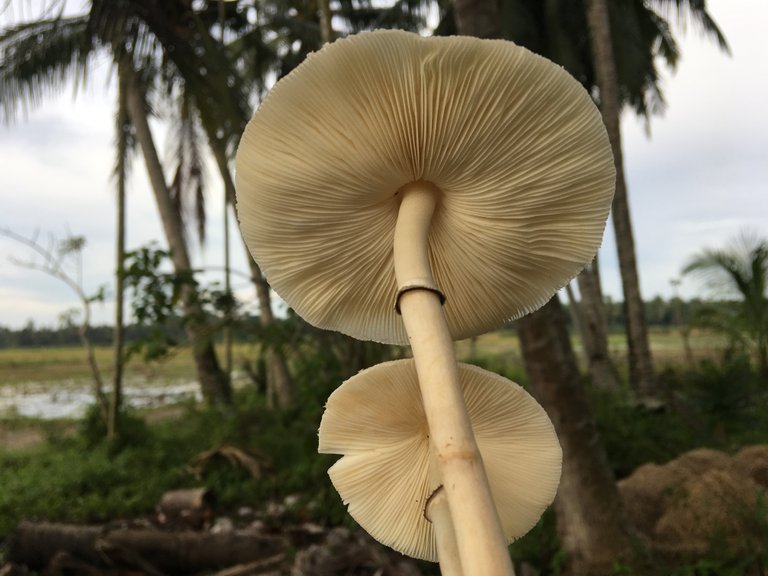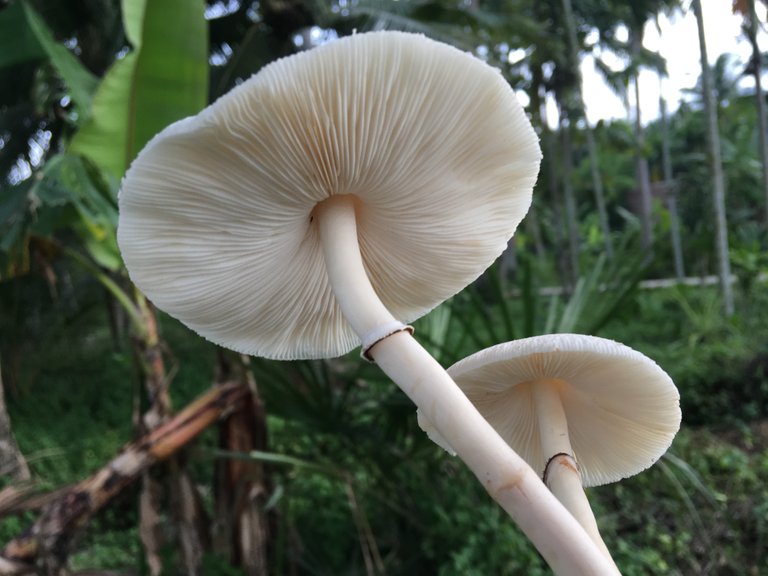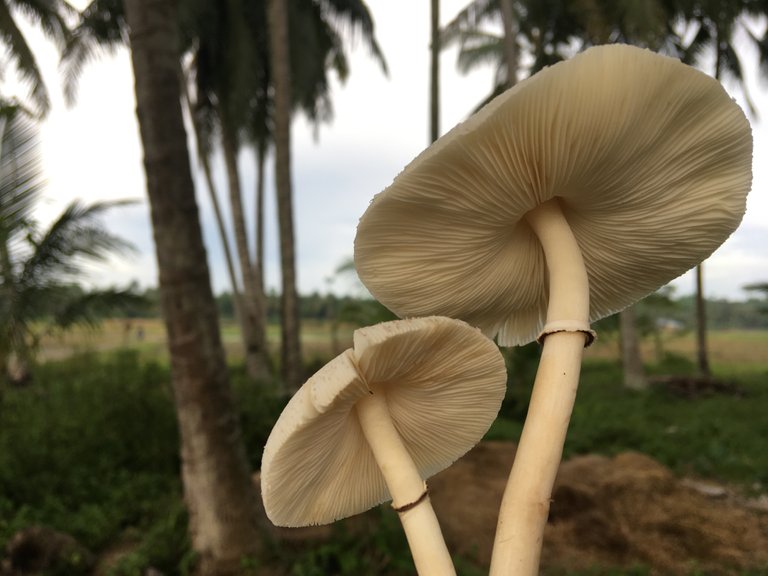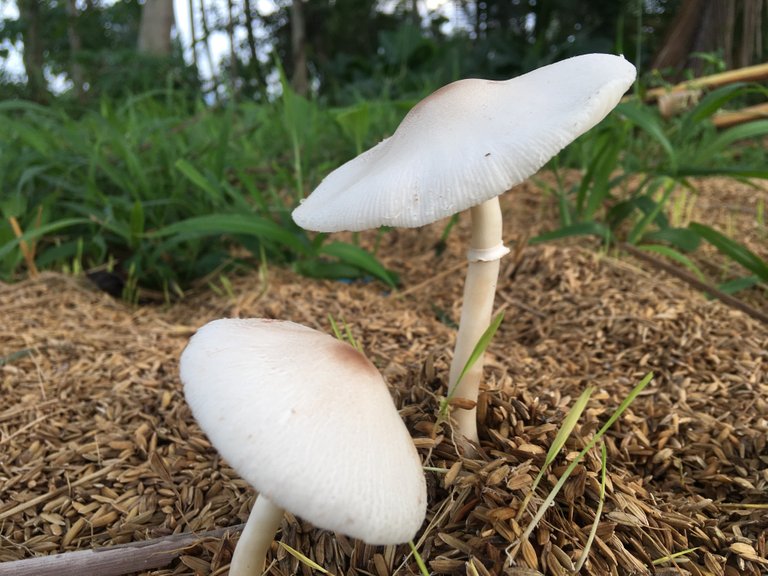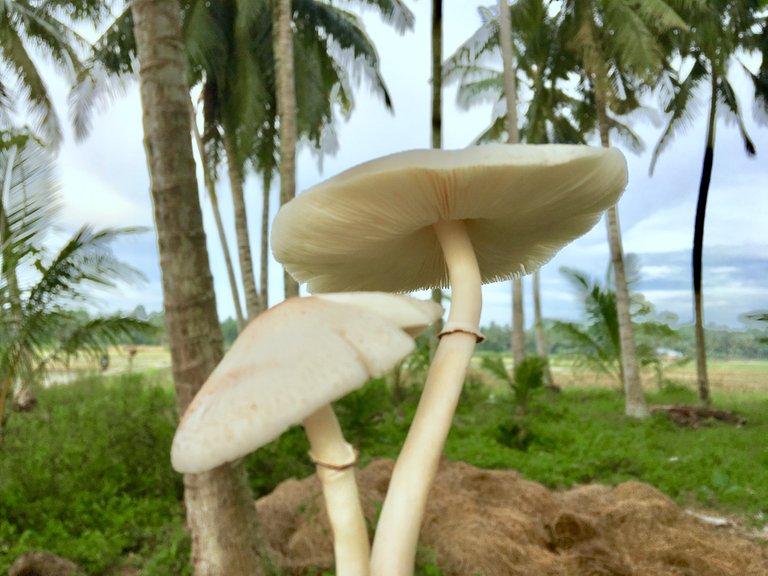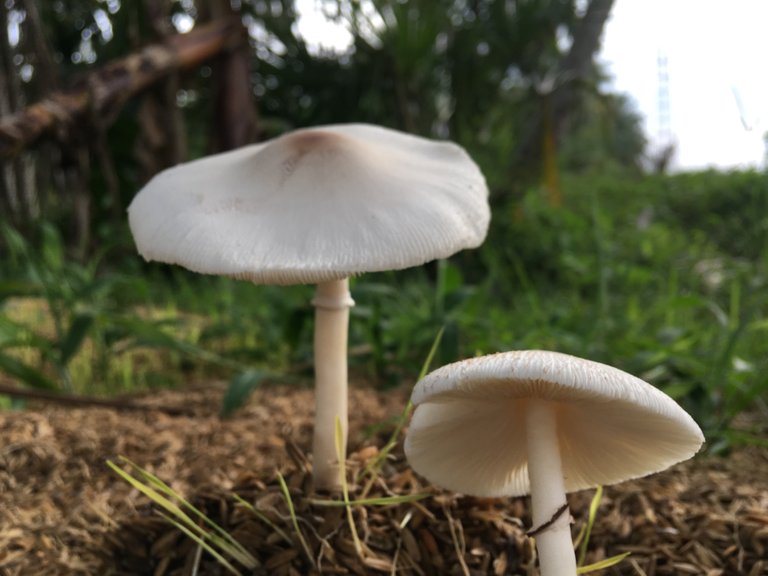 Side by side white mushrooms there is one which is a little bigger and the other a little smaller, they both look very nice and can give us a beautiful view of both. I think these two mushrooms have a very beautiful growth curve and can entertain us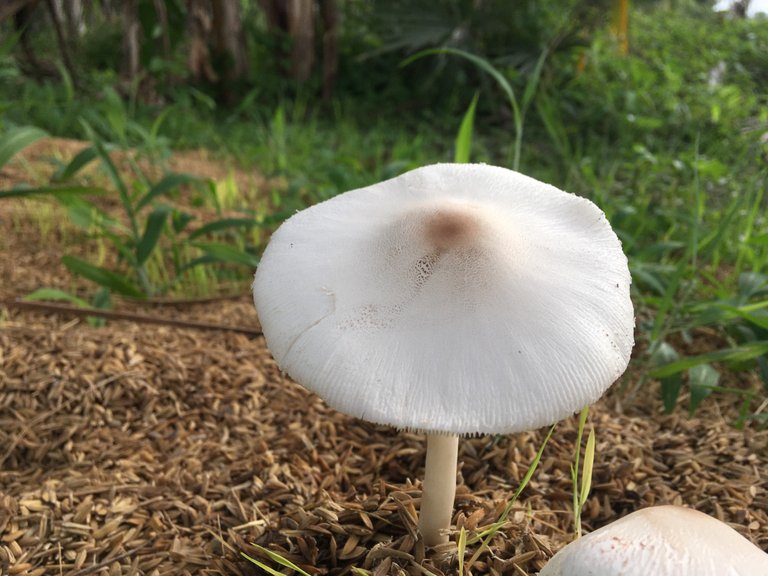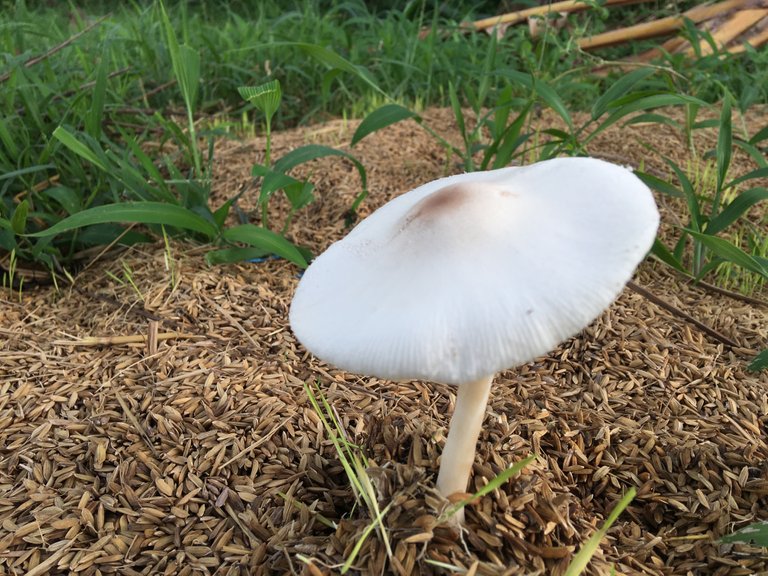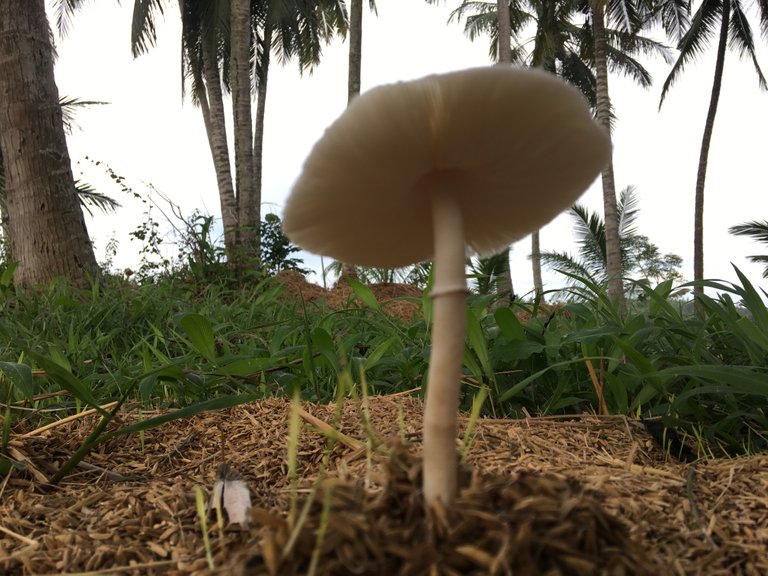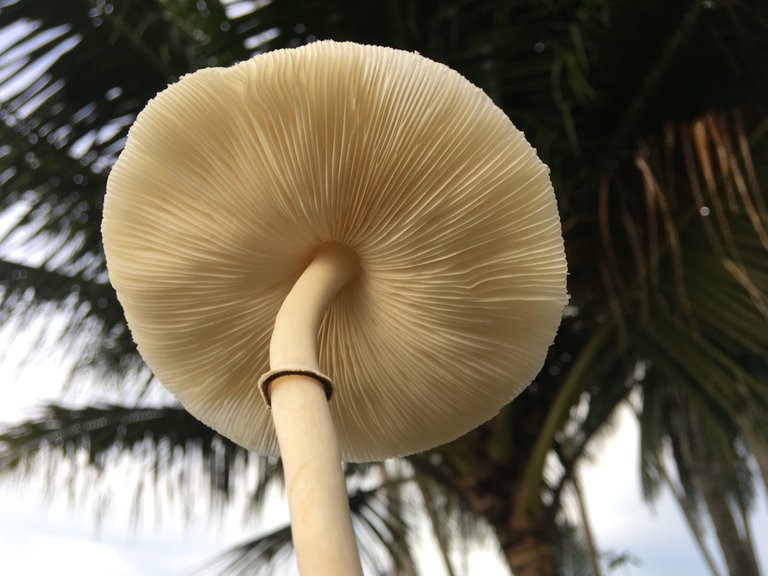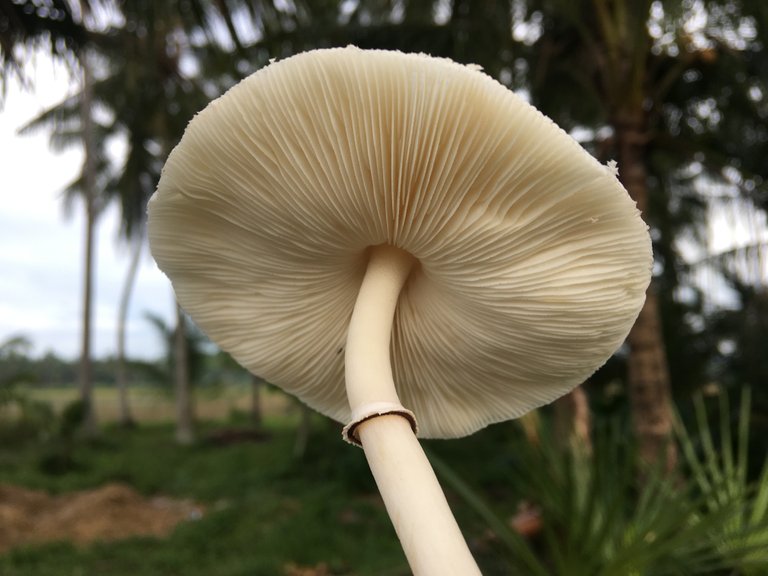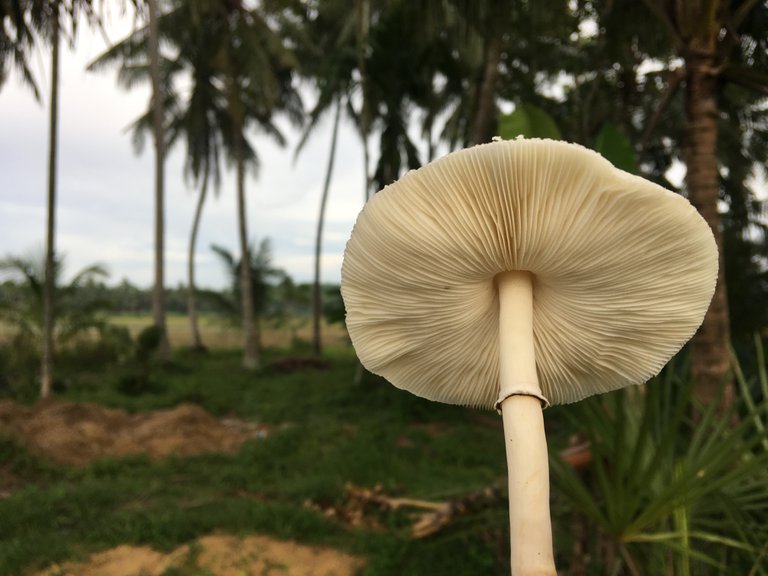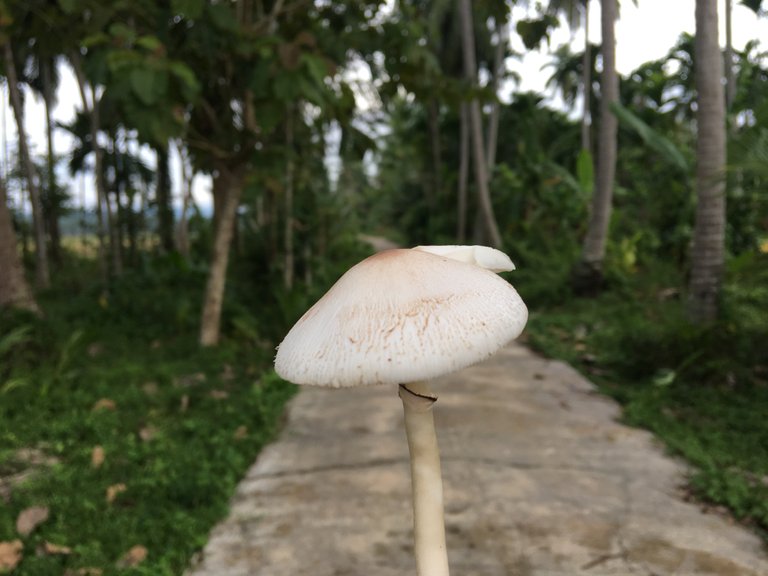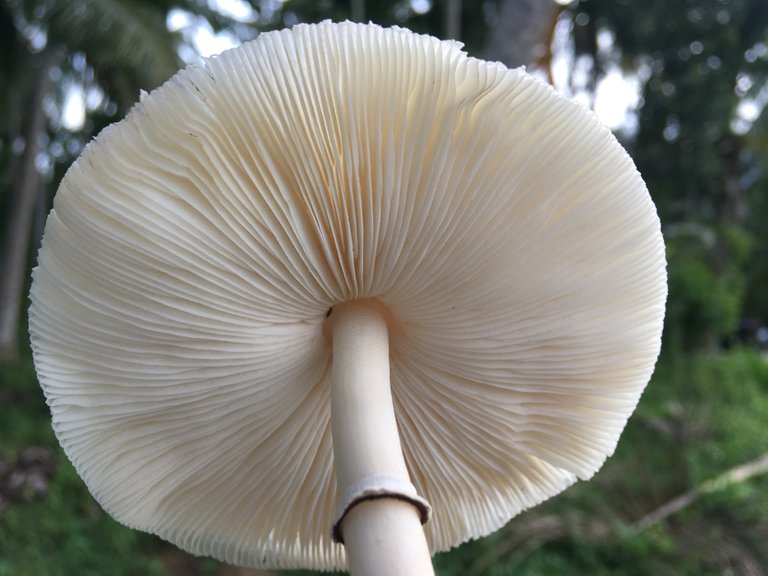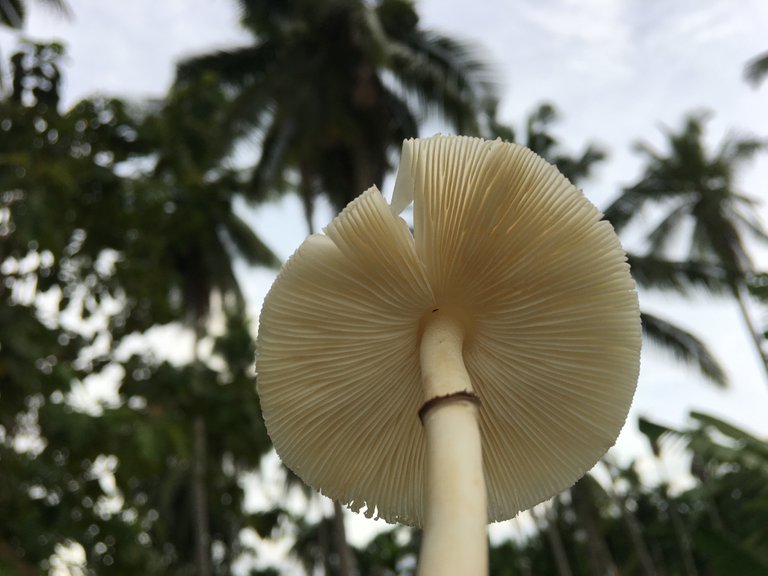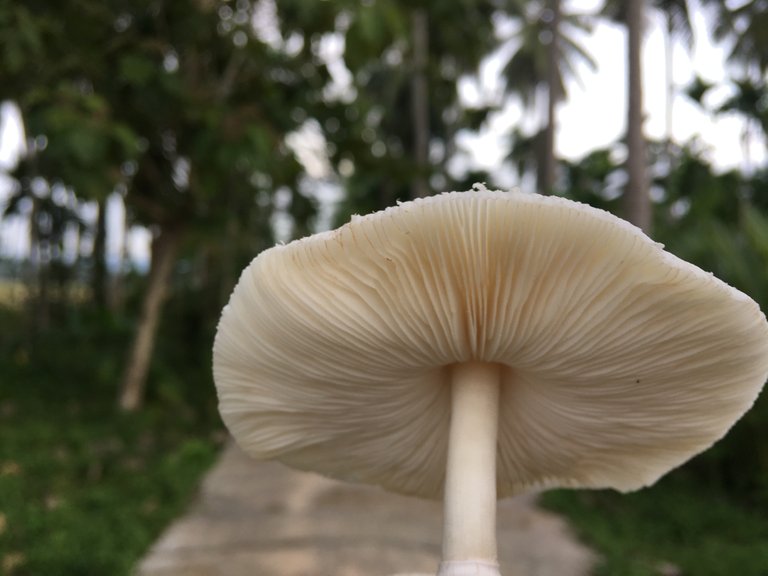 Some of them I also took pictures singly so that they can be seen clearly when friends see them. I took some from the bottom to the top so that under this mushroom circle we can see what it looks like And this fungus can also grow in places where there is rice left by the community to throw away that doesn't have its contents There I also saw how fertile they grew, Because mushrooms have been able to grow well with the weather conditions during this time in the rain and mushrooms really like the humid conditions where they grow.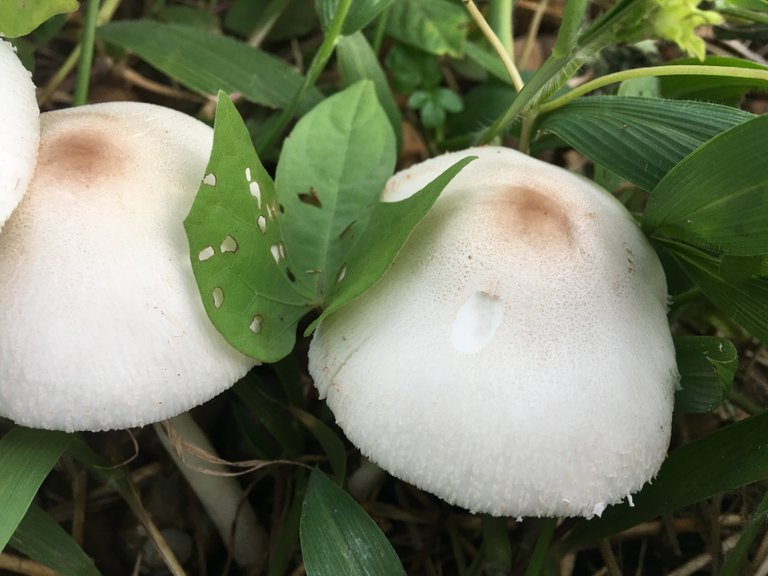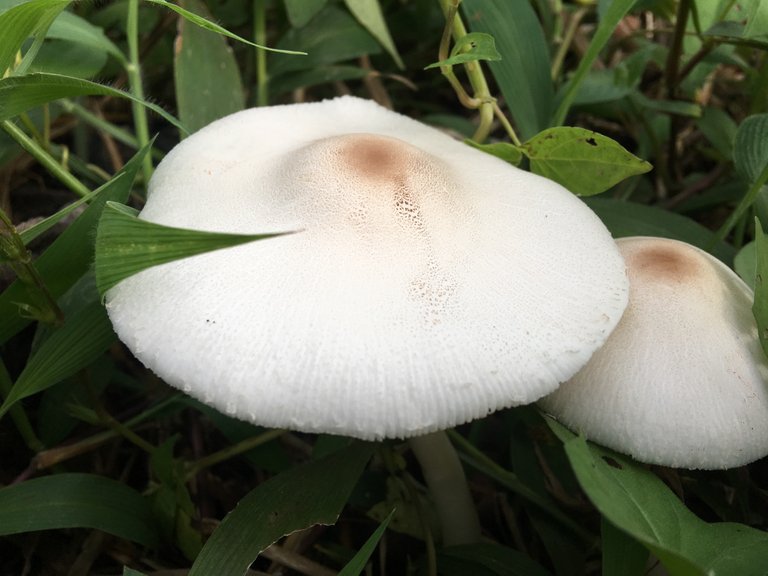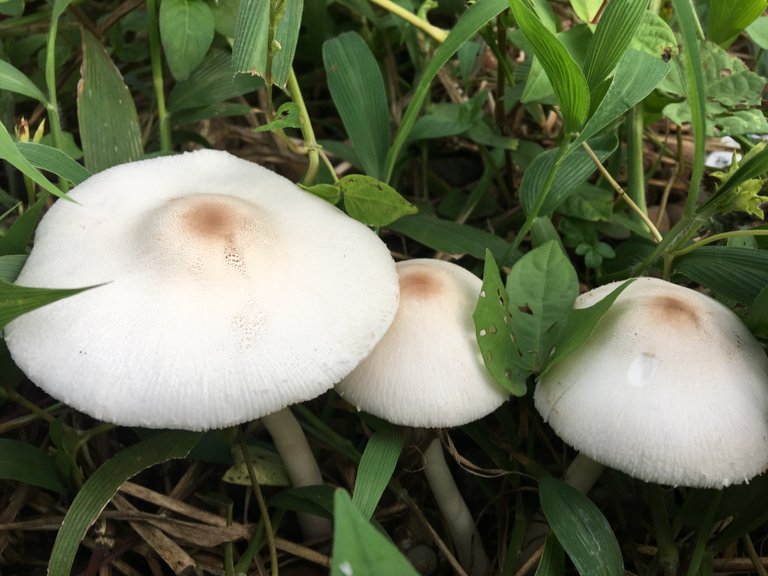 They grow around weeds, they can also thrive on the sidelines of the grass around that too, But their size is still younger than the size of the mushrooms above, because when I saw him he was still not as tall as the mushrooms above.But the shape and type are also the same, namely white mushrooms which have very good beauty but among some of these mushrooms grow around the grass So I am also interested in the beauty of them growing on the sidelines of the grass to combine the color of white mushrooms with green grass, which is very suitable for us to see.

Those are some beautiful mushroom displays from me this Friday, as we have seen above that these white mushrooms are very clean it looks so bright the colors are really beautiful on the mushrooms. I think this mushroom has a special name or Latin name but I don't know what the Latin name of this mushroom is, in my area it is called a white mushroom because the color is so bright white. Maybe there are other friends who know about the Latin name of this mushroom, please let me know because if I know the Latin name, the knowledge I have about this mushroom is getting wider, of course the more useful it is for me. So if there are suggestions from other friends, please write them in the comments column so that in the future I can show something even better than this.
My deepest gratitude to friend @ewkaw who has opened this space as a very useful space for all of us to add knowledge and insight about mushrooms. Then my thanks also go to other seniors in the #FungiFriday community who have supported me. So in writing this article I used my own language and then I translated it into English with the help of Google translate, if there are one or two wrong words, please forgive me because I didn't do it on purpose. Thanks.


| Photography | Mushrooms |
| --- | --- |
| Camera Used | Smartphone |
| Model | iphone 6 s + |
| Photographer | @mnurhiver |
| Location | Aceh, Indonesia |
---
---