Fungi Friday || Two Kinds of Beautiful Mushrooms In Early June || June 3, 2022
Hello, how are you all friends in the #FungiFriday community. Hopefully we are all here always in good health and well and can also participate in activities smoothly.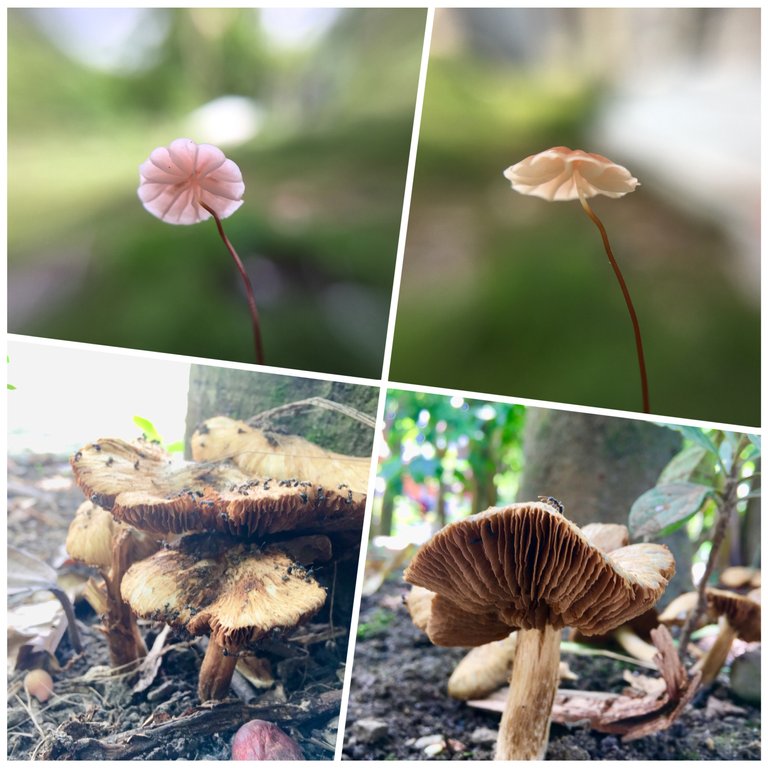 MUSHROOMS

This Friday is the first Friday in June, which we always long for Friday for us to gather together in this beloved community. In my area in the past few days it has often been hit by winds and heavy rains, and in some areas there have also been disasters because the winds were so strong that people panicked a little more than before. But thankfully on this Friday the situation has started to improve again and I can also carry out activities smoothly as before.
On this occasion I would like to present several types of mushrooms that I have prepared in the previous few days, so when we talk about mushrooms, mushroom plants have very good potential and have very good cultivation prospects, as I once asked the mushroom cultivators I studied. they met in one of the markets, they argued that mushroom cultivation also had extraordinary profits because the prospects and opportunities were very much in demand by the community. In terms of mushroom cultivation, there are many benefits because we can take advantage of the organic waste that is around us, so if we take advantage of the organic waste, the environment will also be cleaner, beautiful and healthy. In mushroom cultivation it also doesn't require so much large land, we can do mushroom cultivation in a narrow area such as indoors as mushroom farmers have done. Mushroom products are in great demand by residents because mushrooms have the benefit of adding nutrition and can also make a very tasty food menu for consumption.
As we know, many people are looking for mushrooms because mushrooms are one of the plants that are highly sought after by residents who have high nutritional value and as we can see in restaurants or in restaurants, there are also many who make mushroom products for their menu. special food in the place. Mushrooms do have a delicious taste so that they have sufficient nutritional content in them for human health. This can also be an alternative as food.
I once visited a place to see how the farmers cultivate mushrooms, when I went to this place it was a very long time ago at that time I was still studying in one of the places and I visited the communities that cultivate mushrooms. I saw them cultivating mushrooms in the dregs of oil palm in the area, their mushrooms thrived which was very beautiful when we saw the shape and color of the mushroom. Besides them cultivating mushrooms that grow on oil palm, I also saw them cultivating oyster mushrooms because for them oyster mushrooms have a vegetable protein content value of 10 to 30%. Oyster mushrooms can also be consumed using a mixture and can also be processed into chips that have an extraordinary taste. Actually there are many types of mushrooms that can be consumed and there are also some mushrooms that cannot be consumed. Of course for mushroom cultivators they know better about what mushrooms should not be consumed and what mushrooms can be consumed.
I am also one of those people who like to eat mushrooms, again I think mushrooms have a very good taste for us to consume and also have very high nutritional benefits in them. It's true that for now I rarely eat mushrooms but when I was living with my parents, they very often bought mushrooms and made them as an extraordinary food menu. All right, my friends, I want to show you the two types of mushrooms that I have.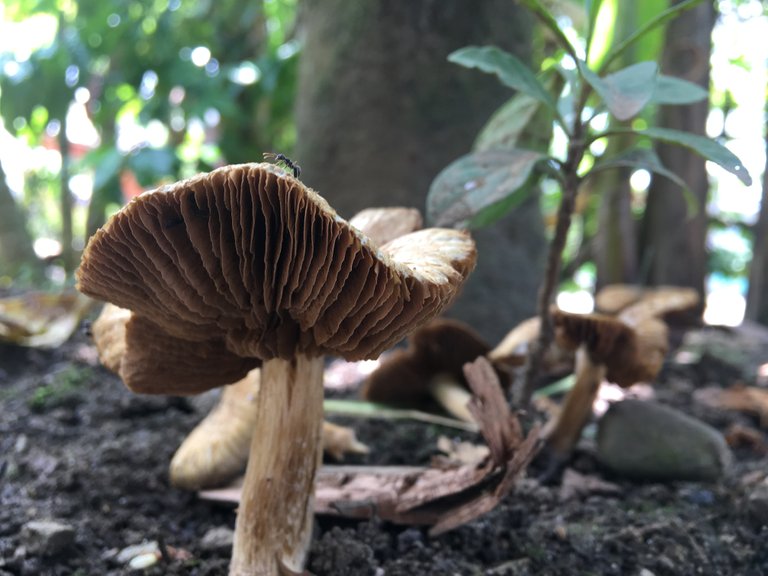 MUSHROOMS
---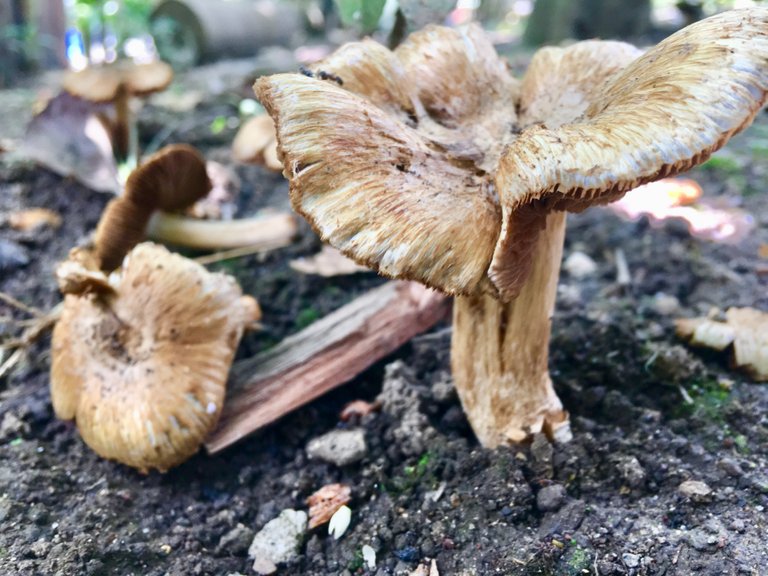 MUSHROOMS
---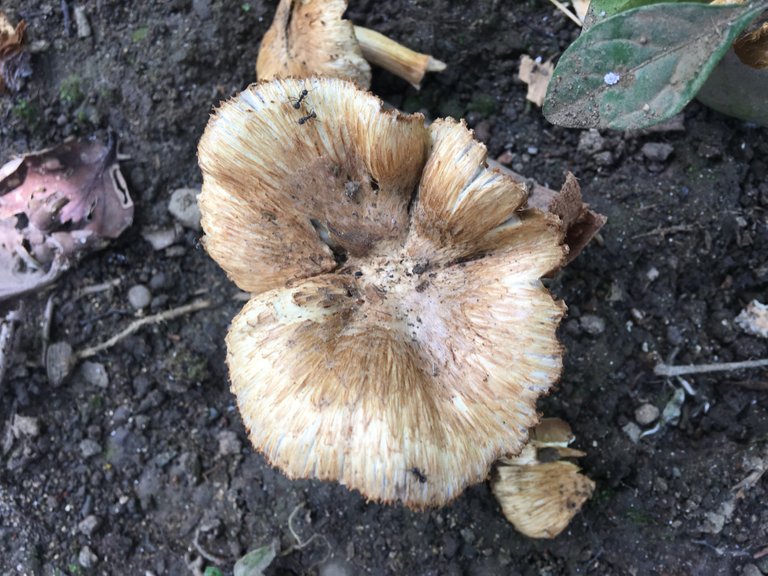 MUSHROOMS
---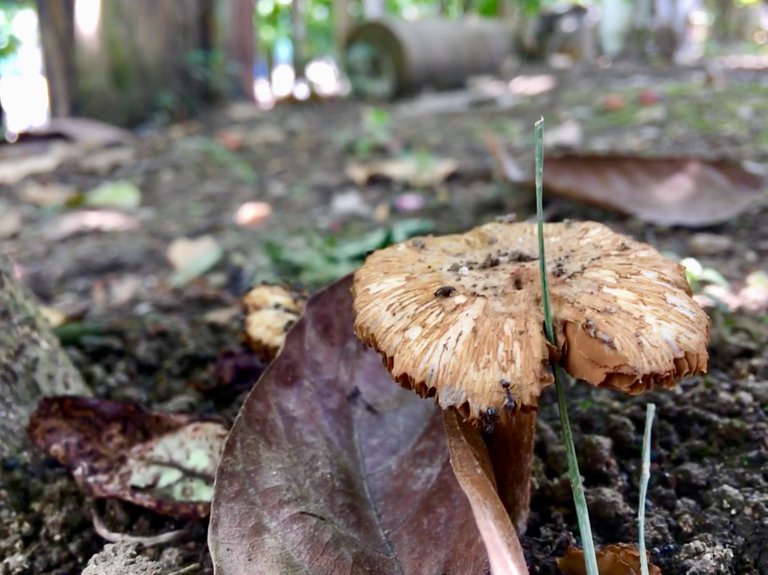 MUSHROOMS
---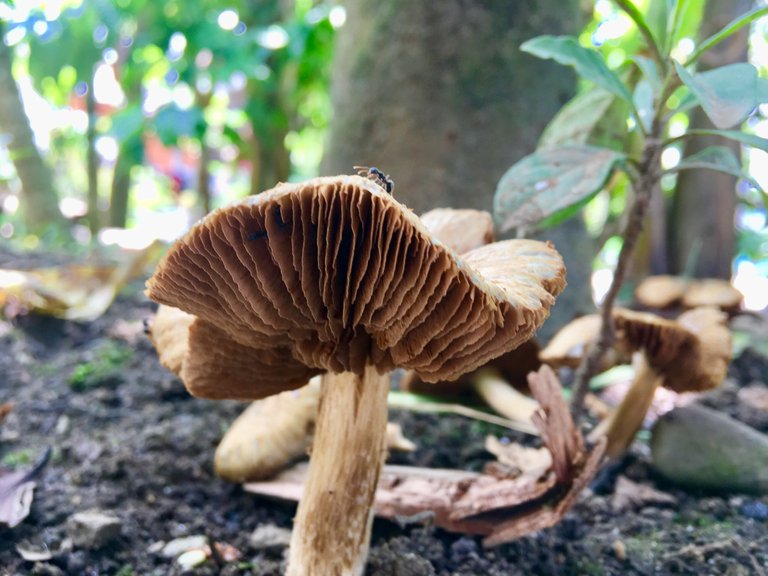 MUSHROOMS
---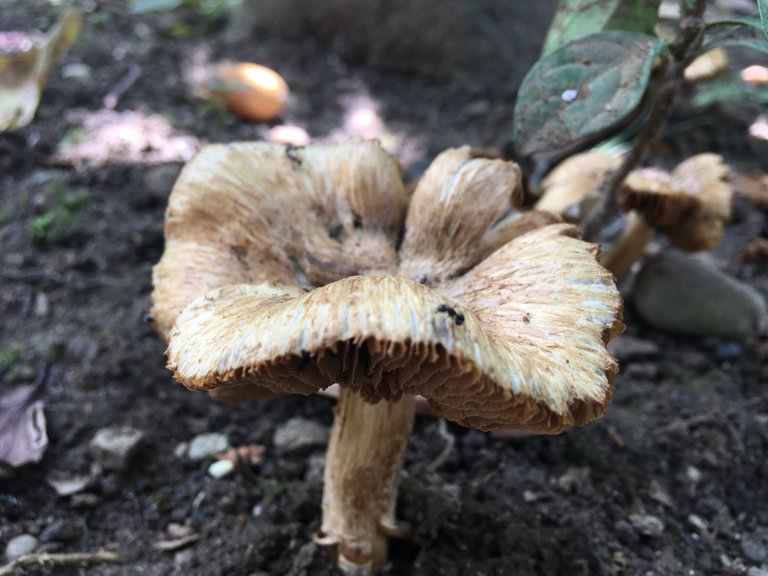 MUSHROOMS
---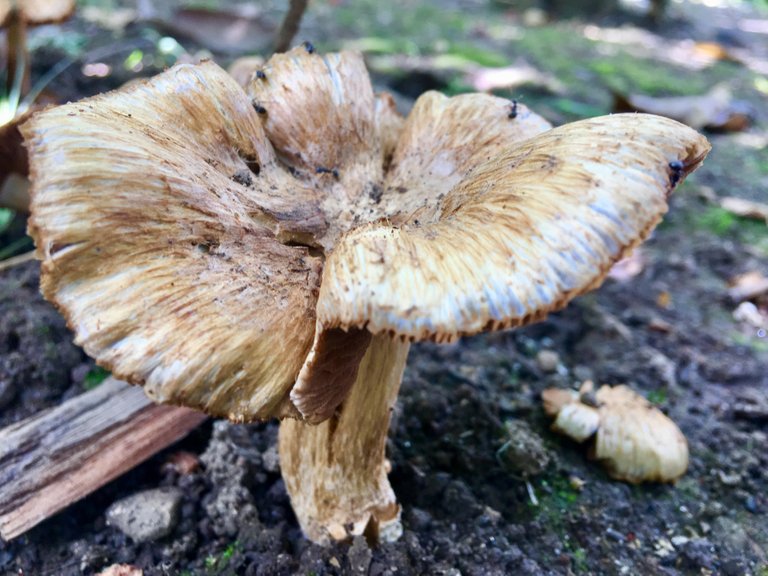 MUSHROOMS
---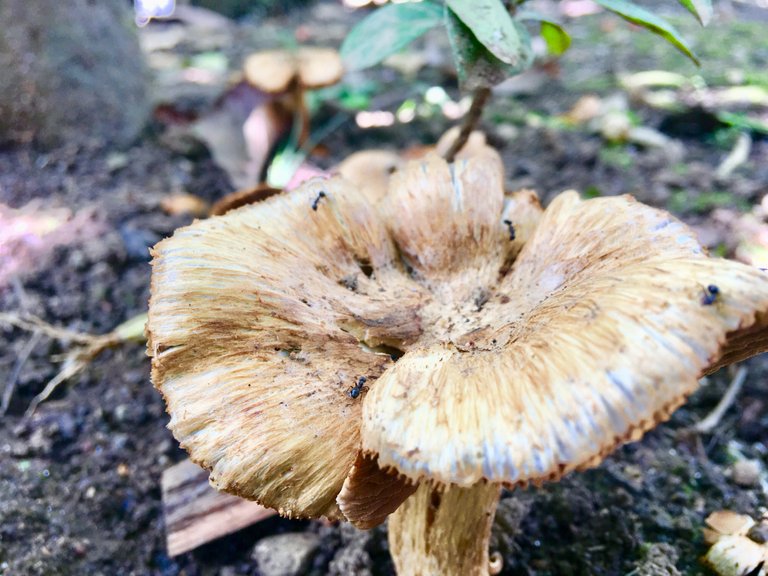 MUSHROOMS
---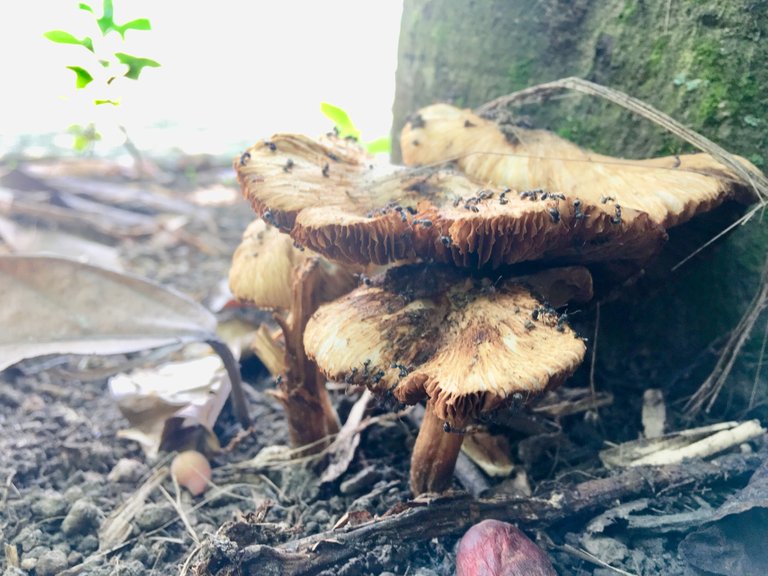 MUSHROOMS
---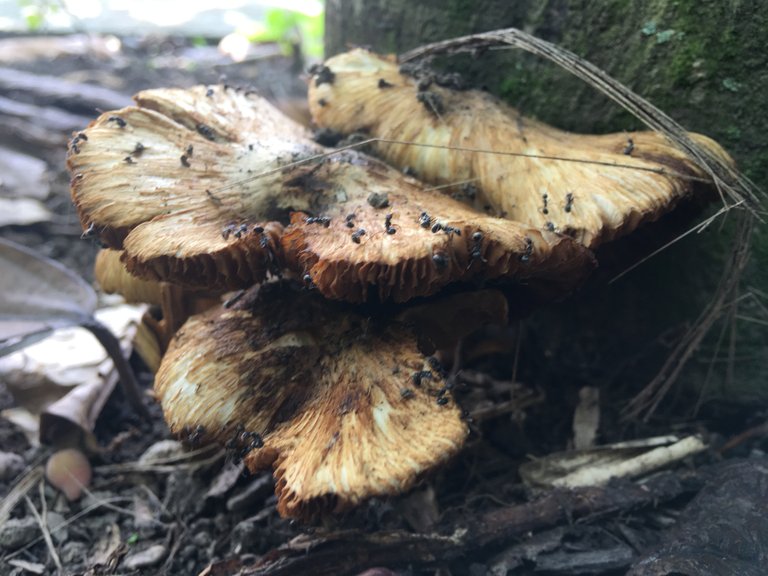 MUSHROOMS
---
I found this beautiful mushroom in one of the places where there are a lot of banana trees on the outskirts of the place. The stem of this mushroom is very large compared to other mushrooms and at the top of this mushroom is also almost the same shape as an umbrella when it rains. For the beauty of this mushroom it is indeed very charming for us to see because we can see it clearly from the motifs on the mushroom because this mushroom has a larger size than ordinary mushrooms. The mushrooms grow on the ground and they have some stems around them that grow very well so I was intrigued when I saw some of these mushrooms which were so beautiful. I took a picture of this mushroom using my Smartphone without using the lens on the rear camera.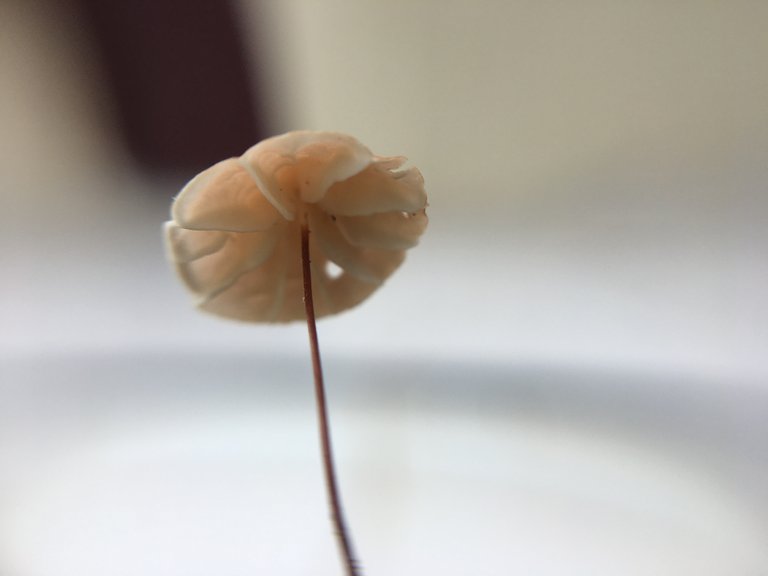 MUSHROOMS
---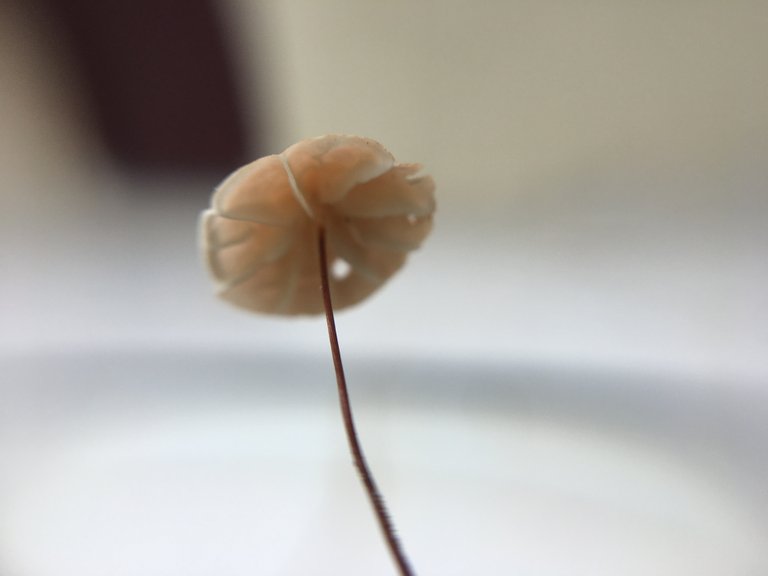 MUSHROOMS
---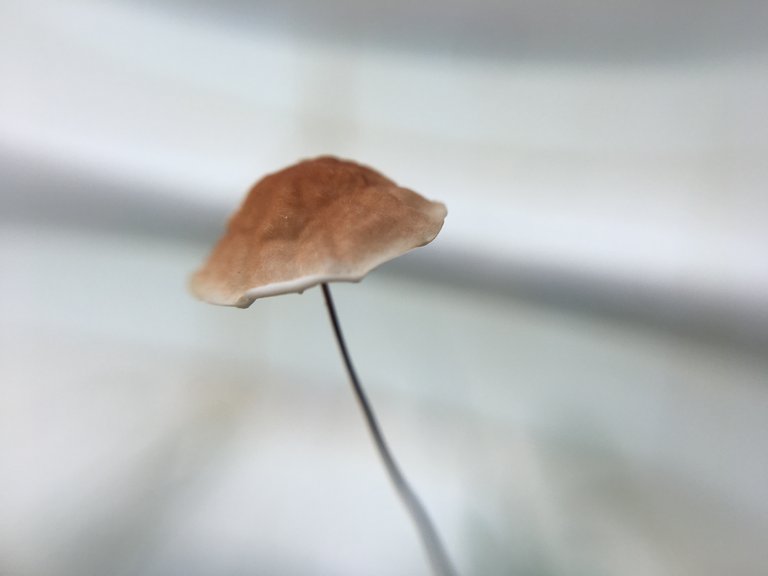 MUSHROOMS
---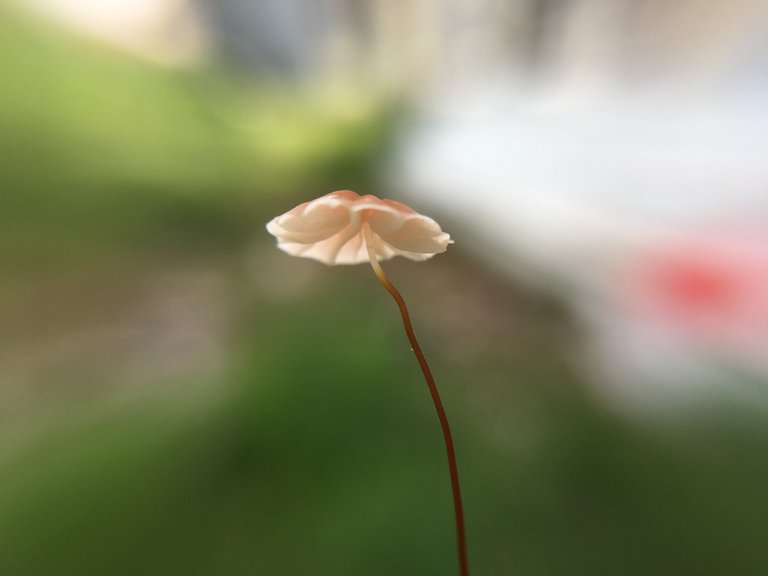 MUSHROOMS
---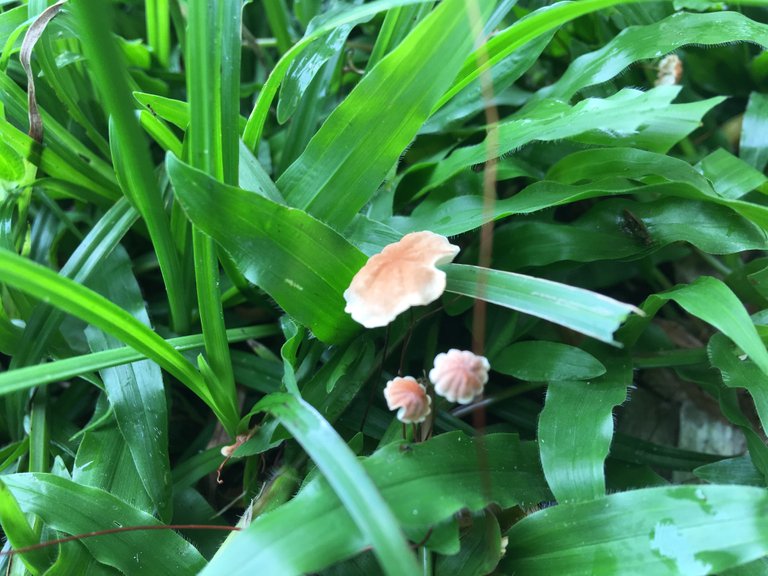 MUSHROOMS
---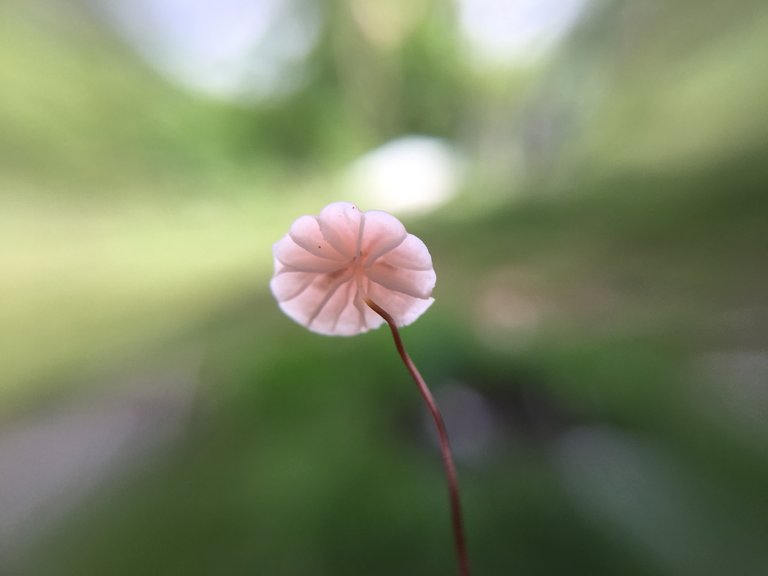 MUSHROOMS
---
This second fungus I found around the weeds in a place. This mushroom has a very small size compared to the first mushroom I shared, in terms of the stem of this mushroom it also has a very small size that holds the top of the umbrella of the mushroom which is quite large but has extraordinary beauty with its motif. So when I took pictures of these beautiful mushrooms I used a smartphone but I put the lens on the back of the camera so that these mushrooms are seen more clearly because they have a small size so I have to use a glass lens to see them clearly. Mushrooms like this although have a small size but the motif of the circle of the mushroom umbrella has a very beautiful motif so that we can feel how its shape is very charming for us to see. When I took these mushrooms, the condition of the soil where they grew was very moist for a few days, so these mushrooms could grow optimally around the grass.

Well, friends, those are the two types of mushrooms that I have shown you, which have extraordinary shapes and postures. As we know, I live in Indonesia, where Indonesia is also one of the areas that has extraordinary biological or plant wealth. I'm just looking for pictures of mushrooms that are around where I live or in a place not far from where I am. Maybe if we look for mushrooms around the mountains in Indonesia, I think it has many types of mushrooms that are very beautiful because Indonesia is also one of the countries that has an extraordinary wealth of heart and also natural resources such as extraordinary plants.
Maybe that's all I can write and show to my beloved friends in the #FungiFriday community, I hope that the posts I share are useful for all of us. My thanks to all friends who have joined this beloved community, don't forget to also say a big thank you to @ewkaw friends who have developed this community, in this community we can learn together and add insight, this is very important for all of us who are here. In writing these words, I designed them in my own language, then I translated them into English using Google Translate, so if there are words that are wrong, please forgive me because I didn't do it on purpose. My intention is still to show the best for all of us in the #FungiFriday community. Thanks.


| Photography | Mushrooms |
| --- | --- |
| Camera Used | Smartphone |
| Model | iphone 6 s + |
| Photographer | @mnurhiver |
| Location | Aceh, Indonesia |
---
---