Holybread: Pre-Registration, Gift & How to register

Holybread is a new RPG sytyle browser-game on the Steem.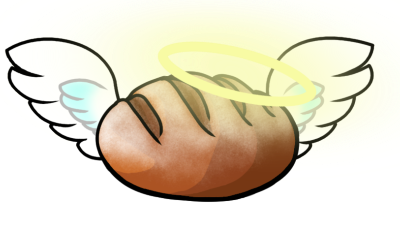 An RPG Style Browser-Game on the Steem Blockchain
Its test round was run from 19th of December 2019 to 2nd January 2020. Only limited players were white-listed to play this game, and as I shared my experience in my previous post, Games on Steem: Holybread, I enjoyed this game a lot and witnessed many changes, updates and improvements in the game during the testing period.
As per announcement in the latest post from Holybread's official account, @holybread, players now can pre-register with the game.
Are you ready for Holybread? | Log in now for a special gift!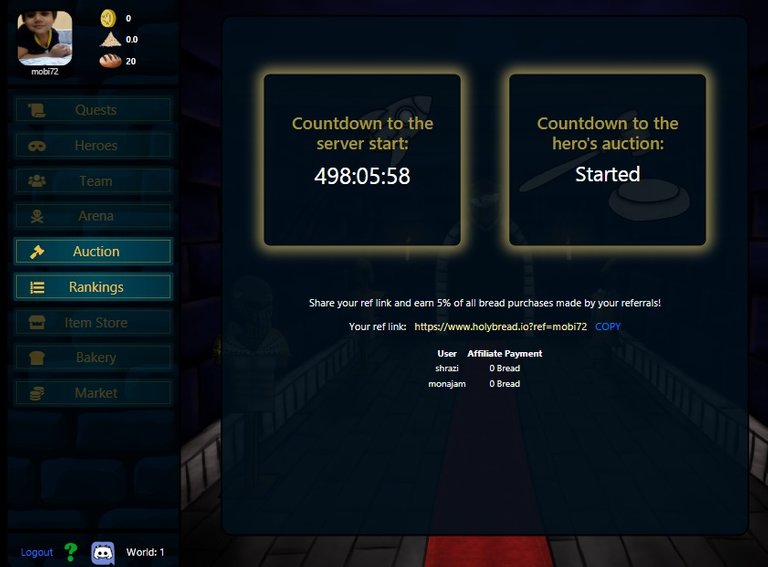 You can click Holybread.io right now for the pre-registration or you can do it after understanding the highlighted options by reading the rest of the post.

Pre-Registration
Sign-Up:
Same as many of the applications on Steem Blockchain, Holybread also gives two options for the Sign-up.
Steem Keychain
Steemconnect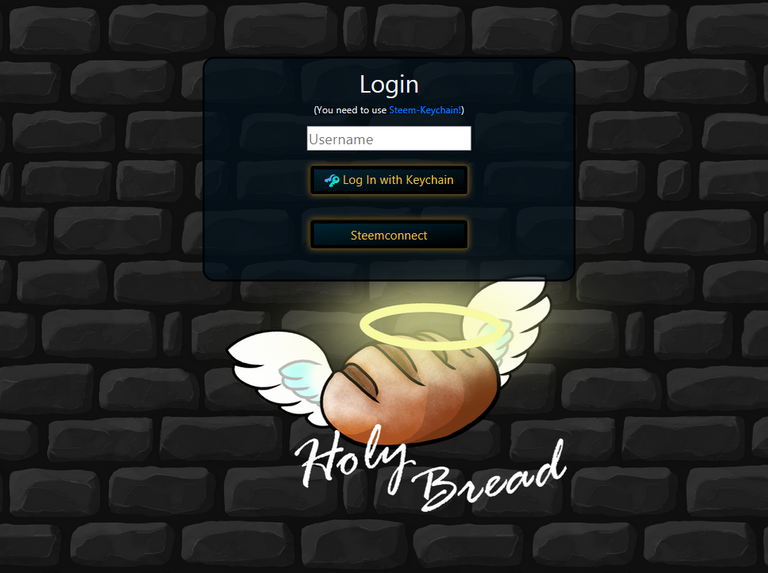 You can use any one that suits you better, and you are comfortable with.

Auction:
First highlighted button is "Auction". Currently, Holybread is running an auction for 2 Legendary and 4 Epic Heroes.
This is the first of three rounds of the auction. As I mentioned above, you can bid for Legendary and Epic heroes in this round.
There are four rarities of heroes in Holybread...
Common (5% more of a specific buff)
Rare (10% more of a specific buff)
Epic (15% more of a specific buff)
Legendary (25% more of a specific buff)
The better the buff of a hero with the higher percentage, the more powerful the player will be.
Every player will be given a Common Hero when the game starts. Rare, Epic, Legendary Heroes can be recruited in the game. These heroes, in the Recruit, were used to be changed every hour in the test round, I am sure, this would be the same in actual game, so every hour you'd be getting the chance to recruit a new Common or Rare Hero, but it'd be quite difficult to get an Epic Hero and it'd be harder to get a Legendary Hero.
So, IMO, this is a golden chance to bid and get an Epic and/or Legendary Hero.

Ranking:
Ranking shows total Levels of all the Heroes a player has, Number of his Heroes and the Breadcrumbs (Another in-game currency) a player would be getting every 15 minutes. For the time being it is just showing all the players who have registered so far.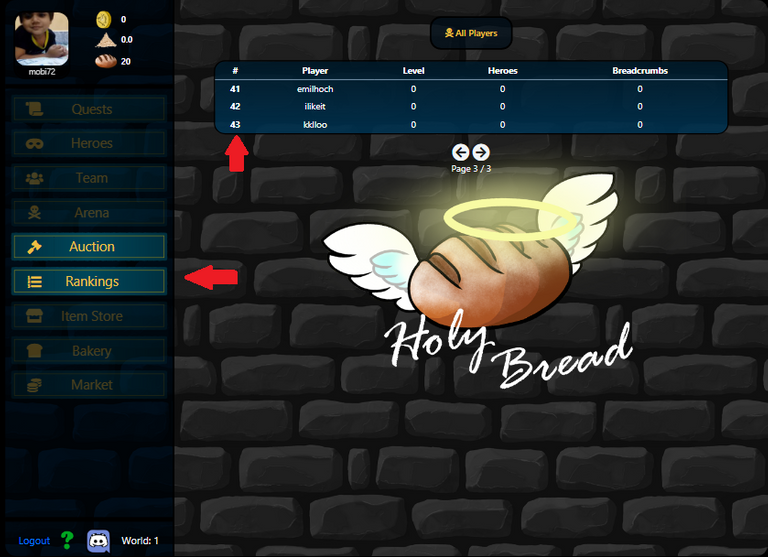 There were 22 registered players when I started writing this post, and 43 when I took this screenshot, this number might be different when you check it.

Referral:
When you login with the server for the pre-registration, it'll first show you the gift. When you click it okay, on the next window, you'll see two countdown boxes, first one is showing the remaining time when the game server will be started and the second one is announcing the Start of the First Round of the Auction (see second image of this post), and the third important detail is your referral link.
You can use this referral link to invite other players in the game.
Last but not least you will see your referral link which you are able to use to gain 5% lifetime revenue on all bread purchases (premium currency).
Source: Are you ready for Holybread? | Log in now for a special gift!
If you have already logged in with the game and forgot to save your referral link, you can check it back by clicking on your profile image.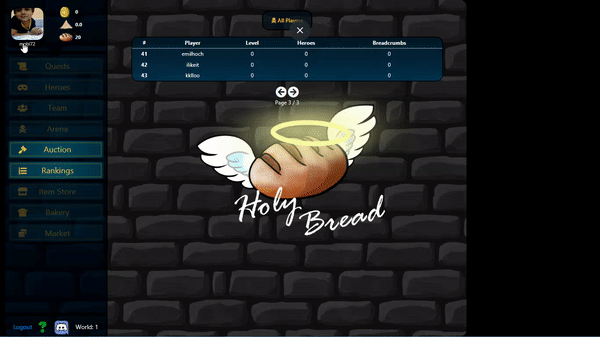 Here you can also check, how many players have registered with your referral link and your share in Breads.



---
---