DIAMOND 2 LEAGUE UNLOCKED WITH 50 LOOT CHESTS FOR SEASON END | QUEST REWARDS
Hello Splinterland warriors!
How are you all guys hope you will be blessed and fine. In today's post, I will be sharing the quest rewards of today along with a new achivedment unlocked where i reached the diamond 2 league after winning some hard battles that you can see on my battle log.
TIRE ADVANCEMENT
Here you can see the tire advancement badge which gives me some nice perks for daily quest and also for the season-end rewards. On daily basis, until the season end, i will get 12 loot chests for the daily quest rewards as well as i will earn some extra DEC tokens per battle-winning because of the diamond 2 league, and at the end of this season if i stay here i will get 50 loot chests rewards so this is not the end of the season still few more days are remaining so i will try to reach at least the diamond 1 league to unlock the 60 loot chest for this season.

MARKET CONDITION

What do you think about the price of the hive as it is following the king of crypto (BTC) which dumped a lot in the last week and still going on towards the wrong pathz I did a mistake 3 days before i converted 80% HBD to the hive with 1:1 price when hive and HBD at the same price or when the hive was in 80 cents price and got nearly 400 hive but i saved some HBD that i converted today and got 180 hive so still not yet recovered the loss of HBD conversion if i hold that HBD for today i will have 1000+ hive but now i have nearly 600 hive so 400 hive loss no one knows the crypto market and never put all of your funds in one coin or at once.

QUEST REWARDS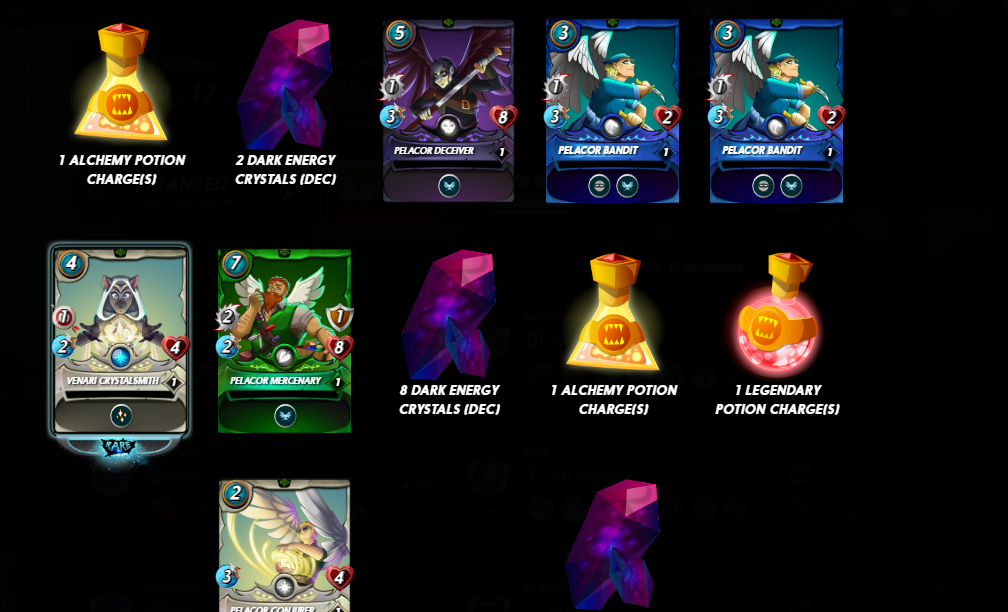 Well, as i said the market is red and the hive dropped -16% in the last 24 hours while -50% in the last week so now the value of the upvote will be low and maybe lots of users will stop posting because of the red market and low earning. I gave sometime today to the splinterlands game and won some nice battles from max level opponents and finally unlocked the diamond 2 league where i claimed the quest rewards and got 12 loot chest but with worse rewards that you can see in the snap that is enough for today will see you tomorrow and pray for the hive price to reach back to its old price.

All images and animations are from the Splinterlands blogs and website

If you are new to this game then signup here to play the game click here for signup
---
---
Thanks For visiting my Blog
Best Regards @moeenali
---
---