124 LOH: My Favorite Herbs
Hello wonderful people in this amazing community, hope you all have been doing great? Welcome to my blog, my participation this week will be an answer to question two which is to talk about my favourite Spices and Herbs

Source
There are many types of spices and herbs in Nigeria that are use to cure different sicknesses and diseases, when one gets to herbal shops you get to see numerous types which you don't know that exist. My Mother is a lover of spices and herbs, she uses them for us a lot while we were young. So I got use to the following three herbs through her and I can call them my favorites which I still use till date.
Basil Leaves (called Efirin in Yoruba Language)
Basil leaf also called Scent leaf is one of the popular and important herb plant in Nigeria which grows at any moist place around the house. I love eating basil leaf because it isn't bitter at all, the taste is just like vegetable and the delicious flavour that it adds to food is heavenly.
We use it alot for relieving constipation, the fresh leaves can be chewed raw, sliced into food or squeezed to get the juice. When the leaves had been squeezed, one can drink the juice and air dry the remaining squeezed leaves. When dried, it can be stored in an air tight container which can be use for cooking stew, soup, rice or noodles.
Basil leaves became my favorite in which I can't do without using it in two days, I know the leaves has lots of benefits but I majorly use it to aid digestion.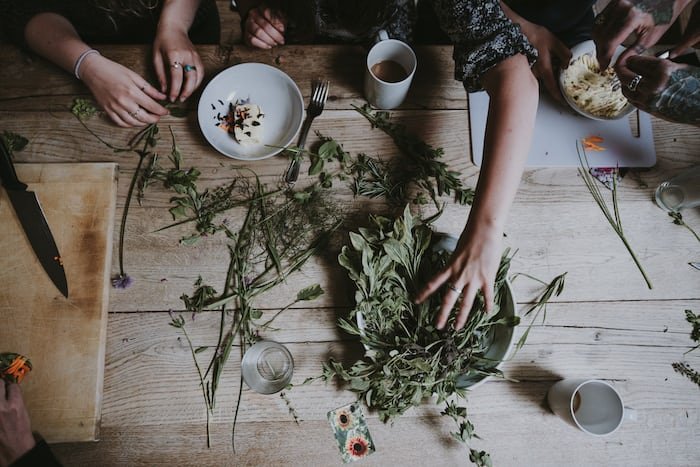 Source
Bitter leaves (called Ewuro in Yoruba Language)
Bitter leaf is one of the commonest herb plant in Nigeria, almost every house uses it here. Just touching the plant alone can leave your hand very bitter for several hours, so either when eaten raw or drinking the juice when squeezed is very bitter. But the magic in it is that, once you finish eating it, your taste bud would change from bitterness to sweetness.
Sometimes ago when Mom needed to loss some body fat, she use the juice as a daily dose and it helps her to reduce excess calories in her body. Consuming bitter leaf helps in the treatment of skin diseases like rashes and eczema, it also helps to clean vital organs of the body like the kidney and the liver. I do chew it once in 2 weeks to boost my immune system and help fight toxification and I also use it went I have dysentery
Neem leaves (called Dongoyaro in Yoruba Language)
Neem tree is a herb with numerous health benefits, almost all part of Neem tree is medicinal. The Neem leaf extract which can be made by boiling some fresh Neem leaves in water till it softens and discolored the water to green, can be use as mouth wash, this helps to solve dental plaque.
When I was much younger, Mom do have tooth ache a lot, so a herbal practitioner prescribe the Neem leaf extract for her to be using every week, but the herbal practitioner told her that once she is relieved, she should reduce it to once in 2 weeks or a month.
This prescription worked for her, so since then she has made it a monthly routine for us to rinse our mouth with Neem leaf extract so as to prevent tooth ache. I must say the Neem leaves extract is extremely bitter, I really hate the taste. But it has become my favorite because of it healing benefits cause it also help to cure fever
Those herbal medicines that I've mentioned above have become my favourite because it has really saved me from sicknesses.
Thanks for reading and Happy International Women's Day
---
---