June Garden Journal: Reaping, Sowing Curcubits, Brassica update, Scapes- amongst others

June is moving very swiftly. Before it ends - I would like to submit my first garden journal post. I am learning so much as my garden grows and I'll share my journey with you.
For anyone visiting my blog for the first time - I live in the city and have a table garden on my balcony/terrace, with planting space of 120cmX120cm with capacity to plant 16 different vegetables. However, I had expanded with grow bags and various types of pots.
My garden actually have a name, I call it Happy, Healthy, Green. This name was to embody what I wanted it to be in reality. However, every plant has a life cycle - seed, seedling, mature plant, fruit or seeds. Right now, the peas section of my table garden looks like this: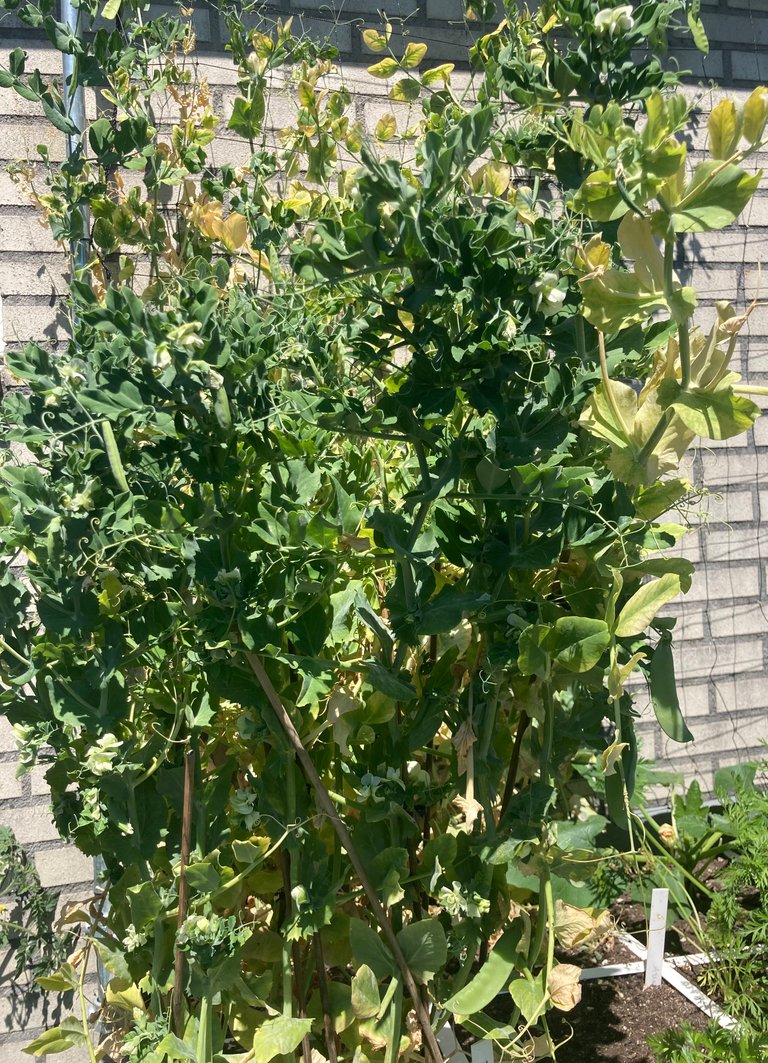 This photo does is not looking so healthy, happy or green. The life cycle is at hand. All energy is going to the maturing peas. I will remove the last pods from the winter and snow peas (at the back by the trellis) and the entire plants today. The sugar snaps, in front, are still looking healthy, but their days are also numbered.
I have accepted that my garden will not be green all the time. Afterall, there is a time for reaping and a time for sowing. However, I must admit that I will miss all the beautiful green plants.
Saying goodbye to the beautiful white flowers of the pea plants,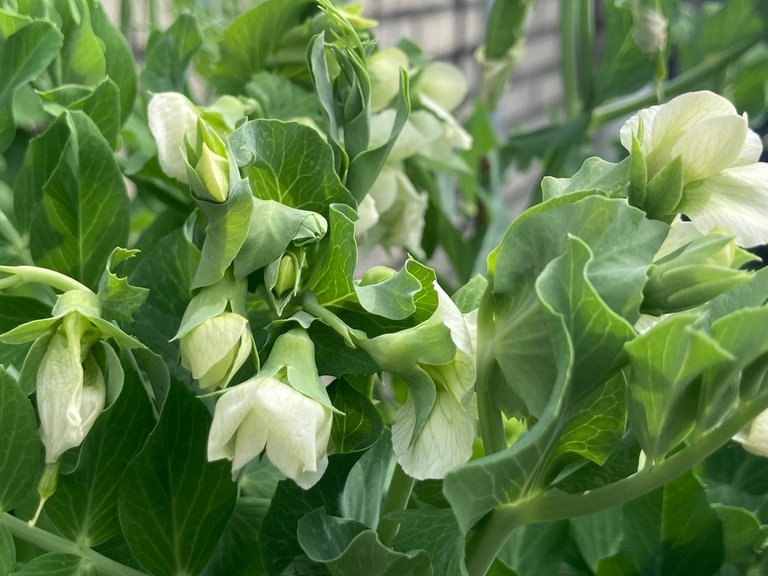 flowering snow peas
or the lovely curved or curly lettuces, was not easy. The lettuces were beginning to flower or were bitter.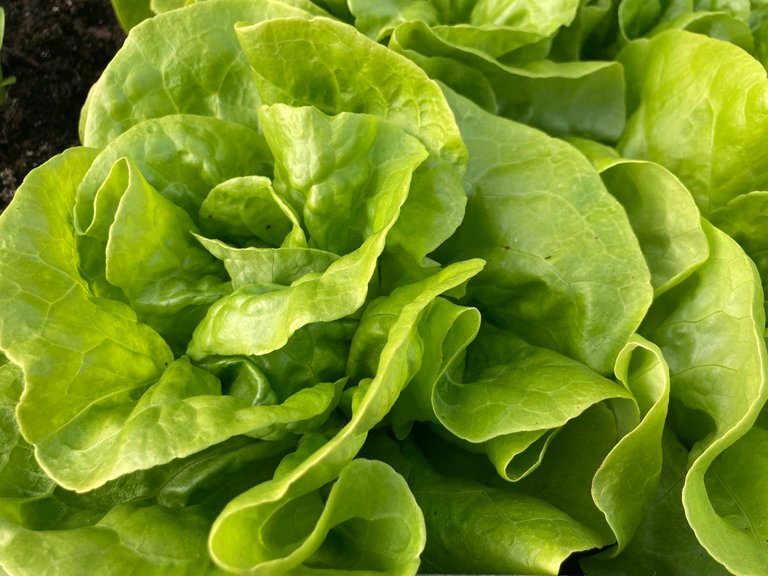 curvy lettuce leaves
However, plants removed from the table garden means new plants will be sown. I have planted pak soi, romaine lettuce, cilantro, swiss chard, lettuce and curcubits (curcu-what? It will be explained below).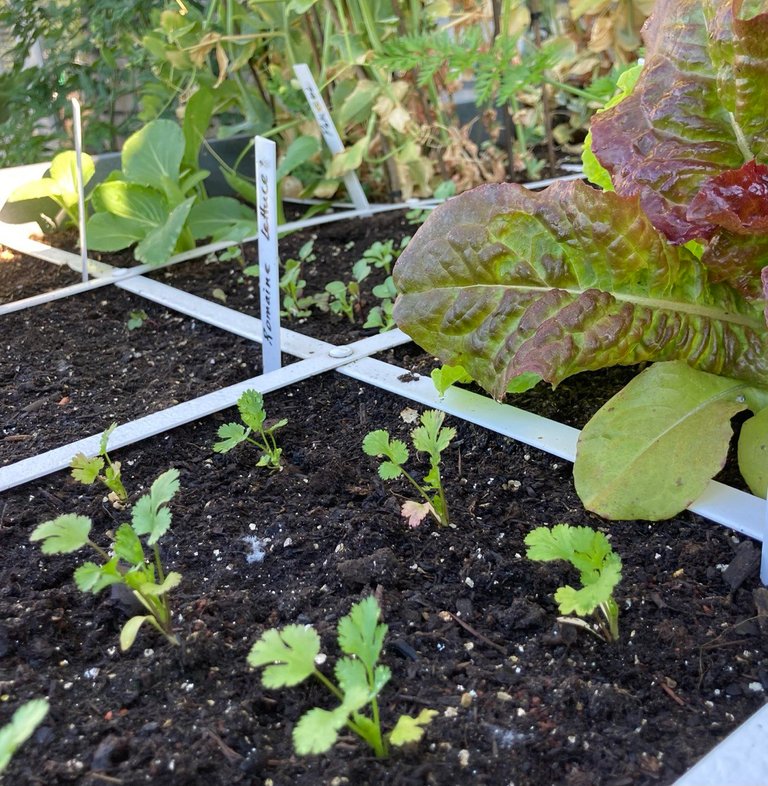 Plants needing support-trellis or stakes?
Tomatoes
Rain is one thing, but stormy or windy weather is another. The weather was unpredictable, so I kept the tomato plants inside longer than normal. I was afraid that the winds would break them all. They had already "hardened" sufficiently and were ready to handle whatever mother nature threw at them – but not stormy weather.
Hardening off plants is the process of acclimating a plant that has been grown indoors to an outdoor location. This is necessary to ensure that seedlings or transplants are strong enough to endure harsh and fluctuating weather conditions, which they won't have experienced while growing indoors.
Now the tomato plants are happily in their new home – grow bags supported by my home-made trellis - hanging sisal cords. I could have used stakes but this seems to be easier. I can tie a loop around the plant and hanging sisal cord for support as the plant grows. As this is the first time that I am planting tomatoes - I am so excited to see these young green tomatoes.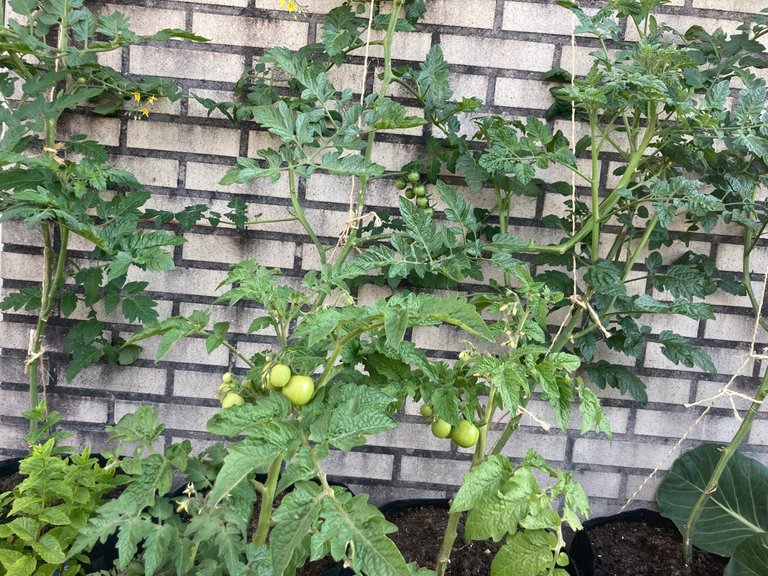 I must admit that it was hard to trim away the lovely green stems and leaves despite knowing that the yield will be better. After the above photo, I removed more unproductive leaves.
Curcubits
First take a look at this photo - doesn't all the plants look similar?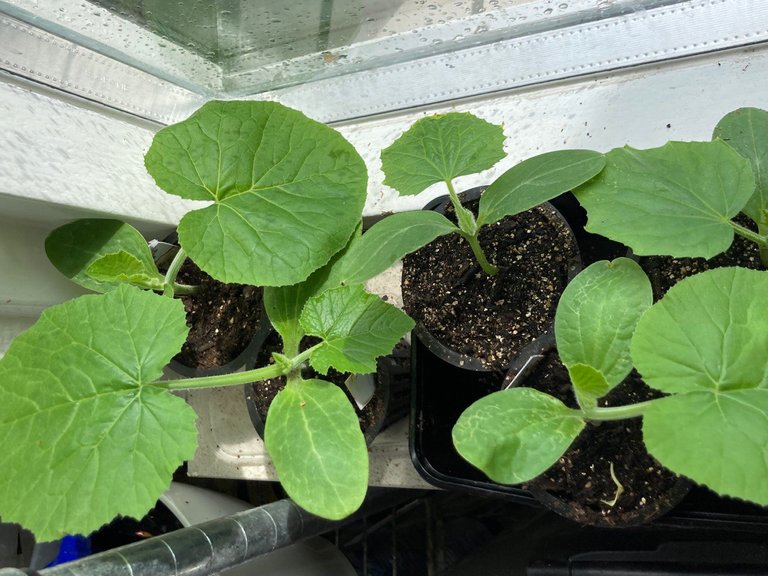 Well, the curcubits in this photo are cucumber, zucchini and pumpkin.
According to the Merriam Webster dictionary -
Curcubits are:
: any of a family (Cucurbitaceae, the gourd family) of chiefly herbaceous tendril-bearing vines including the cucumber, melon, squash, and pumpkin.
All curcubits produce yellow male and female flowers which need to be pollinated in order to produce fruits. Bees or insects most often visit gardens in the morning. (If you use pesticides in your garden – avoid spraying in the morning. It will scare the pollinators away.)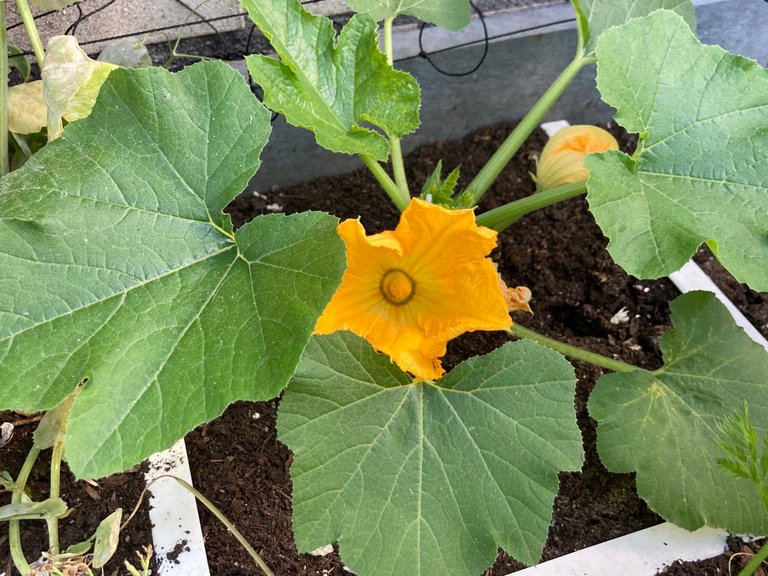 DIY trellis for the curcubits
As I only have 4 spots in front the trellis in my table garden - I will plant some of the curcubits in grow bags. I could have bought an extra plastic trellis but my youngest daughter and I made the trellis in the photo from the same sisal we hung for the tomatoes. We even went as far as boiling tea and coffee to darken the sisal trellis. We are prepared for when they are ready to start climbing.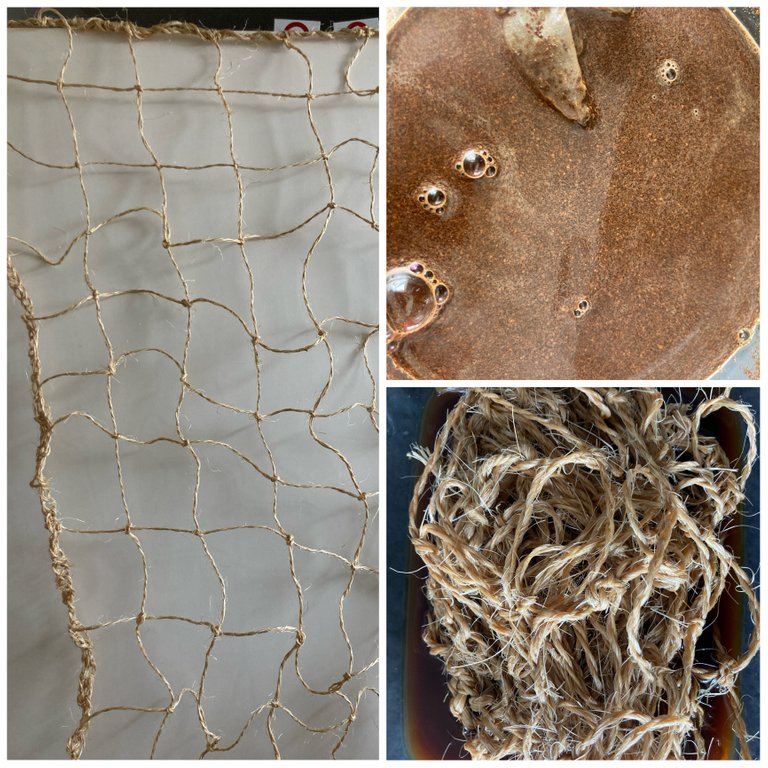 So what else is in my garden?
Cabbages
I am also excited about the cabbages – I know I said that about the tomatoes but I feel the same about the cabbages.
Who plants cabbages on their city balcony? Well, I do.
I love experimenting and watching the miracle of growth. This is my first time planting cabbages and the plants are quite large. There are 5 plants from seedlings bought at the store and 2 grown from scraps. After a bit of drama with caterpillars - my home-made solution was successful and my cabbage plants seem to be thriving. From the photo you can see – the cabbages have finally begun to fold!!!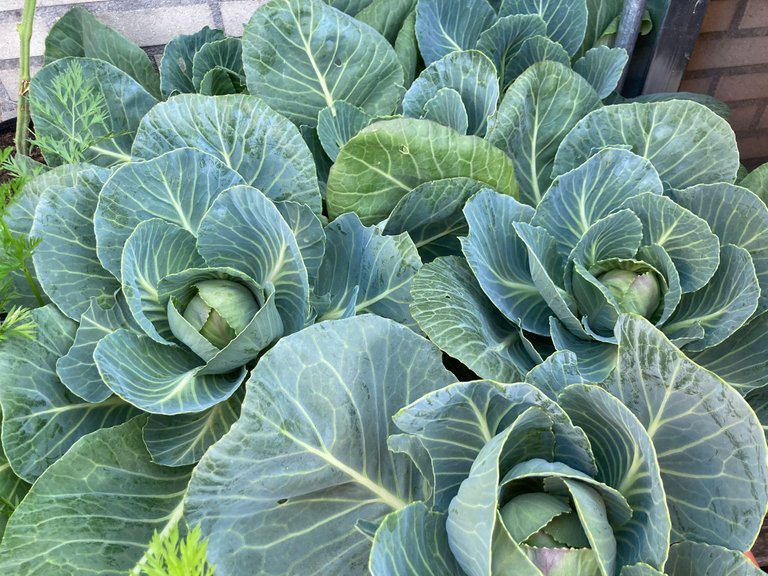 Scapes and Garlic
Some of the garlic plants died but the survivors are quite sturdy. Scapes were protruding. Scapes are long stems with a flower bulb, growing out of the garlic. It has to be harvested in order not to deplete the quality of the garlic, making them small and tasteless.
I chopped them up and added them to a stir fry.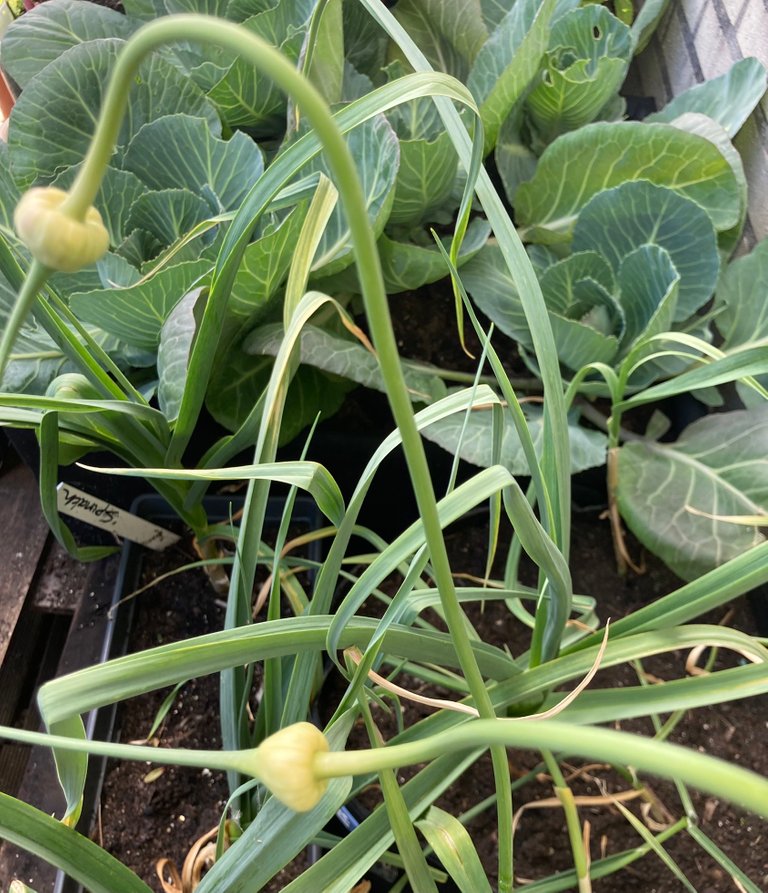 Peppers, carrots and propogated plants
There are now baby peppers appearing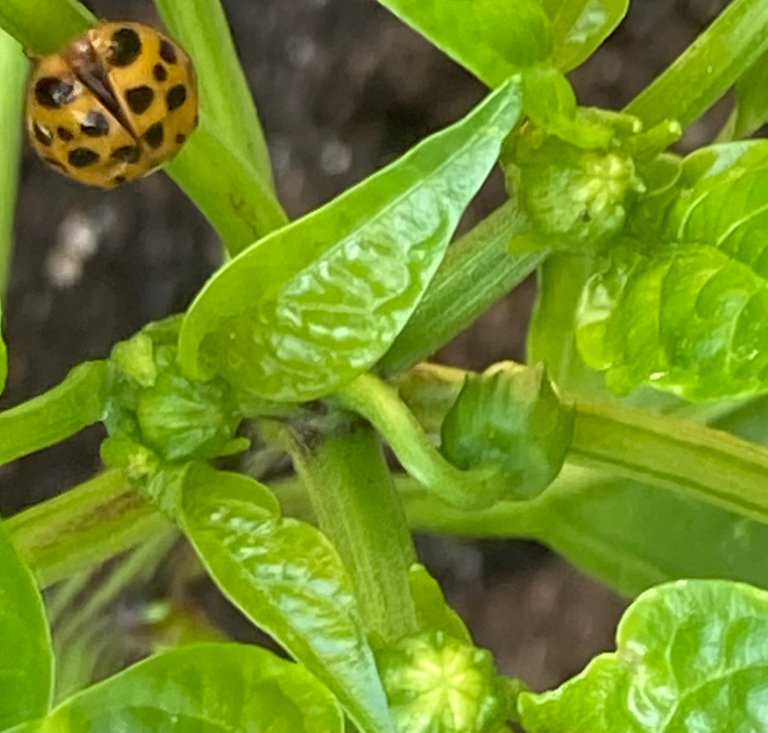 and the carrots are so green.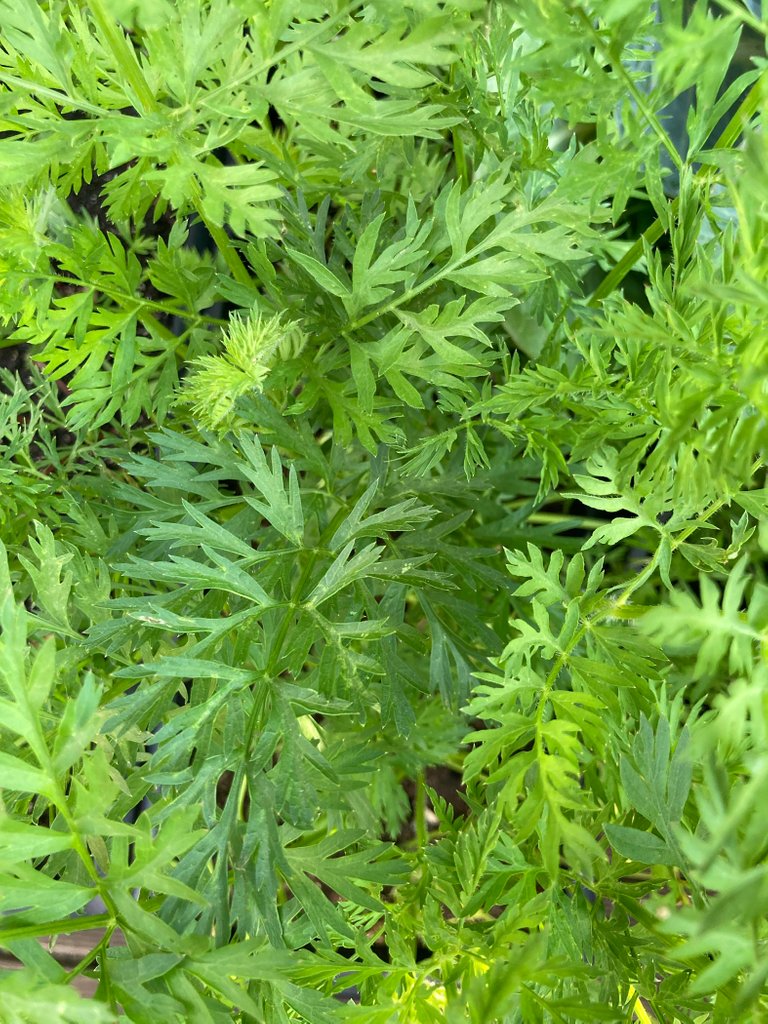 The propagated rosemary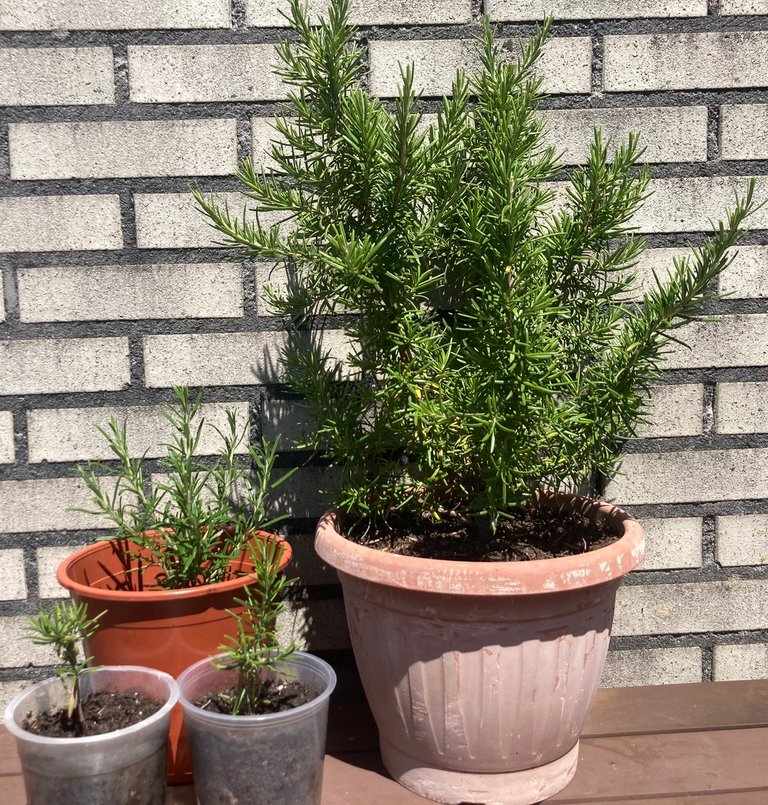 and thyme, look as though they have firmly rooted and will survive.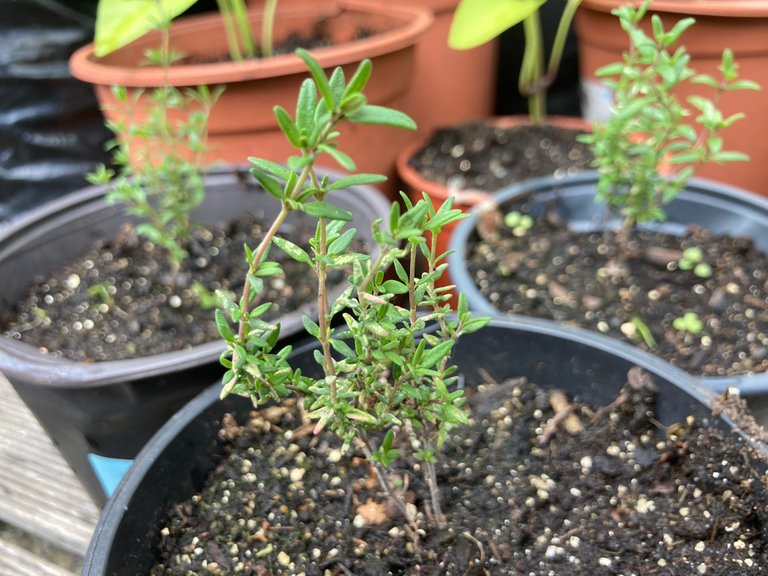 I heard it is hard to grow thyme but so far so good.
Delicious strawberries
At least daily, I pick a handful of strawberries; something to look forward to every day. I have several varieties and will therefore have strawberries until September.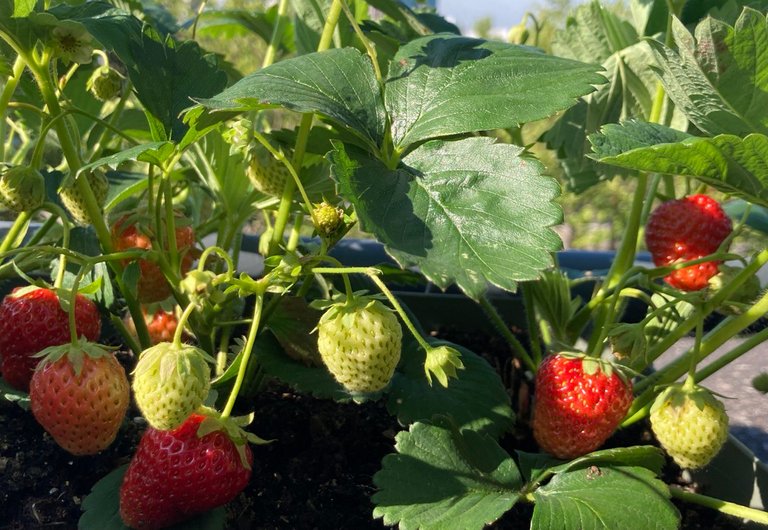 Here is my handful - picked for this post today.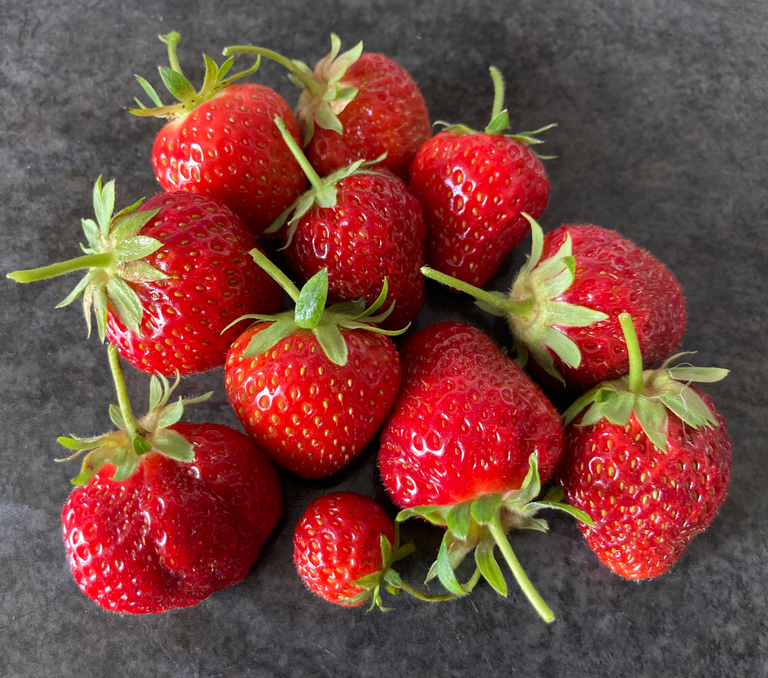 My trusty mint bush
I cannot end this post without mentioning my mint bush. I haven't mentioned it before because it was planted a while ago. I had it in a pot, now it's happier in a grow bag which is better for the roots. It is growing like weeds. 😀
I think in a prior post – I referred to the lettuce plants as - the plants that keep on giving. However, to be honest that accolade truly belongs to this mint bush - the glorious Mentha x piperita. This plant dies off and goes to sleep during winter, then rise gloriously again to flourish during spring and summer. I love this plant.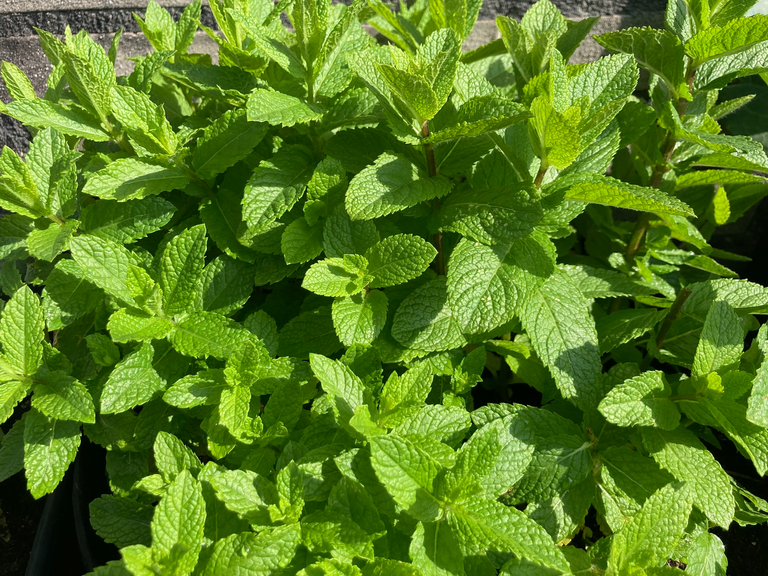 I hope you enjoyed my June garden journal.
---
---