Ladies of Hive Community Contest #83: Not child's play - Aquaphobia

Jamaica
"Ok I am going to die – but I am still so young.". These words probably best expressed my thoughts as I felt as though I was drowning on a beautiful but scary day. I was at Hellshire Beach on the Caribbean island of Jamaica with my family. I was swimming and showing off my newly learnt skills. My siblings and I had made "friends" with some of the other children our age. We were having fun.
We were close to the shore and could all stand in the sea with the water at about chest height. However, we started fooling around as some of the kids "dunked" each other in the water. Each child would break free on a timely basis and resurfaced or the kids would release the child in order to resurface. I knew it was my turn. I was scared and after being submerged - I panicked and immediately inhaled water. I was flailing around underwater but no one seemed to notice that this was serious. I thought surely my brother was there and would save me. I cannot say that I remember much thereafter. I was told that an adult intervened and brought me to shore. I was unconscious and CPR was administered and I am here to tell the story.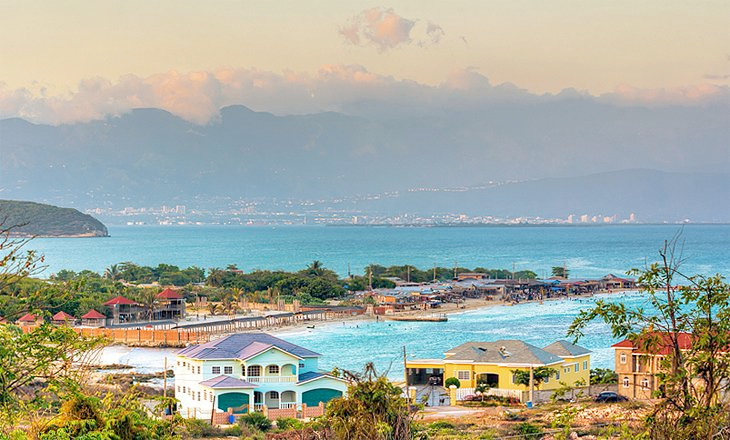 source
I was about 10 and decided to never go back into a body of water. Going to the beach had a new meaning for me. My parents never encouraged me to swim either – neither in a pool nor at the beach. My swimming days were over. My parent accepted it. I had no fear of visiting beaches or sailing and everyone was always told beforehand that I cannot swim and that I had a fear of drowning. I began to have nightmares about drowning and that my parents were nowhere around. I had aquaphobia.
Greece
All our friends and family knew but of course not strangers. Now I was 22 and travelling on my own. I was with 1 American acquaintance, Liz -that I met 1 ½ weeks before and 2 Dutch guys, Jan and Paul, that we met 2 days before in Brindisi, Italy. We decided to travel together to Santorini and we booked a day trip on a large wooden sailing ship. I told my acquaintances that I could not swim – they thought it was a pity but understood. When the ship anchored off the coast of a small island, everyone undressed. Some were thrown into the water. Others sprung into the sea by themselves. I stood on deck, watching all the action. Jan jumped in first, then Liz. Paul was chatting with some girls, we met the night before-he was still on deck. I was asked whether I would go in and I told everyone that I could not swim. Some joked and thought I was not telling the truth. Suddenly, I was grabbed from behind by 2 strangers. They were going to throw me into the sea. I froze and could not speak. I was saved by Paul who saw the panic in my face. I could hear him shouting as he summoned them to put me down by saying I could not swim. The young men apologized. I was in a state of shock and was quite anxious thereafter, but the rest of the day went without incident after the initial shock.
The Netherlands
I knew that I needed to do something to change my situation. I was now a young adult and wanted to do things other adults did without fear. I wanted to feel normal. Afterall, I did not mind being close to water - just not in it. I wished my parents had encouraged me to continue swimming instead of allowing me to wallow in my fear. They thought they were doing the right thing. I still could not face the thought of being in a body of water again as I had no control of the water. I did not really want to think or talk about it.
Despite wanting to learn, it still took 3 years after Santorini to enroll myself for private swimming lessons. The teacher was a tough but an understanding person. I wore arm, flotation waist and ankle bands. Children at the pool often stared and asked what was wrong with me. I think they were not accustomed to seeing an adult learning to swim and in this manner. This is The Netherlands and swimming mostly starts from the child is a baby to 2 years old. I did not mind. I was on a mission. It was very difficult. Once I even started to cry. I persevered and soon the bands were removed. After 30 lesson one hour lessons, I realized that the familiar knot was no longer in my stomach. I still have some anxiety.
Even recounting this story was not pleasant for me but I decided to write it last minute nevertheless.
I still need to mentally prepare myself when I know that I will be in water or on a boat. I actually enjoy sailing and swimming now but will not voluntarily jump into the ocean.
---
---