Ladies of Hive Contest #86: Extreme Poverty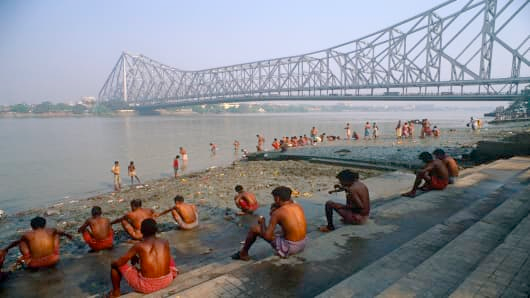 Source
Scene by the Howrah Bridge-Calcutta,India
Scene by the Howrah Bridge-Calcutta, India
This is my response to the Ladies of Hive contest 86 for the question "What is the most extreme example of poverty you have ever seen?"
---
Just when I thought I had witnessed it all – I had to re-think what poverty really is. To me there is a big difference between poor and poverty and that was the reason why I had to rethink what I thought I knew.
I've travelled a lot and I've seen poor people all over the world - nowhere is exempt. In every country, there are some people working and they're just barely able to pay their bills; but there are also people who are fighting for survival and those are the impoverished. Poor people might have a roof over their heads while struggling to make ends meet. Most people who live in poverty do not have a place to live and typically live on the streets. For them survival is their main concern. I will tell you the first scenes that come to mind when I think about poverty.
New York City
When I lived in New York City – I was surprised at the number of homeless people living on the streets. The area called Skid Row is supposedly the worst area and I was told not to go there. I did not need to go there as homeless people are all over the city. I was quiet taken aback that this was the case in this great city. People were living on the street under cardboard boxes, under bridges or in the subways. They often walk around either dressed in layers of their clothing or carrying their possessions. However, some homeless people do have access to food via shelters or food kitchen.
South Western Townships (Soweto)
I had a tour of Soweto via a tour bus with other tourists. As the bus drove slowly through the township, I could see shacks with rusted zinc or broken plastic or tarpaulin roofs and walls. Garbage and sewage were everywhere. There was not a dry eye on the bus. The entire area was not like this, but the majority was. I recall someone asking why people there had no garbage service or a sewage system. No one really responded. Survival was the most important thing, not services. I was happy that we did not see too many people as we drove through their neighborhood. No one likes to be stared at.
City of the Dead, Cairo
In the City of the dead in Cairo, the living and the dead live side by side. The real number is unknown but it is believed that approximately half a million living human beings live in the 7th Century graveyard. A small section is clean as the dwellers are paid a stipend to take care of the graves. The "lucky" inhabitants are living in mausoleums, so they have roofs over their heads. Others are just living in between and on the graves. It seemed surreal and unbelievable, but it was their reality. Humans, animals, the dead, garbage and filth - all in the same space. We were told it was much better than the Garbage City quarter. We did not go there.
Calcutta (Kolkata)
Despite the shock of what I have already described, the worse type of poverty I have seen was when I visited Calcutta, India in 2001. The city is well-known for its colonial past and there are many things that stood out in this capital city of West Bengal. Unfortunately, poverty left the most indelible impression. Most of the inhabitants are poor. The poverty-stricken people live on the streets. There were innumerable beggars, mostly children, competing for your attention. I was heartbroken.
As tourists, my husband and I wanted to see the famous Howrah Bridge. It is one of the longest cantilever bridges in the world, and it stretches across the Hooghly River. It was completed in 1943 and it is reputed for having no nuts or bolts in its structure. We went just before dusk and would wait until it was dark to see the bridge all lit up. As we walked down the street with the best view, we saw the bridge, but we also saw a strange sort of grey-black mass under and close to the base of the bridge. It is a bit hard to describe but it appeared that this mass was moving, but we were not sure what it was from afar. As we got closer and closer, we realized that the strange movements were of hundreds or thousands of people. Everyone looked grey including their clothing and their skin. At first it was a bit confusing. However, it became apparent that it was homeless people in disheveled dirty clothes which all seemed grey, despite the variety of beautiful colors worn by Indians. Maybe it was due to the dirty, smoggy air. There were people swimming in the river. There was a lot of garbage in the water. There was also a horrible smell. The closer we got the worse the stench became. It was overwhelming and I was overwhelmed. I began to cry. I had to leave. It was not easy to witness this. Of course, we made no photos.
No human should live like this. So much went through my mind. I was stunned and to be honest I felt a bit weak. I held on tightly to my husband's hand. We left in silence. It felt strange to walk away and return to a cozy hotel. How could I forget that what I had seen was real? How could I sleep?
The Outlook?
I felt powerless to help. What could anyone do to help the poor in all nations of the world? Everyone would like to live in dignity and have basic amenities. There current data shows approximately 682 million of the world's population are living in extreme poverty. This measurement goes beyond Maslow's hierarchy of needs.
According to the UN, education, healthcare and being able to work under decent conditions are a few steps in the direction to solving this problem. What will be the best approach? I am aware that the UN included the elimination of poverty as one of its Strategic Development Goals for 2030. How this will be implemented is yet to be seen. However, in the meanwhile I must wonder whether individual governments are doing enough to help people in poverty. Citizens of each country could play a small role, but I believe an overarching and long term strategic plan is needed and not something on a temporary or incidental basis.
---
I would like to invite @misslasvegas to the community.
---
---