Lake Como Italy: Pognana Lario and Lenno - Coffee with a view and buying "green gold"

There are many picturesque locations in Italy but none more so than Lake Como. Along the lake everywhere is beautiful. Having coffee at a location with a view is quite easy. It is a perfect way to start the day with a cup of coffee.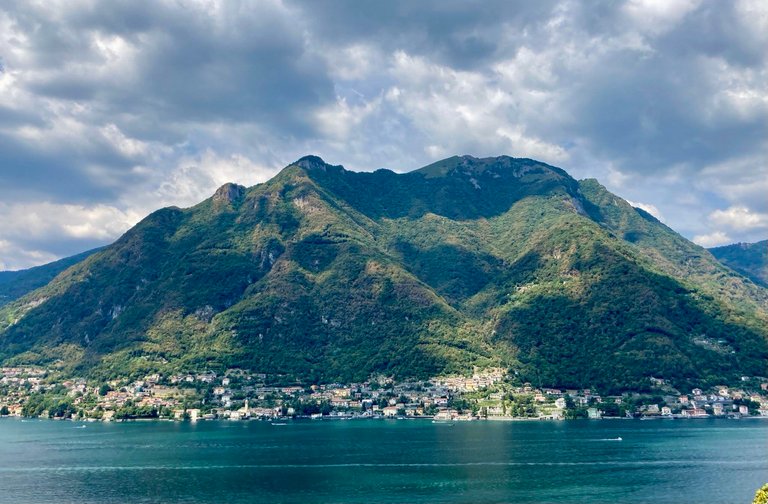 View of Lake Como from Pognana Lario
Pognana Lario
I frequented a simple down-to-earth authentic cafe/restaurant called Peppo's in Pognana Lario - a small village on Lake Como. It is family owned, operated and very friendly. The coffee was exactly how I expected it to be but maybe even better. That could be due to the reputation of Italian coffee or indeed that the roasted coffee is less aged. I was told and do believe that great coffee can be found everywhere in Italy. Whatever the reason I thoroughly enjoyed sitting by the window at Peppo's, enjoying the dramatic scenery and my cappucino whilst my husband had caffè - an expresso. The capuccino was stronger than I was used to and a bit more bitter but the taste was undoubtedly lovely. However, I did not dare to taste the expresso.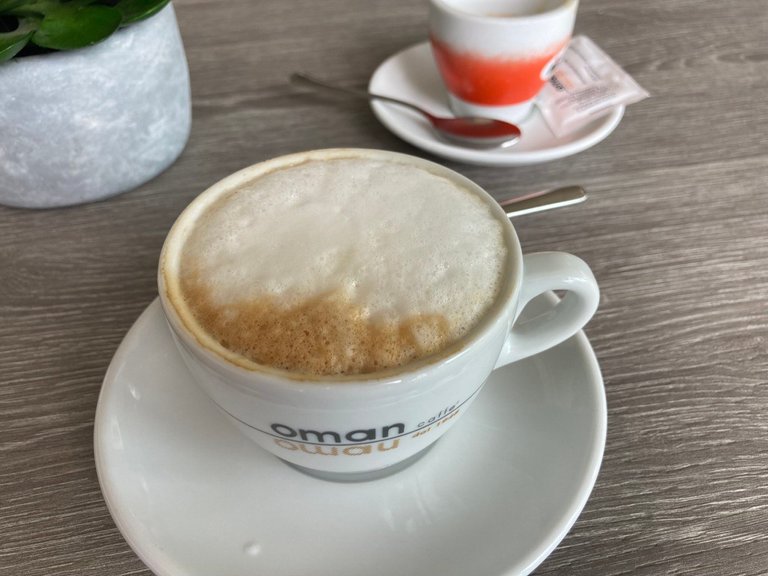 The view here was engaging and the villages are so charming. Many will tell you that George Clooney villas are directly across the lake.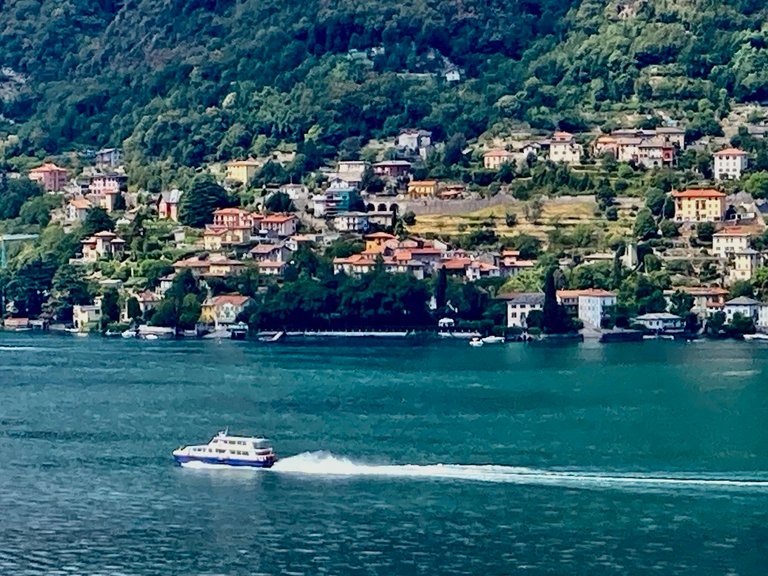 Irrespective of the dwellers – the view is like a picture-postcard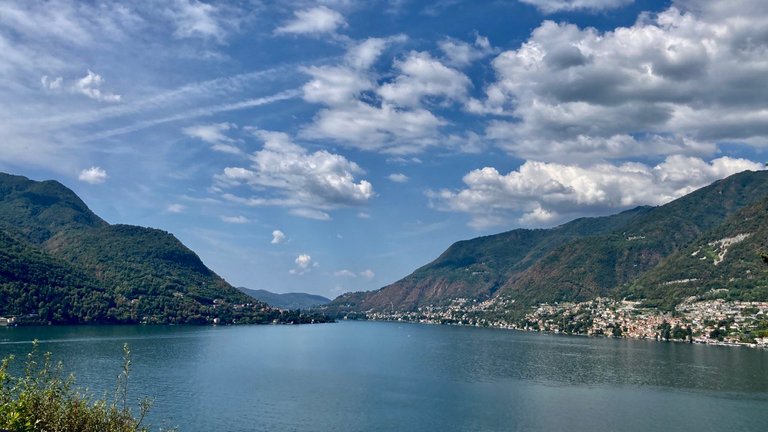 and a perfect setting for many morning cuppas. I was happy and calm looking out to the lake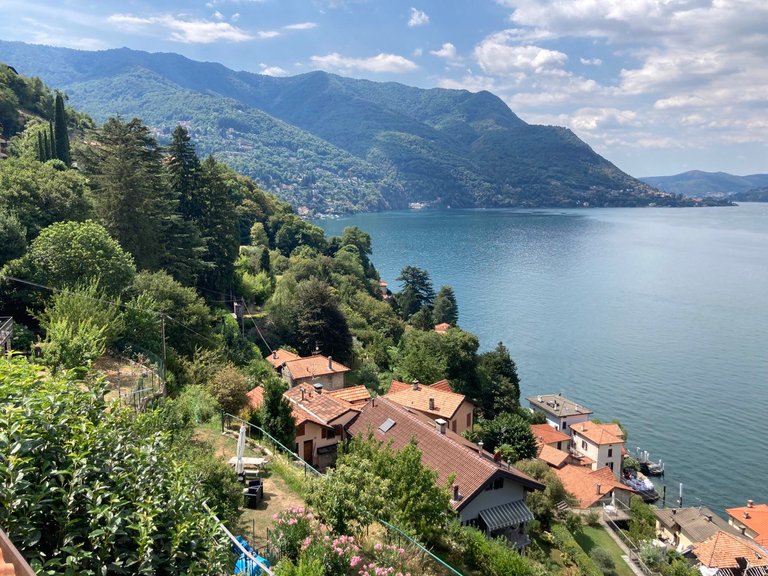 or towards the village set in the mountainside.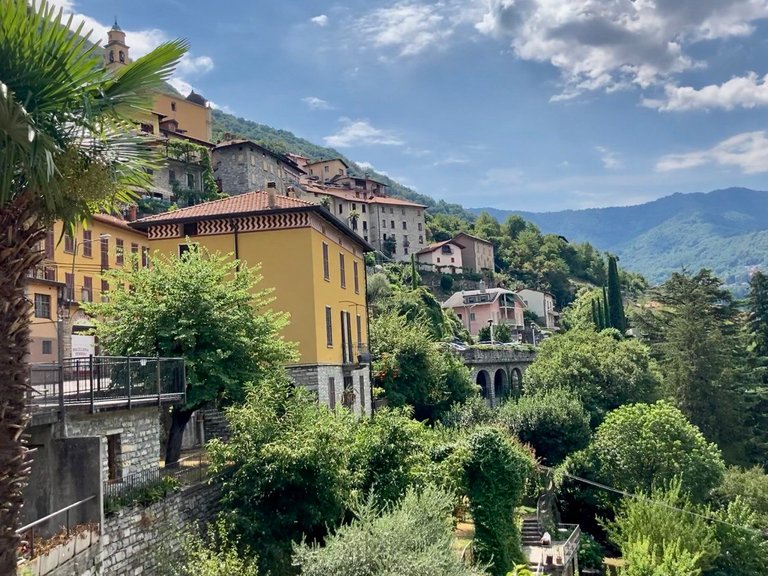 If you got a chance to break away from your coffee - you will find the Church of San Miro nestled in the greenery.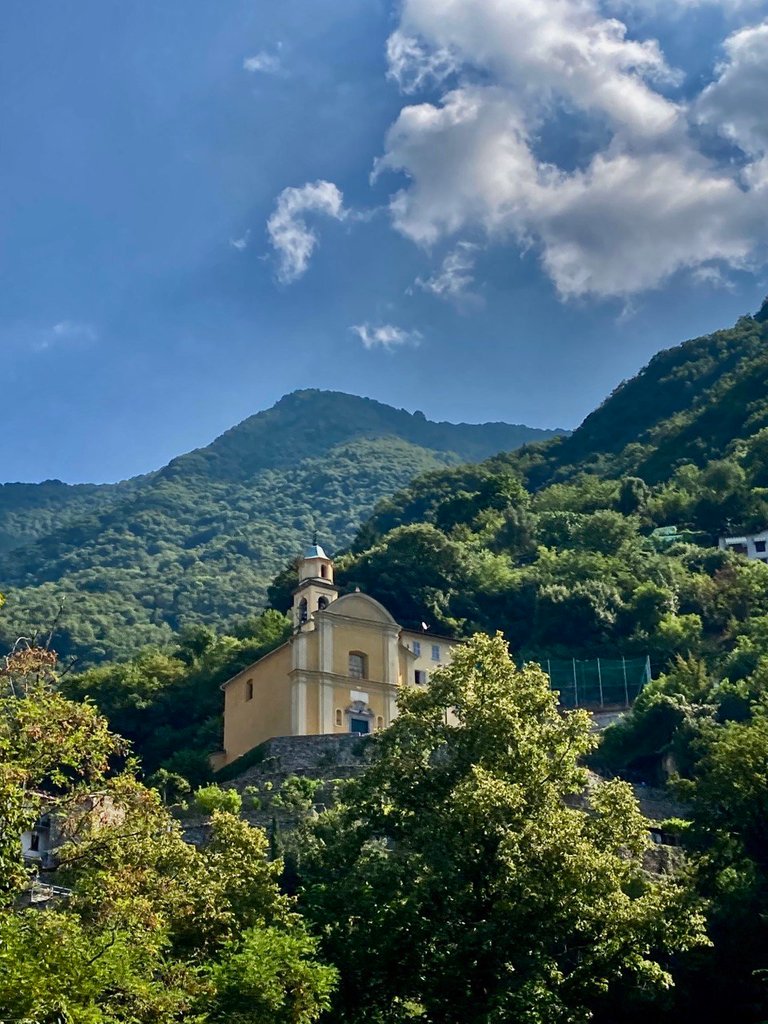 Beauty was all around!!
Caffè !!!!
I learnt a lot about how Italians enjoy their coffee.
If you order coffee or latte once and did not get what you expected then hopefully once bitten twice shy.
If you order:
-coffee - to an Italian that sounds like "caffè" - so you will get an expresso.
-latte- this is the word for milk in italian - so that is what you'll get.
A word of advice: you can speak in English in Italy but please be clear with your coffee requests if you would like to receive the right thing or if you would like it fast. It will not be "expresso"(fast coffee) if you need to spend some time explaining your order.
I've made the following table to share some Italian coffee terms etc. that I encountered.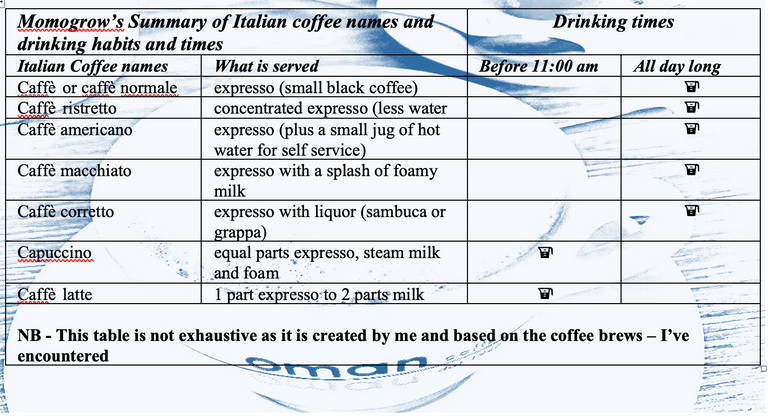 Cappuccino exported well internationally and is called cappuccino the world over. In Italy due to it milky composition and their consideration regarding digestion – cappuccino is mostly served before 11:00 am. See table above. Despite that, it is available all day so us tourists needn't worry. I was happy about that as it's my favorite coffee drink.
There are other types of coffee combinations and coffee cultures depending on the region of Italy you are visiting.
Coffee - standing or sitting
There is no "To Go" coffee in Italy - especially in small villages. Drinking coffee is an experience to be enjoyed on-site and in small doses. Many small doses throughout the day - if that is what you like. 😀
I learnt about Caffè al banco – coffee at the counter or while sitting on high stools. People will stand around having coffee and speaking to the barista or anyone else whilst sipping their black brew. These are brief visits. When the drink is finished - the patrons leave.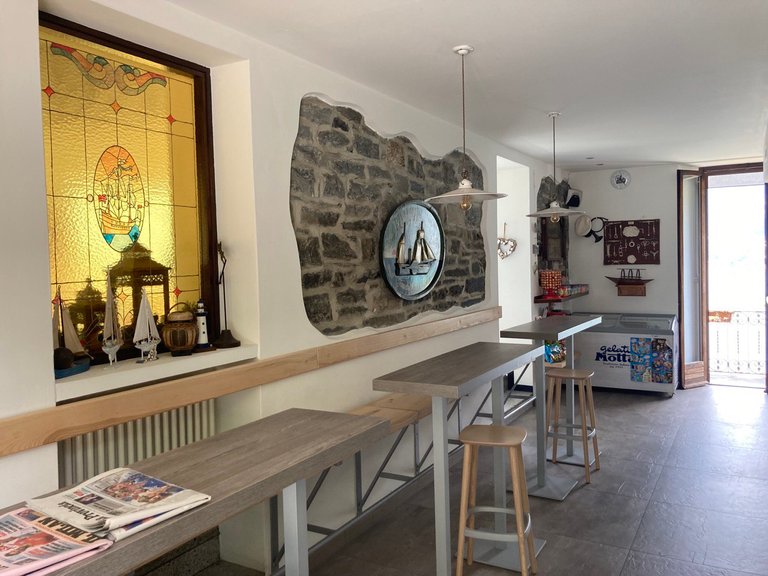 Standing place at Peppo's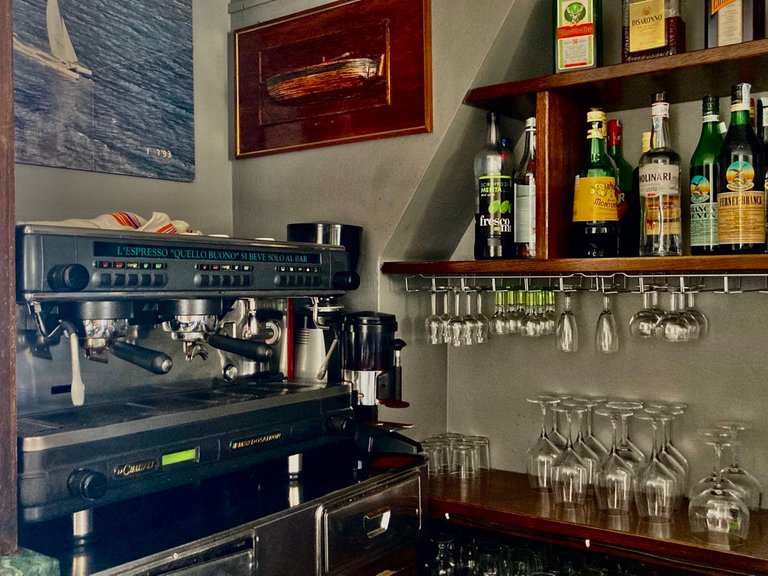 The expresso machine at Peppo's
Caffè al banco is cheaper than coffee while sitting at a table which is called Caffè alla tavola.
Lenno
About 40 kilometers north of Pognana Lario, on the other side of Lake Como, is Lenno. I went to Lenno on a "mission". I will tell you more about the mission shortly. However, first walk with me around Lenno.
Upon arrival at Lenno, the church of St. Stephen - Chiesa di Santo Stefano - can be seen.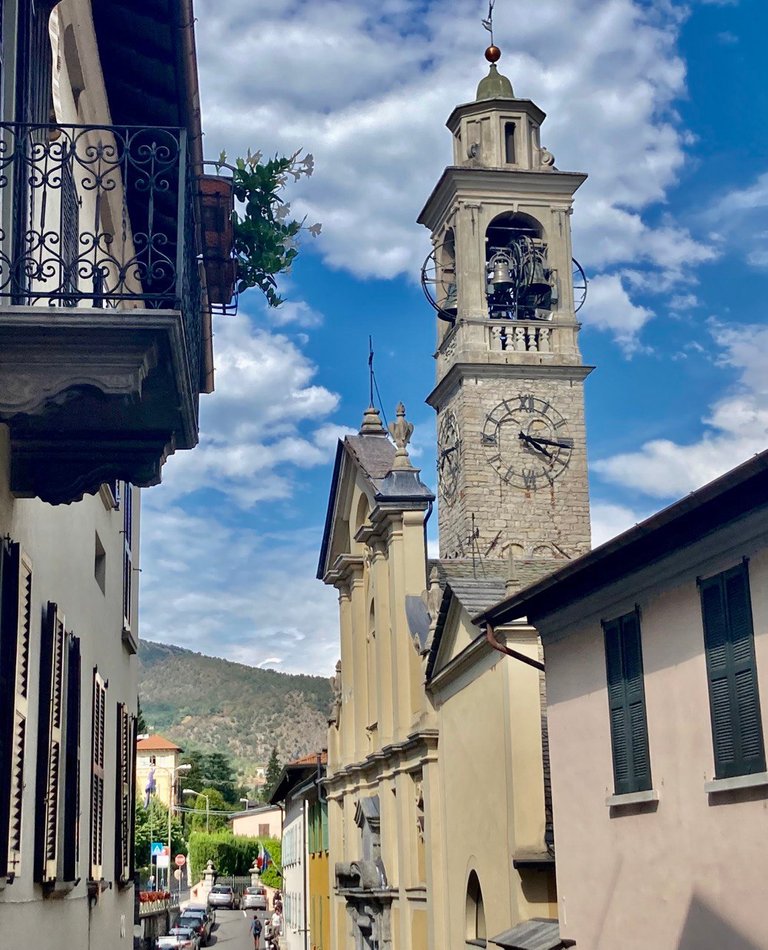 It is small but upon entering, the frescoes are beautiful.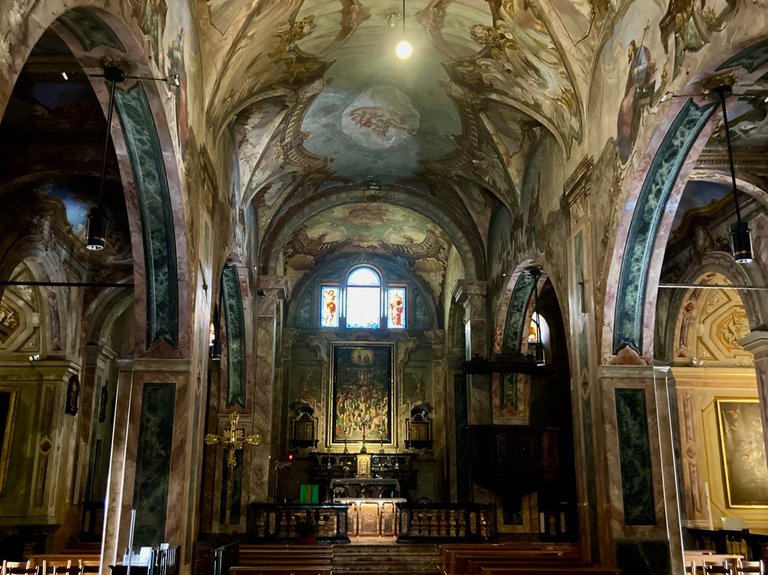 The colours used are calming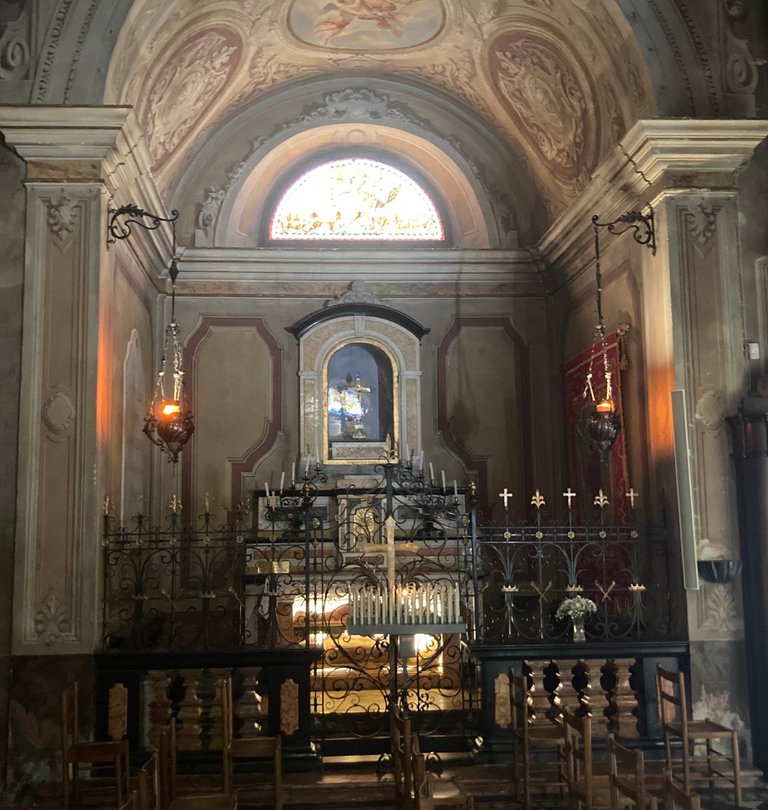 giving the church a cosy feeling.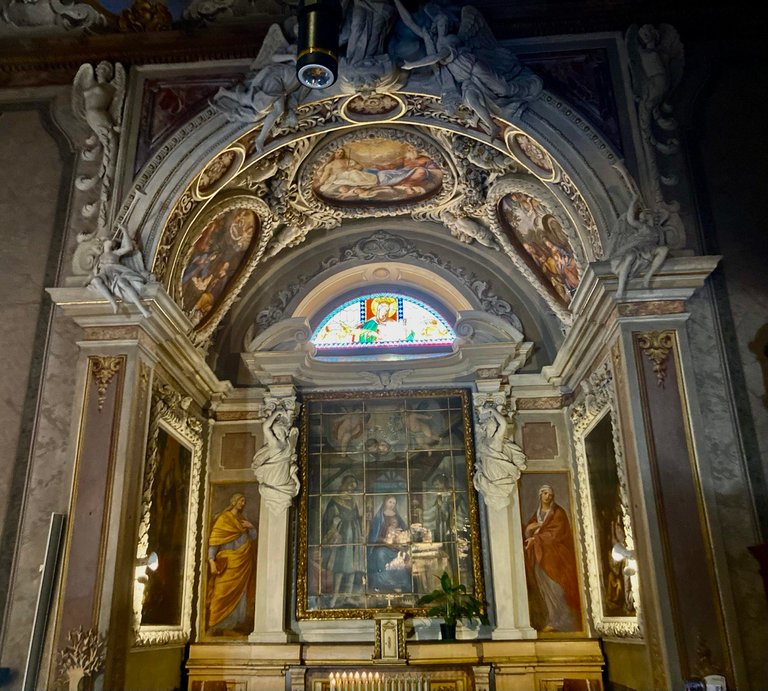 The church is an important monument in Lenno because beneath it is an 11th century crypt.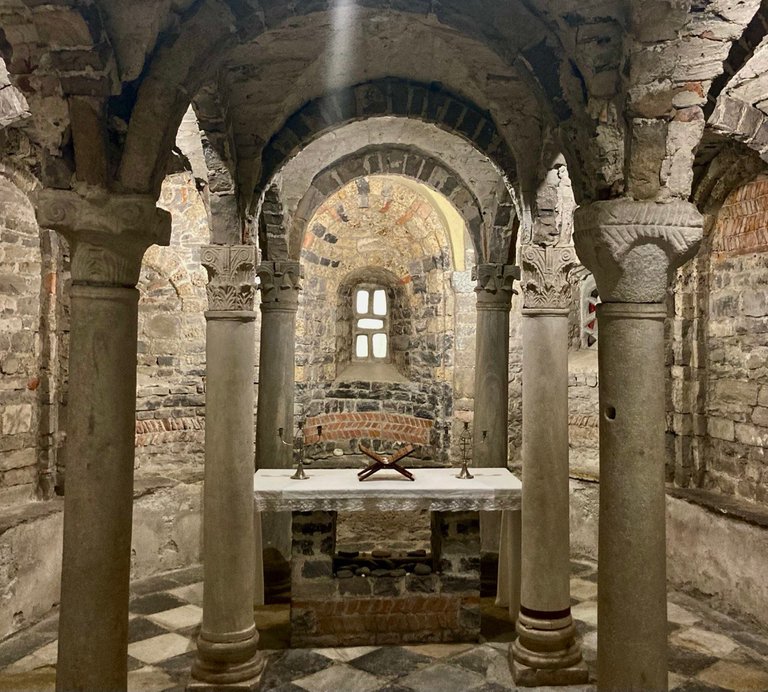 Across from the church is the baptistery of St. John; both are from the same periods and built in a Romanesque style. Inside the baptistery are the remains of medieval frescoes.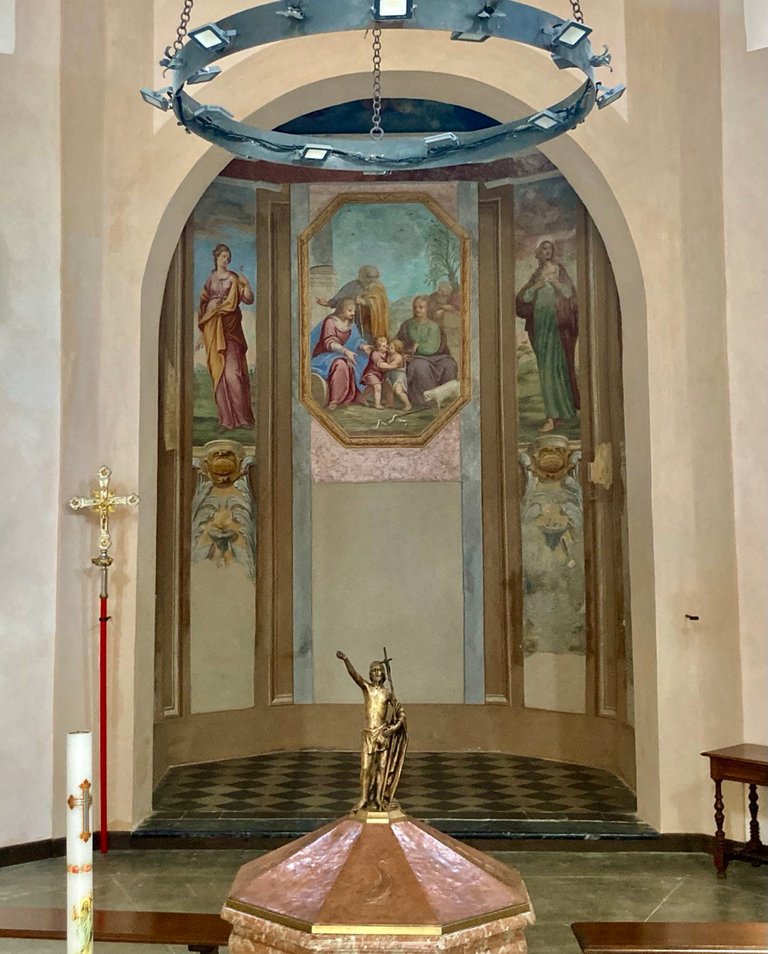 Between the church and the baptistery is a small square which led down to the lake. The splendid scenery beckons you to keep walking.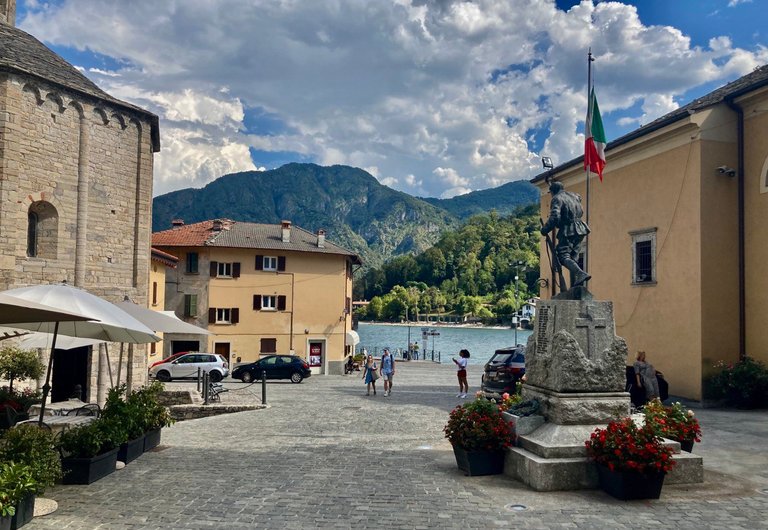 By the lake, there is a promenade covered by trees where you can see elegant villas and panoramic lake vistas.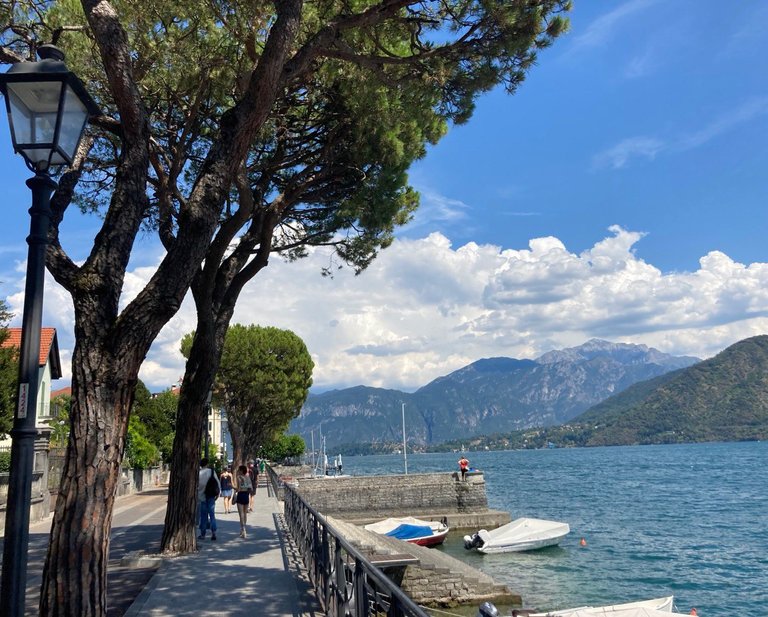 The surrounding is simply breathtaking.

By the lake are a few restaurants. We went to Albergo Ristorante Plinio to get drinks and later lunch with my family.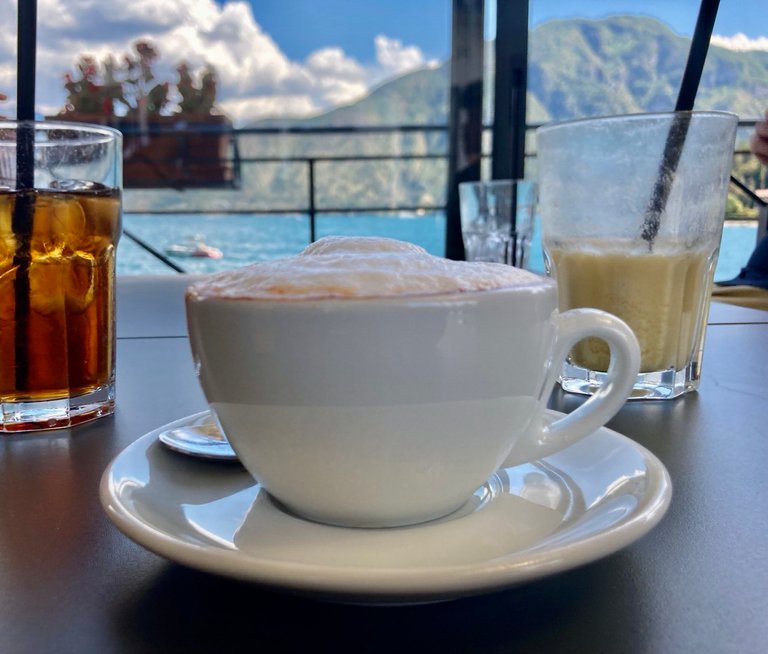 While slowly sipping on my cappuccino, I totally absorbed the overwhelmingly beautiful nature. It gave me a nice warm feeling. There was no hurry. I looked around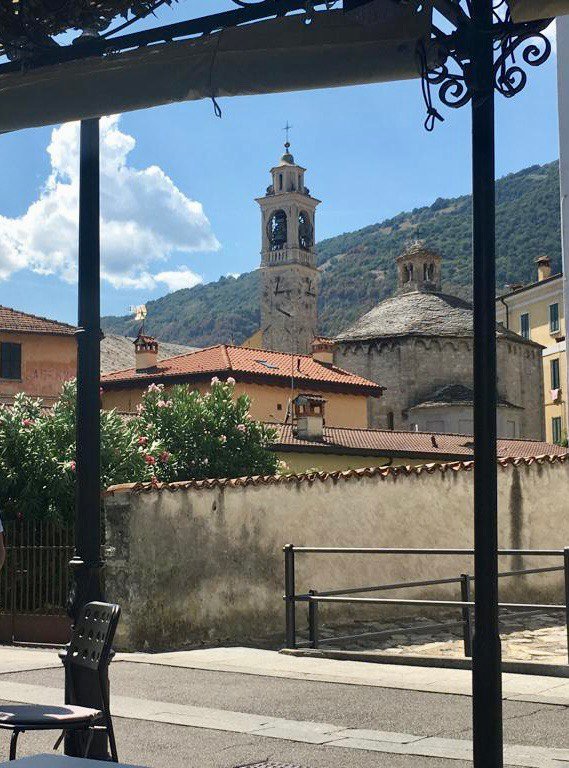 and thought that it if one ever felt miserable, all that is needed is a nice cup of coffee and a dose of this naturally gorgeous environment with green mountains and the blue shimmering lake.
Buying green gold - Vanini Osvaldo's olive oil
With a feeling of contentment - it was time to go on my earlier mentioned "mission". I did not visit Lenno for only good coffee, I also went for its gastronomically accredited olive oil at Oleificio Vanini Osvaldo. It is indeed referred to as "green gold" because of its high quality and purity.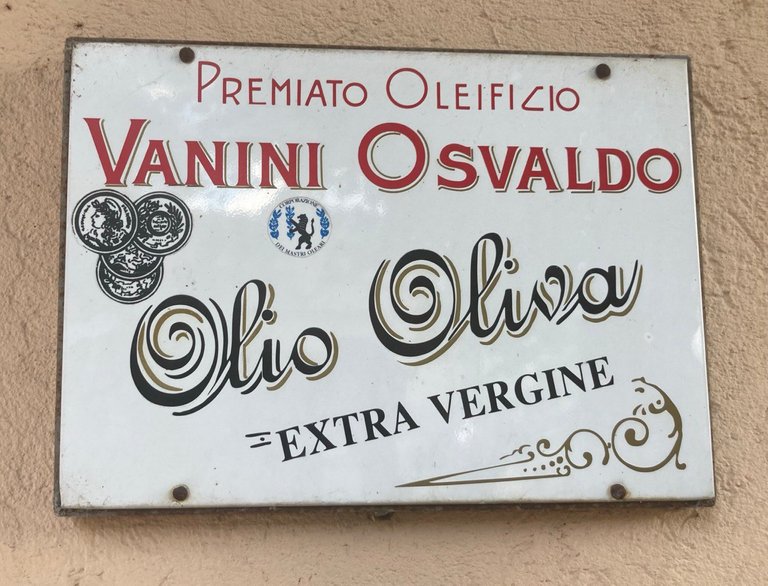 The Vanini family has been making olive oil since 1850. When speaking to any of the family members - you can immediately sense their passion and pride as creators of their famous product. There are container sizes to suit all budgets.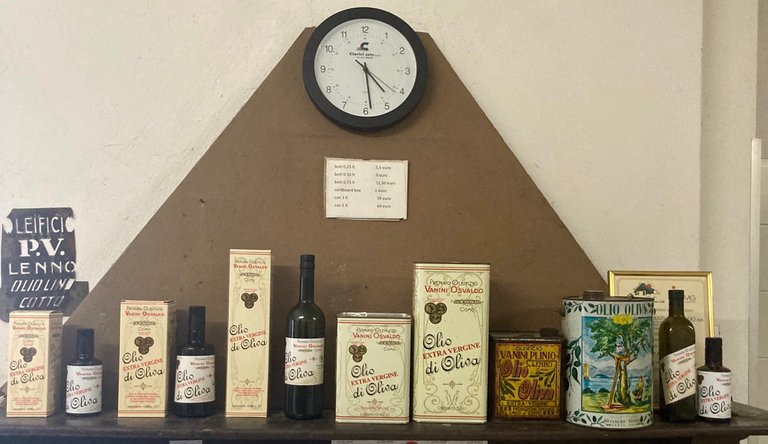 The variety of cans and bottles of olive oil
The tradition of making genuine olive oil continues in the family with their olive groves still by Lake Como.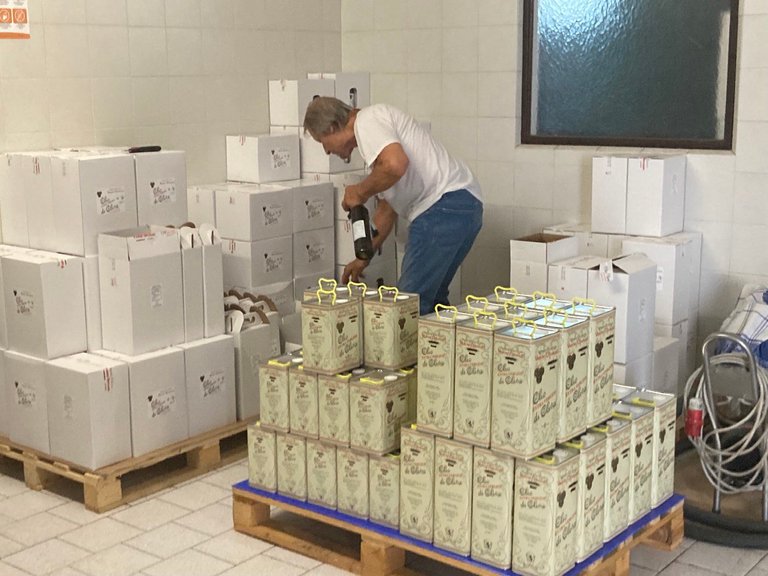 A member of the Vanini family gathered my order
It was only a 5 minutes walk from the lakeside. At this no-frills location one goes for the delicious olive oil only (although soaps and shampoos are also available). I will forewarn you, to avoid any disappointment, it is not a touristy location. There is no tour or olive oil tasting or a guide providing information. The location is very simple as it is the olive oil mill. For your information, supermarkets in Lenno also carry this oil, but at a premium.
The olive oil making was not in progress as the harvesting season is from November to January. It would have been great to see the hand picked olives being cold-pressed into oil. Despite all machines being turned off, I was given permission to walk around and make photos. (The lights were off but I did my best with these photos).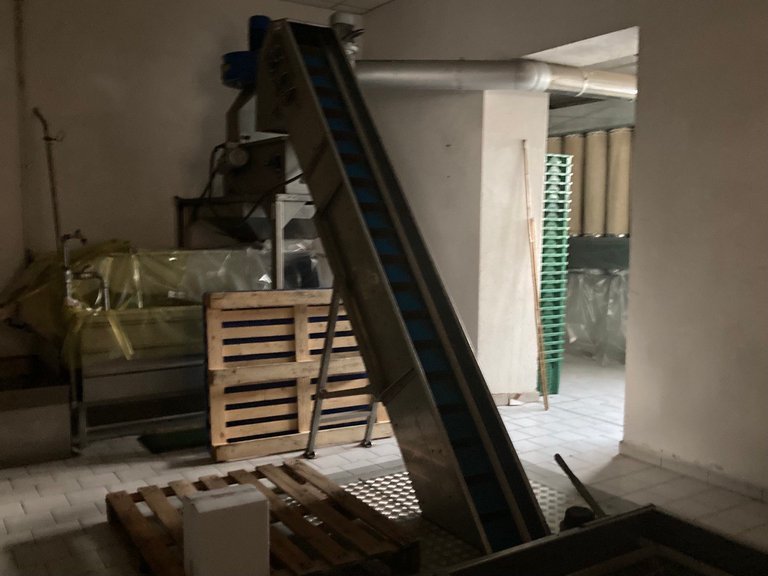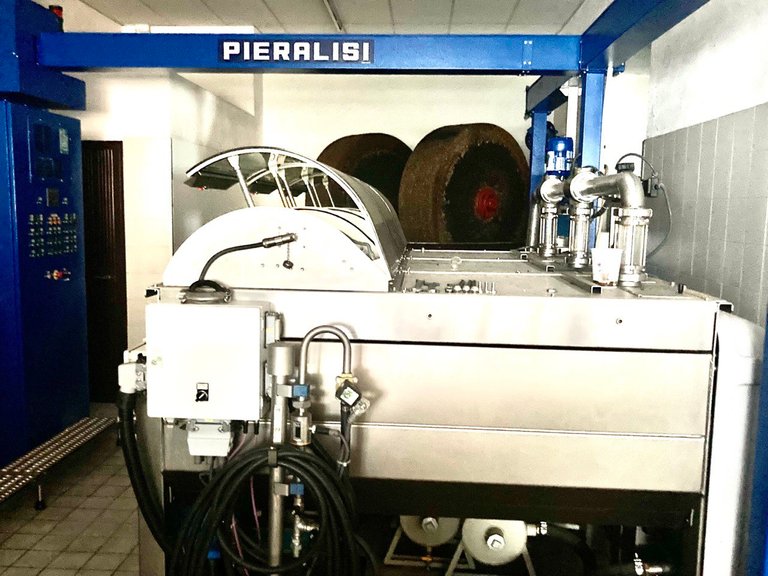 sorting machine
modern stone pressing mill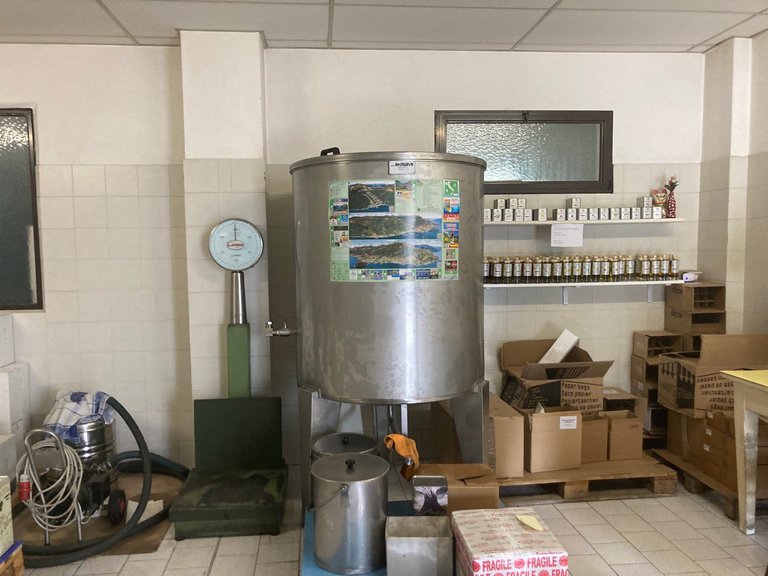 Olive oil storage for bottling
With my mission accomplished, it was now the end of another delightful day by Lake Como.
I hope you enjoyed my journey and just in case you wondered - I have since tasted the oil which is fruity with a slightly spicy or peppery aftertaste.
---
All photos are made by me on my iPhone 6S
---
---