Financial cost of starting a new business, how I Purchased a Heavy duty machines from store to aid my sewing.

Hello Hive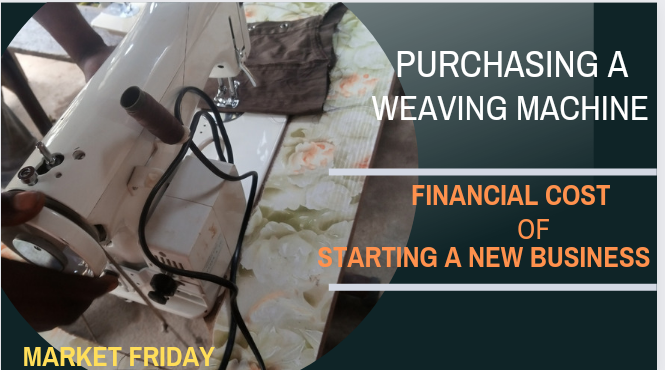 Today's purchase was an exciting one for me as it gives me a progressive step into fulfilling a dream of adding fashion design to my list of career choice in life.
Well I studies microbiology in the university and have a degree in science, I love a bit of science and have wished to learn more and practice, but I have too many limitations in that line, so that is abandoned or pushed aside for now.
After school farming was another career choice in which I joined the family farm and we are able to grow some grains to feed the family but I couldn't make that a commercial venture where I could farm very large portions an harvest these crops for sale.
To commercialize farming and make a living from this, I need tractors, starting capitals , larger land space as lease for agricultural purpose and of course I need to be a bit stronger health wise and probably employ some human labour as well.
This could enable me become a commercial farmer where I can grow crops and sell to make a living.
Nevertheless that is on hold as well, even though I could still farm and harvest as much for family consumption.
Next I went into sewing and fashion designing starting with my late mums manual sewing machine, I made little progress at a time, learning and working at my own pace.
Then I came across hive blog which I them maximize some hive funds to purchase an electrical heavy duty sewing machine you see here at a price of $45t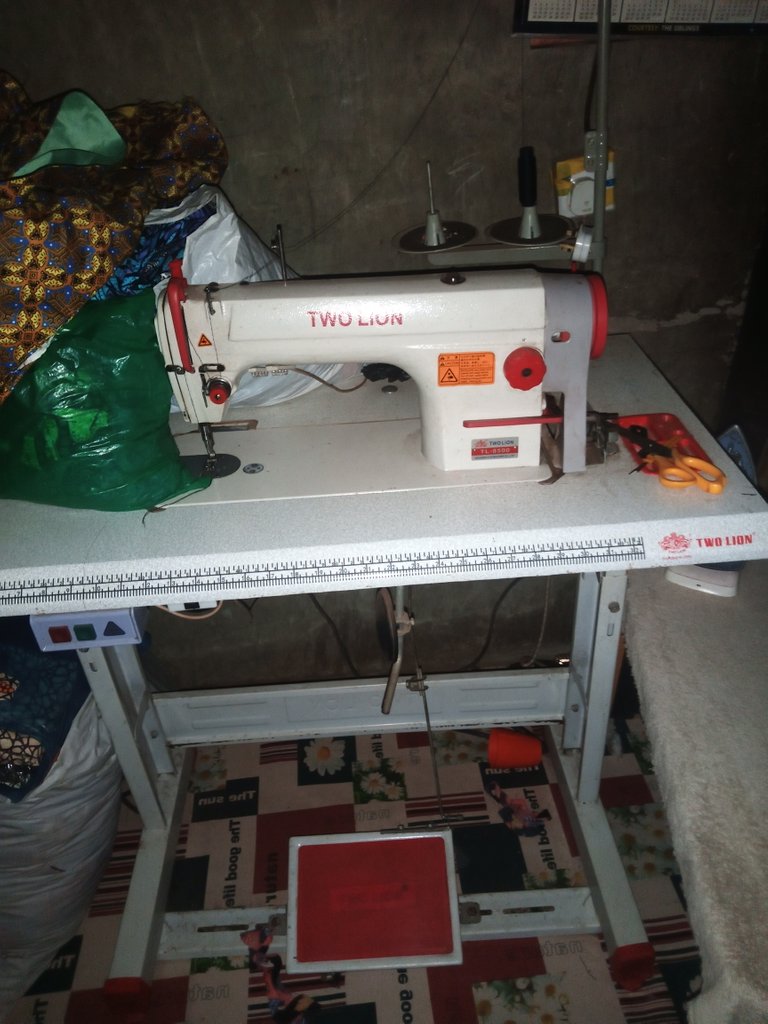 I needed a career in life and even though am not multi talented I do love to give any skill a trial.
Opening my heart to new knowledge and hoping for the best, so I hanged in for the sewing.
Until date I have spent close to $1000 for tuitionn, transport, fabrics, accessories and training materials. This is what it cost to acquire a skill in Nigeria.
It is indeed a lot of money but an investment on myself and a self improvement journey is worth it.
A sacrifice to give myself a better future.
Today I made more progress and since my skills are getting better, this is no time to abandon fashion but to put in every effort to get better at my skills and acquire new machines to aid my work.
Most likely I would have a brand name and start my own fashion store in the future, not minding how long it will take I have to trust the snail pace growth.
Today I needed a weaving machine such that I can have neat edges and finishing for my clothes hence I visited the machine store to buy this.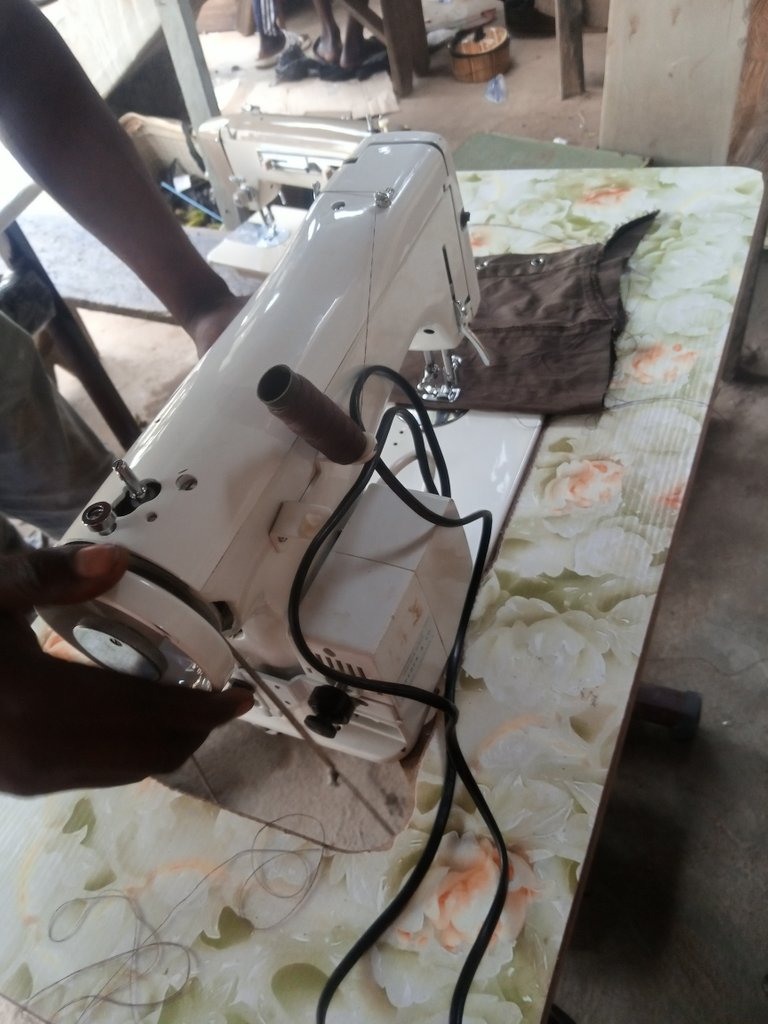 A table top manual and electrical multi stitch machine. .
This is just of temporal use, the heavy duty machine that could weave and made solely for such purpose is very expensive and sold for $454, this very one you see here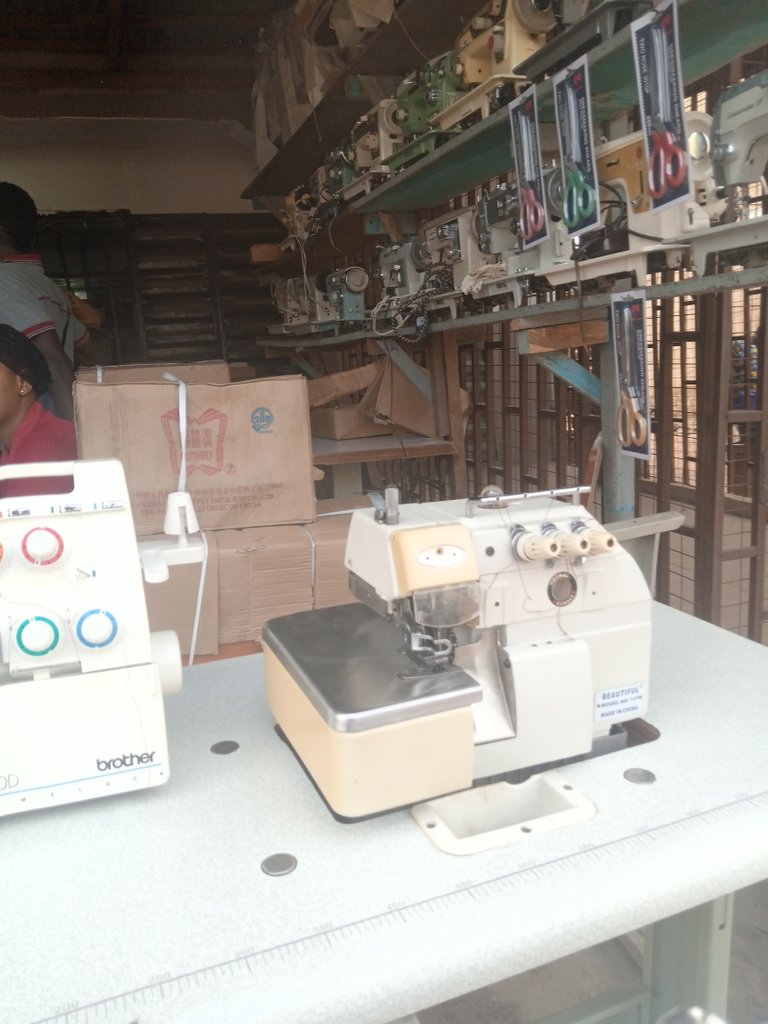 But this smaller version of it made into a table top can weave my fabrics for the mean time and it only cost $137.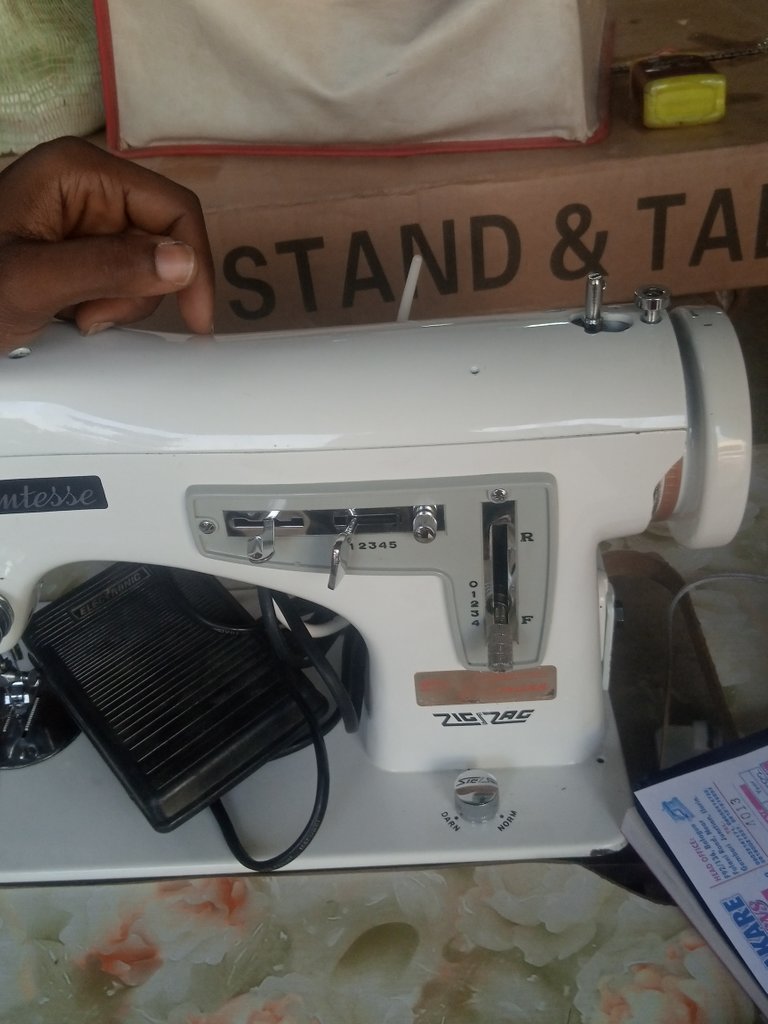 I sold some hive funds to buy this as well, Knowing fully well that the value of hive is down, I started a power down since I would be needing to sell more hive to purchase this
I can't keep this on hold as these machines get expensive on daily basis and I can't wait for hive to get sold at higher price before buying this, it might take forever and I don't want my sewing trainings on hold.
The machine will be placed on a table or small stool, although there is a worked out leg for it which you can see here, the brown metal attached to a pedal I could place the machine in it for convinient sewing but but I can't but that for now since it is worth another expense of $69 and since I can still use the machine without the pedal, I would simply place this on a stool for now.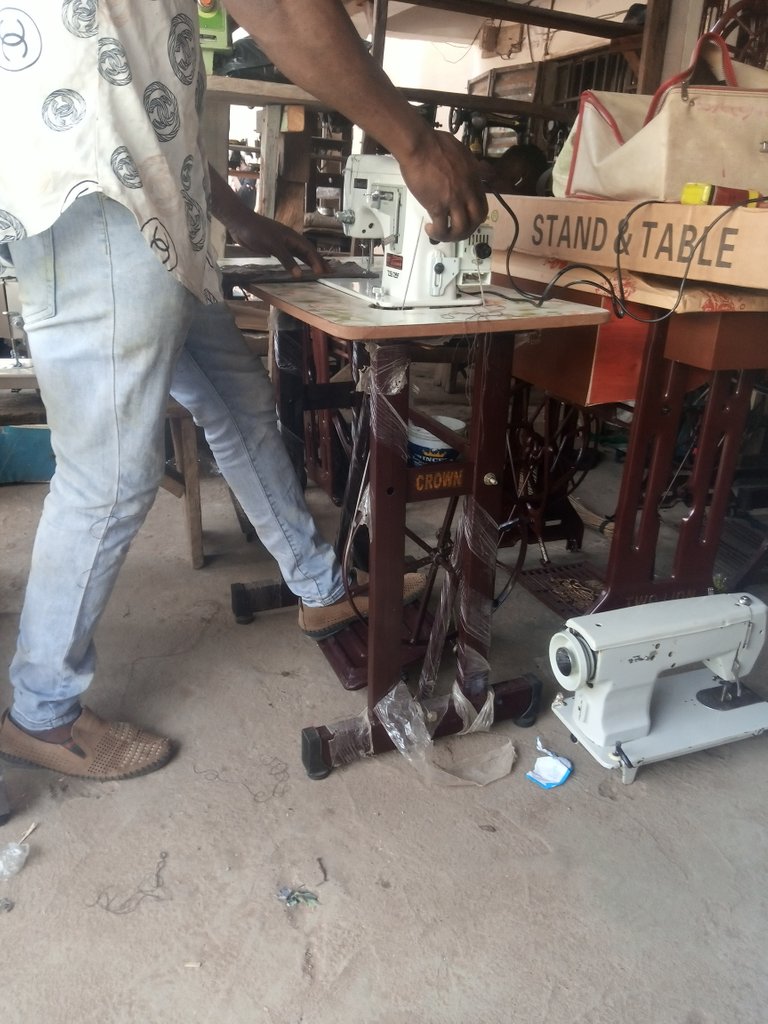 A little detail of the shops show numerous table top machines and other heavy duty machines and people arr coming in to buy this products so they can acquire skill and start a a fashion business.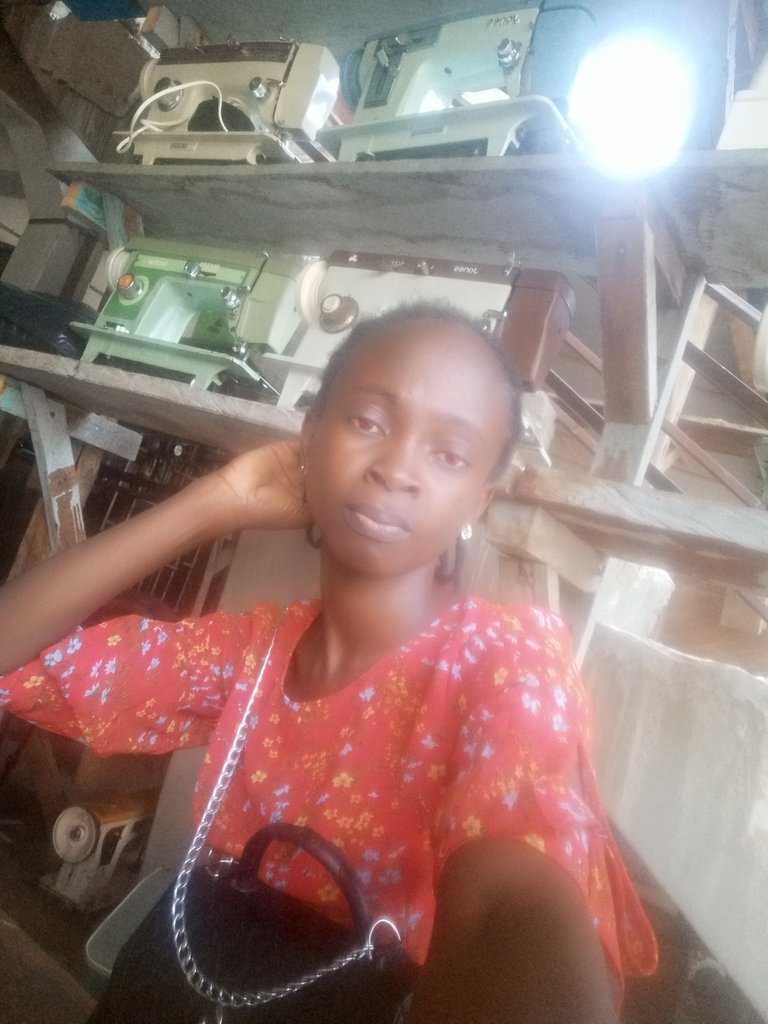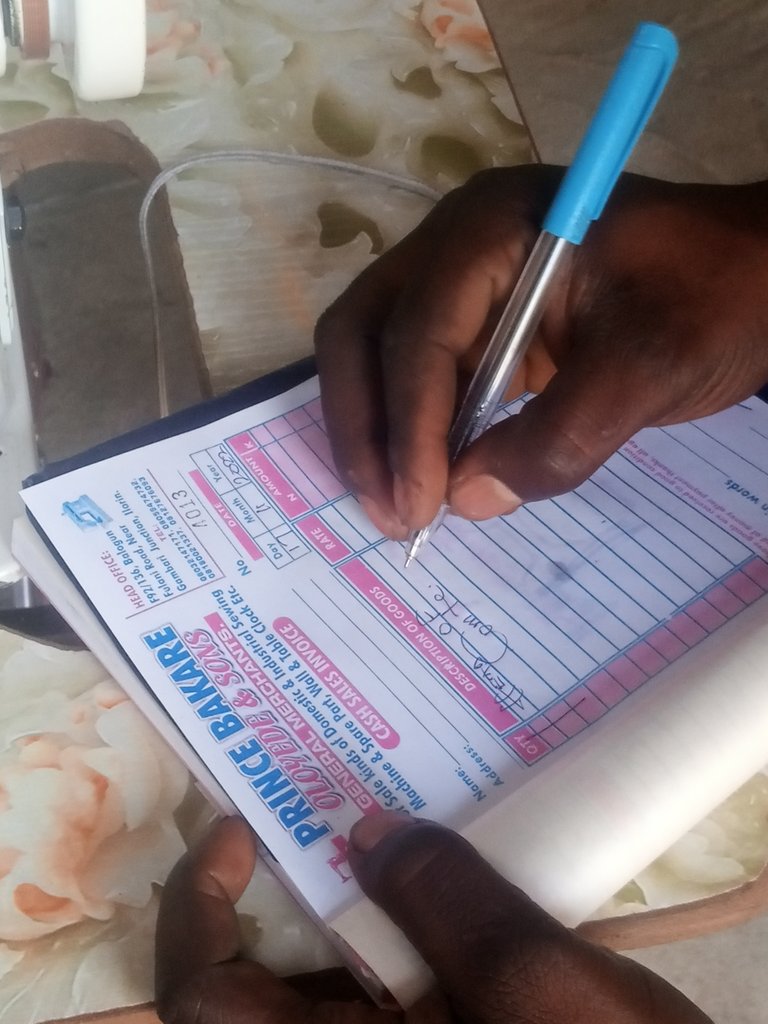 My receipt and evidence of purchase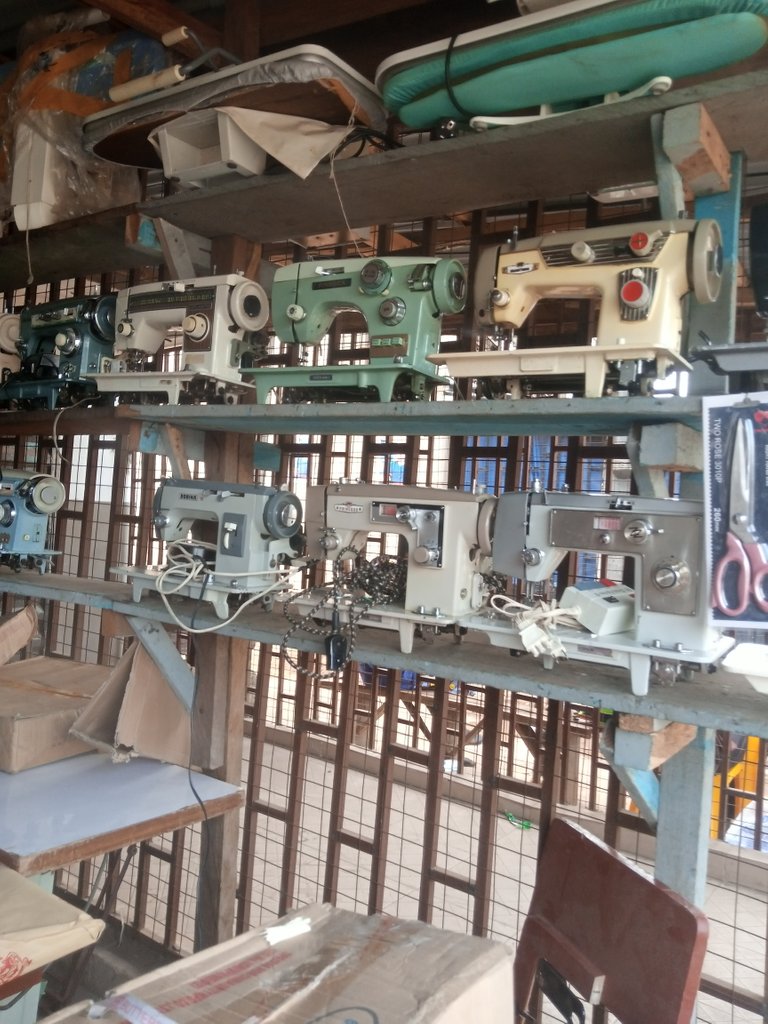 ---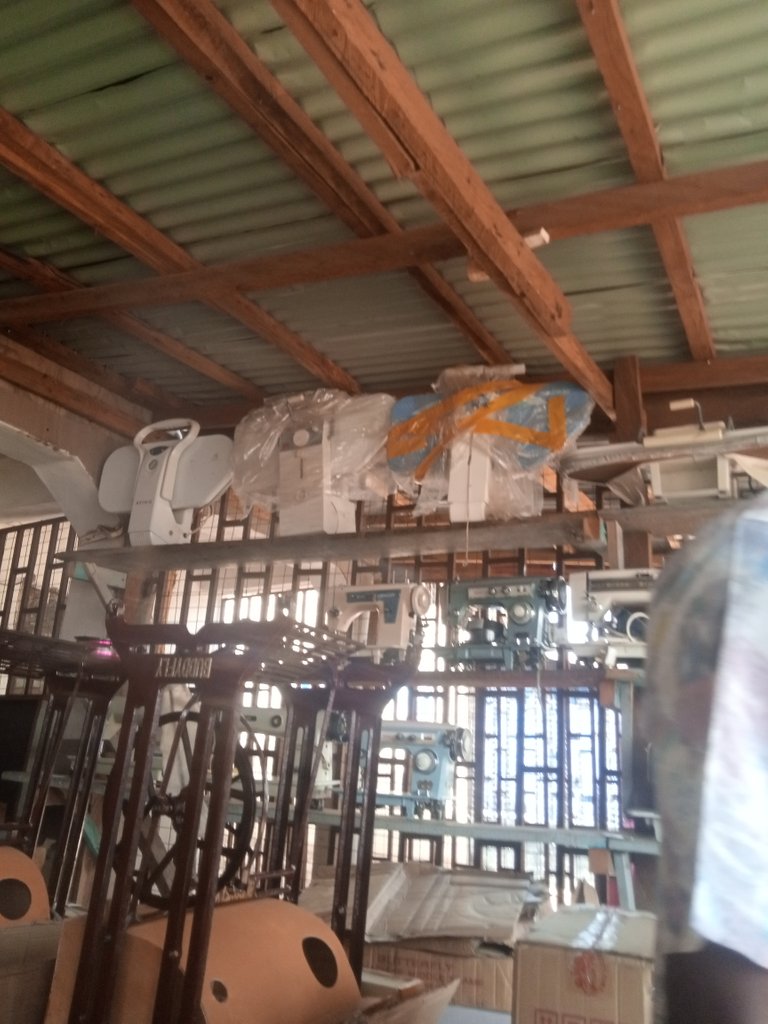 Choosing a career path in life is not always easy especially in developing countries
This is an insight into my career journey and my submission into today market Friday post by our dearest @dswigle.
---
---