How Bear market ruined my financial plans for the year
Hello Hive.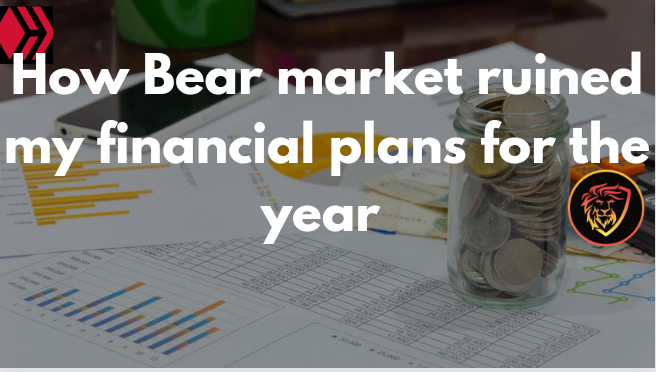 Earning in crypto is good and perfect only if we take out gains and utilize them almost immediately rather than just investing, watching our money grow without taking any step and hoping that our portfolio remains exactly the same over time.
It became one funny routine to wake up each day and look into our wallets to see how much our assets have grown.
Forgetting that crypto has two seasons, the bear and bull market, during a bull market, our wallets are often very fats and somehow we are satisfied by the outcome of what we see...
But then the bear market comes along and your million dollar wallets becomes barely a few hundred of dollars.
Same quantity of tokens with very little value
During these days top much anxiety and emotional instability concerning your token worth's makes it difficult for anyone to open their wallets.


This very same scenario happened to me, maybe it wasn't the bears that ruined my financial plans for the year.
It was my very own mistakes.
I didn't take out anygain or sell tokens during the bull market, instead I bought more and decided to hold thinking that prices may never go down beyond what I had bought them.
The regular routine then was going into my portfolio everyday and smiling like a fool at my finances and its total worth, this is very typical of every newbie.
And I was barely two weeks in the blockchain and yet to understand what Crypto was all about or if there was something called a bull or bear market.
Now am I have spend two solid years on hive and now 6th month in Leofinance community where I have learnt and am constantly be taught and informed appropriately about crypto markets and finances.
My financial plans for the year of either earning my first million, 🤓 extracting them from crypto into my fiat account balance is totally ruined.
And I barely have some fiat to live by the days.
Some lessons have been learnt, but in a very hard way.
Posted Using LeoFinance Beta
---
---