Marketing Job is one thing I will never do regardless of the Pay.
The topic came as a coincidence for me while I have been roaming within some lines earlier on to write about selling things/trading if you wish to call this in proper terms.
Having heard someone say that we have to sell something in order to make it in life (become wealthy and prosperous) citing top business men Dangote and Elon who sell things for a living regardless of whatever it is that they sell. "You just have to sell something for a living" I have heard him say.
This might be right in a sense. You either sell physical items or intellectual ones. Some people sell idea for a living, writers also sell their intellectual knowledge in books and articles you have to pay for before you can have access to them.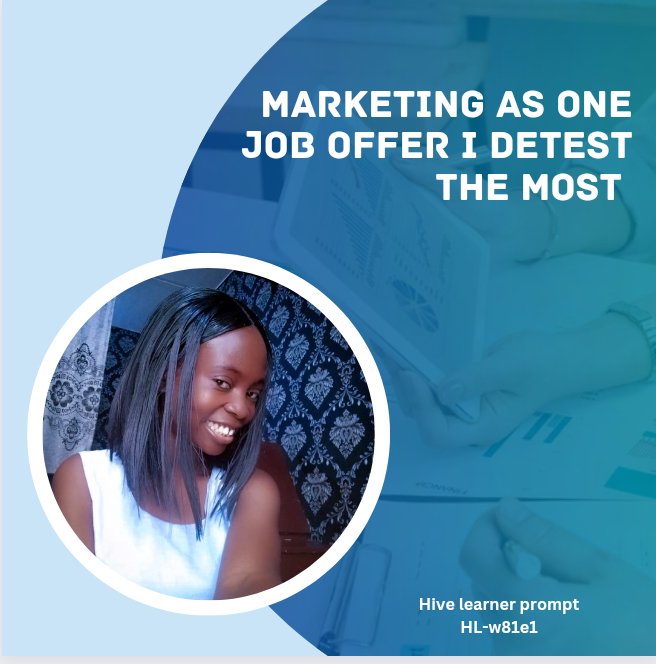 Come to crypto we are all buying and selling no body is directly eating a token or anything on the internet.
Our social life and culture is also sellable, I know of how numerous people watch travel guide from others in order to have an idea of how the different part of the world they cannot have access to looks like. We buy these information's directly from the internet or indirectly via TV subscriptions on channel that display these stuffs.

If we need to selling and Selling becomes our Job how well do we know how to market our products.
Marketing is that one job I will never do regardless of the pay.
Kudos to all those hustlers out there who can package SHIT and sweet talk you into buying what you do not need. That is a marketing spirit.

In time past, marketing in any company/establishment is usually a physical task. In some cases you are giving the products to carry around and bring it closer to the people.
This was once part of my life after school. We were marketing Flour mill products Knorr Maggi, tooth paste and others. Our other colleagues marketing their food products carried noodles on their head from store to store within the market.
The part that annoys me most is the target aspect, we are often given. We are meant to advertise bringing to public notice the products available, implore them to buy a certain quantity indicating bonuses and benefits attached to buying more.
We have conducted promo in the past for customers who purchased the highest products and like in lotteries people won Different home appliances. This part us usually fun I must say.
But the heart breaking one is the sales target we are often giving, if you do not advertise and sell a certain quantity of the product after been employed and giving this target period, you loss your Job.
I didn't loss my job but had to quit, advertising a product offline is a lot of work to do, you walk over long distances from store to store and house to house.

The same way we have seen marketers in the banking sector do. They walk around the streets to advertise their banks to people and implore them to come and open an account with certain amount of money with them. You may be giving a target to open 30new bank accounts with 20million naira within 3months. This is so unrealistic since almost everyone has a bank account now and opening multiple account with different banks just to assist a marketer retain his job is not worth it.
At first I felt like teaching job was something I do not interest with and would have talked my woes when I tried been a teacher once but this is nothing close to been a marketer for any organization, I will most likely survive in a teaching environment than in a marketing one.
The online marketing system of this age, starting with affiliate marketing, expertnaire and others even though i only have a vivid understanding of their job also believe that they sell digital products and also go through this some stress to cajole a customer to buy a product that they do not need and like I said earlier, some people are good at selling nonsense but guilt will consume me if I mislead you to buy a product you do not see just for me to make my millions.
If at all I will sell a product, let it be something that is a solution to peoples problems, a product that can advertise itself and sell itself because, genuinely needed.
Thank you for reading through these lengthy lines.
---
---