What sacrifices have you made Seeking for more money or financial freedom.
Hello Hive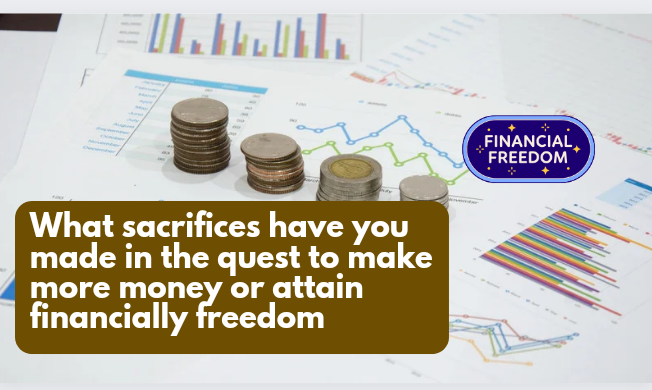 It has never been convenient for anyone to over stretch themselves but the economies of the world is pushing people to run far more than their bodies can endure.
It is either they are running more than one jobs just to meet up with their financial needs or doing one thing or the other.
Some have gotten a perfect combination of more than one job like a bar man who is also a farmer.
During the early hours of the morning when nobody comes out to drink, he can be seen working on his farm
While at night he can still survive spending few hours in the bar selling beer
In recent times, turning your passions into careers that will earn you money is now going into extinction, people are more involve in whatever they can do to earn them money.
We are more interested in how much the pay is and not what the job description is.
Personally I won't mind becoming a nanny, a care giver, or an auxiliary health worker if it will earn more more money than fashion designing.
People are willing to migrate and cross oceans in search for money not minding the risk involve.
I have seen vibrant accountant travel oversea to become a house-helps just because the other countries currency has more value than theirs, and its better to be do that dirty jobs that earns you more money instead of holding unto a profession and career that earns you close to nothing in your own country
Whatever earns you more money is giving more priority as there is no longer room to follow your heart or the choice of job you will love to be found doing.
Too many dreams, passion and ambitions have died died down because of the absence of funds but who cares?
We have more lab attendants working in banks when the hospitals need them for research.
Almost few people are working in their fields of study.
Any kind of job is welcome.
We are also willing to learn any kind of skill just to meet up with the job demands as longs as it can pay us some good amounts.
We sacrifice too much just to fit into a job that pays better money.
Indeed money is powerful and controls most of the systems of the worl, just take a look at how the search for money and financial freedom has destabilized our passions and career.
Too many people have sacrificed different thing in search for money, does it really worth it?
Some haven't seen their families for years because the are working abroad, and sending the money home to better the living conditions of their members.
They money had been giving more priority over the physical presence of their loved ones.
The search for money has separated families and even broken some good relationships.
Indeed money is a powerful weapon and everyone must at some point made some sacrifice while attempting to make more money, it might just be your time, sleep or anything you consider not too important, but there are people who have made huge sacrifices just to make more money.
Posted Using LeoFinance Beta
---
---