Turkey vulture on San Juan hill, my entry to today's monomad challenge.
Siempre que visito el cerro de San Juan hay un ave que llama mucho mi atención, y no es porque me de miedo ni nada de eso, de hecho en México todos somos muy cercanos a la muerte, sin embargo el sitio en cuestión tiene muchos rumores que al ver las aves podríamos sentir que son verdaderos ya que se dice que incluso hay rituales satánicos en la cima del cerro, pero seamos sinceros, donde hay naturaleza siempre habrá presas y cazadores, siempre habrá restos de la batalla que se convierte en el alimento de los carroñeros como son las auras, que normalmente todos conocemos como zopilotes, pero que si me pongo técnico tiene el nombre de Buitre americano cabecirrojo.
Whenever I visit the San Juan hill there is always a bird that catches my attention, and it is not because I am afraid of it or anything like that, in fact in Mexico we are all very close to death, however the site in question has many rumors that when we see the birds we could feel that they are true since it is said that there are even satanic rituals on top of the hill, but let's be honest, where there is nature there will always be prey and hunters, there will always be remains of the battle that becomes the food of the scavengers such as the auras, which normally we all know as vultures, but if I get technical it has the name of Turkey vulture.
---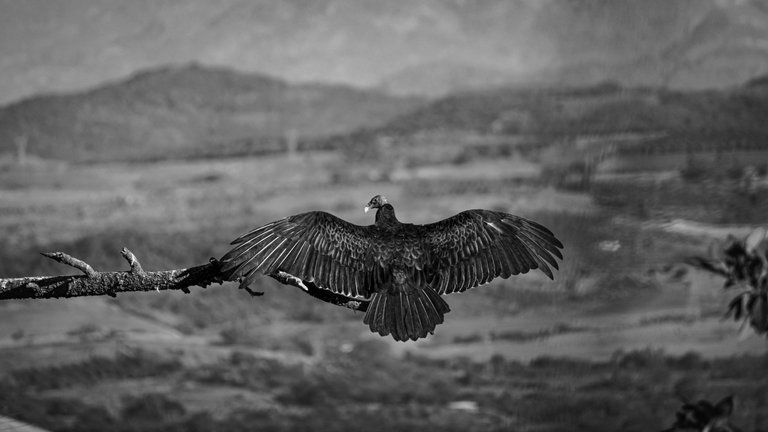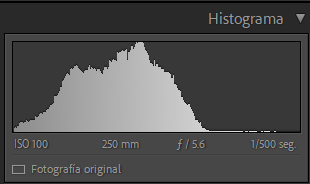 Esta es la fotografía que más me gustó, antes de esta foto hice otros 3 intentos que salieron fuera de foco y el ave estaba en otra posición, se las presento a continuación.
This is the picture I liked the most, before this picture I made 3 other attempts that were out of focus and the bird was in another position, I present them below.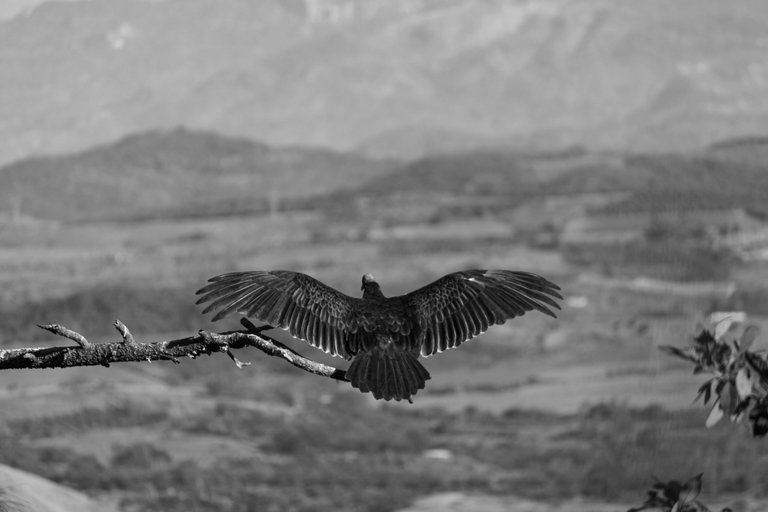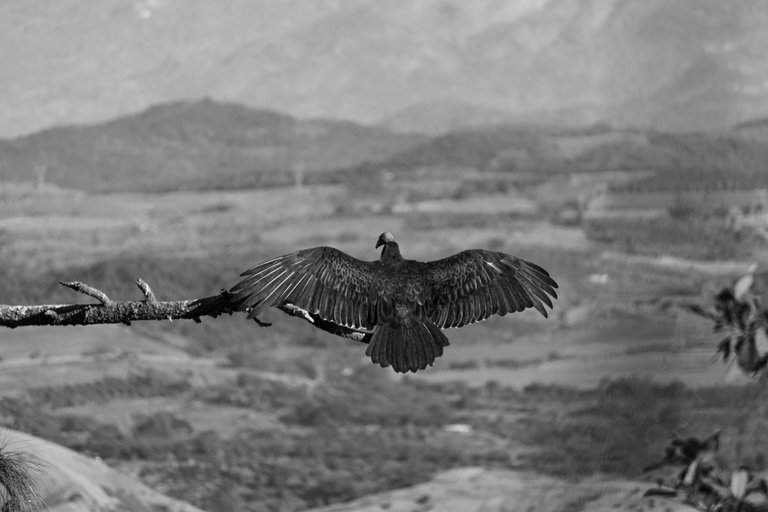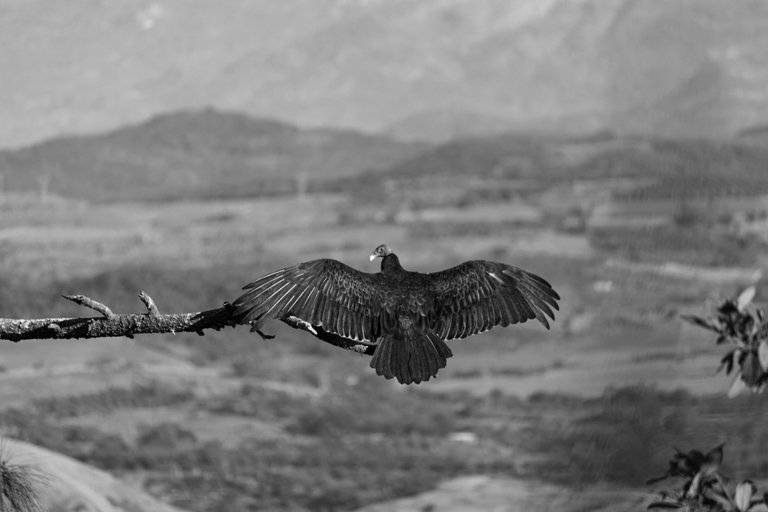 ---
Estas son las otras dos fotografías que me gustaron, creo que el árbol que escogen para limpiar sus alas contribuye a que el paisaje se vea aún más tétrico de lo que es, para hacer las fotografías tuve que caminar entre la maleza para acercarme lo más que pude, eso sí, cuidando de no hacer mucho ruido y cuidando mis pasos ya que me encontraba en la orilla del barranco.
These are the other two pictures that I liked, I think the tree they choose to clean their wings contributes to make the landscape look even more creepy than it is, to take the pictures I had to walk through the brush to get as close as I could, of course, taking care of not making too much noise and watching my steps as I was on the edge of the cliff.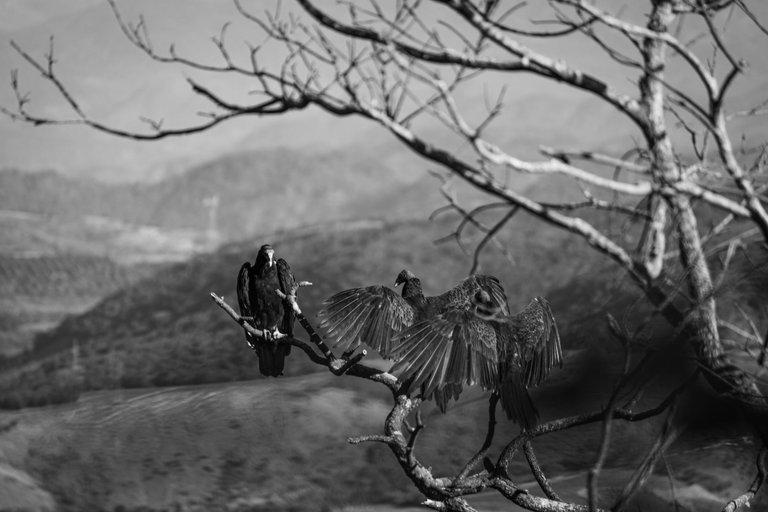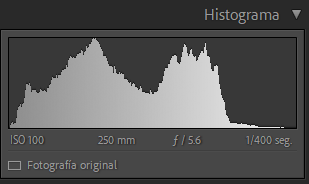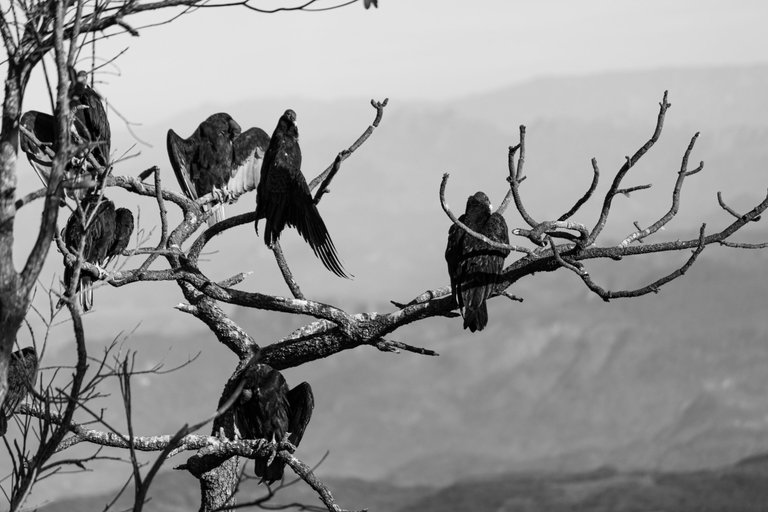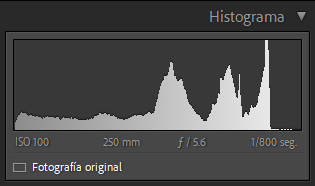 ---
All photographs are my property, taken by me, @monster-one
---
Thanks for watching my post, see you in the next one.
---
---

---
---
---
---