My comment trail to a Desteni Cult member, me being an ex-Desteni cult member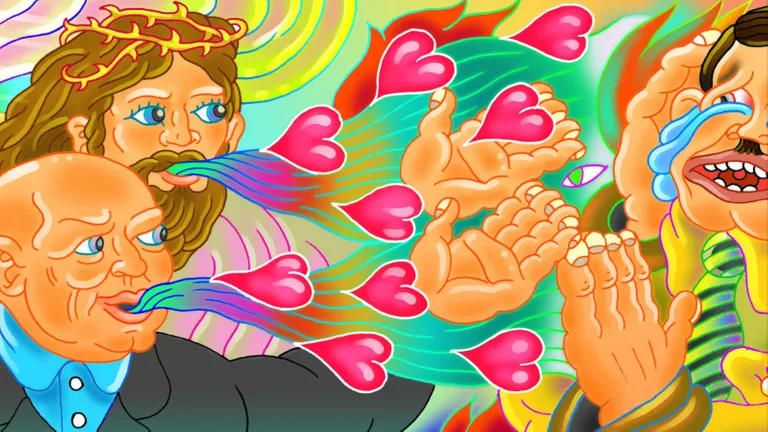 source
Yes, it's true. I was part of the Desteni cult that had its heyday from about 2008-2012, I personally was involved with the cult first online in 2007, then I visited the farm in 2008 and I was assisting with their activities online until 2010.
In 2008 I visited the farm in South Africa and was in close private contact with the guru for a couple of years after that through email (who wasn't a 'guru' mind you, we had to be very specific on our terminology, because Desteni used English in a way that other people did not use it). I was a young blind ignorant soul searching for the 'truth'. I became a 'poster boy' for a while, being the one that made the most daring vlogs and blog updates that advertised Desteni's 'self-corrective process' and its agenda. Also in the group there was a girl who was a 'channel', who was not a channel, was a 'portal' (another slip of the english tongue there). From this 'portal' the ineffable information of 'the dimensions' flowed, complete with a plan to save humanity with equal money from birth until death via a totalitarian surveillance state. The dimensions in this sense is anyone that was ever dead but also non-previously-conscious solids like toilet rolls. Yes, there was even a video speaking to a toilet role through the 'portal'. Desteni was a youtube sensation for a while there, gathering thousands of views in its heyday with all the different 'channelings' but youtube censored their main channel around about the 'master's' death in 2013.
So they're still bobbing along after all these years spreading their doctrine of self-forgiveness and self-honesty even after the guru dieing in 2015. The last I knew of their 'doctrine development' before I was kicked from the group for speaking heresy on a forum was that they were developing a way for all the members to speak to the dimensions themselves through palpitations in their wrists via a form of kinesiology. ( yes, all this really happened, although it may be denied in the present day, depending on what their current story is).
They're in complete denial of the abuse of the youth that they attracted at the time of their inception. They still have a handful of people dedicated to their 'process' and are still trying to 'assist' the world via monetary subscriptions to said 'process' using a 'buddy' program aka The Desteni I process
In other news there has been rumours of an ex-cult member apparently having committed suicide and then reports of Desteni trying to sue a person for writing about this on a forum in Sweden. And this scenario is entirely possibly because a lot of young people came to the charismatic Bernard, including myself, believing he had some edge on the truth about this reality and we willingly let him 'program' us. He fucked up a lot of young people with his 'teachings'.
You know it's all a bit messy, yet they're still going! (like what the fuck?)... now they're possibly a couple of hundred people in number, not as strong as they were in their conviction of their previously believed ineffable-dimensional-truth via the 'portal', but still struggling along and capturing the occasional young person or vulnerable searcher unawares.
So recently I decided to contact a member because they still post material about politics that is relevant to today and I thought, well, maybe they've changed a bit and I considered, ok... I'll test the ground.
This member happens to be the deceased cult leader's daughter.
Also, if you feel like it, here is an article written by Vice Magazine about them in 2015 -
https://www.vice.com/en_au/article/yvxpx7/meet-the-struggling-south-african-cult-who-tried-to-kill-demon-hitler-541
---
The following comment trail was had on this post by @cerise here - https://peakd.com/southafrica/@cerise/eskom-and-the-cycle-of-debt
Monty: Will you be joining us on Hive? [still posting on Steem]
Cerise: I think I have just done so
Monty: Yes, you have just keep posting through here or double post on steem for a while if you will, but it would be worth in the long run to power down all your steem and transfer it to Hive through an exchange like Ionomy or something. Steem won't be around for much longer with such an exodus.
How is the farm life treating you anyways? It's Matt here if you didn't realise. [Matt is my birth name]
Cerise: OK cool I'm going to see about transferring my steem, thank you.
Farm life is good, it seems like I was already practicing social distancing as my life hasn't changed much since the lockdown started. We just moved so I've been unpacking and organising and such.
Which Matt? I know a few 🤣 Are you from Aus?
Monty: I also do my own thing generally but the little bit of contact I do get, I realise I need. There are certainly positives and negatives to this situation. A creative flow is good to find in these times.
The Matt from Australia that left Desteni with a bang, the one that was meant to have been possessed by Satan. haha - maybe I still am, better look out!
Cerise: Yup there are always things that can be learned (let's call them gifts) in every challenge.
Cool I thought it was you. how's Aus treating you? do you have enough toilet paper?
Monty: Well, I'm glad I got a response. It means at least the Satan narrative is not being followed anymore. But to be honest, I did enjoy it for a while. Everyone was scared of me. It was a big power trip.
I'm still using common sense, and I've learned a lot of lessons along the way.
Australia is interesting, I'm in a city, so any city at this time is a trying experience. I fortunately returned from Europe weeks before this fiasco really started to explode. I've got just enough to get by and a studio to keep me occupied.
My interests are still humanitarian. Though I am avoiding groups as such.
I've heard Desteni has become something more accepting since previous times. Well, in light of it all, we all have the same aim. Our commonalities make us stronger and accountability through experiences together give us invaluable reference points that are otherwise lost.
It's good you're keeping up with the videos and things. Well, keep up with your perspectives and I'll have a look once in a while at your page.
How has life changed for you in the past 13 years? I suppose it's been a kind of rollercoaster. Mine certainly has.
Also, I forgot to mention.
I have plenty of toilet paper. Thanks to my housemate, who was already prepared for these things as she has boxes of it delivered in the mail from an ethical toilet paper factory. 🤣
Cerise: lol I'm glad you've got the toilet paper sorted. Not everyone is so lucky 🤣
I suppose you could say Desteni is more relaxed these days, the focus is more on practical living, practical solutions, and who I am within what I do.
Well, I met someone, moved in with them, got married, still have a horde of animals, am working remotely basically full time... that's basically the big updates. I assume you are aware that Bernard passed in 2013.
Monty: Ok, sounds like you've been busy. It's great you've got your independence.
I am aware of Bernard's passing. I feel like the political aspects of those teachings with him were somehow prophetic of what is to come instead of actually needing to be applied by ourselves (not that I want to apply them).
I have no idea how you guys do it, but you're probably feeling some sort of connection with him on an inter-dimensional level using your wrists or something. I never completely bought that story. It was my intuition that I followed to find Desteni and to work with the group.
I was politically immature at the time, and was also impressionable (still am, mind you). I walked into a place where I felt like there was truth, family and security and I was taught a hard lesson through having been forced to live truths far greater than I; introduced prematurely into my sphere of influence. In a way though, this was also what I wanted. My intent to be there was flavoured by this desire to 'take the shortcut' not considering how much pain it would cause myself.
I can look back and say, I am grateful for the time I spent there and for the teachings I absorbed (whether practical or delusional - in time they have been tried and tested). My life since then has been a journey of proving to myself my own worth and independence apart from the mission of Desteni. Proving to myself and in and of myself, I have value.
Coming in and out of Desteni, I've also been in and out of other groups and I now see more clearly the hold of the group mind within a collective belief system and how this can be used to control a group. I'm much more aware now.
You guys have an important mission, however I do not support a police state with microchips and that was at least part of the reason I left. For sure there were good aspects to Desteni's political dream as well. I'm just not convinced it is the only option.
Part of Desteni's take home message for me was that the truth is harsh and just because it is harsh does not mean we do not face it. We must run headfirst into the flames and in our complete and entire, willing submission to the forces that purify us - we become the best version of ourselves or we die.
As we stare into the barrel of totalitarianism via a virus. All these echos of truth reverberate back up the well of time.
Micro-chips, mark of the beast, yada yada was taught in the religion I was raised in.. My doomsday heritage created a nest by which for Desteni to sit.
I'm glad the group is much more relaxed now.. but I hope your political agenda has shifted. Has it?
So here we are at the threshold of consciousness. The strata in the wind at which the eagle sits (been reading some Castaneda lately, it explains a lot of Bernard's obsession with this symbolic entity). Bernard is still a teacher for me, but not in a way you might consider. I no longer allow shame to control me and I am working hard to stop responding to it with rebellion. Without these motivations to move, I am faced with the entire responsibility of moving myself, without an outside force to prod me along.
We are alone, remember? I am alone.
But also we are together, we are community and we are so strong together. Unimaginably strong. But first our intentions must be aligned. (and please don't break out into a diatribe about intention. It's a word, we use it. It has all the meaning we put into it, it even means 'starting point' if that's how you wish to see it).
Cerise: Not sure where the microchip idea came from, as it was not a part of what desteni wanted to create at any point. Bernard pushed people's buttons, so he'd talk about people's greatest fears and sources of conflict. So in things like microchips, he might say he'd want that implemented to push buttons, but that doesn't mean he's actually do it if given the opportunity.
Desteni doesn't really have any political agenda. as I mentioned, the focus is on self, practical living, being an example.
At the end of the day the only way that people will change is by people changing on an individual level. I cannot force another to see a point, or change a point. I can share what I have lived, what solutions have worked for me and what solutions haven't worked for me.
Another aspect of the focus of desteni is the principle of as within so without. The world is a reflection of who we are on an individual and collective level, in every way.
[Here's where I start.]
Monty: Well actually the micro-chip surveillance state was a part of the whole low income grant scheme program that was 'taken from the dimensions'. This was not to 'push people's buttons' by Bernard, this was the practical implementation of the political agenda what Desteni was pushing at the time of its more forceful incarnation.
If you can't remember that, that's a bit sad. This was there. And to say that it wasn't is to gaslight and that's abuse.
So where exactly do you draw the line of where Bernard was pushing buttons and where he was serious with what he was saying then. What you've just said, gives me justification to invalidate anything he has said.
I have taken for myself what truth I could from the experience, and I have moved on.
I do not live in denial to say that Desteni did not at one stage think through the portal that it had the ineffable truth. It really did push this agenda as part of the plan of the dimensions. A completely policed surveillance state was the only way it could be implemented according to Bernard.
Equal housing from birth until death, equal money from birth until death.
Bernard even prided himself as the founder of this grand solution to the world's problems and gloated with it publicly.
It helps to at least admit the past that was there in order to move on.
It's very hard to go back from advertising that you have 'the truth', 'direct from the dimensions' and now suddenly say, we're more relaxed about the ineffable truth than we were before and that truth we're now not pushing like it was ineffable.
It doesn't make sense. Decide for yourself if you can make sense of this. ---
The rest of what you say about the individual responsibility of the self is true and it may reflect Desteni's current message.
It is damaging and hurtful to deny its past. And if you truly believe that this agenda was not there. I am greatly sympathetic to the state of mind you have found yourself in.
Desteni was an ugly forceful machine in its first incarnation that hurt a lot of people and took young vulnerable people and manipulated them.
It is very difficult to come back from that.
It also propagated a lot of truth but no movement would have any success without a measure of this. It made its point by shaming the rest of society for doing the wrong thing about starving people then proceeded to bulldoze other belief systems and politics with its ineffable truth from the dimensions.
If Desteni has truly changed, you must acknowledge this past to move forward, otherwise there is no future for the group. It will always be lost in the backwater due to its reputation. Denial of the past is to dis-acknowledge the people that were harmed.
I'm glad that Desteni has 'moved forward'. I hope that's true. Regardless it will have little effect on anything due to its genesis - a need to control a small group of people in order to propagate an agenda.
Bernard was threatened by me. This is why I was cast out. I could see through him. We had many private conversations in email.
He even said to the others that I was the only one that could see, then shamed me with the definition of having 'christ consciousness' as it was a 'bad thing' as part of the (lo and behold!) 'consciousness system'. Then when leaving the sect (yes, Desteni is a sect) he told people in a talk that I would be back in seven years time and that if anyone were to speak to me, they would destroy their 'process'. I later found out from Bella I was meant to have been possessed by the expression of Satan.
It's a convenient way to box a vulnerable person up you perceive a threat. His actions were largely self serving to accumulate and centralize energy he drained from the group while his greatest message was to preach against self-interest. He stated regularly that he used energy of ours that we weren't even aware we had. Just a little contradictory don't you think?
There were definitely times when he was pushing buttons, but I was aware of those moments. He was not pushing buttons all the time. He was deadly serious about a lot of what he said and taught.
He was a man -- not a God, as we revered him. That was the problem.
You cannot deny the past of Desteni. It has an ugly past. If you really want to make Desteni into anything more than just a backwater, this past must be faced honestly. (Self-honesty anyone?)
It has great intentions -- starting points -- it can assist in the greater picture of what needs to be done in this world. But it is not exclusive. Newsflash: The truth is not exclusive to Desteni. The truth is universal to all people if they are so inclined to search for it with an honest open heart. This monopoly on the truth is what was claimed by Bernard through the portal, and this is what caused the imbalance -- causing young people like myself to come see 'a man' that claimed to have traveled the dimensions and see things that others could not -- so we believed him (and we couldn't even use the word 'believe' anymore).
The only way his teachings were useful is if taken into the world and tried and tested as reality or not. Yes, he taught lies with his bullshit. He also taught cold hard blunt truth, which was the main attraction. He like others he bagged, was a 'walking shit-bag.'
Whether or not his existence has had a more positive or negative effect on the bigger picture, I've no idea. He had a dream and this was his obsession. He made a story and through his experiences with channels created a portal (which wasn't a 'channel') -- vulnerable people believed in that story, aligned with it and made it real for them, and thus realised it.
Just the same way as in any other belief system and I've been through enough of them to know.
However...
Your father was a great man for trying something different. Because any change in the earth from what it was, may have been better. Any motivation, fake or imagined, would have been a better thing for people to believe and to move them than to watch them just stagnate, waiting for 'the end of the world as we know it'.
I came to this realisation a few years ago after leaving Desteni. That it didn't matter that what he taught by himself or through the portal was real or not. What mattered was if he actualised change in anything with it.
And did he? Did he have an effect on the greater pool of consciousness?
Within the cycles we repeat over and over, his vision was just part of a wave that was already moving in that direction, yet he attempted to take a portion of the established stream of consciousness and cause it to rebel against itself in an attempt to cease a cycle.
A lofty dream! Completely delusional, blinded by his own ambition but a lofty dream nonetheless!
Many parts of his methods were flawed and cracks started to show. Indulgences were had and he was not perfect.
Many identities throughout history have tried what he tried and failed. It is a sign of absolute ambition and also of absolute foolishness to try and cause consciousness not to follow its own cycle -- by any method. To try and use consciousness against itself to debilitate the inevitable end. He was however, blinded by this ambition and he used all energy within his reserves to create the Desteni movement truly infatuated with its cause.
What a dream! Well done Bernard for sharing with us that dream!
This true dream he taught with what he did and not with what he taught. ---
I'm not sure you were the most intimate with his teachings in the early parts of Desteni. You were a bit distant, but completed some administration work. You avoided contact with me, we did not naturally click. The fact that you are listening, at least shows you have some level of independent cognition left in you apart from the group -- an independence of mind that was unheard of in Desteni's first few years. ---
What we are becoming is the final portion of the present cycle. All these events are inevitable. What we have half a hope in achieving is seeding a community that survives into the next cycle that causes humanity to be less abusive in the long run.
[New comment, still going]
Monty: Here's a song with poetry by Mahmoud Darwish. (https://soundcloud.com/kelebek-evrimi/5-the-butterflys-burden) It has a strong principle hidden in it. It denotes that the cycle will continue if you let it/want it to and a new cycle will be born or... we can stop it, collectively or individually, either is possible. Collectively we create new worlds. Individually we get lost too quickly in our own delusions. Just as when someone dies and sees only the dark, then adjusts to the dark and senses more. The world has changed around them, they are no longer in control of its form. This is why a shift must be done collectively. Through collective momentum, the power of the mind shifts reality. A power so great it can create worlds.
As long as we are pitched against each other, this power is robbed from us. It's the secret of communion. It's the secret of secret societies. It's the secret of isolated sects. Our collective will creates. One person in disagreeance can stop that power.
[New comment, three days later, still going]
Monty: The dis-acknowledged will always come back to haunt you. Without facing the mistakes, there is no future.
Desteni was about self-forgiveness and self-honesty.
Does that mean, forgiving the self without regard for the other, letting go, forgetting what we've done and then self-honestly saying, I don't remember any of it, therefore it never happened.
This is bad psychology. It's also sociopathy.
Try a little harder Desteni. Try to work with the rest of the world, and the way that it works, because your methods have not worked and are not working. You may still pick up the occasional vulnerable young person searching. But you will never come close to the ambition that you once chartered.
And you continue... in your blind arrogant innocence, you continue...
It's such a hard life when we fail to see what's in front of our faces because we've blocked it out with a universe that no one else understands.
The ultimate victim is the victim that cannot see its oppressor and it cannot see its mistakes -- because it chooses to say, they do not exist... yet bleeds at the wounds of its invisible captors, learning to cope with its blindness... considering that this is just the way life is.
No, it's not. Bernard was a tortured soul and he chose to spread this torture out. You are living an extension of his torture.
You talk about taking self-responsibility and taking these parts of yourself within.
You need to stop claiming to help people, stop 'helping' people and just get on with life.
Because there is no saving anyone.
Yet... you continue...
This is a paradox
[New comment, still going]
Monty: And to think I almost had hope that Desteni actually stood for what it said it stood for now.
Thus why this all started amiably.
You cannot blame me being possessed by Satan on my reaction to being gaslighted.
This is a rational reaction from someone that has honestly experienced something and the other claims it was nothing.
This is abuse. And Desteni must stop. [end of comments]
---
---
---
---
---
So that's the end for now, I may never get acknowledgement or a response.
What Desteni says it stands for, looks good on paper.
What Desteni says it teaches, looks good on paper.
Desteni does have some practical teachings about facing the self, but they are not original as claimed. They're a mixture of many different methods from many different belief systems rolled into one.
If you've read all my comments and think that I went over board. I ask yourself the question, have you ever been gaslighted before?
Have you ever been gaslighted by a previously abusive cult you've been in before that is still trying to 'assist' the individual with 'the process' while denying its abusive past?
===
Let's remember community and our ability to sort through bullshit with our collective intelligence.
Thanks for tuning in and reading, this helps me get a great deal off my chest.
I've been through a great deal of cults/movements/religions in my life and I've learned a lot about the way a group develops, is formed, is led and is subconsciously structured. Desteni was certainly a unique experience. I've taken the best parts of this experience to assist my observations of society and help identify future abusers. Belief systems and toxic self-affirming universes via small groups, are rampant. Religion and culture is no different, just bigger.
We live in a series of cults.
Monty
---
---