Moonthumb's Fantastical Splinterlands Primer (for complete newbies) [vol. 2]

You're In Luck!!!
After my post yesterday about introducing my little brother (and other complete newbies) to the amazing game of Splinterlands, he had some more questions, so I thought I should put together another volume to Moonthumb's Fantastical Splinterlands Primer. So, without further ado, let's dive into the new information.
OK, I have a Spellbook...Now what?
As we wrapped up our last session, I posed the question as to whether or not you want to acquire a Spellbook and that if you want to earn rewards in the game a Spellbook purchase is required. Since we are diving further into the game, I will go under the assumption that you took the plunge and joined the ranks of those who have invested a small sum into their Splinterlands experience.
Now that you have a Spellbook, you can earn in-game rewards. I guess you should next learn how to play the game. Since there is already a tutorial inside the game (you can take a look HERE), I will not go into the actual X's and O's of fighting your battles. However, if, after going through the tutorial, you still have questions, please feel free to leave them in a comment below.
So, What Makes This Game Different?
If you have never played a #play2earn game before, it is not just an ordinary time-waster (something you do for entertainment purposes with no redeeming value). Splinterlands is a game where the rewards you earn have a monetary value that ultimately can be "cashed out" should you ever decide to do so. The in-game currency (DEC) is a token on the HIVE blockchain that can be bought and sold just like any other cryptocurrency. And the cards themselves are NFTs (if you are not sure what NFTs are, learn more about them HERE. Since the cards are NFTs, they, too, have value and are able to be bought and sold. This is why this type of game is called #play2earn.
Tell Me More About These Cards
Well, if you have been through the tutorial (if you haven't you might want to take a break and read through that now), you have already learned about the card layouts and playability. And if you read a little further, you might have also learned that you start with a collection of "Starter" cards which you can use to begin your Splinterlands adventure. While you can use these cards in gameplay, that are not actually owned by you. Some people call them "ghost cards" because they are in your collection, but they are not really. You get to use them all you want, but you cannot sell them or upgrade them. You will know if a card is a "Starter" card by the "S" at the top of the card in your collection (which looks like this):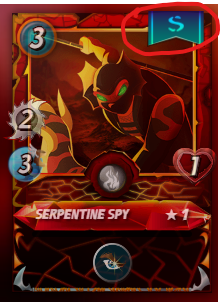 When you first purchase your Spellbook all of your cards will be "Starter" cards. You will get a selection of common and rare cards from each of the two most recent sets (currently Untamed and Chaos). When the next set comes out (after all of the Chaos packs have been sold), the "Starter" cards will then consist of the current Chaos starters cards and a selection of cards from the new set. So, if you're thinking ahead, you will realize that come of the "Starter" cards you have become accustomed to playing every day disappear whenever the new set comes out (something to keep in the back of your mind). The way you keep from losing those cards is to add a real (non-"Starter") version of the card to add to your collection.
Did You Say The Cards Could Be Upgraded?
Well, nothing gets past you, now does it? Yes, as you begin to win cards and/or open packs, you will invariably end up with multiple copies of the same card. One option you have with these extra cards is to sell them so you can buy more card that you don't already have. But you also have the option of combining the cards to upgrade them, thereby increasing their stats or possibly even adding additional abilities. The number of cards necessary to increase one level varies by card and different cards also have different maximum levels.
But before you rush out and start upgrading all of your monsters, you need to know that you will not be able to use those upgraded stats and abilities if the summoner you are using is not a high enough level to support them. In other words, if you have a level 2 monster, but your summoner is only level 1, there is a good possibility that you will only be able to use your level 2 monster using it's level 1 stats and abilities.
How do I add cards to my collection?
There are a number of ways to add cards to your collection. One way is to purchase packs. These can be bought either in-game or in Hive Engine. You can generally get them cheaper through the Hive Engine market, but if you purchase them within the game you have the possibility of being airdropped a special card that does not get added to packs for general distribution.
Another way to add cards to your collection is to purchase them in the open market. There are several places where you can find cards and they can be bought with various crypto tokens based on where they are sold. However, this is a much bigger topic that I will have to address at a later time.
Finally, the best (meaning FREE) way to add cards to your collection is to earn them for winning ranked battles. There are two ways of doing this. First, each day you have the opportunity to complete a "quest" consisting of five battle with a certain ruleset. If you win at least five battles using that ruleset, you earn rewards that can range from Credits to DEC to potions to cards to (in rare instances) packs.
The other way to get free cards is through season rewards. Each season lasts a couple of weeks. As you battle through the season, if you win more than you lose, you progress to higher and higher ranks. At the end of the season, you receive rewards based on the rank level you achieved. Like the quest rewards, these can be Credits, DEC, potions, cards, or packs.
---
I've probably overloaded your brain for one sitting, so I'll shut down this post here. Stay tuned for more Moonthumb's Fantastical Splinterlands Primer coming soon. I look forward to greeting you on the Splinterlands battlefield in the coming days.

To learn more, you can read the next post in this series.
If you missed any of the previous volumes of this series, you can find a link here:
Moonthumb's Fantastical Splinterlands Primer (for complete newbies) [vol. 1] - Setting up an account and getting a Spellbook
---
---