SplinterlandsX (eXperiment): I'm Getting Stronger

This is the next installment in my experiment in building a Splinterlands account from scratch without additional monetary investment after the initial Spellbook purchase. I am chronicling my journey so see if this is a viable activity and, if so, how long will it take to reach that level (I'm shooting for SILVER...after that, we'll see).

Brief History
In lieu of all of the recent changes in Splinterlands gameplay, a few weeks ago, I started an experiment to see if a new player could build a viable account without any monetary investment (besides the Spellbook, of course). I created a brand new account for my wife and started playing it (you can read the previous installment in this series HERE). Initially, I don't expect this account to make much progress, so I will work on creating a couple of posts per season. If things begin to get interesting, frequency should increase.
When I initially created this account, I was several days into a season. Even though I was playing this account with a bot, I was unable to accumulate enough points to earn a season chest at the end of that season. I wanted to see if it was possible to earn a chest with a bare minimum account that only contained a few cards that could be purchased with the original 3000 credits and starter cards. However, during my first full season, I was able to earn a single season chest with the few cards this account currently owns. It would have been nice to obtain a new card with that chest, but hey, SPS is progress.
I also began entering card giveaways to see if I could increase the collection before the season ended. Unfortunately, in the last season, I did not get to enter as many giveaways as I would have hoped and was unable to win any additional cards for this account since the season began. Since this is be best way for me to acquire new cards at this point, hopefully I will be able to get into a more consistent routine and increase my entries as time goes on.
Current Status
It's been a while since my last entry in this series (about a season and a half). The reason is because it's been pretty uneventful. While I did earn four chests in the previous season (benefiting from the help of a delegation that bumped me up to Bronze I for a bit), I did not become the proud owner of any new cards. Here's a snapshot of my meager rewards: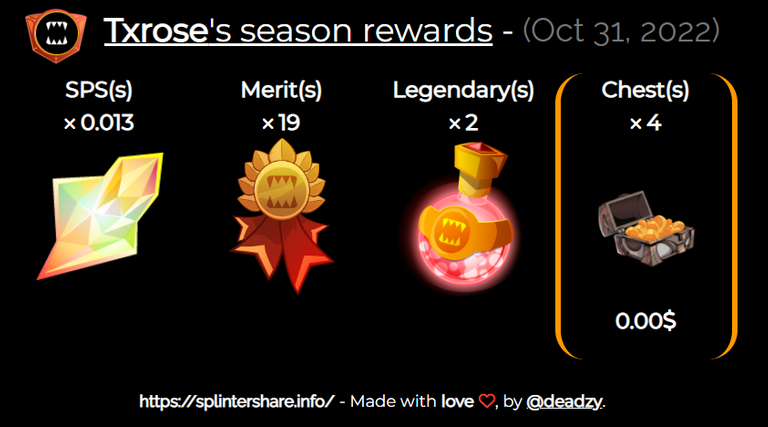 But I really can't complain. I am finally starting to accumulate SPS. However, at this rate, it will still be a while before I am actually claiming any.
In the "How did I miss this?" category, though, I looked back a few days further and discovered this beauty!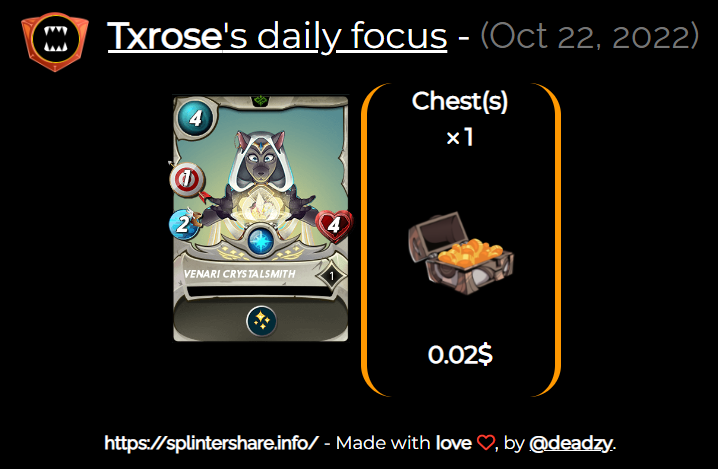 THERE IT IS! The first card I have actually earned with this account. Obviously, since I have not purchased (or won, for that matter) any Reward cards with this account, this is a brand new addition to this account. It gives a bit of a boost to my second largest splinter and the popularity of this card will reduce the Starter Card Penalty for Life going forward.
So now, we get back to the season that just concluded this morning. Since I completed this season with no outside help and only a slight boost from the cards that were won in giveaways last season (you can read about there HERE), I was not sure whether I could be able to accumulate enough points to attain a Season Chest. But with a late season rally, I was able to earn...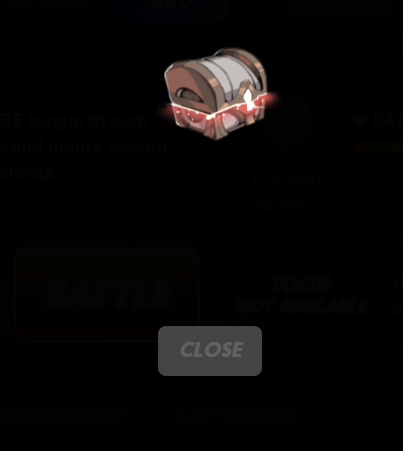 Another chest! I know, I know...It looks awfully lonely (I'll have to work on that). But, at least I have reached the point where I can make tiny steps of progress on my own with this account. But is there a new card waiting inside that chest?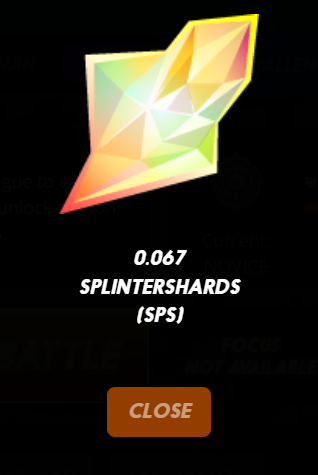 Alas, once again I was snubbed by the splintergods. But, hey, I increased my SPS by
over 500%. I'd call that progress.
Finally, in following some advice received in a previous post, I was able to accumulate enough Hive to purchase a new card for my collection. I did some research on which starter cards the bot uses the most to find a card that would be used a lot and help reduce the starter card penalty I am getting hit with in all of my battles. The card I went with was the hands down winner, but unfortunately, it was not as cheap as the ones I purchased with my starting credits. So, the card I added to my collection is.....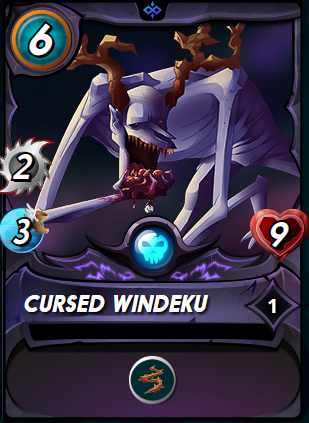 For some reason, a good number of battles on this account were fought with the Death splinter. and this card and this cards was used almost 1.5x as much as the next most used card. However, this card is a little more than the cards I purchased with my initial 3000 credits, so I have to save up a bit to procure it. Hopefully, I will begin to reap some rewards for this purchase soon and start to see more RP from my wins.
AMA (Ask Me Anything)
In my first post, I stated:
If you have any suggestions on how a new player can progress without having to invest any outside influx of capital, I'd love to hear it. Also, if you are a new player that has questions about anything I am doing with this account (or anything else, for that matter), leave me a comment...
Since I was not able to advertise my last post on ListNerds, I did not see as much activity or get much response (makes you wonder if anybody else is actually reading this. I will have to be sure to wait for the appropriate times to create these posts in the future to make sure to take advantage of that option). Therefore, there is only one comment to address in this post.
In response to thanking him for feedback and posing the question of selling my duplicate card or renting it out, @darmst5339 commented,
Glad I could be of assistance. I would keep any duplicate cards and rent them out if possible. The card prices are low so you would not get much if you sold and then when it was time to buy it back, the price will probably be a lot higher. I only say this because everyone is hoping the Crypto winter ends soon at which point in time everything will start rising.
I have to admit I was leaning that way in the first place, but makes you feel good when your not alone in your thinking. Thanks for the feedback.
What's Next
As always, I have set the entire Hive Rewards for this post to go to my wife's account. Also, the rewards from my previous post as well as the additional tokens a few people contributed towards it (BBT, CTP, ALIVE, and PIZZA) were also forwarded to my wife's account and will be used to build toward purchasing additional cards when enough has accumulated.
Once again, I was lacking in my attempts to win additional cards from giveaways (it seems I never have enough time to do everything I want to do). However, I will continue to include that as a part of my plan and hopefully, I will occasionally have more luck in this area.
Finally, I still have almost 400 DEC left over from my Cursed Windeku purchase. I am currently doing more research to see if there is another card that gets a lot of play that I need to save up for. I'm thinking it would be better to wait to find such a card rather than find another semi-regularly used cheap card that I can already afford. Let me know if you have an opinion on this topic. Also, I will continue to answer any questions I receive about this eXperiment. Just leave me a comment.
Only time will tell where we go from here...

If you missed any of the previous volumes of this series, you can find a link here:
---
---