SplinterlandsX (eXperiment): Unexpected Success
This is the next installment in my experiment in building a Splinterlands account from scratch without additional monetary investment after the initial Spellbook purchase. I am chronicling my journey so see if this is a viable activity and, if so, how long will it take to reach that level (I'm shooting for SILVER...after that, we'll see).

Brief History
In lieu of all of the recent changes in Splinterlands gameplay, a few months ago, I started an experiment to see if a new player could build a viable account without any monetary investment (besides the Spellbook, of course). I created a brand new account for my wife and started playing it (you can read the previous installment in this series HERE). Initially, I don't expect this account to make much progress, so I will work on creating a posts (or maybe two) per season. If things begin to get interesting, frequency should increase.
When I initially created this account, I was several days into a season. Even though I was playing this account with a bot, I was unable to accumulate enough points to earn a season chest at the end of that season. I wanted to see if it was possible to earn a chest with a bare minimum account that only contained a few cards that could be purchased with the original 3000 credits and starter cards. However, during my first full season, I was able to earn a single season chest with the few cards this account currently owns. It would have been nice to obtain a new card with that chest, but hey, SPS is progress.
I also began entering card giveaways to see if I could increase the collection before the season ended. To date, I have not been very consistent in entering said giveaways so the collection has not increased as I would have hoped. Since this is be best way for me to acquire new cards at this point, hopefully I will be able to get into a more consistent routine and increase my entries as time goes on.
Current Status
For whatever reason, the bot keeps urping for one reason or another. When it does, I stop earning FP and SP. In the past few weeks, there have been days that one (or more) of my accounts just stops building teams (thereby forfeiting matches, losing Rating Points, and falling to lower tiers). There have also been times when the bot gets completely disconnected and stops playing matches altogether. I am starting to have to make sure everything is running properly multiple times per day. Hopefully, I caught it early enough this season that there is still enough time left to earn a Season Chest (fingers crossed).

Well, if you have actually been reading these posts, you will know that my entering of giveaways has been sporatic at best. However, the day before yesterday, I made a concerted effort to enter as many card giveaway posts as I could find. And BINGO!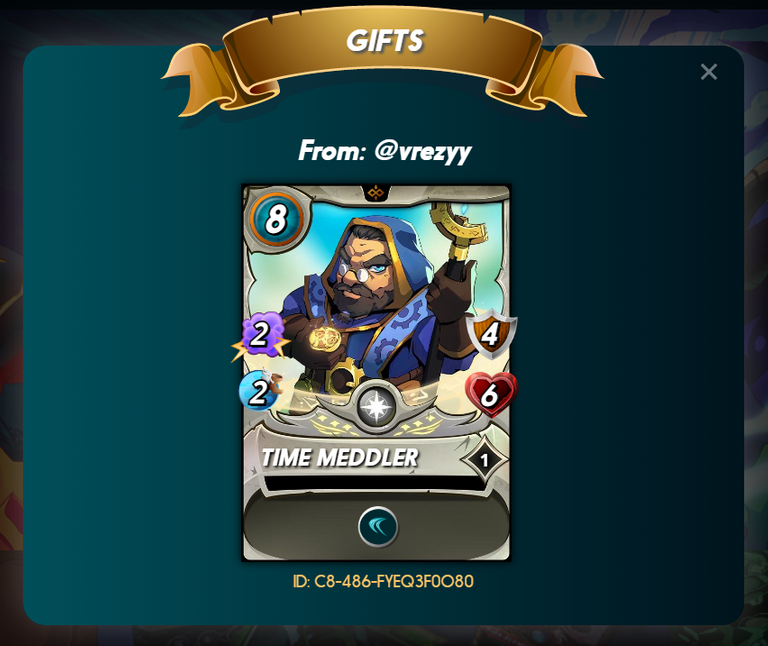 I won this beauty from @vrezyy in THIS POST.
WOW! My first Riftwatchers card. Unfortunately, with my low level, I doubt it will see much playing time (most of my matches don't have very high Mana). Also, it only has 5 CP, so I will need a WHOLE LOT more of them to move up a tier.
But I was encouraged by my unexpected success (meager as it was) and entered more giveaway posts yesterday. And wouldn't you know it...POW! I won again!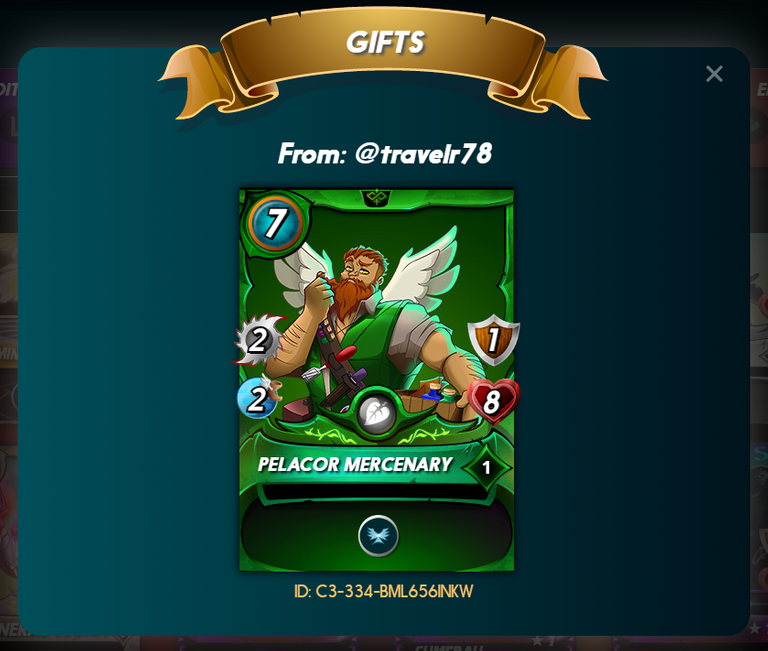 This time, the card came from @travelr78 in THIS POST. While this, too, has fairly high Mana and low CP, being a reward card makes it much more likely that I will be able to combine it to level it up quicker.

That brings me to a whopping FOUR Reward cards (one won in a Season chest, one won in a giveaway, and two purchased with my original coins). I'm in the big time now!
On the flip side, I haven't earned a reward card in either of the past two seasons. I guess the bot hiccups are really playing havoc on my chest production. Maybe things will pick up since I am starting to keep a closer eye on things.
AMA (Ask Me Anything)
In my first post, I stated:
If you have any suggestions on how a new player can progress without having to invest any outside influx of capital, I'd love to hear it. Also, if you are a new player that has questions about anything I am doing with this account (or anything else, for that matter), leave me a comment...
Even though I was able to advertise my last post on ListNerds, I once again did not see any additional questions or comments in the past post. Hopefully, there will be some signs of life in this one (just so I don't feel like this experiment is falling on deaf ears).
What's Next
As always, I have set the entire Hive Rewards for this post to go to my wife's account. Also, the rewards from my previous post as well as the additional tokens a few people contributed towards it were also forwarded to my wife's account and will be used to build toward purchasing additional cards when enough has accumulated. In addition, if anyone joins Splinterlands from one of the links in this post, they will be indirectly providing support to my wife's account, as well.
As you read, I was able to pick up a couple of new cards for the collection from entering giveaways. Since this seems to be the only way I am going to progress at the moment, I will continue this practice as time allows. Who knows, I may end up winning enough to push me up into Bronze II tier on a regular basis so that I can start making consistent progress.
Only time will tell where we go from here...

If you missed any of the previous volumes of this series, you can find a link here:
---
---