Last fall 2021 at dCrops [ENG/ESP]
Greetings HIVE NFTGamers. I was impatient while waiting for the end of the summer season and the beginning of autumn, which by the way is the last of this year 2021, I already wanted to see you on my farm visiting as usual.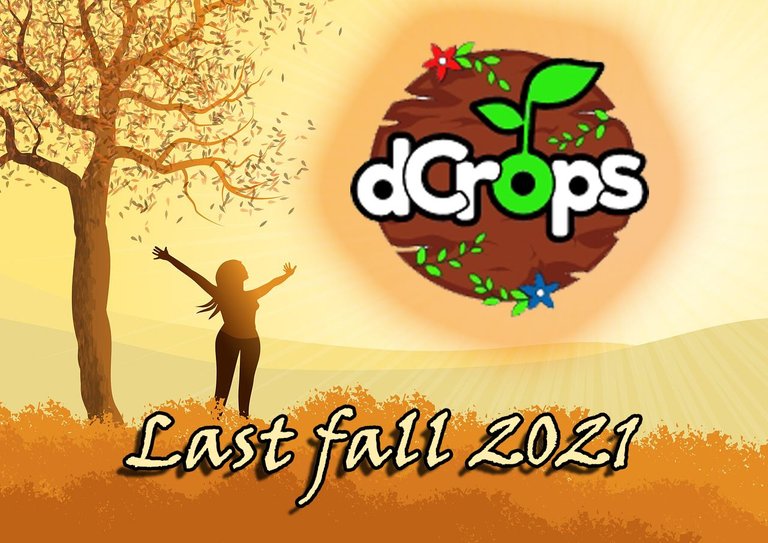 Source

First some news or updates of the game: as many of you know the seasonal tasks or missions are already active and these give as rewards 10 random items that basically are boosters for our crops like reducing the harvesting time, increasing the chance of getting 3 star crops and random seasonal seeds. We can already use these rewards in our lands and crops.
This summer we had a problem in the seasonal missions, where the reroll was not working as it should, the team was working on it for more than 12 hours until it was fixed. As a compensation measure for the mentioned bug the current autumn season will last one day longer than usual, this is what they indicated in the official channel of Discord dCrops. I personally believe that this small detail on the part of the team shows responsibility, commitment and empathy with their players, congratulations on that.

Now let's make a summary of what happened on my small but happy farm during the summer season that has just ended.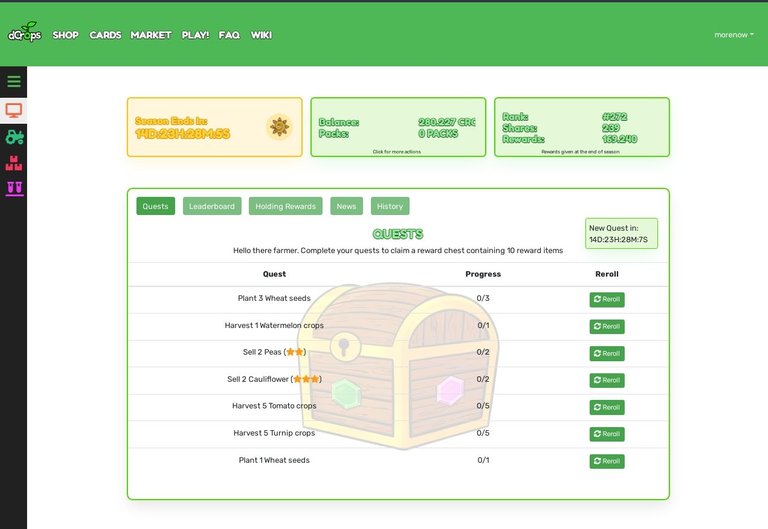 To begin with I checked the seasonal mission table to see what strategy I could implement, I really had very few seeds to be able to make an effective strategy but I'm getting into the habit. I noticed that I could complete some missions but impossible to do them all, I could always reroll to see if I could complete some other mission but I preferred not to do it.
Then I checked my seeds and my lands to sow the best in the best, if you understand me, well, 2 tomatoes of epic quality, they were the best and I decided to sow them in my awesome land that also have an epic quality, followed by 4 watermelons of rare quality that I sowed distributed between awesome land, fertile land of rare quality also and average farmland that is the common lands, to finish 4 wheat that is common in average farmland. I have no more empty land because I have no more seeds that correspond to this season.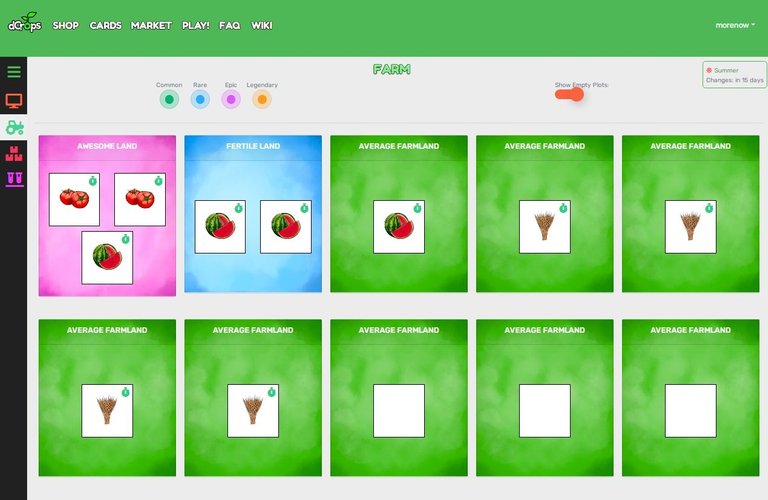 ---
The advantage of tomatoes is that you plant them once and you can harvest them during the whole season every three days, unfortunately in all my seasonal harvests the tomatoes did not give me more than 1 star. The last harvest I lost, I didn't make it in time and had to pull up my plants.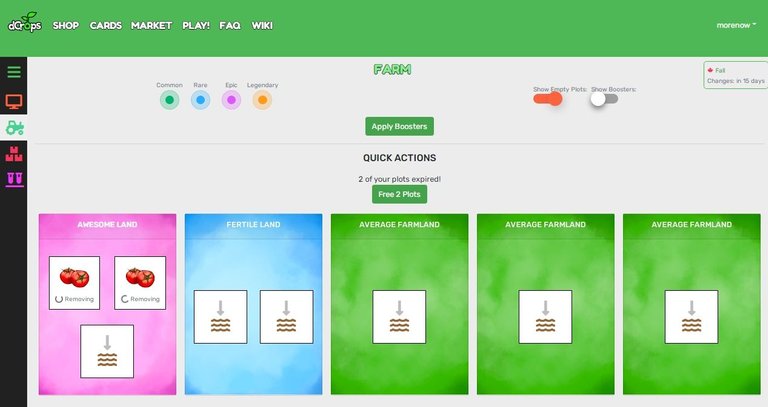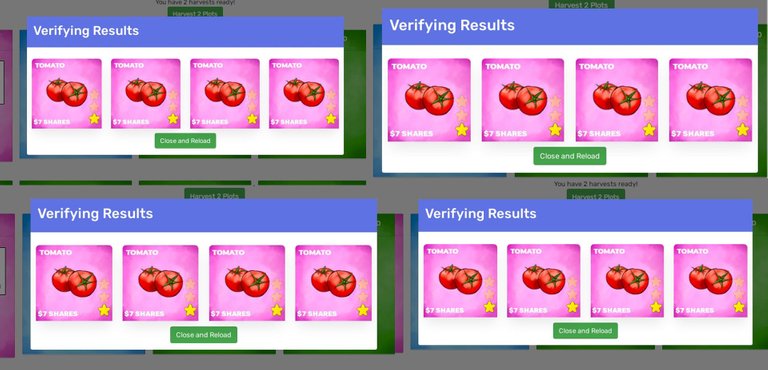 ---
In the case of watermelon, I got a two-star harvest, not bad, at least that's something.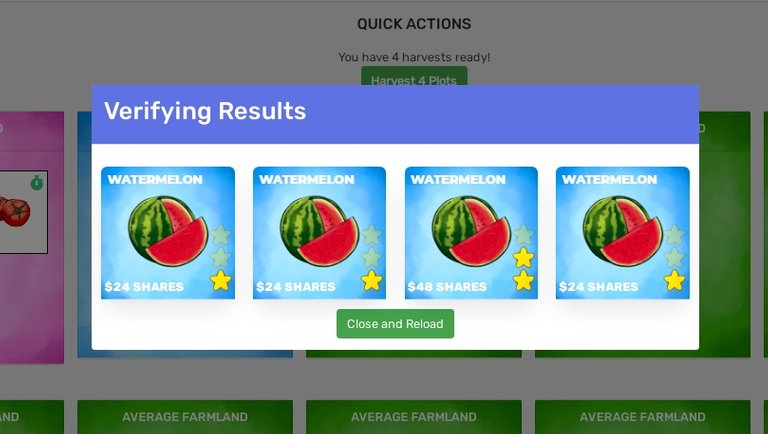 ---
En el caso de la sandía obtuve una cosecha de dos estrellas, no está mal, al menos es algo.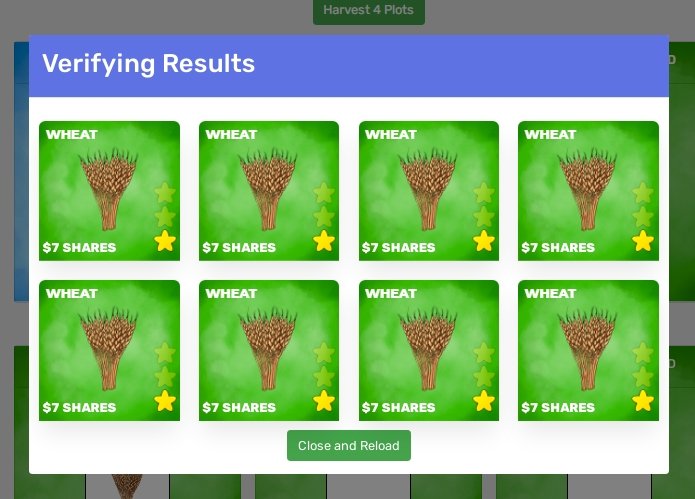 ---
My final mission table for the summer season looks like this. In total I had a production of 288 shares and I will leave my harvests in inventory as a strategic measure, I have something in mind and maybe it will work, but I will tell you about it later.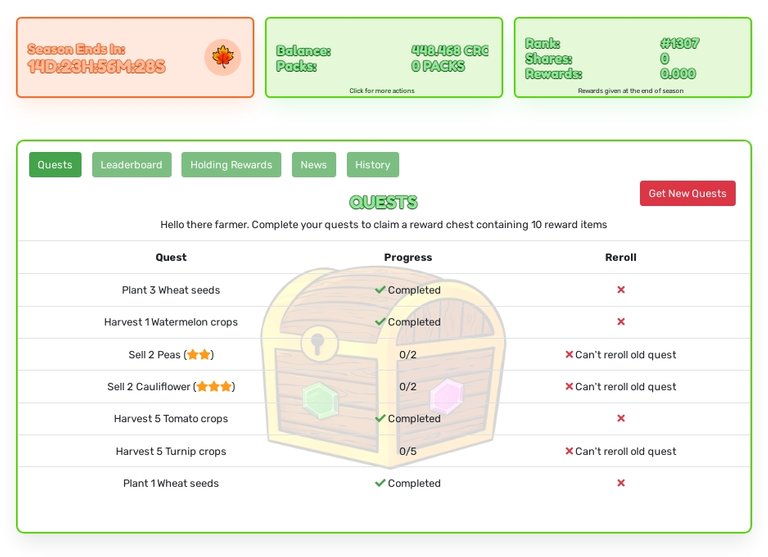 Alright farmers and friends, now let's see what we can sow this last autumn of the current year. At a glance I will be able to finish some seasonal missions and I think I will launch some rerolls this time, we will see.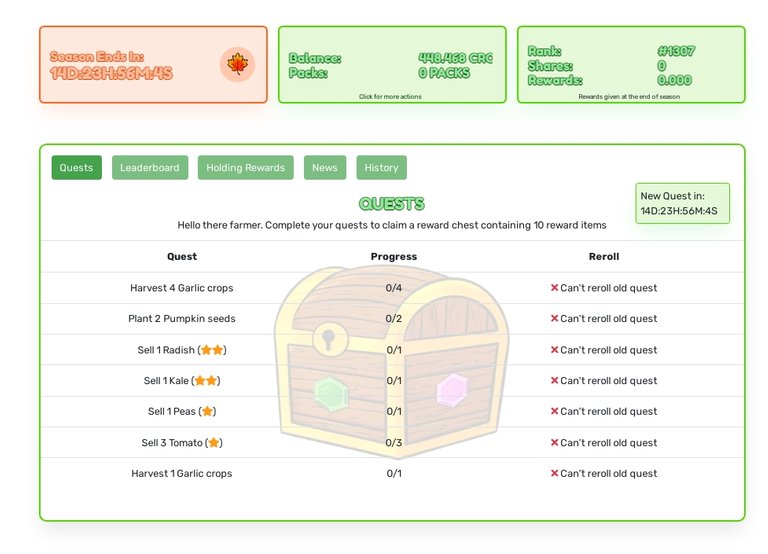 ---
My best seed of this season is a legendary Raspberry card that produces every 3 days non-stop until the end of the season, but I had this seed on sale in the market, I thought a little and canceled the sale and planted it in my awesome land along with 2 pumpkins, the other 2 pumpkins I have I planted in fertile land, 1 garlic and 3 carrots in average farmland. Once again I was left with 5 free lands to a lack of seeds, unfortunate but I'm short friends. Now I just have to wait for the harvest time of each one of them.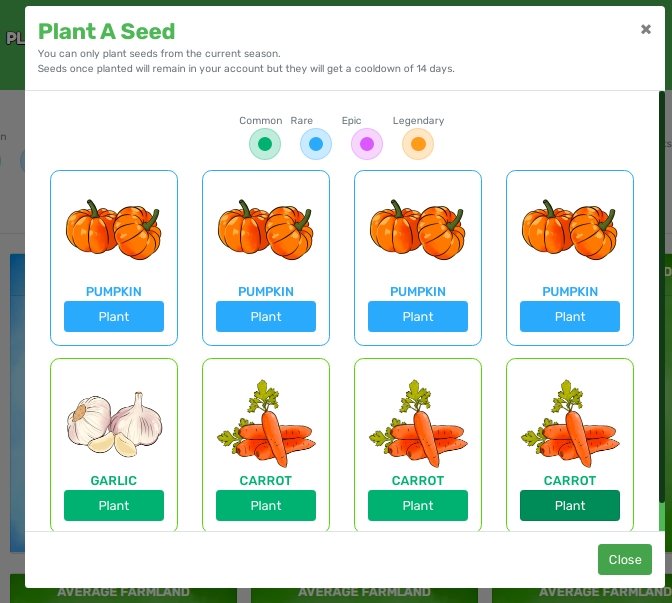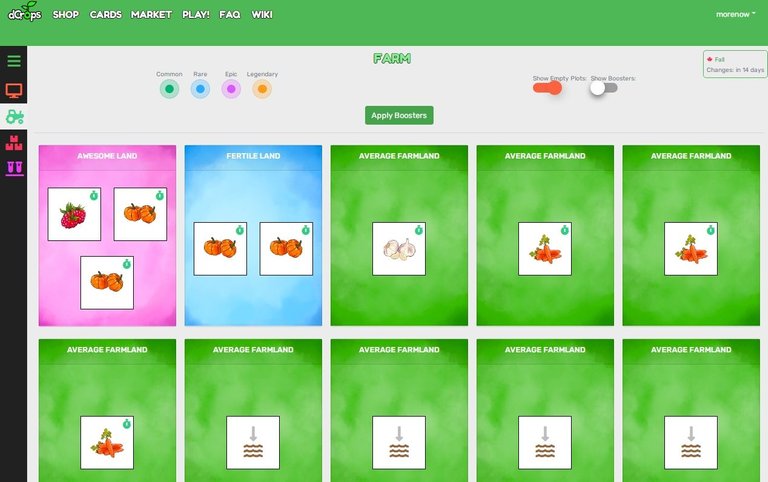 In the coming weeks I hope to see you back on my small but happy farm and take this opportunity to encourage you to have one with the following link https://www.dcrops.com/?ref=morenow, dCrops is a fairly simple game and in my case it has a relaxing effect, I don't understand why but it really relaxes me.

I invite you to be part of the community on Discord. "Mundo Virtual" where we are focused on NFT games and do daily giveaways of Hashkings, Risingstar, Cryptobrewmaster, Splinterlands, dCrops, among many others. You are free to share the diversity of projects and play with the different BOTs and exchange your winnings for real tokens.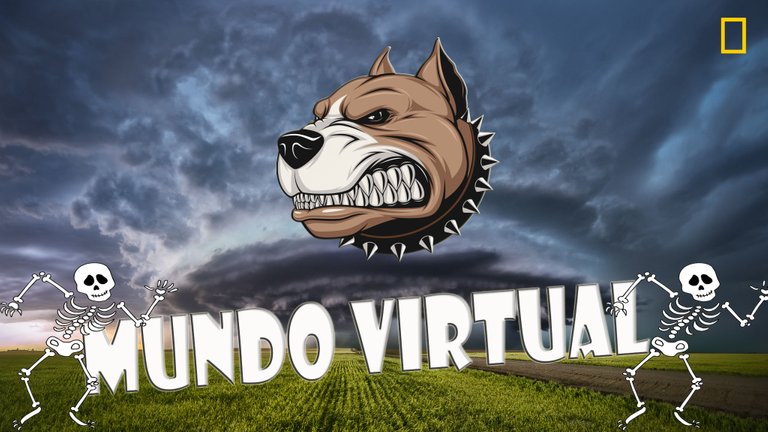 "Mundo Virtual

The images are screenshots of the game with my user, some of them edited in photoshop.
The cover image is free to use and is taken from the following image Source and edited in photoshop with elements from the game
The image "Mundo Virtual is owned by @pleo1542

Saludos NFTGamers de HIVE. Estaba impaciente mientras esperaba el fin de la temporada de verano y el inicio del otoño, que por cierto es el último de este año 2021, ya quería verlos en mi granja de visita como de costumbre.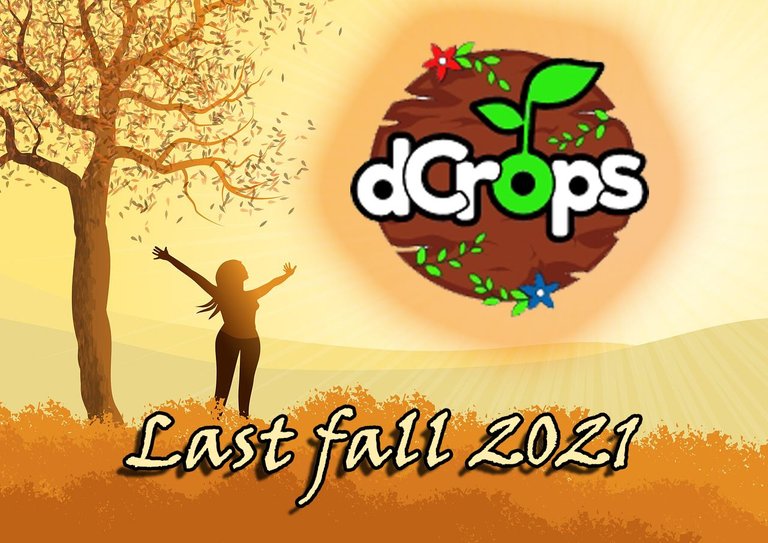 Source

Primero algunas noticias o actualizaciones del juego: como muchos saben ya están activas las tareas o misiones de temporada y éstas dan como recompensa 10 items al azar que básicamente son booster para nuestros cultivos como reducir el tiempo de cosecha, aumentar la posibilidad de obtener cosechas 3 estrellas y semillas aleatorias de temporada. Ya podemos usar estos premios en nuestras tierras y cultivos.
Este verano tuvimos un problema en las misiones de temporada, donde el reroll no estaba funcionando como debía, el equipo estuvo trabajando en ello por más de 12 horas hasta solucionarlo. Como medida de compensación por el bug mencionado la temporada actual de otoño durará un día más de lo normal, así lo indicaron en el canal oficial de Discord dCrops. Personalmente creo que este pequeño detalle de parte del equipo demuestra responsabilidad, compromiso y empatía con sus jugadores, felicidades por ello.

Ahora hagamos un resumen de lo sucedido en mi pequeña pero feliz granja durante la temporada de verano que acaba de finalizar.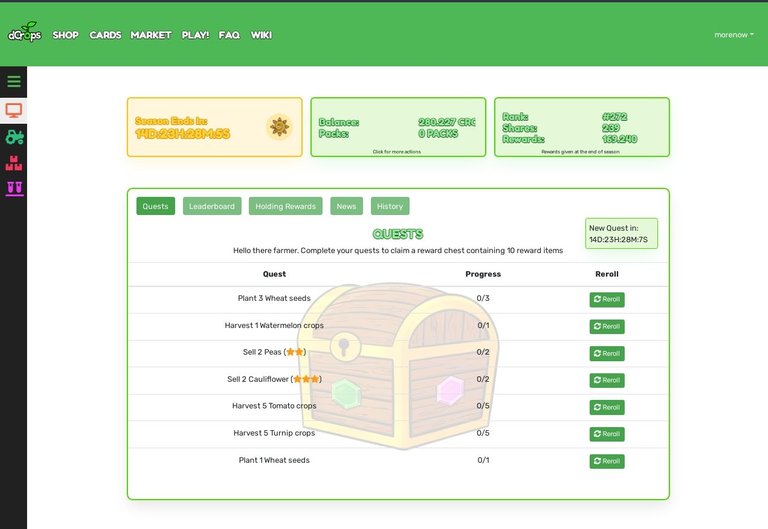 Para empezar revisé la tabla de misiones de temporada a ver que estrategia podía implementar, realmente tenía muy pocas semillas para poder hacer alguna estrategia efectiva pero ya me voy creando un hábito. Noté que podía completar algunas misiones pero imposible hacerlas todas, siempre pude hacer reroll a ver si me salía alguna otra misión que pudiera completar pero preferí no hacerlo
Luego revisé mis semillas y mis tierras para sembrar las mejores en las mejores, si me entienden?, bueno, 2 tomates de calidad épico, eran lo mejor y decidí sembrarlos en mis tierras awesome land que también tienen una calidad épica, seguido de 4 watermelon de calidad raro que sembré distribuidos entre awesome land, fertile land calidad raro también y average farmland que son las tierras comunes, para finalizar 4 wheat que son comunes en tierras average farmland. Me quedaron tierras vacías porque no tengo más semillas que correspondan a esta temporada.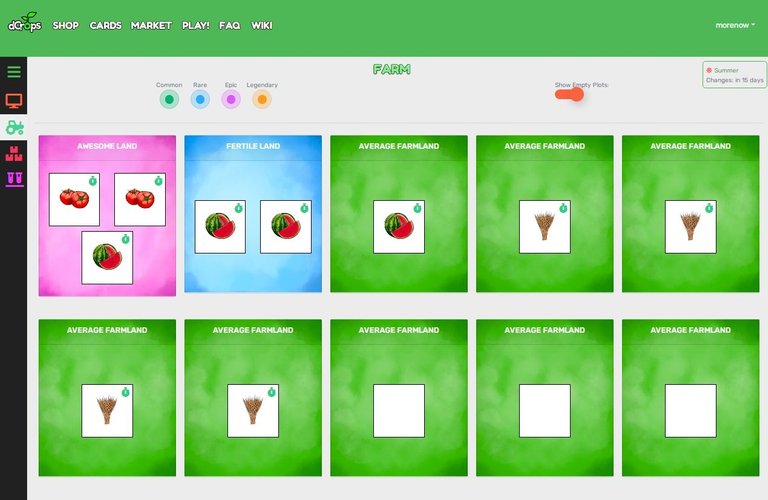 ---
La ventaja del tomate es que se siembra una vez y se puede cosechar durante toda la temporada cada tres días, lamentablemente en todas mi cosechas de temporada los tomates no me dieron más de 1 estrella. La última cosecha la perdí, no llegué a tiempo y tuve que arrancar mis plantas.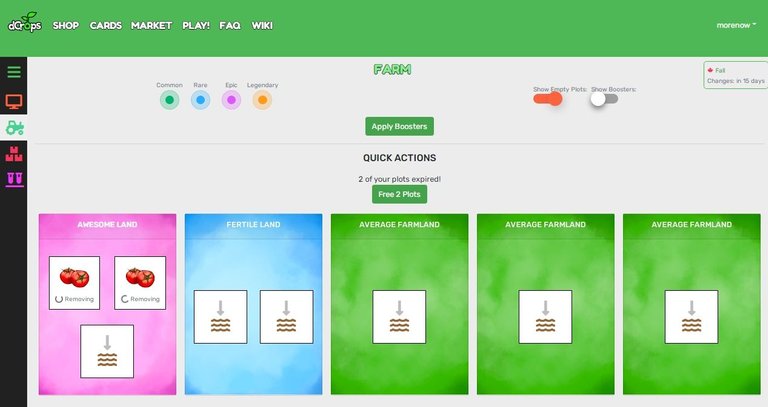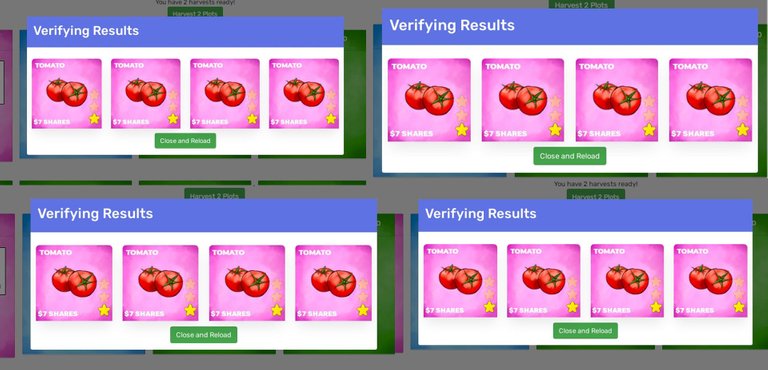 ---
En el caso de watermelon obtuve una cosecha de dos estrellas, nada mal, por lo menos es algo.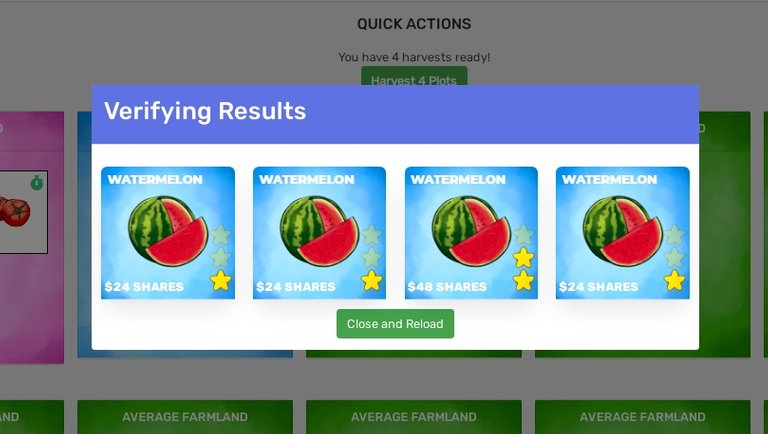 ---
El wheat no ayudó mucho tampoco esta temporada, dándome una estrella en todas las cosechas.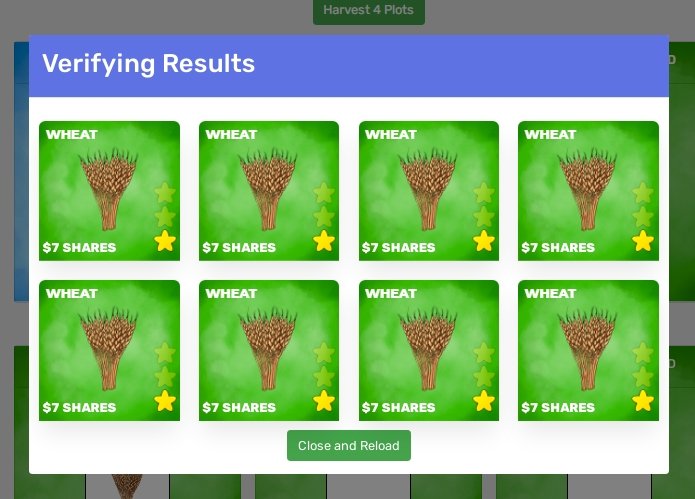 ---
Mi tabla de misiones final de temporada verano quedó así. En total tuve una producción de 288 shares y dejaré mis cosechas en inventario como medida estratégica, tengo algo en mente y tal vez funcione, pero eso se los cuento luego.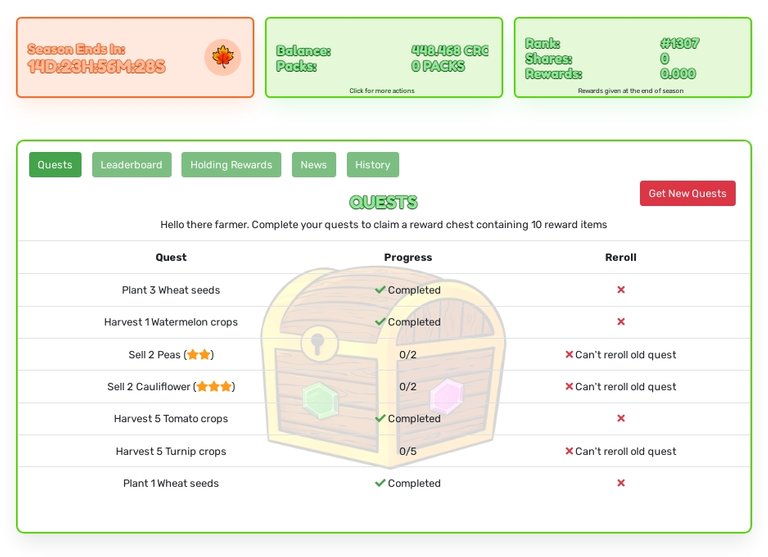 Muy bien granjeros y amigos, ahora sí, veamos que podemos sembrar este último otoño del año en curso. A simple vista podré terminar algunas misiones de temporada y creo que lanzaré algunos reroll esta vez, ya veremos.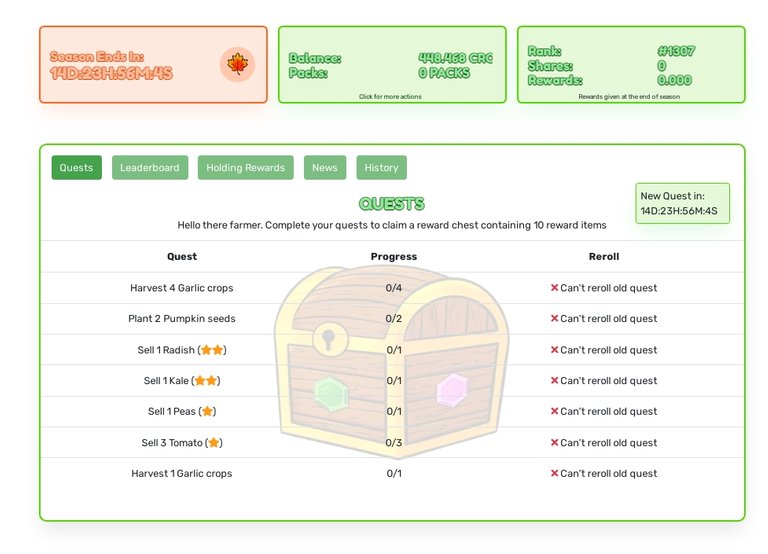 ---
Mi mejor semilla de esta temporada es una carta legendaria Raspberry que produce cada 3 días sin parar hasta el fin de temporada, pero esta semilla la tenía en oferta de venta en el market, lo pensé un poco y cancelé la venta y la sembré en mi awesome land junto a 2 pumpkin, las otras 2 pumpkin que tengo las sembré en fertile land, 1 garlic y 3 carrot en average farmland. Una vez más me quedaron 5 tierras libres por falta de semillas, lamentable pero estoy corto amigos. Ahora solo resta esperar el tiempo de cosecha de cada una de ellas.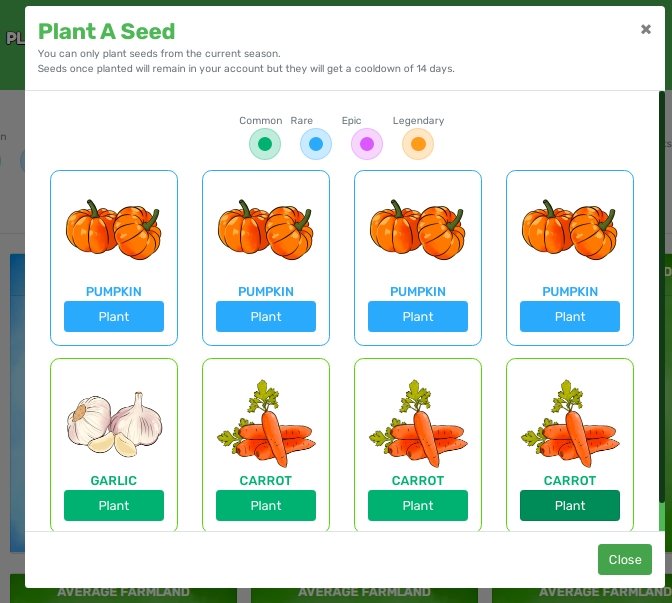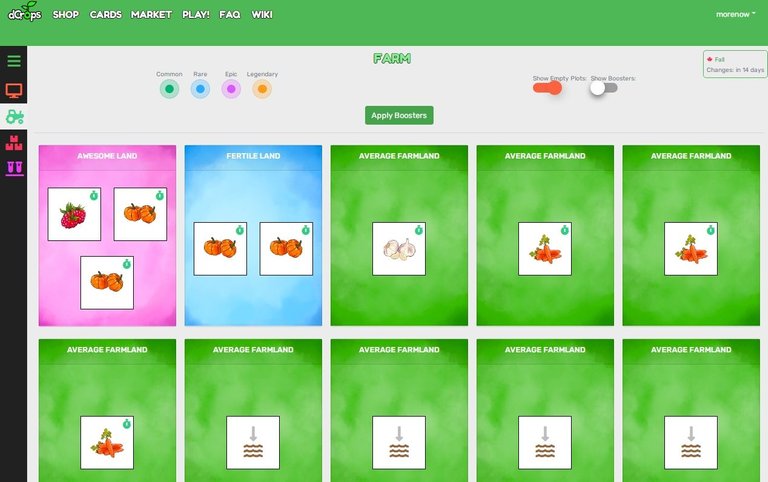 En las próximas semanas los espero de vuelta en mi pequeña pero feliz granja y aprovecho de animarlos a tener una con el siguiente enlace https://www.dcrops.com/?ref=morenow, dCrops es un juego bastante sencillo y en mi caso tiene un efecto relajante no entiendo por qué pero me relaja en serio.

Los invito a ser parte de la comunidad en Discord "Mundo Virtual"donde estamos centrados en los juegos NFT y hacemos sorteos diarios de Hashkings, Risingstar, Cryptobrewmaster, Splinterlands, dCrops, entre muchos otros. Son libres de compartir diversidad de proyectos y jugar con los diferentes BOTs e intercambiar las ganancias por token reales.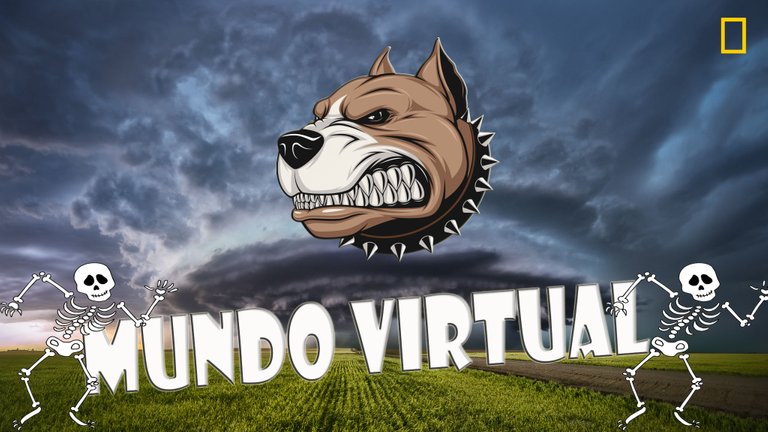 "Mundo Virtual

Las imágenes son capturas de pantalla del juego con mi user, algunas editadas en photoshop
La imagen de portada es de uso libre tomada de la siguiente Fuente y editada en photoshop con elementos del juego
La imagen "Mundo Virtual pertenece a @pleo1542
---
---