Let's Make a Collage Round 127 - Mountains of the eyes [EN/ES]
Greetings Lmacians and lovers of creativity. Welcome to the presentation of my collage for Round 127 of Let's Make a Collage!, I show you the step by step and sources of the images in the process. This is a weekly contest and I take this opportunity to invite you to participate.
Saludos Lmacians y amantes de la creatividad. Bienvenidos a la presentación de mi collage para Round 127 of Let's Make a Collage!, les muestro el paso a paso y fuentes de las imágenes en el proceso. Este es un concurso semanal y aprovecho para invitarlos a participar.

The following is the original image that I have to edit using other images. Lately I have challenged myself to use only images from the LMAC project gallery.
La siguiente es la imagen original que debo editar utilizando otras imágenes. Últimamente me he puesto el reto de usar solo imágenes de la galería del proyecto LMAC.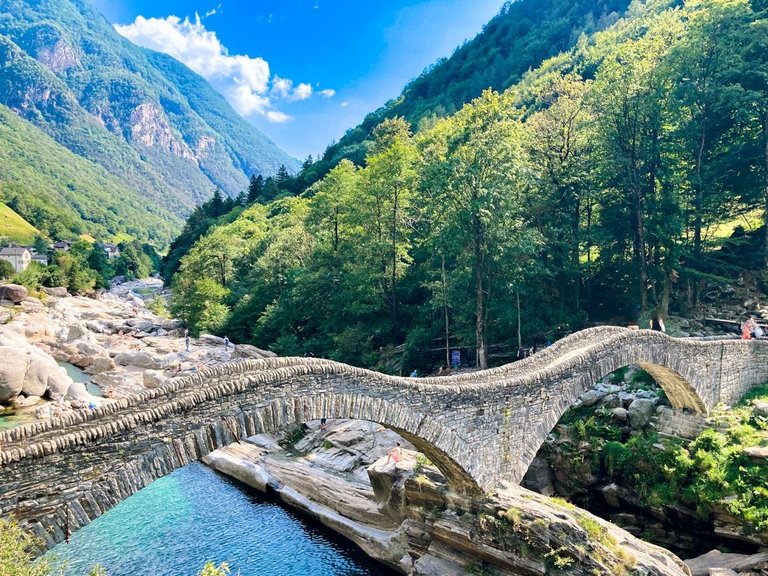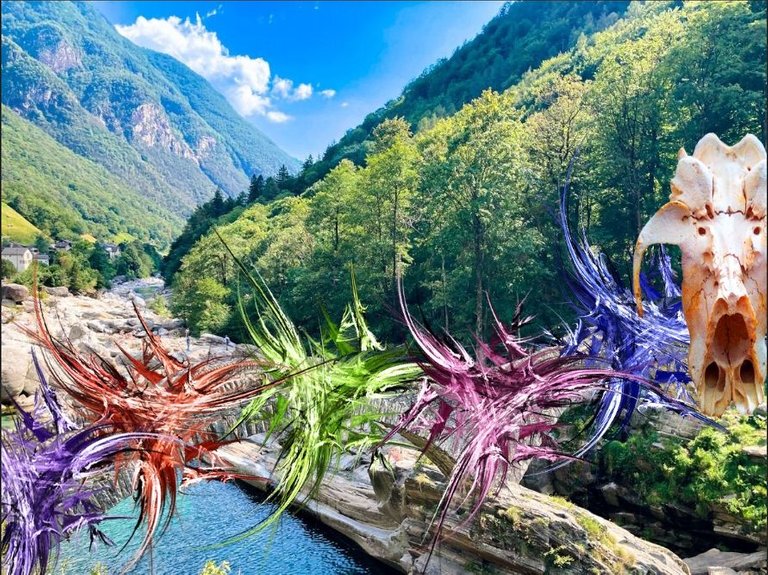 The bridge is in the foreground and it occurred to me to place a kind of dragon, but after a while looking in the gallery without finding one that I liked, I decided to create one using images, so joining the fractals of the friend @justclickindiva (source LMAC Gallery) and changing a little the tonality, I could create with what according to my imagination is the body of this dragon.
The head is a skull created by my friend @eve66, are you asking me if the dragon is alive or dead? well it is alive, its appearance is like this, fractal body and skeletal head, I hope you don't judge it by its appearance. The source of the skull is the following; LMAC Gallery.
El puente esta en primer plano y se me ocurrió colocar una especie de dragón, pero luego de un rato buscando en la galería sin encontrar alguno que me gustara, me decidí por crear uno utilizando imágenes, así que uniendo los fractales de la amiga @justclickindiva (fuente LMAC Gallery) y cambiando un poco la tonalidad, pude crear con lo que según mi imaginación es el cuerpo de este dragón.

La cabeza es una calavera creada por la amiga @eve66, ¿me estas preguntando si el dragón esta vivo o muerto? pues esta vivo, su apariencia es así, cuerpo fractal y cabeza esquelética, espero no lo juzgues por su apariencia. La fuente de la calavera es a siguiente; LMAC Gallery.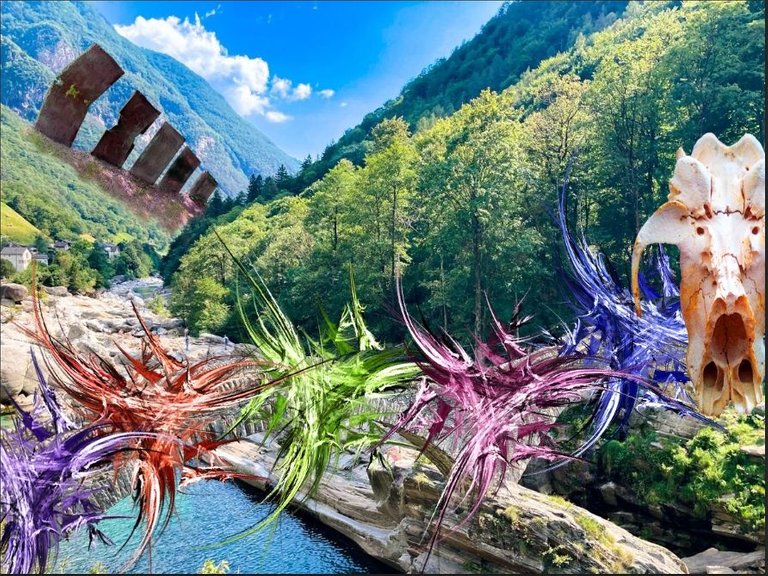 Further back there are some mysterious structures of great height that call the attention of certain creatures that we will see later. This image is also a contribution from @eve66 and its source is LMAC Gallery.
Más atrás hay unas estructuras misteriosas de gran altura que llaman la atención de ciertas criaturas que veremos más adelante. Esta imagen es también un aporte de @eve66 y su fuente es LMAC Gallery.

As I told you in the previous paragraph, these structures invoke strange creatures that have only one eye, there are of different sizes and colors, they are very dangerous because they confuse the vision of the living.
These images are a contribution of the friend @quantumg and the sources are the following from LMAC Gallery: img1, img2, mig3. I modified their tonality.
Como les dije en el párrafo anterior, estas estructuras invocan a criaturas extrañas que tienen un solo ojo, las hay de diferentes tamaños y colores, son muy peligrosas porque confunde la visión del vivientes.

Estas imágenes son un aporte del amigo @quantumg y las fuentes son las siguientes de LMAC Gallery: img1, img2, mig3. Les modifiqué la tonalidad.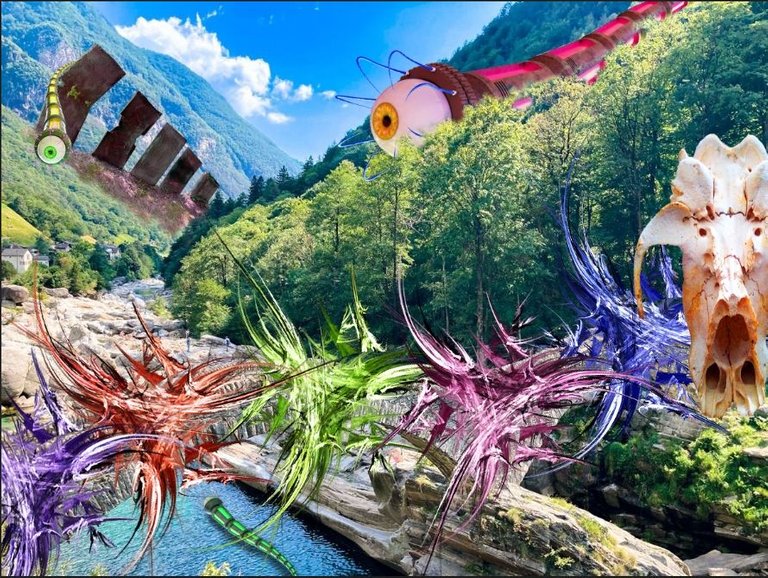 If you detail the image well, you will notice that since the appearance of these strange one-eyed creatures, the image is becoming somewhat blurred or fuzzy.
To finish I changed the tonality of the background image, the brightness and contrast, as well as blur in some areas. This is my final work.
Si detallas bien la imagen, notarás que desde que aparecieron estas extrañas criaturas de un solo ojo, la imagen se esta tornando algo borrosa o confusa.

Para finalizar cambié la tonalidad de la imagen de fondo, el brillo y contraste, así como desenfoque en algunas zonas. Este es mi trabajo final.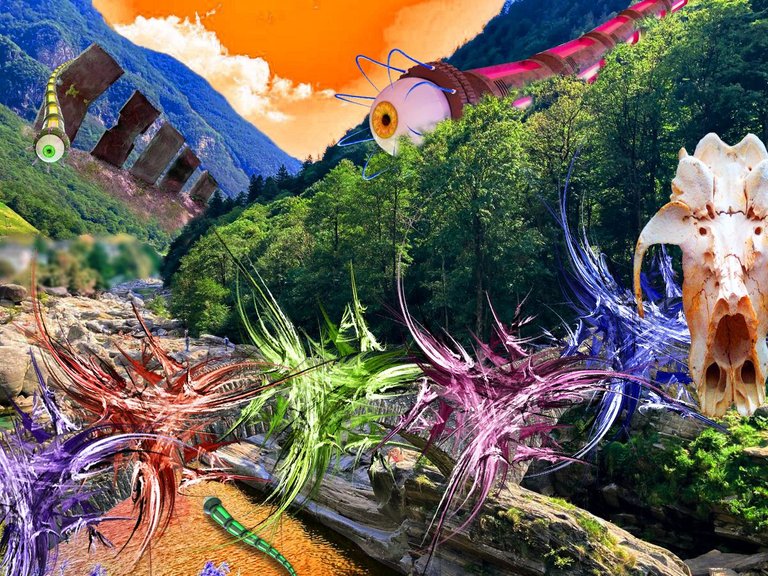 I look forward to reading your feedback in the comments, I wish you a good weekend and see you in the next LMAC round.
Deseo leer sus apreciaciones en los comentarios, les deseo un buen fin de semana y nos vemos en la siguiente ronda LMAC.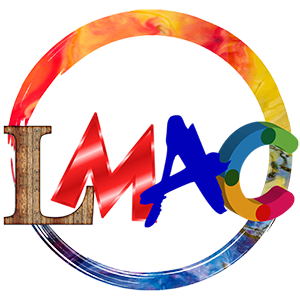 ---
---