When A Military Man Slaps You | Comedy Open Mic Contest

Suvan Chowdhury
In this life, everything is recycled, even you🤣. You may want to boycott the idea, but it's true. Sometimes, I wonder what to say when a get the opportunity to find a mic, just like am doing now. I want ro recycle thoughts that had erupted elsewhere before but listen to me, never try this out there.
A Military man's slap
Joe had always rebuffed when each time I told him not to joke with men in #khaki (military uniform). Having attended a military high school, close to the barracks, quarter guard to be precise, I had first-hand information as to how the military, especially the army deals with erring civilians.
Since Joe feels the way he felt, that soldiers are like everyday humans. I allowed him to operate with his mindset.
One evening, while we were heading back from the gym. We had done to play basketball on the other side of town. The traffic was beginning to build up and everyone was in a haste to get to their destinations.
I was driving our little Volkswagen car and Joe was sitting at the passenger's seat.
When we got close to a turning point to negotiate a ben and head home, we saw two soldiers trying to control traffic.
One of them waves his hand, signifying that we halt our cars. Obediently, I step on the brake.
While we wait for another command to pass our line, the soldier would not even look towards us. He continued passing other commuters.
Seriously, I can't tell how Joe alighted from the car and headed towards to soldier to ask why he didn't pass our line.
The next thing,
A banging slap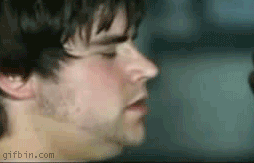 Giphy
I felt the vibration of the slap that landed on Joe's chin. It was so terrible.
Silently, Joe began to laugh hysterically.
Laugh
After that measure of slap. Something must be wrong with my friend.
Before I could say jack!!!
Joe was already walking away. He walked gently to a gas station, and queued behind vehicles that was to fill up their tanks.
If a vehicle moves after buy fuel, Joe will move.
I think that slap formatted his brain 🧠 🤣🤣🤣
When it got to his turn to buy fuel, the gas station attendant asked him where he would love to buy the fuel. My friend asked the attendant to fill his tank by passing the nozzle through his ears.
At this point, I parked my Volkswagen beetle and ran to hold Joe.
Never joke with the first of a military man. Joe have.learnt his lessons the hard way though.
Some of my friends will be glad to share their comedy skills here too. @maryjacy and @cool08, take the baton.

This is my entry to the @amirtheawesome1 #ComedyOpenMicContest. If you like to show your comedy skills in the contest, read up the rules of the contest Here
---
---