Reel (2015) Review + Film (NSFW)
Rating: Negative -100/5 BUCKET OF SHAME HALL OF FAME
AKA: Reel Shitty
Watch Here: https://reelstore.net/reel/
SOURCES AT THE BOTTOM
I have seen the future of horror, & it is not SlasherVictim666, BITCH! – MRHELLBOX
Ol' Foot Fetish Boy wasting our time (2015)
There's nothing worse than someone putting in the minimal amount of work on a film & calling it art or masterpiece or hyping up how great of a director they are.
That's the case with this "Director" SlasherVictim666. In the first minutes of Reel, someone who essentially shit out a movie & said, "Here you go fam!"
As soon as you turn over the ignition on this heap, you are treated to rap music that would be better suited to a heist film, training montage, or buying beer at the gas station.
Not even five minutes in we get feet & tit rubbing with a box cutter so yeah I guess that overlayed with the rap music is supposed to inspire fear or uneasiness, it just makes you inpatient for the point of this shit to start.
Then it does & we're treated to a lame ass monologue & over & hour of stupid shit.
BUT YOU KNOW WHAT ELSE THIS FUCKING FREAK DID!?
HE TOOK FOOTAGE FROM REAL MOVIES & SLAPPED IT INTO HIS SHIT, NAMELY HERE: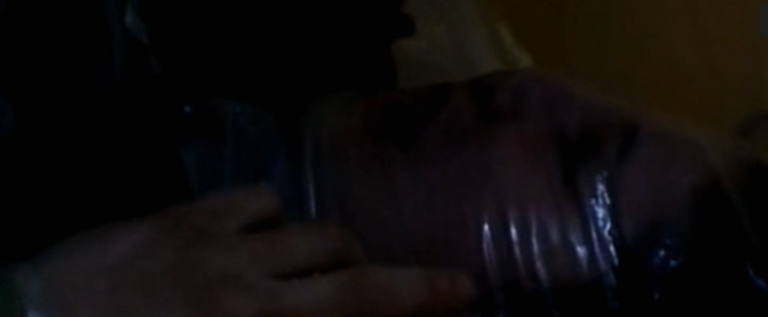 RECOGNIZE THIS FROM ONE OF OUR REVIEWS?
ITS FROM THE LAST FUCKING BROADCAST & THIS PIECE OF SHIT PUT IT IN HIS "MAJOR MOTION PICTURE"
This was done under the pretense that the Last Broadcast along with other footage from various films inserted into this cinematic felony; were favorite movies of the principal character in this story.
I call it padding, & a flimsy excuse for the director to whack their pud about all the
"cool shit" in their movie.

At least the hillbillies were cool
-FINAL WORD-
MRHELLBOX – Not a day goes by that we view some waste of shit like this, & not muse about making our own ode to horror. This film will generate the director passive income for decades, & that's the biggest atrocity of all. No substance, just mindless self indulgence, & not even the cool kind like this:
I really, need to get off my ass and make something worthwhile. This shit is driving me absolutely crazy. I can't fathom how anyone who puts forth any kind of effort can be satisfied with such low quality, depressive results. Must be that lure of passive income on the reg. Negative - 100/5
DRUNKEN MASTER – If you make a sequel to this bitch, they're gonna have to rename you SLASHEDYOURTIRESBACKALLEY42069! This is without a doubt the absolute worst movie we have seen, and that's saying something coming off the heels of HoneyBooBooMtnDew Wheatville Massacre - Negative 100/5
PRINCE PECTORALS - Your eyes do not deceieve you, I now have both of my pecks back in working order. Tomorrow at 4AM I will be back in the gym producing better, positive results than this film ever has or will - Negative 100/5
Sources
All images were clipped by me from
https://reelstore.net/reel/
---
---