Mobile Legends Review | Prepare to Battle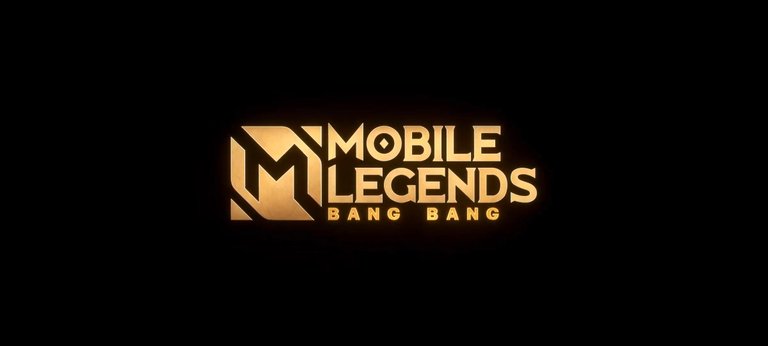 Depending on a player's perspective perhaps but a game where a player gives his/her hard and dedicates themselves is better. The kind of game where a player feels desperate to win and gets annoyed when being lost. A kind of game where a player enhances his/her strategies to win. Skills that can be improved by playing the game. The addiction will be for a player's discipline to decide what to do because a game is a game and not a reality where it exists in the real world.
Last year, I was in quarantine because part of the protocol in our place was to go home from a different region. I wanted to ease the boredom and forgot the time because of minding it all the time and also for sure time would be too long to pass. This kind of game before I joined was already popular. It's because the kind of game can be played on a mobile phone even though 10 people overall can play in every battle. We are in a new generation so almost everything can be possible now.
When I checked this game it kind of reminded me of my usual game that addicted me when I was studying in college from the previous school. Did you know about that online game on the desktop named (DOTA) or Defense Of The Ancient? I was a player of that game back then and even involved myself in gambling while playing. I was not that good at playing in my own understanding but my friends always asked me to join them in playing. It's not just a game anymore because the money was involved.
Now that I have started playing this mobile game which only requires a small amount of internet usage. A lot of people are playing this game, even just the children. It's not hard for me to play this type of game since I am used to that kind of game. Maybe the developer of this game copied the concept of DOTA.
When I first played it, of course, it didn't bother me when I was defeated by some of my teammates from all over the world. It's an online game by the way so expect that there will be random people playing with that game. You can also select a certain battle mode by choosing who's your enemies or who you can play with.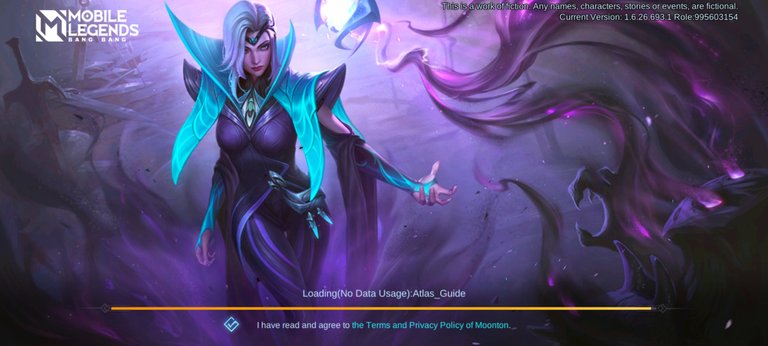 Let me explain clearly to make it easier to understand.
In this game, you will use one hero to play. It's up to you to choose which will be better to use in dealing with enemies or it's just you want to use that hero. 10 players can be allowed to play in every battle so obviously, 10 heroes as well.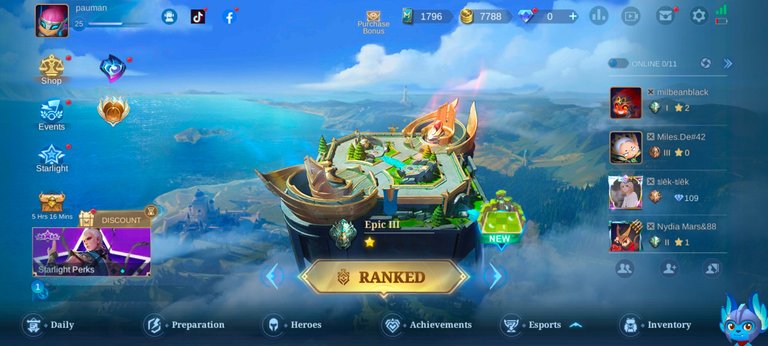 FRONT END
By the time you're inside the game, you can see what kind of battle mode you want and you can choose.
RANK MODE - Expect that there will be trophies or stars to decide what type of level of that person. Also by this, it's easier to tell how good a person is by knowing his level.
MYTHIC - the highest trophy level
LEGEND
GRANDMASTER
MASTER
ELITE
WARRIOR - the lowest trophy level
If you want to play those good at playing you should choose the battle mode "rank". Their playing to raise their level and the star in playing can only be acquired in "rank" mode battle.
CLASSIC MODE - If you want to play the game just by playing and not stressing. Although there's no assurance you will not be stressed when you can team up with players that are bad at playing. Most people choose this battle mode when they don't want their stars to be deducted because they're confident that they will be lost.
CUSTOM MODE - If you want to play with players you want to play. It's like who you want to be allies and who you want to be enemies. This is where gambling takes place because these players are competing for their skills and of course money.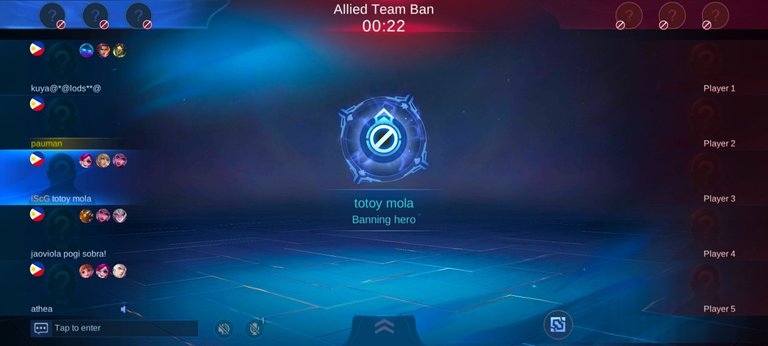 CHOOSING AND BANNING
This is where the picking and banning of heroes happen. It will just give 30 seconds for each player to choose their heroes.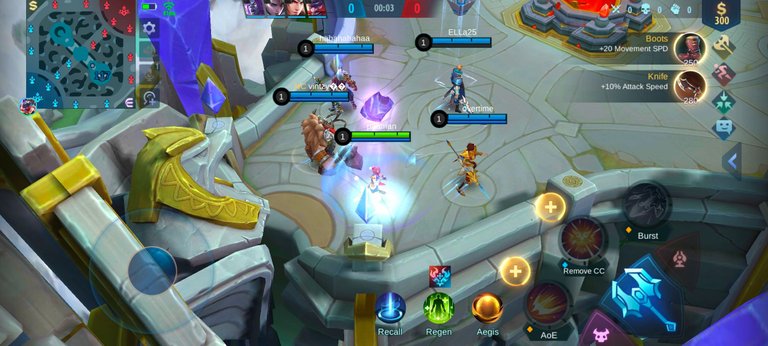 GAME STARTED
This is what it looked like when the game started. There are those minions as your allies in breaking the base of the enemy. Of course, they should be included since this kind of game needs money in purchasing items to make every hero stronger. When the minions and towers can be killed or destroyed, it will provide money. That's why if you will not do anything or let your hero be killed all the time you can't level up and purchase items. It's a well-balanced type of game.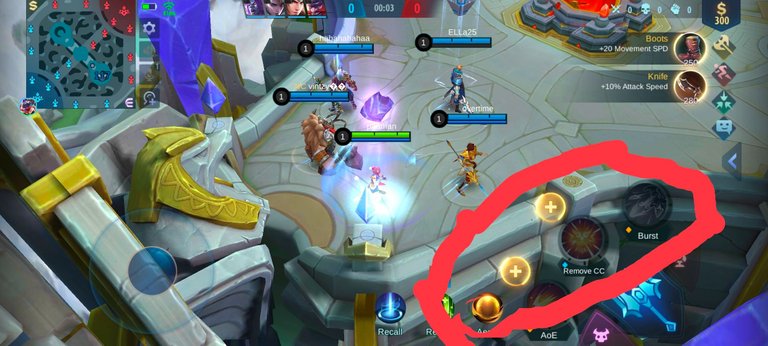 SKILLS
Just want to add something about the hero thing in this game. Each hero has 4 skills to make them unique and stronger. 3 skills are clickable before it activates and one 1 skill that is already passive that can be used depends on the details.
These are just the basic guidelines for this game. By knowing the basics, for sure you will have fun playing this game. Also, you can find this game and install it by searching at google play store "Mobile Legend." I'm not an apple user but for sure they have it as well.
This is my account by the way if you want to play with me.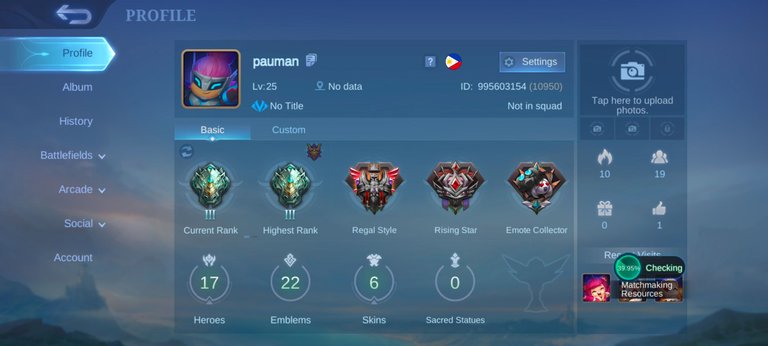 All images are screenshots in the game
Thank you for reading
All content is my own unless otherwise noted
If images are being recycled, I just found it fit in my article.
ABOUT ME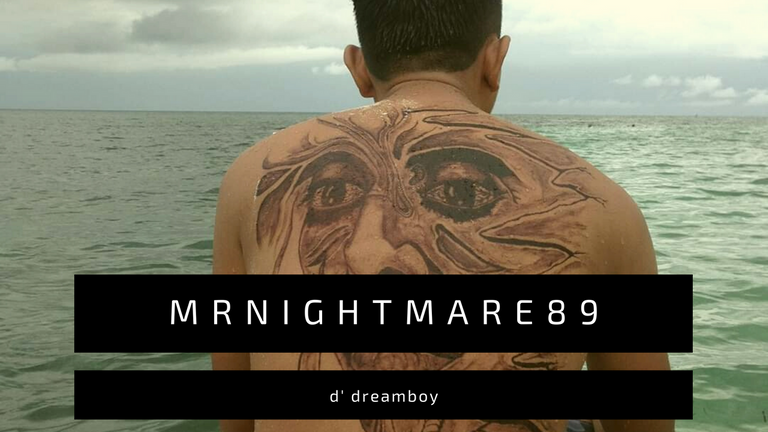 Paul is the name but prefers to be called mrnightmare that feels like living in the dream. A country boy and a dreamboy (dreamer) who likes to stay in a small village even though it means abandoning the future to become a seaman. The passion is writing but not sailing in the vast ocean. Don't wonder if the face will not be shown, this is better where the words can flow smoothly. Come, have fun with me and be part of my journey while talking about life events and random activities. It's fun to learn about life, don't hesitate, let's figure it out as we continue enjoying staying in this world.

---
---