[ENG-SPA] A little witch's hat and spider web 🕸 // Un sombrerito de bruja y telaraña 🕸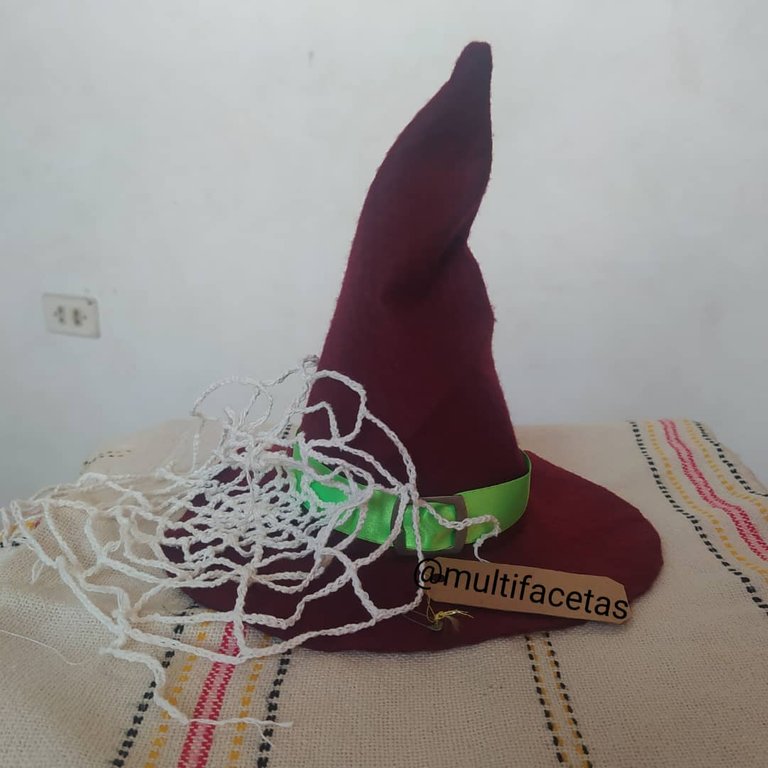 Hello #hive friends.
Greetings to those in the #NeedleWork community. Happy day.
Although it has not been easy to publish in a row, power outages, data rate increase, lack of time, one by passion, seeks small moments to make a project with the intention of showing such work in the community to value it in their pleasant comments. Today I present a cute witch hat in vinotint color felt and green satin ribbon and a small spider web 🕸. Without further ado, let's move on to the explanation.
Hola amigos de #hive.
Saludos a los de la comunidad #NeedleWork. Feliz día.

Aunque no ha sido fácil publicar en forma seguida, cortes de luz, aumento de tarifa de datos, falta de tiempo, uno por pasión, busca pequeños momentos para realizar algún proyecto con ánimo de mostrar dicho trabajo en la comunidad para que lo valoren en sus amenos comentarios. Hoy les presento un lindo sombrero de bruja en fieltro color vinotinto y cinta raso verde y una pequeña telaraña 🕸. Sin más preámbulo pasamos a la explicación.
Step by step//Paso a paso.
Materials//Materiales:
Vinotint color felt.
Tape measure.
Scissors.
Green satin ribbon.
01 Buckle.
White thread.
Crochet needle nº2.
Cone shape molds and a ring.
Design or diagram.
Fieltro de color vinotinto.
Cinta métrica.
Tijera.
Cinta raso color verde.
01 Hebilla.
Hilo pabilo color blanco.
Aguja crochet nº2.
Moldes de figura de cono y un aro.
Diseño o diagrama.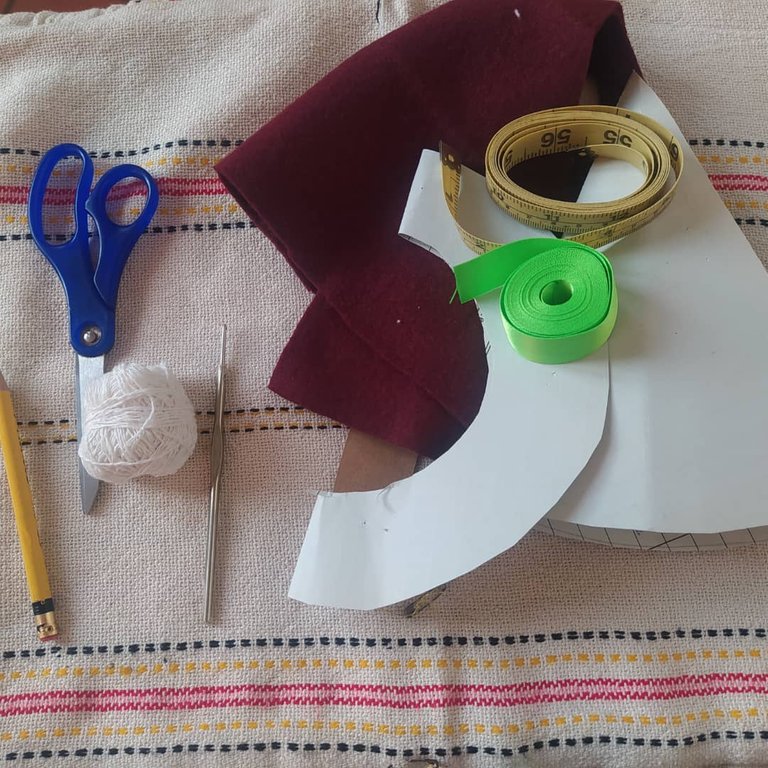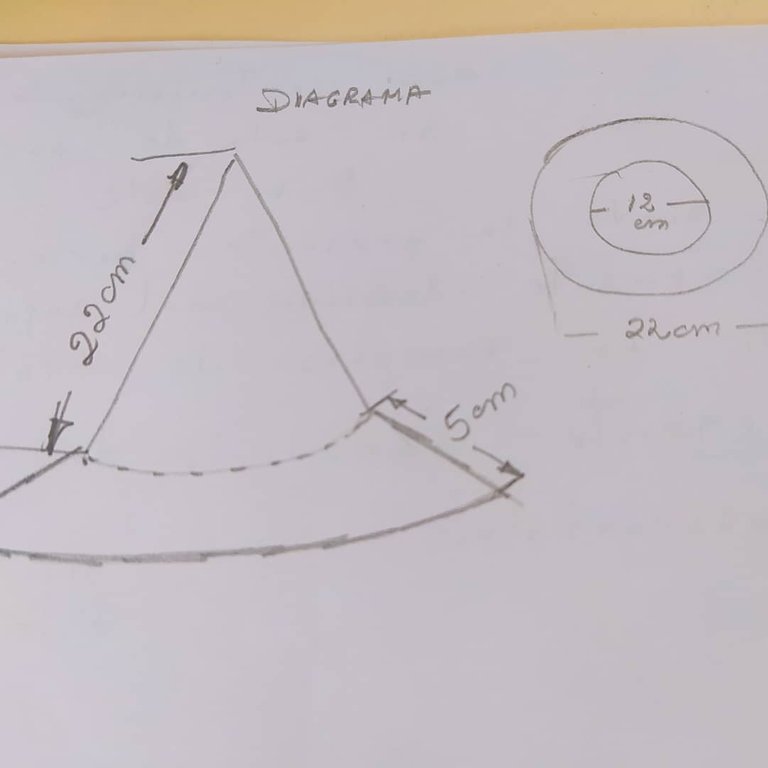 ---
Process//Proceso:
Taking into account the diagram, the molds are made.
The molds are placed on the felt with pins.
With the help of the scissors we cut the pieces.
Tomando en cuenta el diagrama, se hacen los moldes.
Los moldes se colocan sobre el fieltro con alfileres.
Con la ayuda de la tijera cortamos las piezas.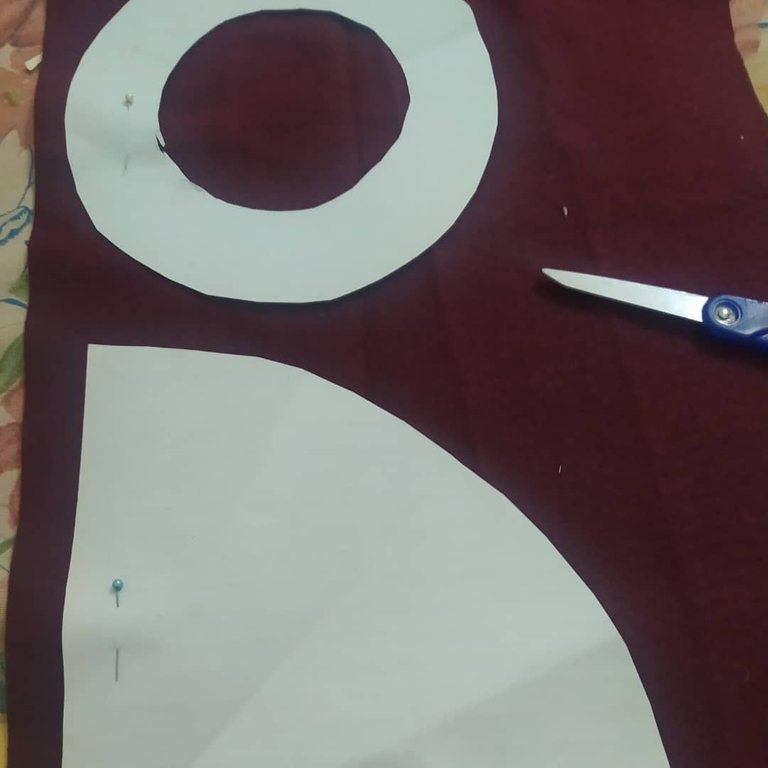 ---
The piece is folded in the shape of a cone.
Proceed to sew the edge.
Se dobla la pieza en forma de cono.
Se procede a coser la orilla.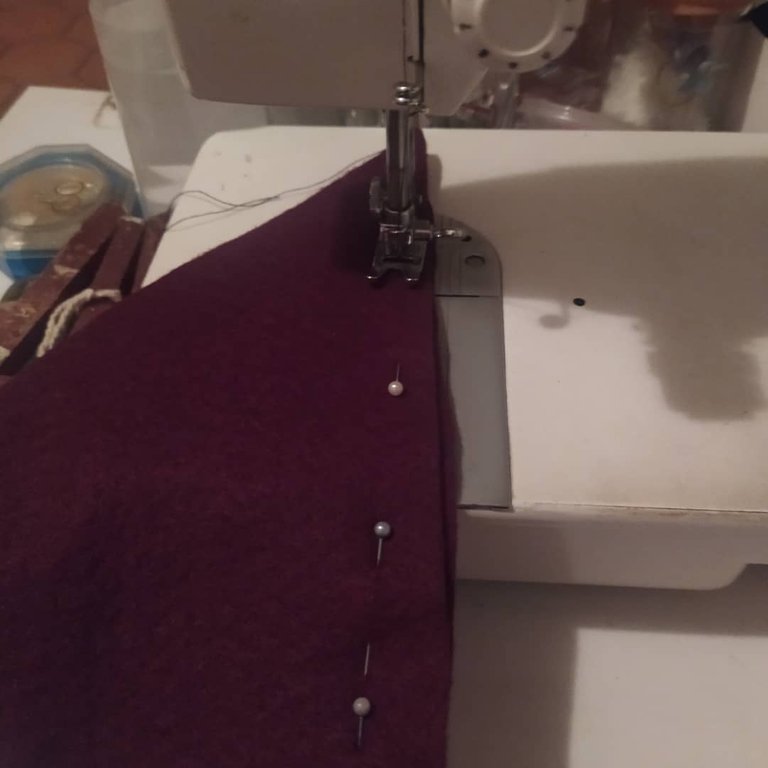 ---
The cone is turned over.
The piece or brim of the hat is adjusted with pins.
Proceed to sewing.
Se voltea el cono.
La pieza o ala del sombrero se ajusta con alfileres.
Se procede a coser.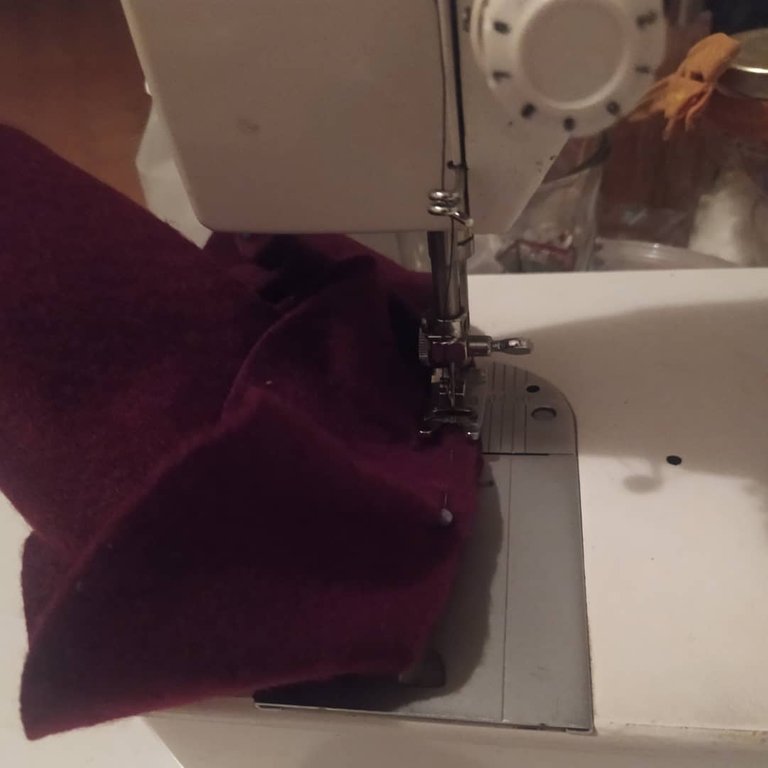 ---
Abbreviations//Abreviaciones:
Ch: chain(s).
mp: half point.
mpa: half high point.
aum: increases.
pa: high point.
pr: slipped stitch.
Ch: cadena(s).
mp: medio punto.
mpa: medio punto alto.
aum: aumento.
pa: punto alto.
pad: punto alto doble.
pat: punto alto triple.
pr: punto deslizado.
Spider Web//Telaraña:
To make the spider web we use crochet needle nº2 and white thread.
We start with 6 chains and close with pr.
v1: Make 3chs, 2chs, 1pa, 2chs,1pa,2chs,1pa,2chs,1pa, 2chs, 1pa,2chs,1pa,2chs,pr.
v2: 3chs, 1pa, 2chs, 1pa in previous st, 2ch, st in each st of previous st, repeat sequence, pr.
v3: 3ch,3chs,1pa, 3chs, 1pa in the previous st, repeat sequence, pr.
v4, v9: we increase the chs by 6, always double and in st make pad, and pat until we see the spider web shape.
Para hacer la telaraña utilizamos aguja crochet nº2 e hilo pabilo color blanco.

Empezamos con 6 cadenas y cerrar con pr.
v1: Hacer 3chs, 2chs, 1pa, 2chs,1pa,2chs,1pa,2chs,1pa, 2chs, 1pa,2chs,pr.
v2: 3chs, 1pa, 2chs, 1pa en el espacio anterior, 2ch, pa en cada pa de la vuelta anterior, repetir secuencia, pr.
v3: 3ch,3chs,1pa, 3chs, 1pa en el pa de la vuelta anterior,repetir secuencia, pr.
v4, v9: vamos aumentando las chs de a 6, siempre el doble y en pa hacer pad, y pat hasta que veamos la forma de telaraña.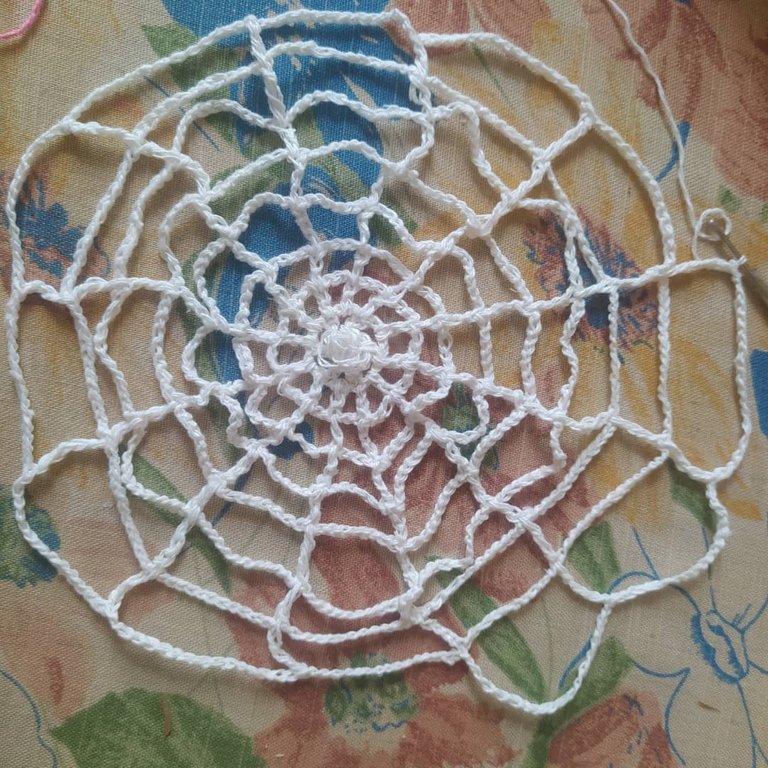 ---
Aseembly//Ensamblado:
The green satin ribbon is inserted through the buckle and placed on the hat.
Por la hebilla se introduce la cinta raso verde y se coloca en el sombrero.
---
... And ready the witch hat and the spider web 🕸.
Very happy with the result obtained from the hat, it was an ideal size for girls and boys, adding a rubber band or strips to hold it on the head. Also the brim of the hat can be wider, you can make all the necessary modifications or wear them on this date coming up on a table.
... Y listo el sombrero de bruja y la telaraña 🕸

Muy contenta con el resultado obtenido del sombrero, quedó de un tamaño ideal para niñas y niños, agregándoles una goma elástica o tiras para que se sostenga en la cabeza. También el ala del sombrero puede ser más ancha, se pueden realizar todas las modificaciones necesarias o lucirlos en esta fecha que está por venir en una mesa.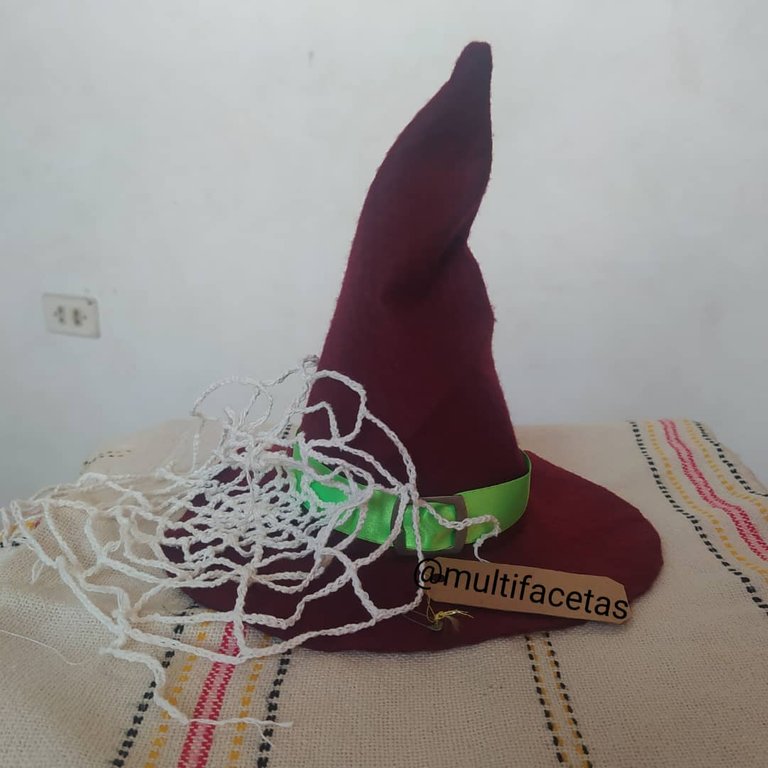 ---
The collection of allegorical Halloween figures in its second edition.
La colección de figuras alegóricas de Halloween en su segunda edición.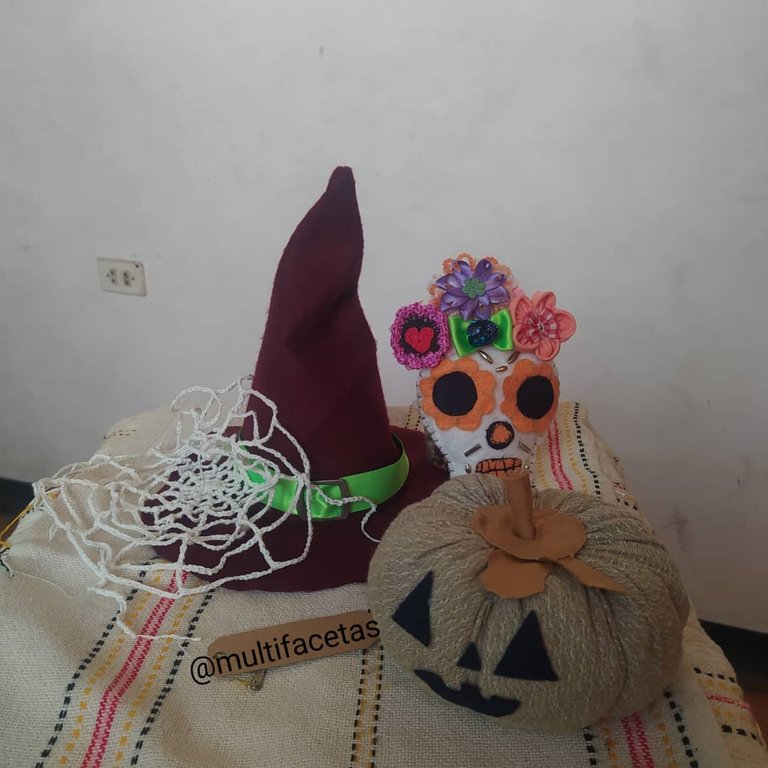 I am very happy because little by little I am fulfilling my personal challenge of making several Halloween figures to decorate my table with them. This work gives me a lot of comfort, satisfaction, and happiness.
Estoy muy contenta porque poco a poco estoy cumpliendo con mi reto personal de hacer varias figuras de Halloween para adornar mi mesa con ellas. Este trabajo me reconforta bastante, me da mucha satisfacción y felicidad.
---
💖💖💖Everything can be achieved with LOVE//
Todo con AMOR se logra💖💖💖
---
So much for my publication. Thank you for reading.❤
Hasta aquí mi publicación. Gracias por leer.❤
---
Texts and photos are my authorship.
Translation with Deepl. Photo taken with Xiaomi Redmi Note 8.
Banner and text separator created with Canva.
Los textos y las fotos son de mi autoría.
Traducción con Deepl. Foto tomada con el Xiaomi Redmi Note 8.
Banner y separador de texto creado con Canva.
---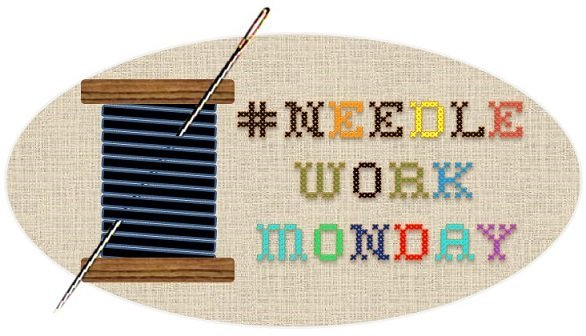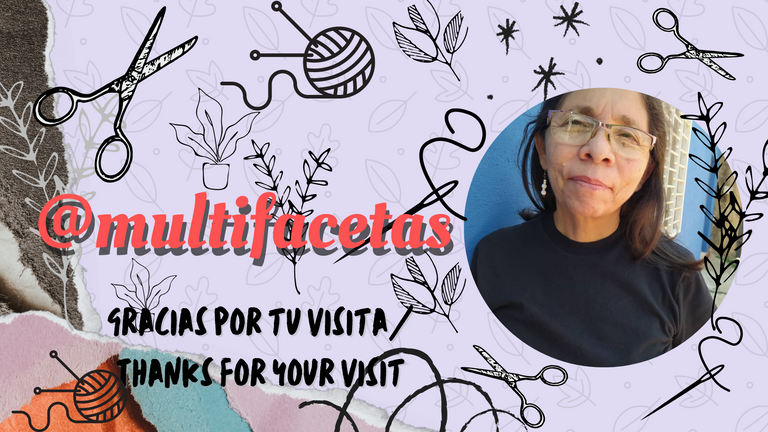 ---
---