[ENG-SPA]🔸A small box or circular basket knitted🧶 from scrap material //Una cajita o cesta circular tejida🧶 con material de provecho🔸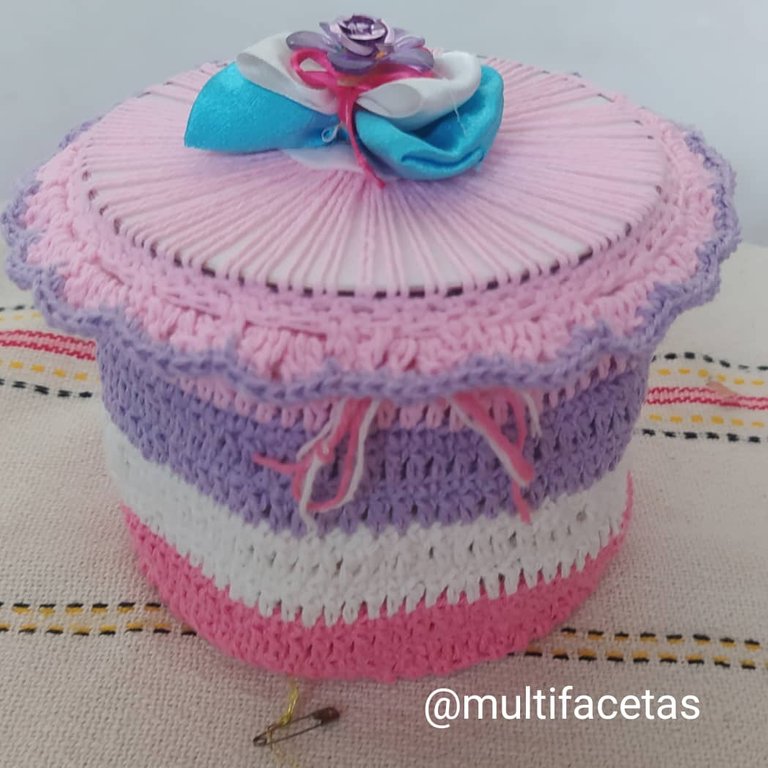 Hello
#hive
friends. Greetings to those in the
#NeedleWork
community. Happy Friday.
Since before last night I started making this project that I had in mind for several weeks. I love to recycle ♻ this time I used 2 used cd's and decided to unleash my inspiration and the muses around me. Weaving little by little between my labors gave me good results, a presentation of a basket with a lid or box in the form of a cylinder where it will be several rolls of yarn while I perform the weaving,ie, I will keep there the threads or other small detail.Measures:12x10cms Without further ado, let's move on to the tutorial:
Hola amigos de #hive.
Saludos a los de la comunidad #NeedleWork. Feliz día.

Desde antes de anoche comencé a hacer este proyecto que tenía en mente desde hace varias semanas. Me encanta reciclar ♻ en esta ocasión utilicé 2 cd usados y decidí darle rienda suelta a mi inspiración y las musas a mi alrededor. Tejiendo poco a poco entre mis labores me dio buen resultado, una presentación de una cesta con tapa o caja en forma de cilindro donde va a estar varios rollos de hilo mientras realizo el tejido, es decir, guardaré allí los hilos u otro detalle pequeño. Mide:12x10cms Sin más preámbulo pasamos al tutorial:
Step by step//Paso a paso
Materials//Materiales
02 used cd's
04 rolls of white, fuchsia, purple, pink and pink wick yarn.
Crochet needle no. 2
Bows and flowers to decorate.
Needle and sewing thread.
Silicone
02 cd usados
04 rollos de hilo pabilo color blanco, fucsia, morado, rosado.
Aguja crochet n.º 2
Lazos y flores para adornar.
Aguja e hilo de coser.
Silicón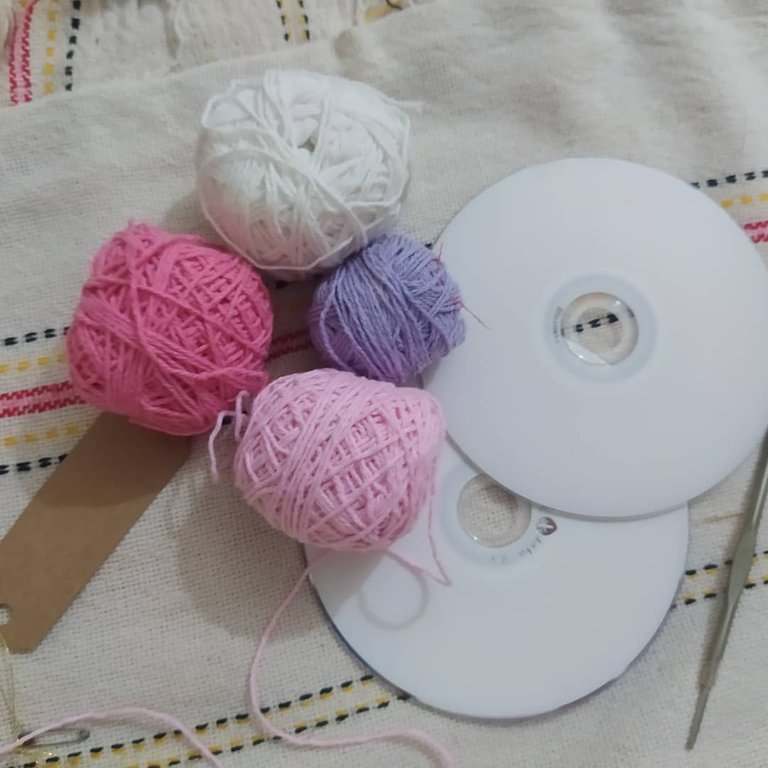 ---
Abbreviations//Abreviaciones:
Ch: chain(s).
mp: half point.
mpa: half high point.
aum: increases.
pa: high point.
pr: slipped stitch.
Ch: cadena(s).
mp: medio punto.
mpa: medio punto alto.
aum: aumento.
pa: punto alto.
pr: punto deslizado.
---
Process//Proceso
Fuchsia color
One of the cd's is lined with fuchsia colored thread, using the crochet needle, and the whole surface is covered, finishing with pr.
Color fucsia

Unos de los cd se comienza a forrar con hilo pabilo color fucsia, usando la aguja crochet, y se cubre toda la superficie terminando con pr,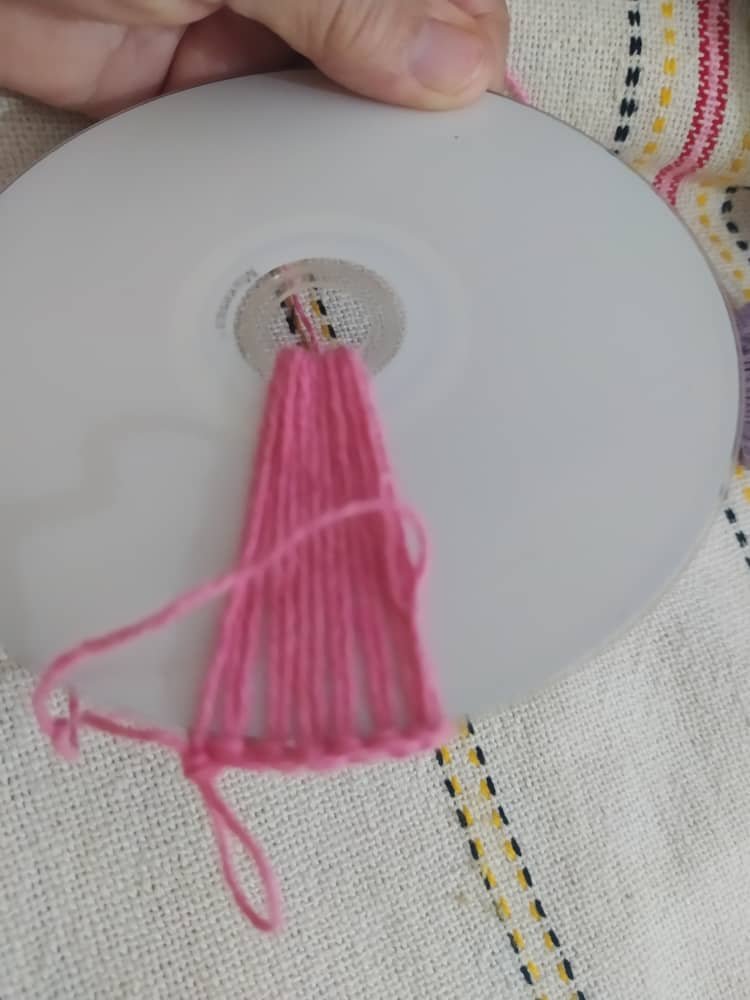 v1: hold the yarn while making a ch, release and pull the yarn through the hole to the top, then take the loop of yarn behind the dc and make a ch with the ch you left, and so on until you cover the whole circle ending in pr.
v1: se sostiene el hilo mientras se hace una ch, se suelta y se extrae el hilo por el orificio hasta arriba, luego se toma la lazada del hilo por detrás del cd y se hace una ch con la ch que se había dejado, y así sucesivamente hasta cubrir todo el círculo terminando en pr.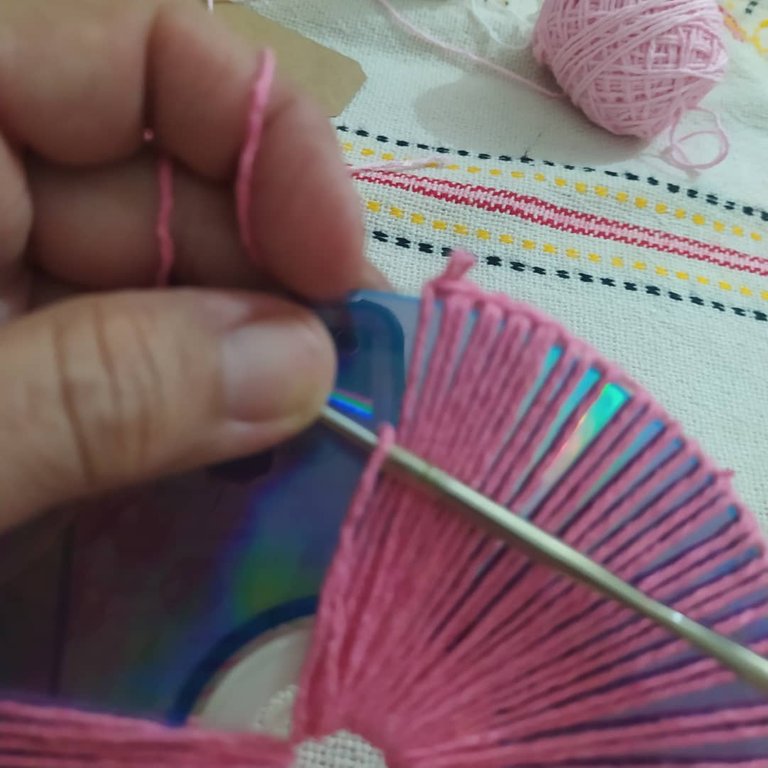 ---
v2: Make 3chs in the air, 2pa, in each space of the previous row.
v3: 3chs in the air, pa, in all the spaces of the previous row and pr.
v4: Make ch, mp, in each space of the previous row, end in pr.
v5: Repeat v3.
v6: Repeat v4.
v2: Se hace 3chs al aire, 2pa, en cada espacio de la vuelta anterior.
v3: 3chs al aire, pa, en todo los espacio de la vuelta anterior y pr.
v4:Hacer ch, mp, en cada espacio de la vuelta anterior, terminar en pr.
v5: Repetir v3.
v6: Repetir v4.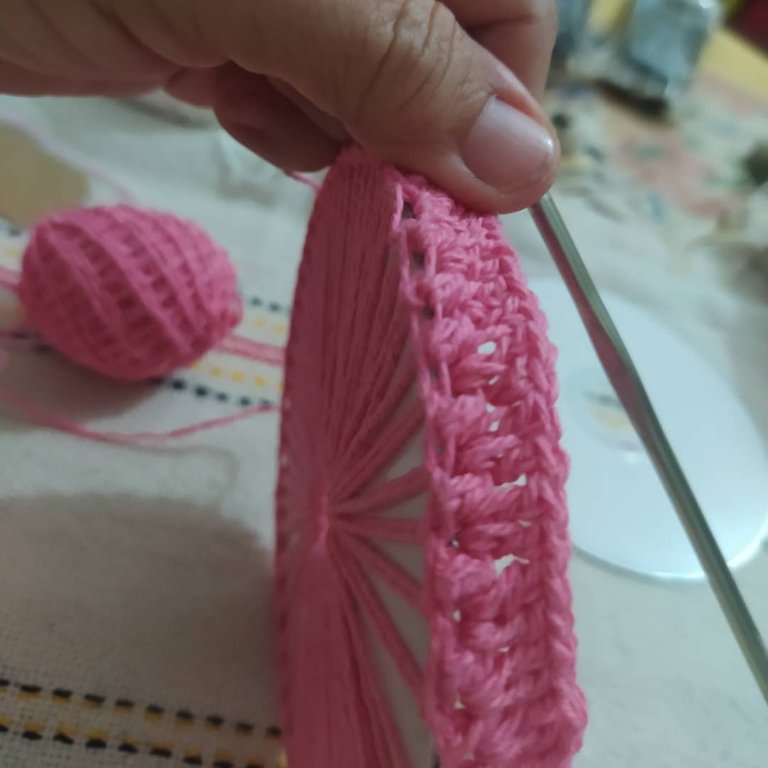 ---
Change color white
v7,v9: repeat v3
v8,v10: repeat v4
Cambiar color blanco

v7,v9: repetir v3
v8,v10: repetir v4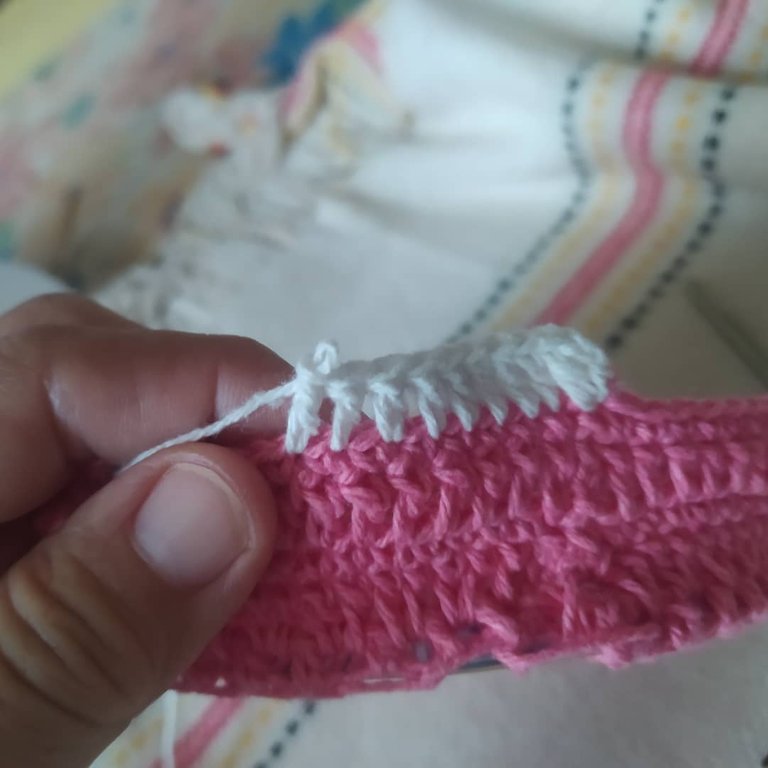 ---
Change color purple
v11,v13: repeat v3
v12,v14: repeat v4
Cambiar color morado

v11,v13: repetir v3
v12,v14: repetir v4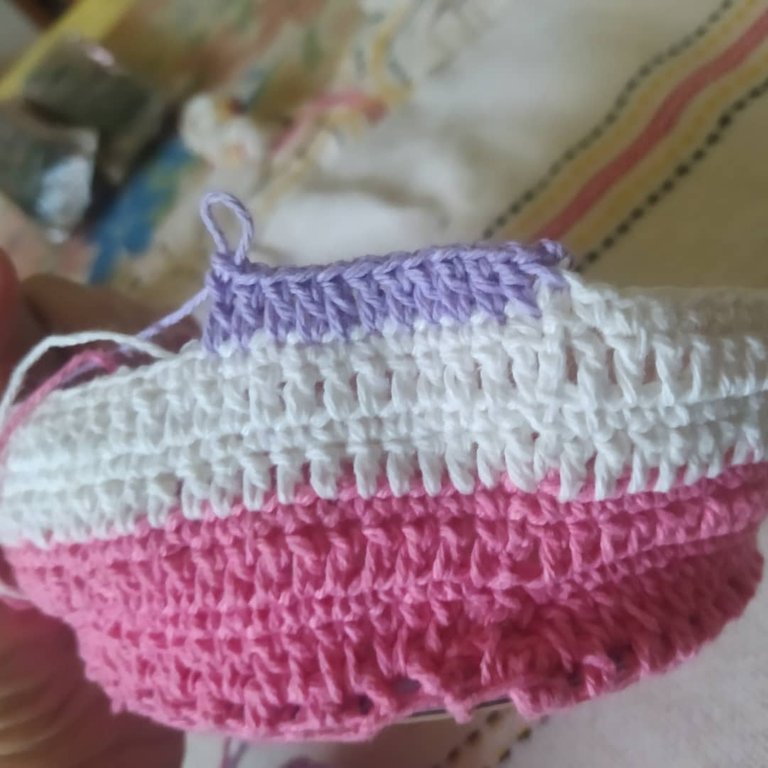 ---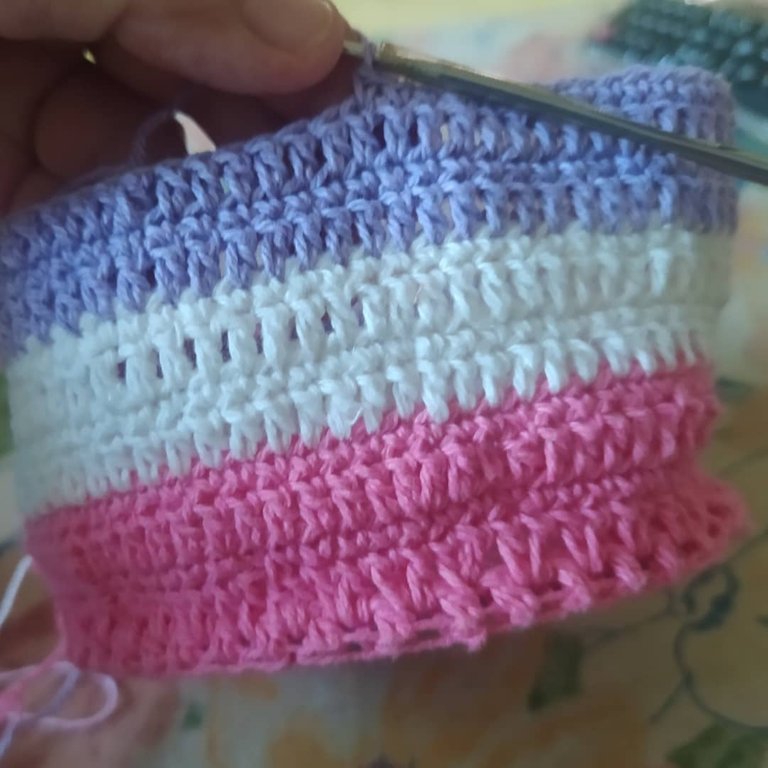 Change color pink
v15,v17: repeat v3
v16,v18: repeat v4
Cambiar color rosado
v15,v17: repetir v3
v16,v18: repetir v4

Color white
v19: Make mp all the way around, pr.
Color blanco

v19: Hacer mp en toda la vuelta, pr.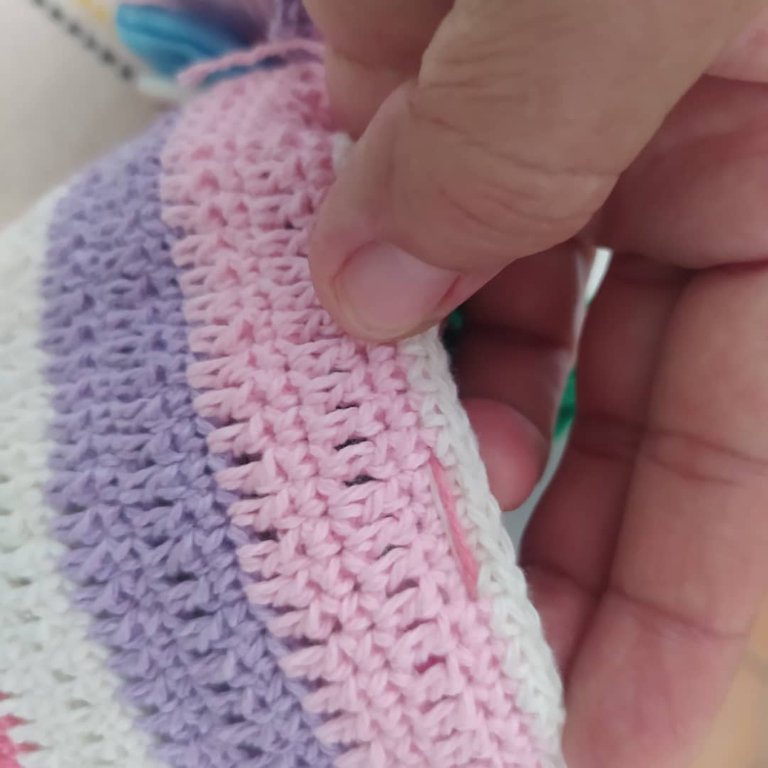 ---
Aseembly//Ensamblado
Pink color
Cover the other cd in pink color applying the previous method, v1.
Color rosado

Forra el otro cd en color rosado aplicando el método anterior, la v1.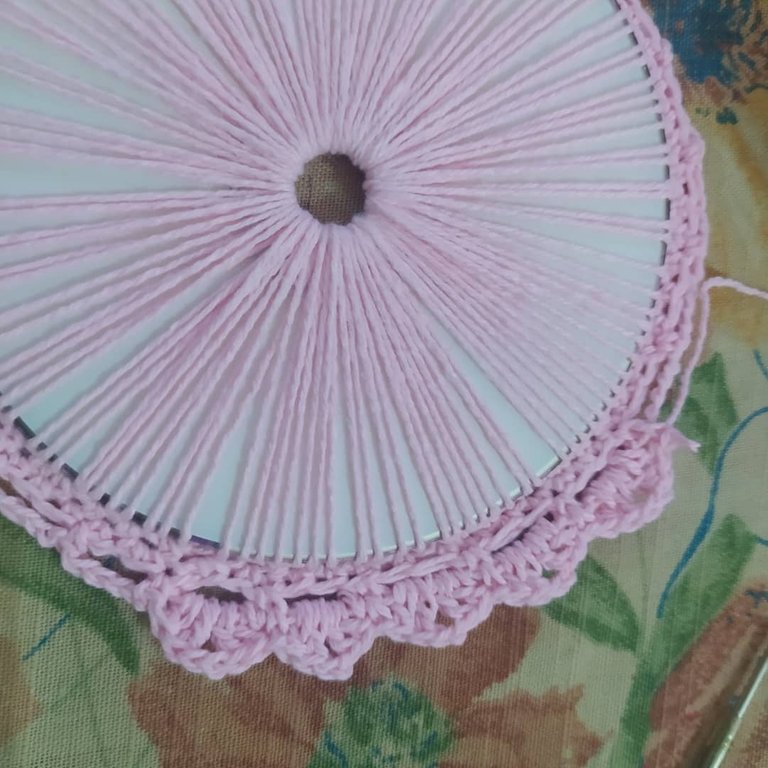 v2: Do mp all the way around, pr.
v3: Make 5chs to air jump 3 spaces, mp, 5chs, to air jump 3 spaces, mp, repeat sequence all the way around, pr.
v4: 2pa, 1ch,2pa, mp, repeat sequence and pr.
v2: Hacer mp toda la vuelta, pr.
v3: Hacer 5chs al aire saltar 3 espacios, mp, 5chs, al aire saltar 3 espacios, mp, repetir secuencia toda la vuelta, pr.
v4: 2pa, 1ch,2pa, mp, repetir secuencia y pr.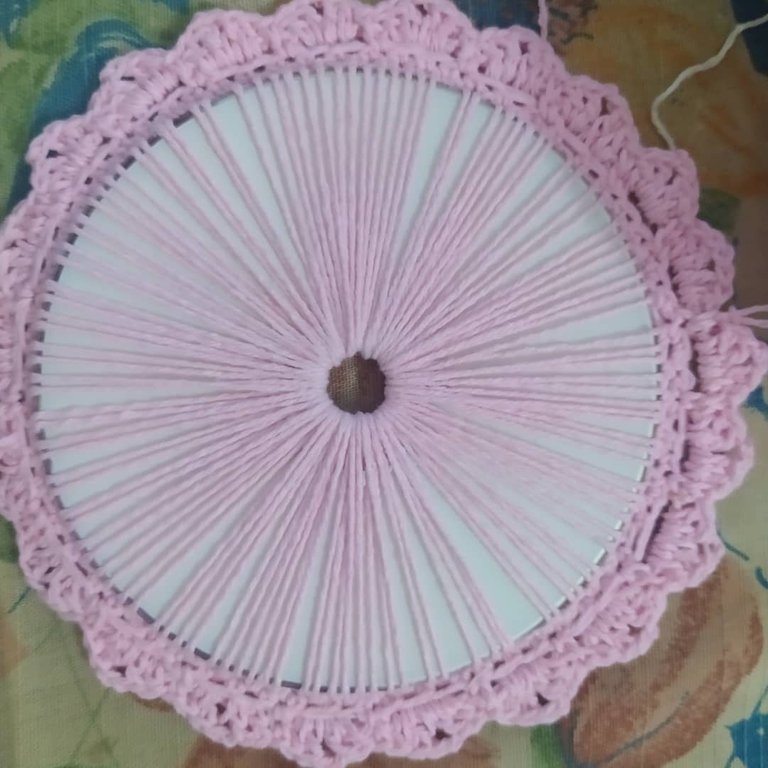 ---
Color purple
v5: Make mp all the way around, pr.
Adjust yarns, cut and hide.
Install a drawstring to adjust.
Attach a blue ribbon to the lid with silicone.
Sew the lid to the basket.
I put cardboard on it to give it more strength. You can also make a rigid fabric lining with foam rubber between the fabric.
Color morado
v5: Hacer mp en toda la vuelta, pr.
Se ajustan los hilos, se cortan y esconden.
Se instala un cordón para ajustar.
A la tapa se pega con silicón un lazo azul.
Se cose la tapa a la cesta.
Le coloqué una cartulina para darle más fuerza. También se puede hacer un forro de tela rígida con goma espuma entre el tejido.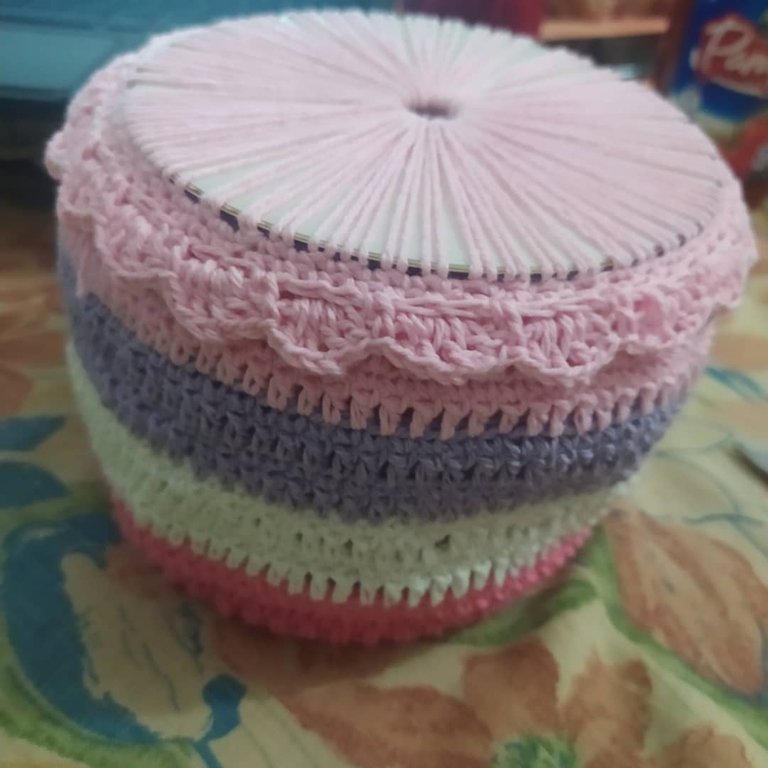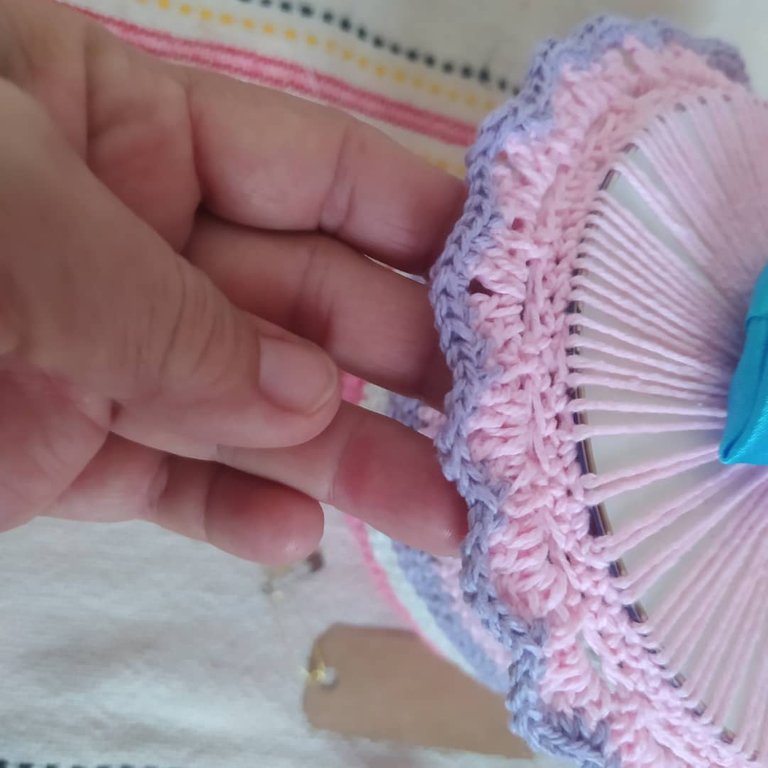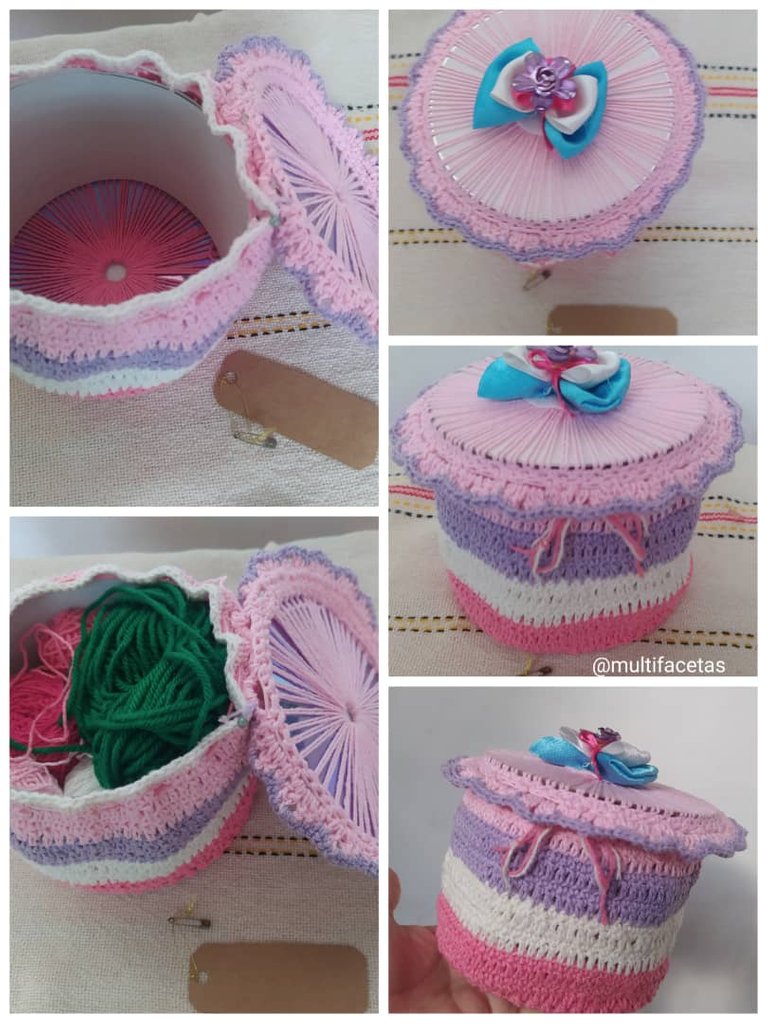 ---
...And ready my basket woven with useful material.
Doing this kind of work is very gratifying to me, because it brings out the art, the creation, the truth by changing color, and with a simple stitch we can achieve the magic of seeing a product well done and with an original design, besides being useful also at an emotional level, it is very entertaining. It is incredible, to cover a cd with thread, at the beginning it is difficult, but looking to hold it properly can be done, and then it becomes easy, everything is to start doing it.
...Y listo mi cesta tejida con material de provecho.

Realizar este tipo de labor me gratifica bastante, porque hace que sobresalga el arte, la creación, la verdad cambiando color, y con un sencillo punto podemos lograr la magia de ver un producto bien realizado y con un diseño original, además de útil también a nivel emocional, es muy entretenida. Es increíble, forrar un cd con hilo, al principio se hace difícil, pero buscando sostenerlo debidamente se puede hacer, y luego pasa a ser fácil, todo es ponerse a hacerlo.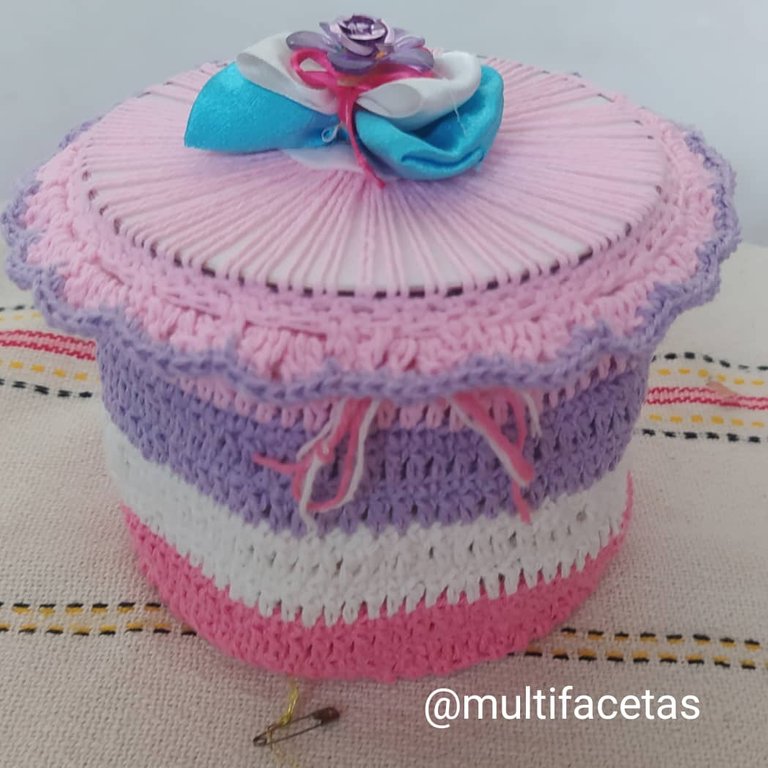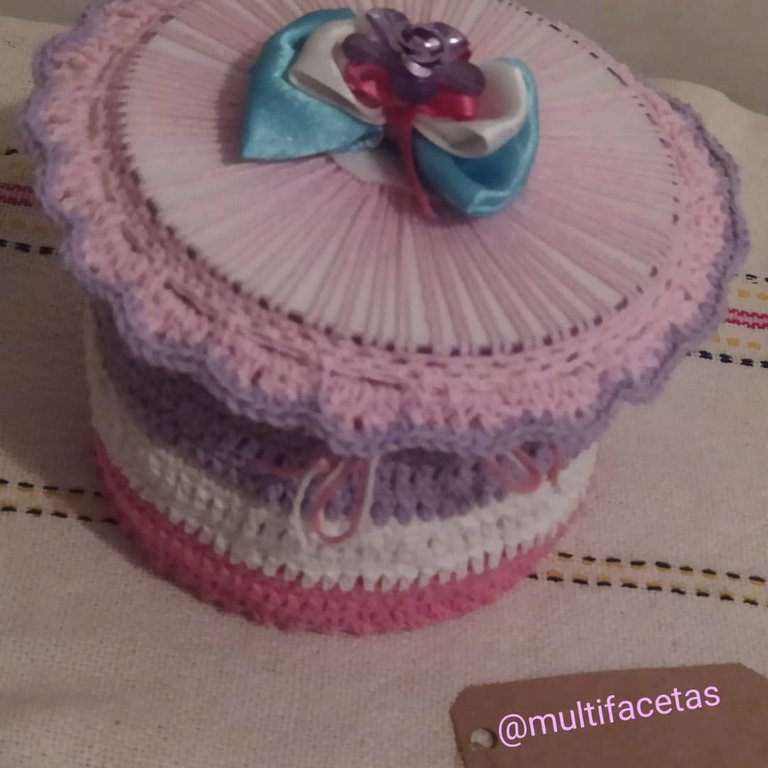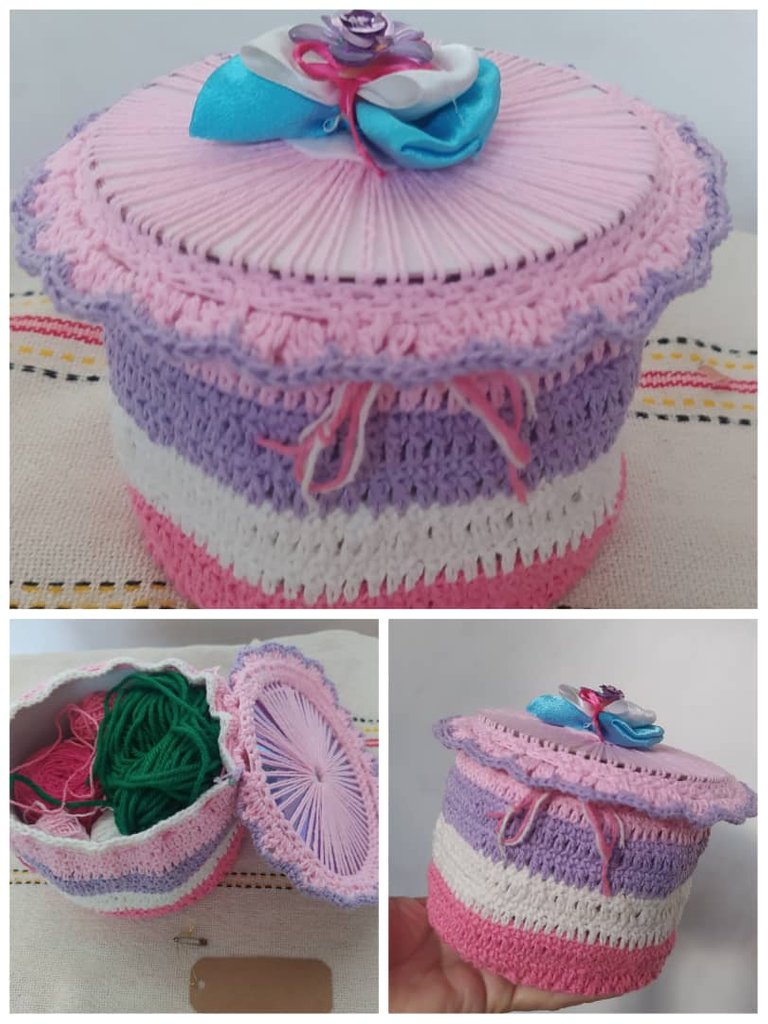 ---
Listening to the raindrops, I slowly finished the weaving in cool weather. I was very happy with the result, now I'm going to use it every time I make a fabric. As for the fact that I am constantly recycling, I feel like I contribute to NO pollution. All for a better planet 🌏.
Escuchando las gotas de lluvias, fui poco a poco terminando el tejido en un clima fresco. Quedé muy feliz con el resultado, ahora voy a usarlo cada vez que haga un tejido. En cuanto a que constantemente estoy reciclando, me siento que contribuyo a la NO contaminación. Todo por un mejor planeta 🌏
---
💖💖💖💖Everything with LOVE is achieved💖💖💖
.
💖💖💖Todo con AMOR se logra💖💖💖
---
So much for my publication. Thank you for reading.❤
Hasta aquí mi publicación. Gracias por leer.❤
---
Texts and photos are my authorship.
Translation with Deepl. Photo taken with Xiaomi Redmi Note 8.
Banner and text separator created with Canva.
Los textos y las fotos son de mi autoría.
Traducción con Deepl. Foto tomada con el Xiaomi Redmi Note 8.
Banner y separador de texto creado con Canva.
---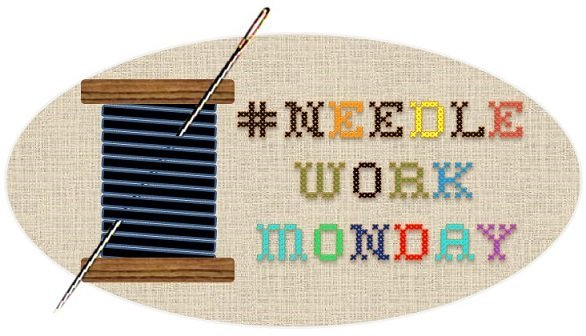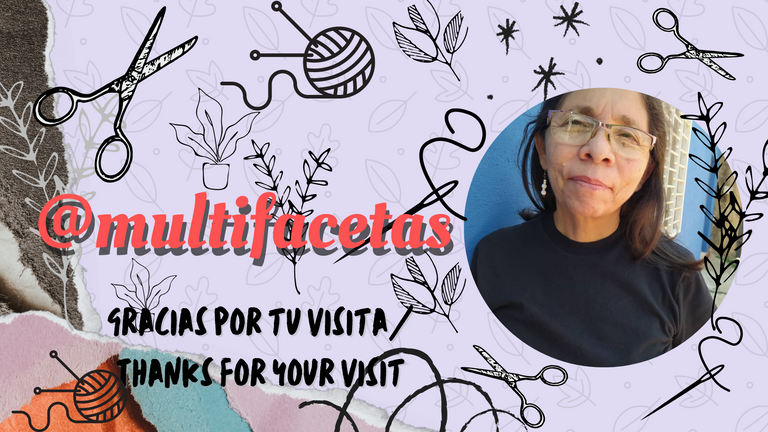 ---
---